Standing aboard Bassmaster Elite Alex Redwine's tournament boat with the wind to my back, I had lost my sense of objectivity. Crystal-clear freshwater currents felt like super glue sandwiched between my eyes and the floor of Lake Champlain, as no fishery in my home state of Texas has ever presented sight-fishing opportunities beyond a few feet. Go-to bass fishing tactics felt obsolete, as my compulsion to spot and stalk beds at 15-20 feet became obsessive. Two full days of bass fishing with four professional anglers, access to brand new gear from Abu Garcia and Fenwick, and a world-renowned bass fishing destination collectively positioned me for a decent shot of setting a new personal-best.
Welcome to Lake Champlain

There's a short list of bass fishing destinations in America that find a place on every serious angler's bucket list, and undoubtedly, Champlain's healthy mix of smallmouth and largemouth numbers earn it unanimous esteem. Its reputation among bass fishermen has made it a cornerstone of tournament culture, too, as both the Bassmaster Elite Series and Major League Fishing regularly make their rounds to the drink that divides Upstate New York and Vermont.
As someone in spitting distance of major fisheries like Lake Fork, Lake Ray Roberts, and Sam Rayburn Reservoir, I've come to respect both of the professional leagues' judgement in selecting lakes for tournaments, as each seemingly lives up to the hype inherited by such events. However, none of the Lone Star State's waters offer smallmouth fishing like Champlain. And, although I'd done plenty of smallmouth fishing on the Upper James River near my hometown of Goochland, Virginia, never as a kid did I have the pros or the gear at my disposal. It's safe to say this trip was a bucket list item of mine for years, but the extra perks that come with a trip of this magnitude would certainly make it an unforgettable experience.
We landed in Burlington, Vermont, where the group would meet up before taking a ferry across the lake to our hotel in Plattsburgh, New York. We'd then head to a popular local restaurant to get acquainted with one another before the first morning's action.
Smallmouth Smash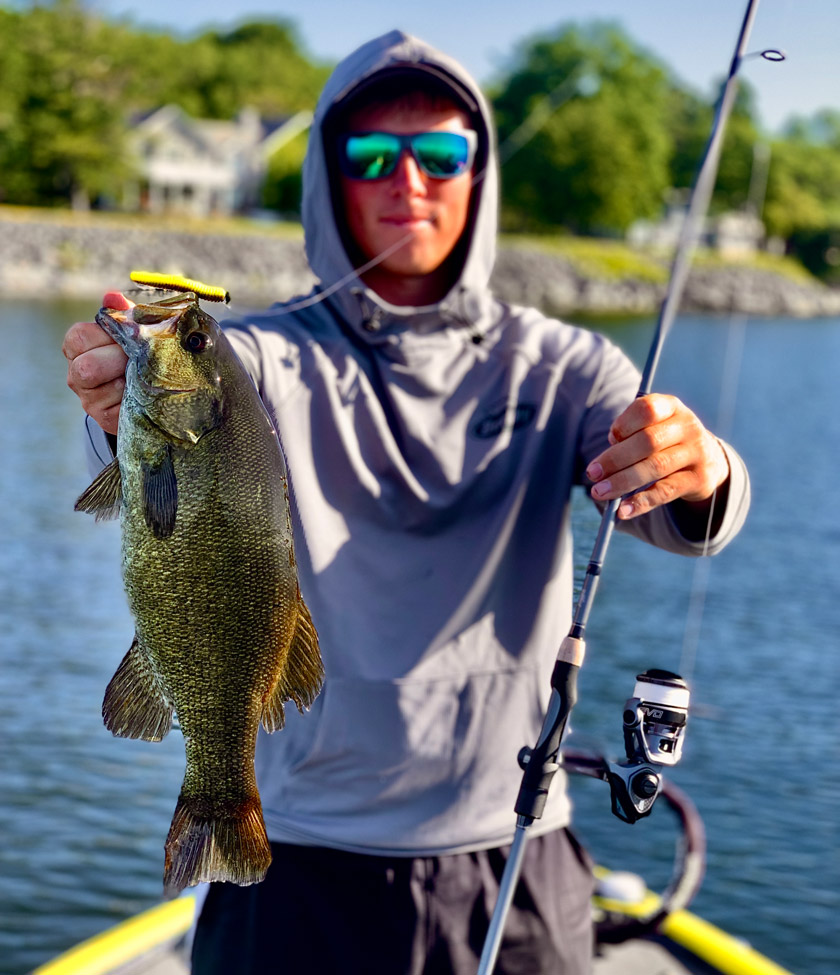 Each day was split up into two sessions, with each media member fishing with a different pro for half of a day. My first morning was with Redwine, a rookie who just recently turned in a strong performance in the Elite Series, finishing 26th overall at St. Lawrence River. I've had the luxury of fishing alongside a number of established pros over the years, but Redwine was the first one that was younger than me. Most of the pros bring a similar vibe to the water—cracking inside jokes and throwing around bass fishing jargon exclusive to the very best—but Redwine was different. At only 22 years old, he was admirably humble, not only recognizing the rarity of the position he was in, but also admitting an obligation to earn respect from his seasoned peers. He was quiet at first, almost submitting to the noise of the room and respectfully observing to the point I forgot he was one of the pros on more than one occasion. Then we hit the water.
The old saying "Actions speak louder than words" never rang as loud in my ears as it did the morning I fished with Redwine, as his poise with an Abu Garcia rod and reel is surely his natural-born form of expression. With each cast, his guard fell more and his hook set harder, casually putting my best efforts to shame. He opened up about the obstacles a rookie faces in getting a strong start, citing the necessity to win just to fund the possibility of a long-term career. Eventually, my personal questions turned technical, as it was getting hard to watch him catch all the fish.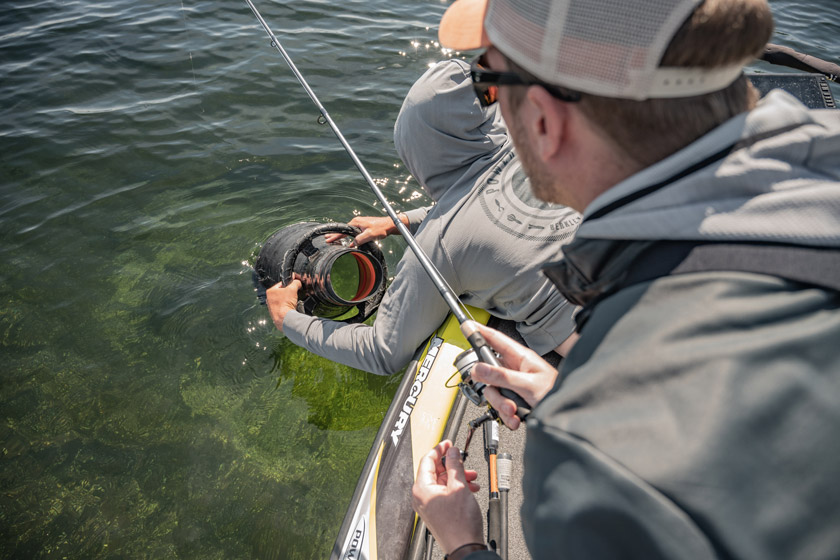 Using an Abu Garcia Revo Rocket reel and a Fenwick Elite Series rod, Redwine rigged me up a topwater setup that featured a Berkley J-Walker, noting the success he had with such presentations in days prior. I missed several smallies that were hesitating to take the whole bait, simply coming over the top instead. However, we also had a few Abu Garcia Revo Rocket spinning reels on Fenwick rods ready to go with Ned rigs, plus a flogger that allowed us to peer through the water at anything that looked like a bed. What started as an intermittent practice became a sport of its own, as the clarity revealed beds with every 20 yards of trolling.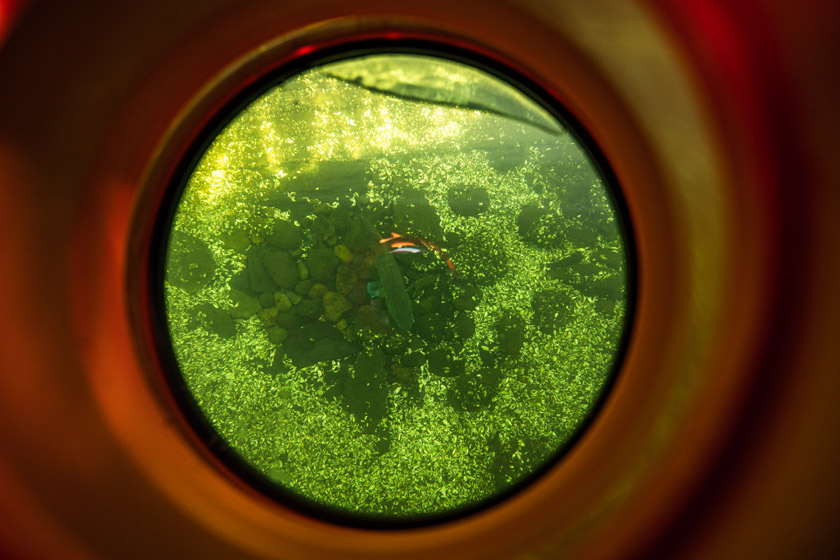 There were three of us on the boat, so one of us would be flogging while the other two threw topwater. But whenever the one manning the flogger saw an image like this, we'd instantly pause everything we were doing to try and watch a catch from start to finish. While I did unfortunately lose what would've been my best smallmouth of the trip at around 4 1/2 pounds, I did manage to boat a few 2-pounders, scratching that itch to catch a smallie off a bed.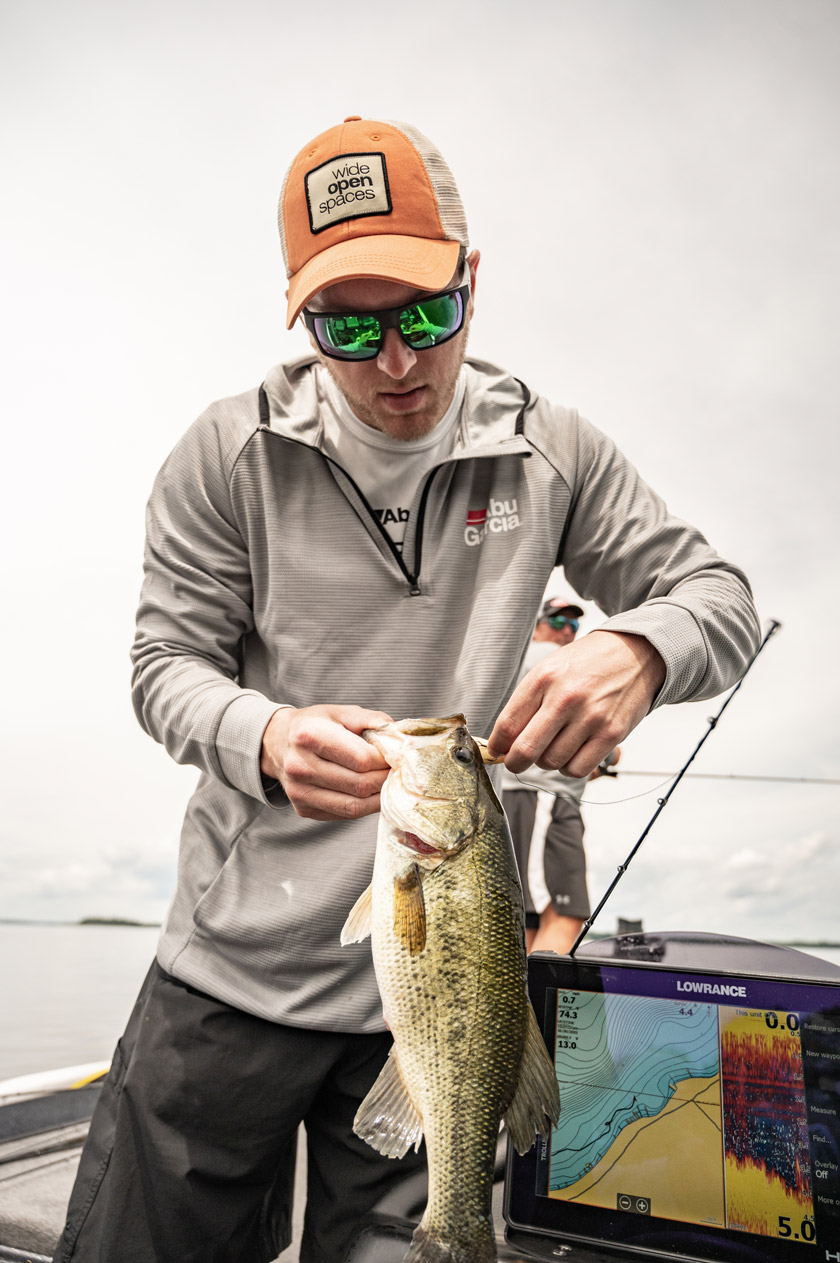 Topwater would eventually turn fruitful, but not until we decided to try targeting largemouth. It's odd getting that kind of bite that deep into the summer months, but then again, it was just as weird wearing a hoodie for half of the day in June. If you ever need motivation to travel the country for different bass fishing experiences, travel up north in the summer. It's fantastic, and a far cry from the dry heat of Central Texas.
We'd go on to discover a bevy of largemouth all around the same size, enough to keep us around for the rest of the morning. But as soon there was word of lunch just a few miles away, we picked up the trolling motor made our way toward the food.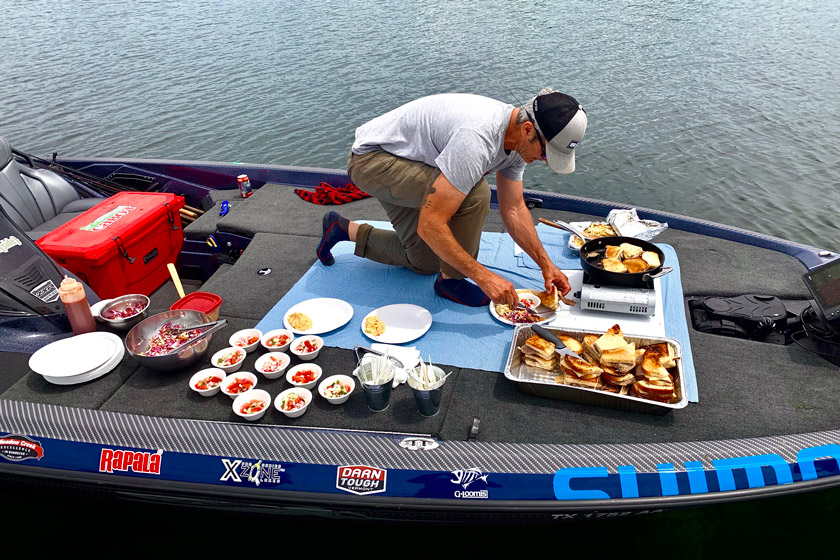 As we approached the meetup spot, each of us was contemplating how quickly we could eat so we could get back to fishing—until we got to the meetup spot. Grilled paninis, spicy potato salad, and coleslaw awaited us on a boat in the middle of the lake, which is maybe the coolest way you could possibly eat some pretty delicious food. In fact, while most of us were eating, a few of the pros managed to land a couple bass, giving us entertainment to go along with our hard-earned meal. To try and maximize time, though, we packed up as soon as we were done eating and swapped boats. Next up for me was Bassmaster Elite Hunter Shryock.
Shryock had two strategies in mind, both of which Redwine and I never tried. He made it really simple for me, asking if I'd rather get into smallmouth or largemouth, as each approach would be specific to the respective species. After missing the 4 1/2-pound smallmouth that we spotted with the flogger, I couldn't ignore the cries of redemption calling my name.
"Right on, smallies it is," he said, seamlessly throwing his boat into drive as if he knew the answer before I opened my mouth.
Shryock elected to go with drop-shot rigs in deeper water, hovering over his fish finder while trolling around hot spots far off major points. We were fishing anywhere from 20 to 30 feet of water, pulling up one smallmouth after another with the same Abu Garcia Revo Rocket spinning reel and Fenwick rod combo I'd become so fond of.
The fishing was outstanding. I lost count of how many smallies I'd caught throughout the day after about 30, which is far better than I'd ever done back home on the James. However, I was still determined to land a new personal best after blowing my shot early that morning. Per my request, Shryock moved us to the next spot where we'd hopefully get into something with a little more weight.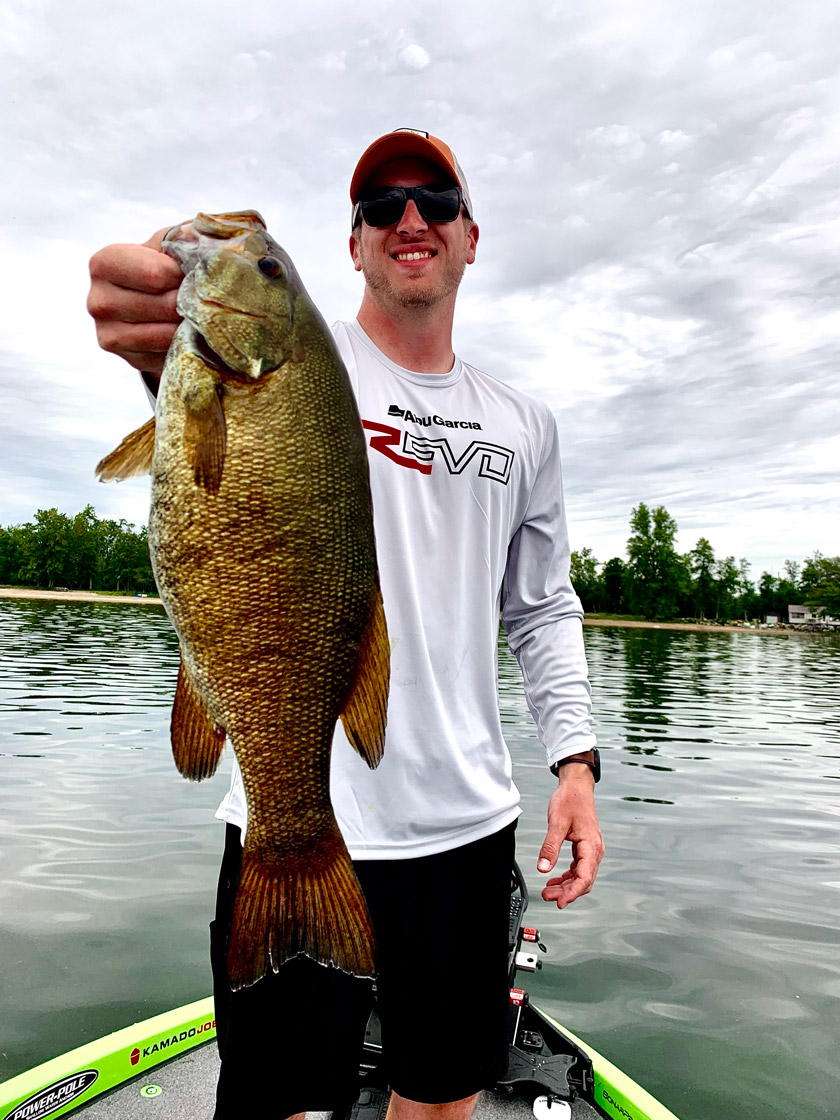 It didn't take long to get into another group, as fish were biting so much on this side of the lake that I'd already gone through half a pack of Berkley MaxScent Flat Worms. After about 20 minutes in our new spot, I set on a fish that was certainly bigger than anything I'd caught all day. While I wasn't able to place eyes on the fish, its penchant for repeatedly dragging my line under the boat foreshadowed a nice smallmouth. When I finally reached down to grab it, I saw a fish that was slightly smaller than the one I'd lost earlier that day, but plenty big enough to vindicate my early mistake.
With an unrestrained sigh of relief, I told Shryock a 4-pound smallmouth was enough to let myself off the hook and address his craving for largemouth. Without any hesitation, he decided to move on to a spot that complemented his famous specialty: flipping.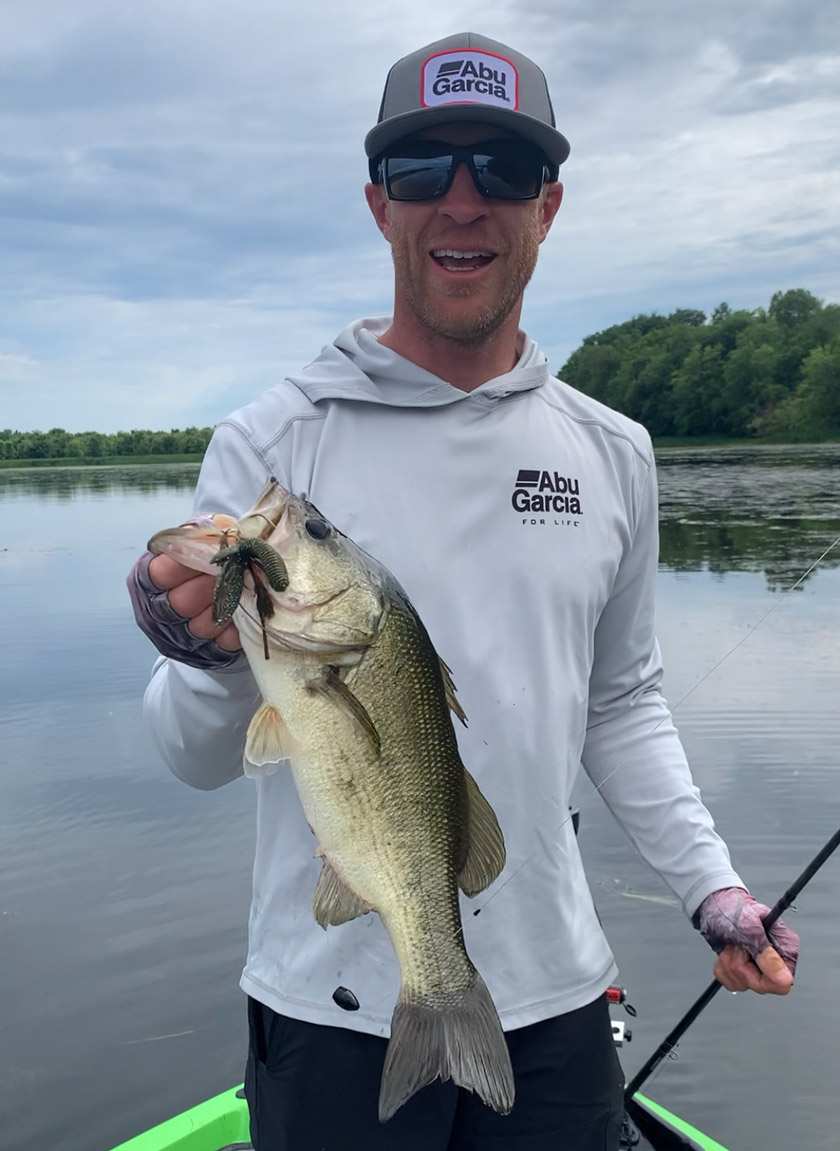 We stumbled upon a flat completely littered with tall grass and lily pads, which had all but satisfied Shryock's appetite before he even made a cast. However, the onslaught of largemouth action awaiting us was something not even a professional could have ever anticipated. Because the two of us accompanying Shryock couldn't flip with nearly the same efficiency, we couldn't help but take a back seat and marvel and what we were witnessing.
"Come on up here and throw a line!" he'd yell at us as he continued to boat one 4-pounder after another.
We did make a couple casts and caught a few fish, but it felt like a wasted opportunity to not watch a pro execute his forte in what felt like once-in-a-lifetime moment. Despite our casts becoming more passive, the fish never stopped hitting the boat. When we got back to the landing to meet up with the other pros, even Shryock struggled to put the afternoon into words.
Hot Weather, Cold Fishing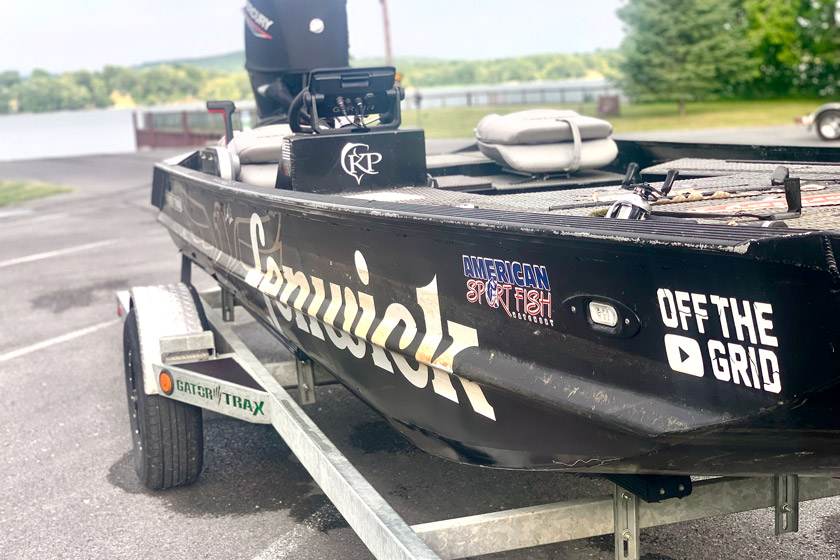 All four boats struggled in the second day of fishing, as we decided to move to completely different section of the lake to avoid heavy winds. I spent the first morning with Bassmaster Elite Justin Atkins, who did manage to land a few decent fish, but losing one that was probably 6-8 pounds. I didn't catch a thing, though, and other boats experienced similar challenges. The fish were nowhere to be found, the sun was beating down on us, and no one had an answer for better results. We fished Berkley Swim Jigs for much of the morning before trying frogs in some lily pads and Berkley Slobberknockers in some rougher water, all of which worked with Shryock the previous afternoon on the other side of the lake.
My afternoon was slightly better, however, as I hopped in with MLF angler Keith Poche, whose reputation to get down and dirty for a bite is the real deal. After fishing in high-dollar fiberglass boats for a day and a half, I stepped onto Poche's 17 1/2-foot Gator Trax aluminum boat, which is as rugged as his style of fishing. When I asked him why he prefers an aluminum, his answer was as awesome as it was harrowing.
"You'll see," he said with a crooked grin.
Within the hour, we were soaring through narrow coves that hardly felt wide enough for a jet ski, and literally sawing through trees to get to the spots he felt held the most potential. Once we'd find an area with some decent cover, we'd start flipping into the rocks, watching bass chase our baits out of sight before finally striking. While it didn't quite compare to that first day of fishing in terms of numbers, fish were finally biting.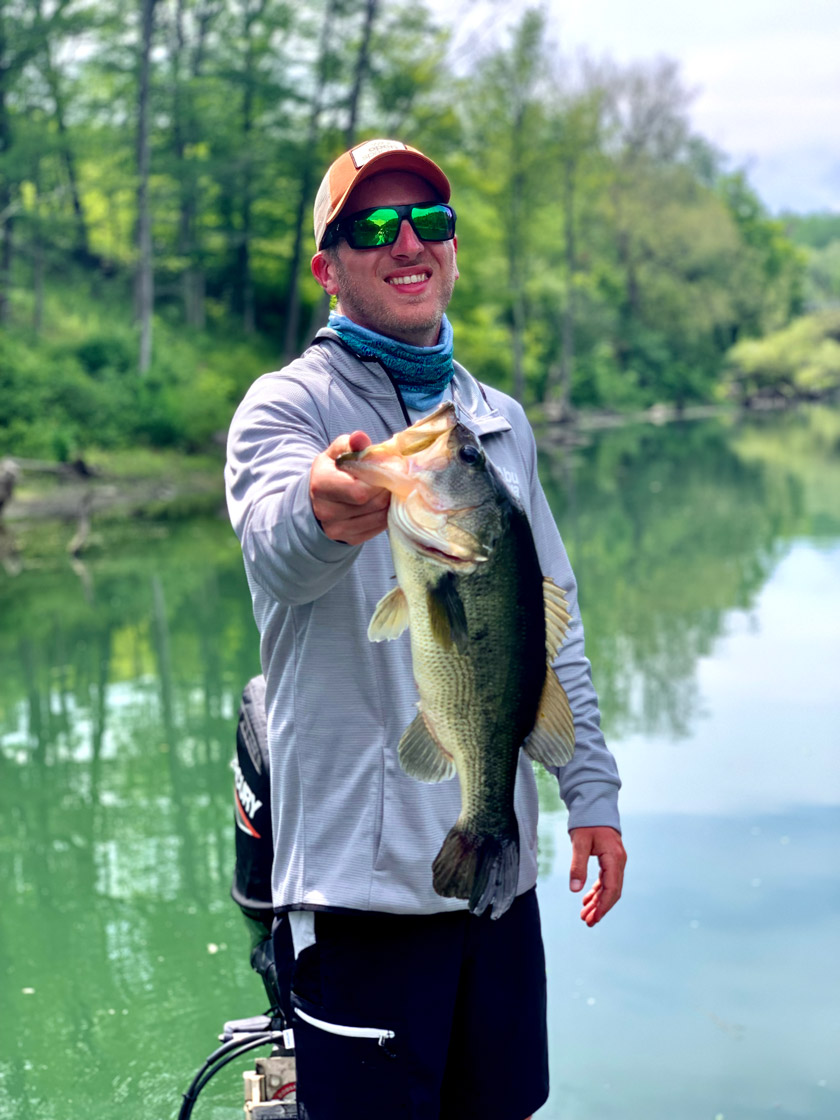 This time I had the luxury of fishing with the new Abu Garcia Zenon MG-LTX reel with a Fenwick rod, a combo I'd recommend to anyone willing to invest in top-shelf bass fishing gear. Bar none, the Zenon is the best low-profile baitcaster I've ever personally fished with, and it undeniably performed when I so desperately needed a fish. Unsurprisingly, I didn't keep up with Poche's numbers, but I did boat a 3 1/2-pounder that gave me quality largemouth to match my 4-pound smallmouth, and ultimately satisfy my desire for a successful trip.
Gear Tech Specs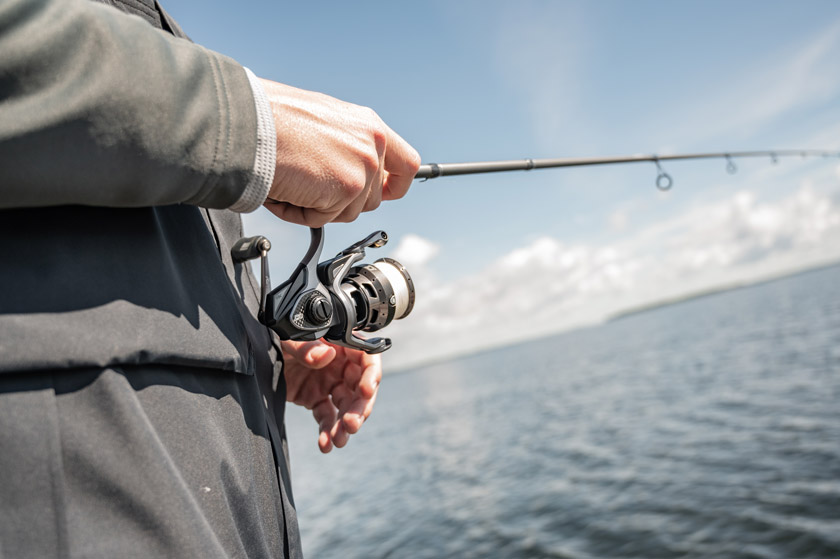 Over the course of two days, I was fortunate enough to try nearly all of Abu Garcia's rods and reels for 2022, as well as Fenwick's new rods. While each of them delivered the performance every angler can expect from Abu Garcia these days, there were a few products that were especially impressive, and deserve a spotlight for any readers interested in upgrading their fishing arsenal: the Revo Rocket baitcaster (available in November), the Revo RKT spinning reel (available in November), the Zenon MG-LTX baitcaster (available now), and the Fenwick Elite Series rods (available now).

Abu Garcia Revo Rocket LP Reel
New asymmetric design
Lightweight aluminum frame and handle sideplate
EXD concept design to maximize casting performance
IVCB-4 brake system
10 stainless steel bearings +1 roller bearing
95 mm handle with oversized knobs
Max drag 18 pounds
10.1:1 gear ratio
43.5 IPT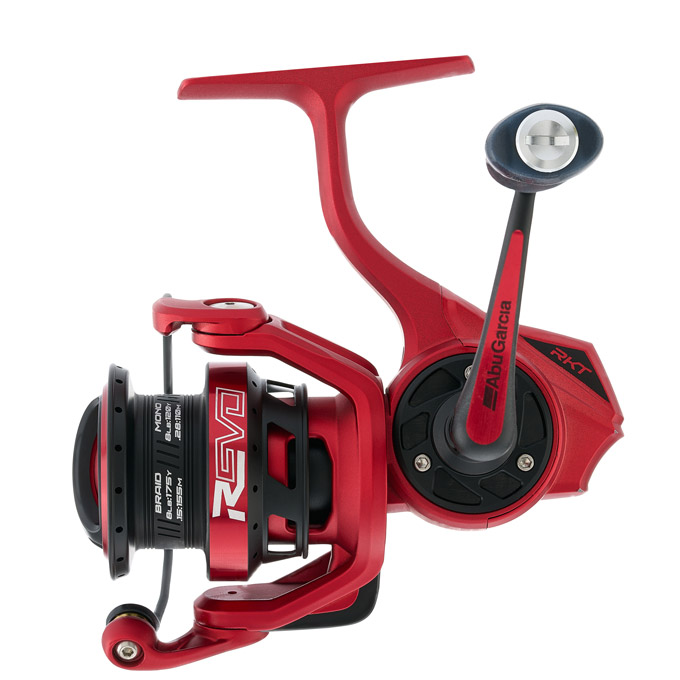 Abu Garcia Revo RKT SP Reel
Asymmetrical X-Craftic body design (more compact)
Aluminum frame for added strength
Zenon-inspired body design to help reduce overall weight
Oversized AMG gear system
9+1 HPCR bearing system
Friction Free Main shaft design
Updated design cues from Zenon (spool, body, rotor)
7.6:1 gear ratio
IPT: 20-40; 30-43; 40-47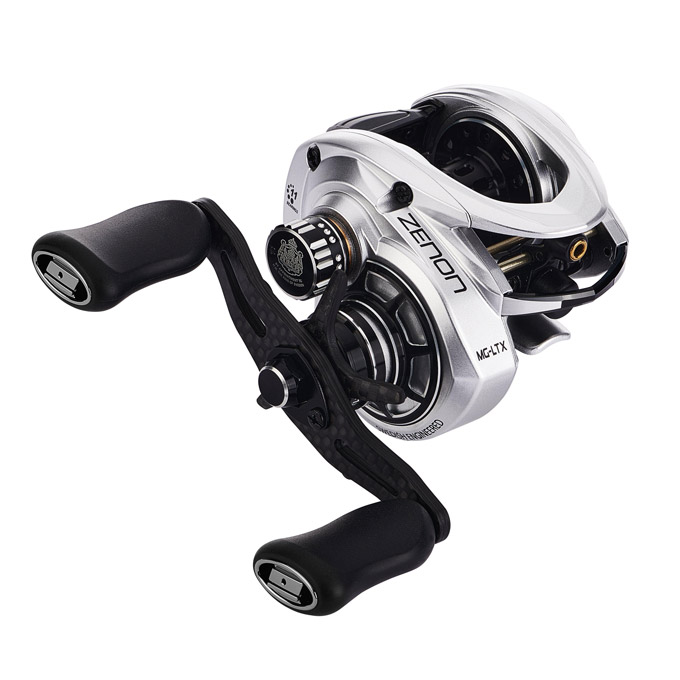 Abu Garcia Zenon MG-LTX LP
New A-Sym body design
EXD concept design to maximize casting performance
Finesse-focused model
30mm spool
Spool 10-percent lighter than other Zenon models
CeramiLite bearings
One-piece X-Mag alloy frame
Unique one-piece aluminum cross brace
8 stainless steel HPCR bearings + 1 roller bearing
CeramiLite spool bearings
Weight 4.6 ounces
8.3:1 Gear ratio
31 IPT
Max drag: 12 pounds
Fenwick Elite Series Rods
30-ton graphite with Powerlux 200
Bass crankbait models feature S-Glass with spiral carbon core
Ergonomic Fenwick designed reel seat (Fuji on Predator rods)
Patent-pending ferrule locking mechanism on Predator rods
Premium-grade cork handles (cork split grip on Bass)
Titanium guides with ultralight zirconia inserts
Limited lifetime warranty