These talented kitty cats are traveling the USA in their very own tour bus with their very own sold-out shows.
They're flexible and they're felines. They're musicians and they're meowtastic.
Originating in Chicago, Circus Cats consists of a dream team of felines. Ten felines make up the Acro-Cats, a team of agility-trained furballs whose leaps and balances dare to impress. A cat named Alley even broke the Guinness World Record for longest cat jump. In addition to the amazing circus cats, there is musical entertainment. The Rock Cats are five meowsicians who strum a guitar with no heed to cadence and tap a cowbell with no care to rhythm.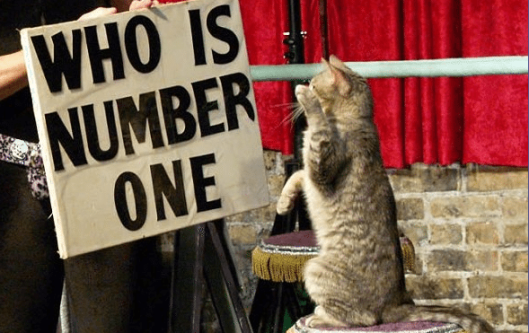 The Acro-Cats and Rock Cats team up to bring entertainment to cities across the nation, cruising from venue to venue in a cat-themed tour bus with their human manager Samantha Martin who trains the cats using clicker training and positive reinforcement. Martin explains:
"A lot of times I'll start training a cat and want them to do specific things; they let me know that that's not something they want to do."
Patrons are permitted to take photos of the cat circus at will and can even go on stage after the show to meet the stars. But there are some crotchety feline geezers who don't want their photo taken! They're still cats, after all.
Tuna, the white cat who collects tips for the cat band, is one such cantakerous kitty. As band manager, she keeps the group in line while adding "more cowbell" when you least expect it. And that's the beauty of the show- the cats perform tricks when the audience least expects it.
"That's one of the appeals and that's one of the reasons a lot of people come back again and again. Every show can be different," says Martin.
"We don't know what the cats want to do."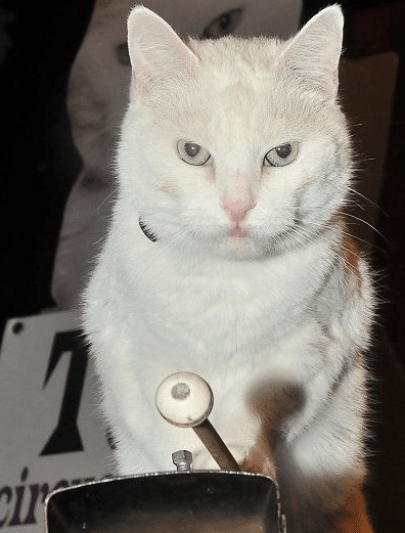 The felines have been featured on Animal Planet, strutting across television with circus stunts and meowsicality. Most recently they were featured on "The Late Show with Stephen Colbert" where they got some laughs and attention to their cause.
Entertainment aside, these cats showcase the level of intelligence in today's domesticated cats. Additionally, they are ambassadors for homeless animals as the cast is made up of rescued pets. To date, the Circus Cats team has found homes for 216 cats and kittens. They have also started a GoFundMe to help build Meowy Manor, a cat sanctuary featuring an amazing indoor/outdoor cat paradise.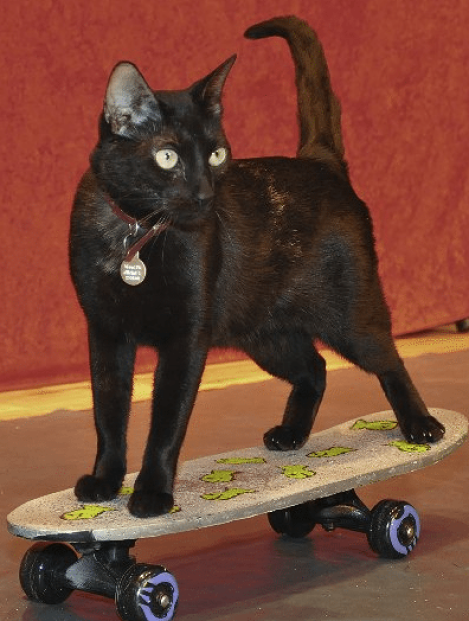 Many of the felines have their own Twitter accounts, including Buggles (pictured above) in case you're lucky enough to catch a show and take a liking to one band member or acrobat—acrocat—in particular. Buggles is known for amazing skateboarding tricks and got her name because she looks like a cross between a bug and an alien... Bios of all the individual kitties are listed on the website, and they are a definite must-read.
To find out where the Amazing Acro-Cats and Rock Cats will be next, visit the Circus Cats website. Looks like they are going to Dallas, Texas next!
Have you seen the Acro-Cats perform? Tell us in the comments below.
All photos via CircusCats.com.
WATCH NOW: Cute Cat Videos Actually Make You More Productive!
Enjoy the outdoors?
Sign up for daily stories delivered straight to your inbox.