Fido only deserves the best.
Slow cooker dog food allows you to make the very best for Fido with limited time, because not everyone has enough time to make them dinner from scratch every night. While it can be healthier for your dog to skip the dog kibble, making your own dog food is cumbersome and you have to do it right.
Dog food companies have long been adding grain fillers to their kibble, which is unnecessary, and there are always dog food recalls in the news. That's why you must always read the labels on dog food and know what to look for.
If you do decide to make your dog a meal every day, you must make sure you have are providing the correct nutrition for your particular dog. This is best done with the help of a trained dog nutritionist.
Here is a recipe, though, that has some good, safe ingredients; it's easy because you can just put it all in the slow cooker and it will be ready by dinner time.
Slow Cooker Dog Food
This is the perfect way to know exactly what you are feeding your dog, and all the ingredients from butternut squash to fresh ground beef are good for canines. If your dog doesn't seem to like an ingredient like carrots, you can substitute it for something like sweet potato or green beans. If they don't seem to like ground beef, ground turkey is a good option.
Slow Cooker Dog Food Recipe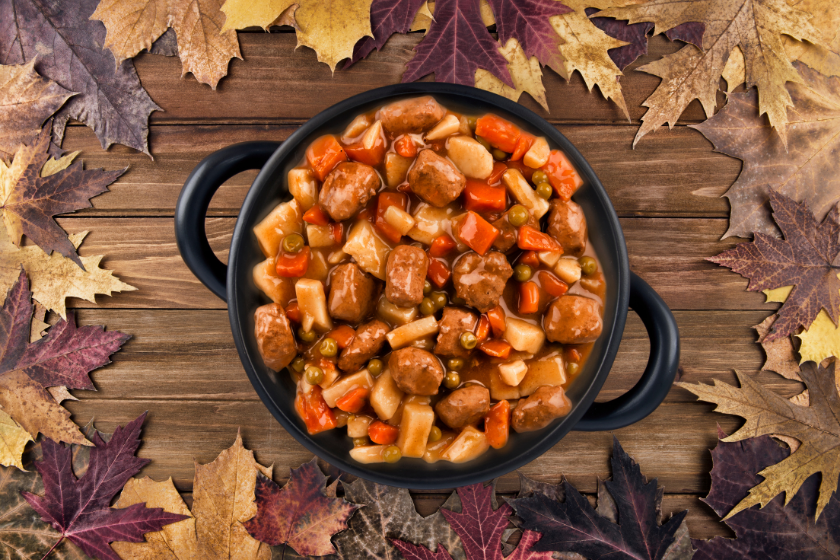 Here is the full recipe from Damn Delicious.
2 1/2 pounds ground beef
1 1/2 cups brown rice
1 (15-ounce) can kidney beans, drained and rinsed
1 1/2 cups chopped butternut squash
1 1/2 cups chopped carrots
1/2 cup peas, frozen or canned
Put the ground beef in the Crockpot, along with the brown rice, kidney beans, butternut squash, carrots, peas and 4 cups water.
Cover and cook on low heat for 5-6 hours or high heat for 2-3 hours.
Let cool and serve fresh or keep in the fridge.
Watch Fido gobble it up!
This slow cooker dog food recipe can also be frozen, which means you can make a bunch of homemade dog food ahead of time and then warm it up over the stove when it's dinner time! You can even portion it out in Ziplock bags so you defrost a single meal at a time...
Remember that some dogs may need dry food to supplement a raw diet. It's best to consult your veterinarian before you start cooking for your dog at home to ensure your dog doesn't have any allergies or any other dangerous health issues.
Feeding your fur babies a home-cooked meal has never been easier.
Do you make your dog homemade food? Tell us on the Wide Open Pets Facebook page!
This article was originally published January 24, 2018.
Enjoy the outdoors?
Sign up for daily stories delivered straight to your inbox.