We joined Mossy Oak on a trip to one of the world's most coveted fisheries, and it somehow exceeded expectations.
Every outdoorsman has a bucket list. Each is entirely unique, as our interests scatter across the sea of opportunities Mother Nature has to offer.
Die-hard, big-game hunters dream of drawing that Montana elk tag, while boatloads of saltwater fishermen treat each catch as a stepping stone toward that once-in-a-lifetime blue marlin.
However, there are certain trips that find a spot on just about every sportsman's bucket list, typically because they include an activity we've all enjoyed at some point.
Bass fishing is one of those activities, and Lake El Salto is unquestionably one of the world's best places to do it.
¡Vámonos a México!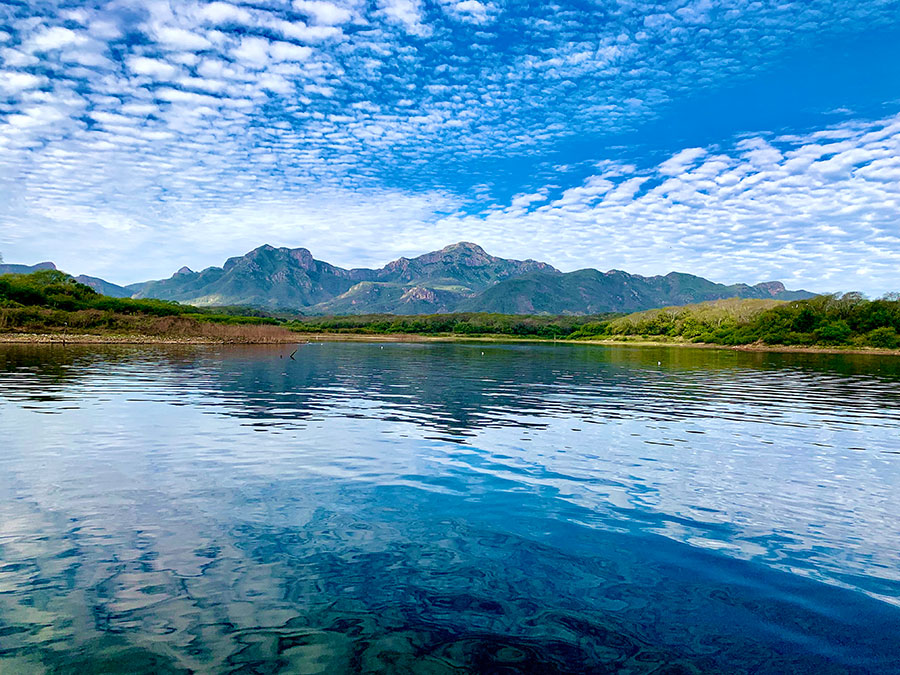 As soon as the familiar name of our media contact from Mossy Oak lit up my phone screen, I knew good news was only a swipe away.
In a new product launch that featured the brand's refined fishing lineup, the Mossy Oak squad decided to put its gear to the ultimate test by planning a trip to Sinaloa, Mexico, where they'd fish for trophy largemouth bass.
As the fortunate recipient of an invite, I instantly started surfing YouTube for Lake El Salto fishing videos, hoping to get some kind of feel for the lake.
Little did I know, there is no simulating this place. You can fantasize all you want, but El Salto is just one of those fisheries you have to experience for yourself.
Angler's Inn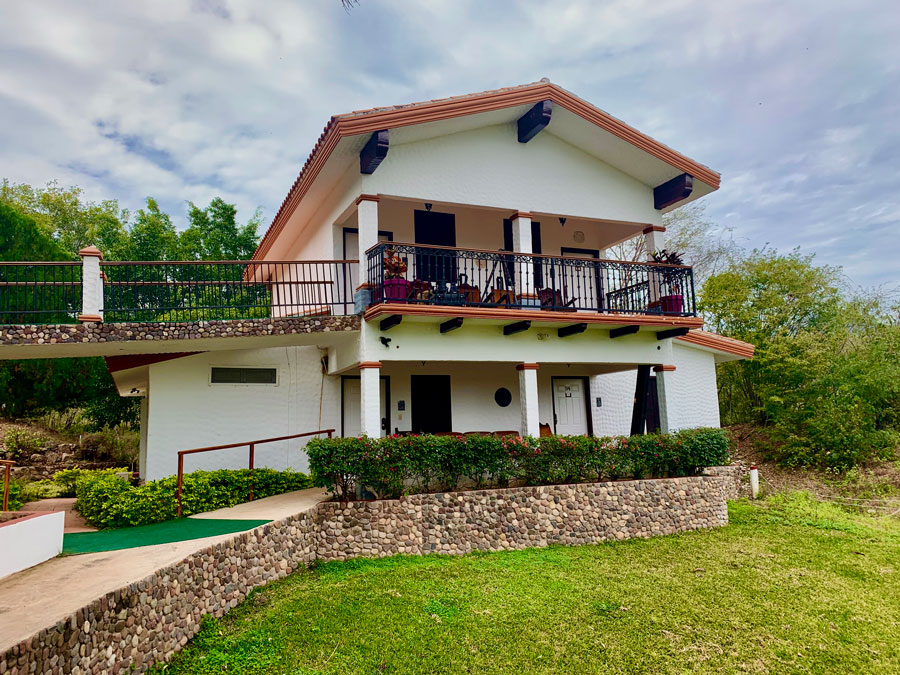 If you ever plan your own trip to Lake El Salto, I can confidently tell you there's only one place to stay, and that's the famed Angler's Inn.
I flew from my home in Austin, Texas, to Mazatlán, Mexico, where I would meet up with a crew of Mossy Oak employees, as well as bass pro Brandon Cobb, who ended up being my roommate for the week.
Fellow Mossy Oak angler Brandon Palaniuk and his cameraman were supposed to meet us there, but would come a day late due to a delayed flight in Mexico City.
We left the airport in a shuttle that would drive two and a half hours west toward Lake El Salto, offering us plenty of time to familiarize ourselves with one another.
I could tell this would be an unforgettable trip within the first five minutes.
Fast-forward through a breathtaking, scenic drive through Mexico's countryside, and we were pulling into an adobe-style resort where two employees were waiting for us with ice-cold margaritas.
The precedent was set instantly: enjoying ourselves was a priority.
We bunked in rooms of two, and decided to get our tackle ready to go before walking back over to the concourse for dinner. And, I gained an early advantage when Cobb shared some professional expertise in helping me craft my bass fishing repertoire for the duration of the trip.
Following his lead, I went with four rods that offered me a variety of approaches. First I had a longer, light-action rod, rigged up with a Berkley Warpig, a popular lipless crankbait. Second, I had a longer, medium-heavy action rod that I would use to throw a mix of different soft plastics. Next, I had a longer, heavy-action rod assigned to swimbaits. And, finally, I had a medium-action rod spooled with braided line designated for all of my topwater options.
An incredible Mexican dinner paired with a couple more margaritas made it easy to sleep through the excitement leading up to our first day of fishing.
Day One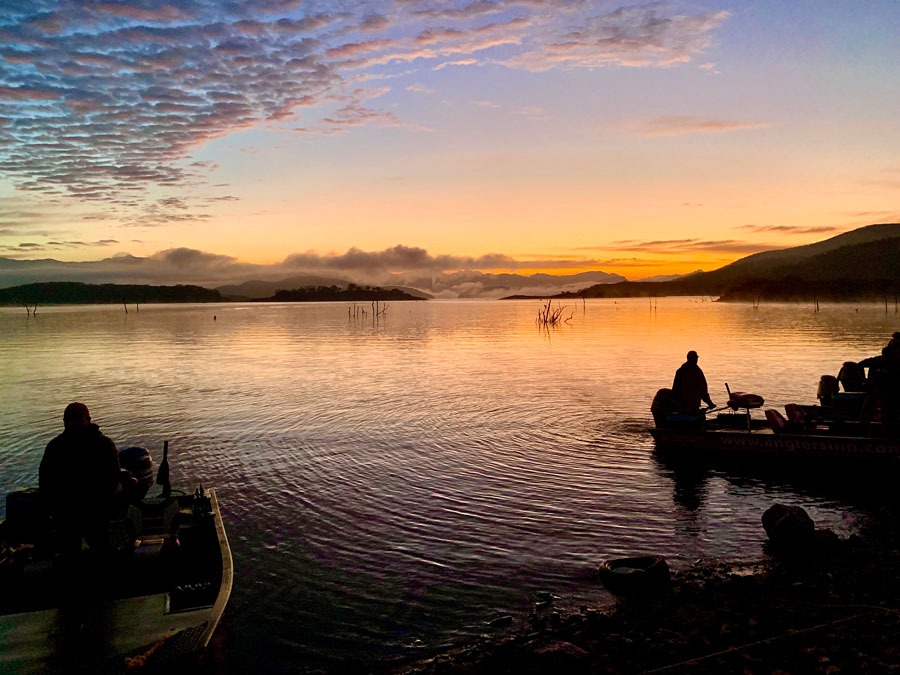 After a delicious breakfast, we made our way down to the bank where we'd find a fleet of fishing guides who donned Angler's Inn branding and radiated hospitality.
I spent my first day with Mossy Oak Public Relations Manager Jake Meyer, while the others went to film a video series called "Fish Wars," which you can watch on the Mossy Oak Go app.
It was a different guided fishing experience than you'd probably expect, largely because they didn't use fish finders at all. Each of them had fished the lake enough to know where to find the big ones without the assistance of technology.
Unfortunately, this approach can require a little trial and error at times, which Jake and I felt early on. Fortunately, though, we were right in trusting our guide, Victor, and found success after somewhat of a slow start.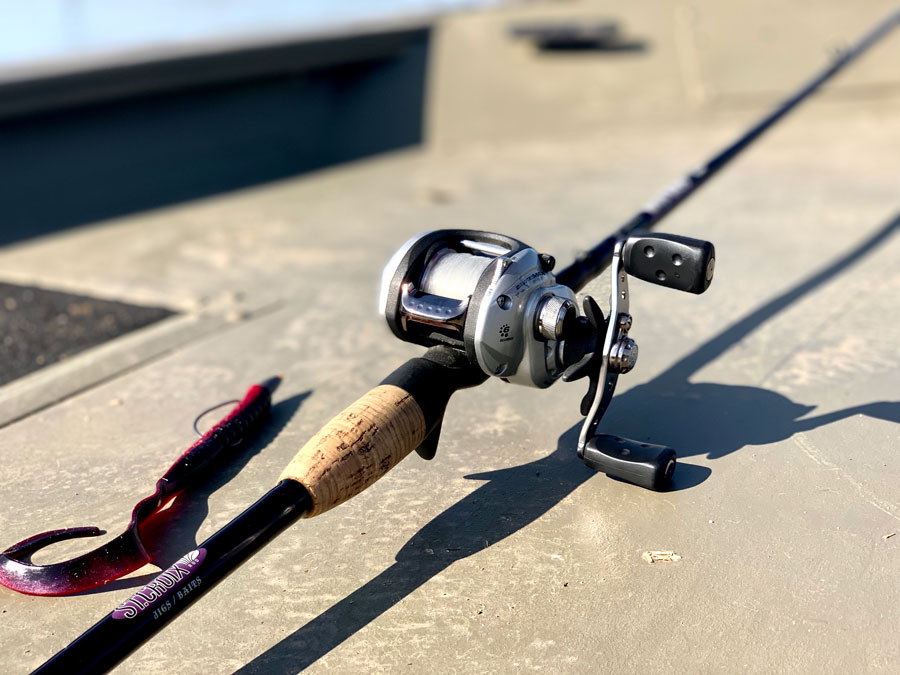 As we were nearing a shallow inlet with some fallen-down trees, I switched to a red/black Berkley PowerBait Power Worm, which would immediately become a go-to bait for me until the day we left.
Using a Texas rig, I casted right into a mess of branches, where it had just enough room to sink without getting tangled. After only a couple tugs across the bottom, a monster bass smacked the worm, and I set the hook.
I hadn't bass fished for a year or two, but I could still tell this was one of the bigger bass I'd ever hooked, if not the biggest. But as soon as Victor had it in the net, I knew I had a new personal-best. Scales showed 6 1/2 pounds.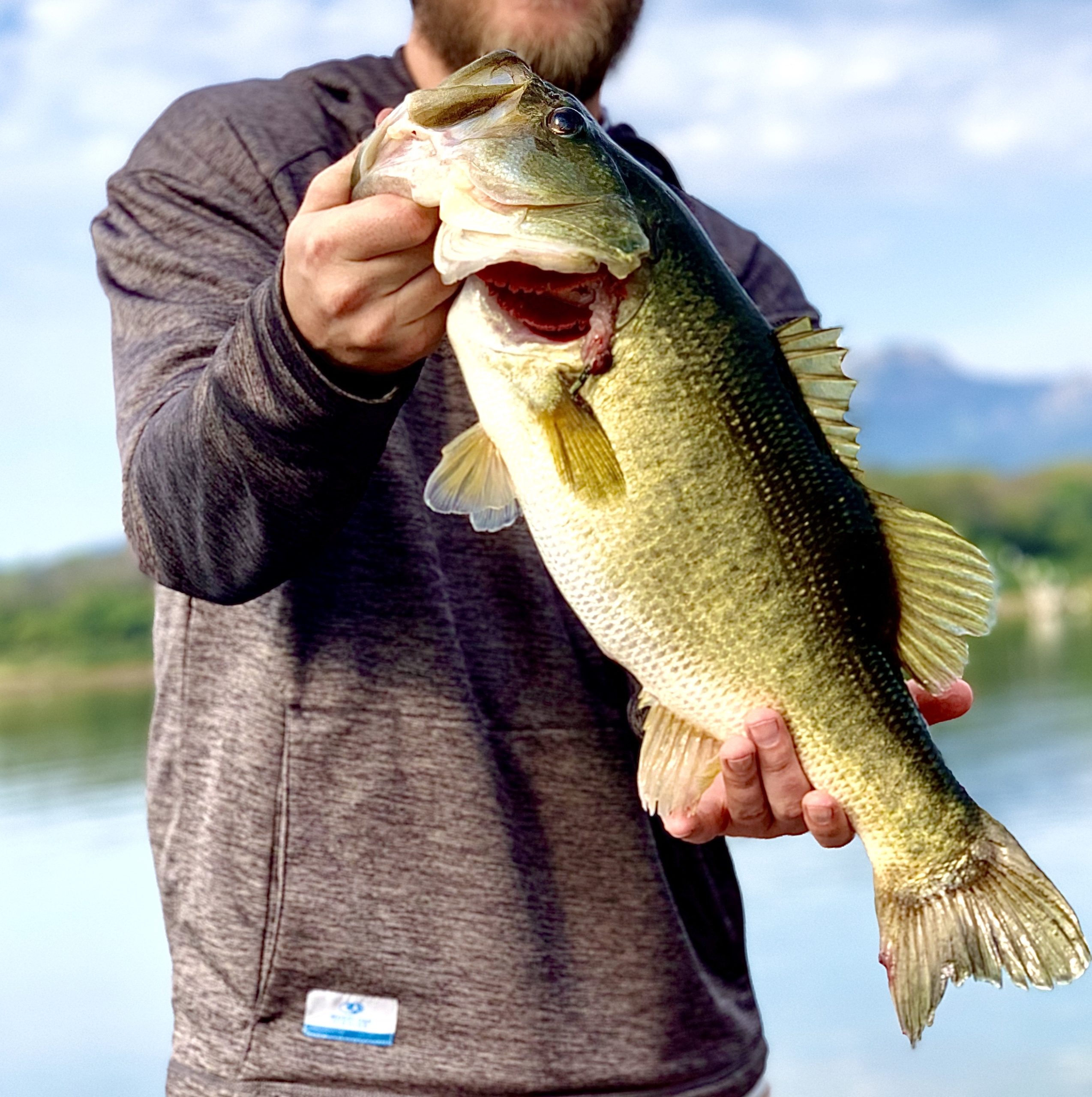 It's never easy to release a trophy bass, as you can't be sure you'll ever catch another one of that size. You want to savor the moment for as long as you can, but you also want to see the fish survive and ultimately get bigger.
Little did I know, I would get to beat my record not once more, but twice.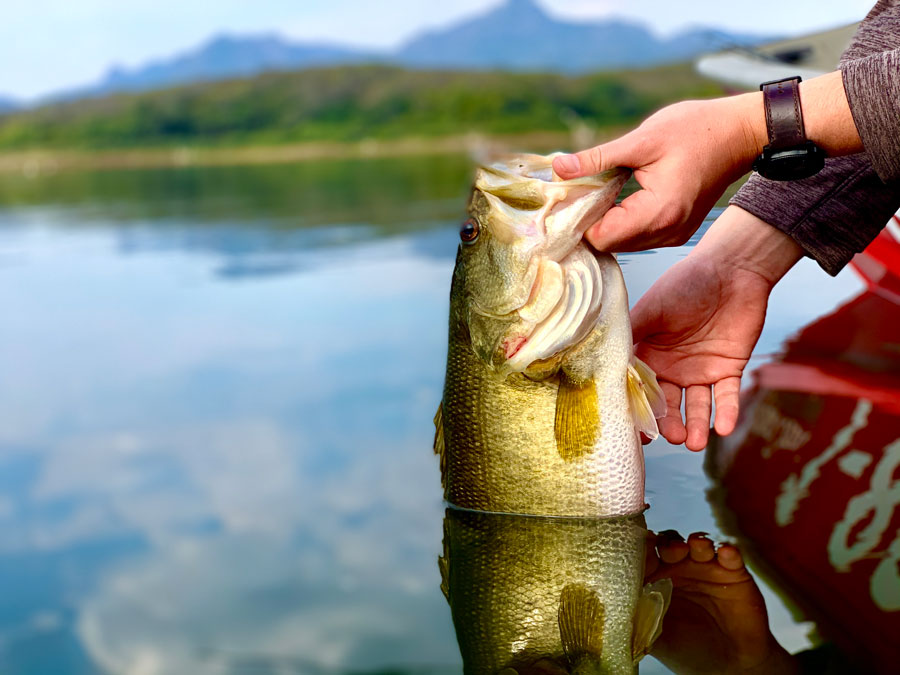 We kept it moving, throwing a line in every promising spot we saw. While we did catch a boatload of quality fish throughout the afternoon, only one personal-best would take a hook on the first day.
As an incredible day of fishing came to an end, I was able to sit back and enjoy a few miniature Pacifico beers and yet another five-star Mexican meal, as I'd scratched my main goal off the list in just the first day.
Day Two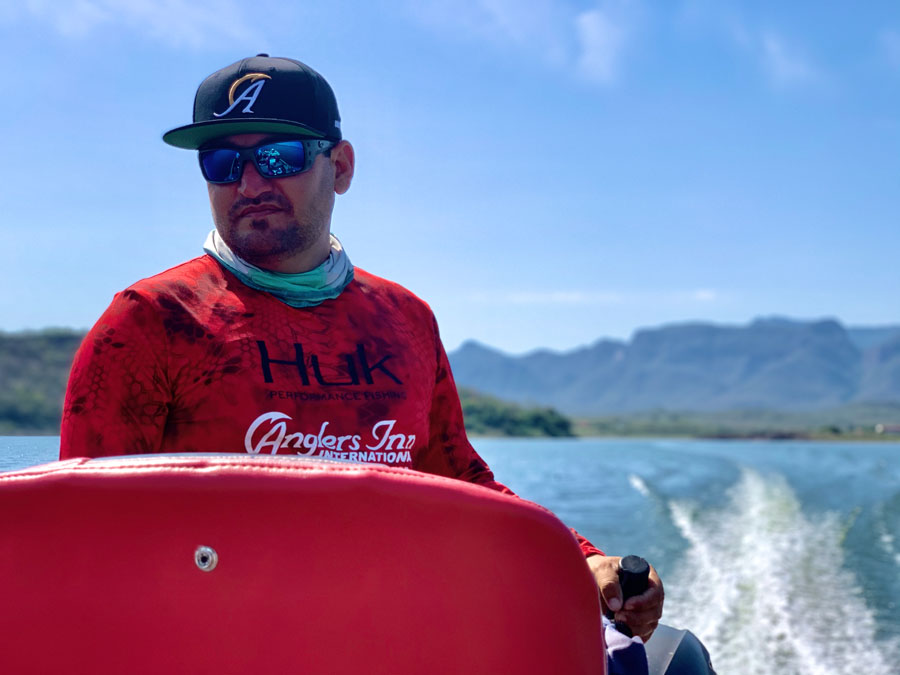 Plans changed for the second day of fishing, as Jake was assigned to work on "Fish Wars." I went alone with Victor, which ended up being one of my favorite days of the whole trip. Since it was just us, he did some fishing of his own, and showed me a few of his own tried-and-true tricks.
We decided to go to the opposite side of the lake to fish a spot we didn't even see the first day, a decision that would pay dividends throughout the entire morning.
It seemed like every cast landed a bass over 2 pounds, but the fish were seemingly getting bigger as we trekked farther back into the cove.
While tossing that same Power Worm I'd become so fond of, I set the hook on a bass Victor predicted was over 8 pounds, and tried my damndest to keep it from surfacing. Its determination overwhelmed the physical abilities of my rod, and it still managed to catch some air.
At the peak of its jump, it used its entire body to launch my worm across the cove, putting an exclamation point on its dramatic escape.
Occasionally in a battle of man vs. nature, nature takes the W, and this was undoubtedly one of those times.
The rest of the day presented a high volume of quality bass, but quantity wasn't washing out the aftertaste of lost quality.
What it did offer, though, was an abundance of opportunities to experiment. I caught fish on my worms, swimbaits, crankbaits and topwater lures, all of which offered unique advantages in different environments.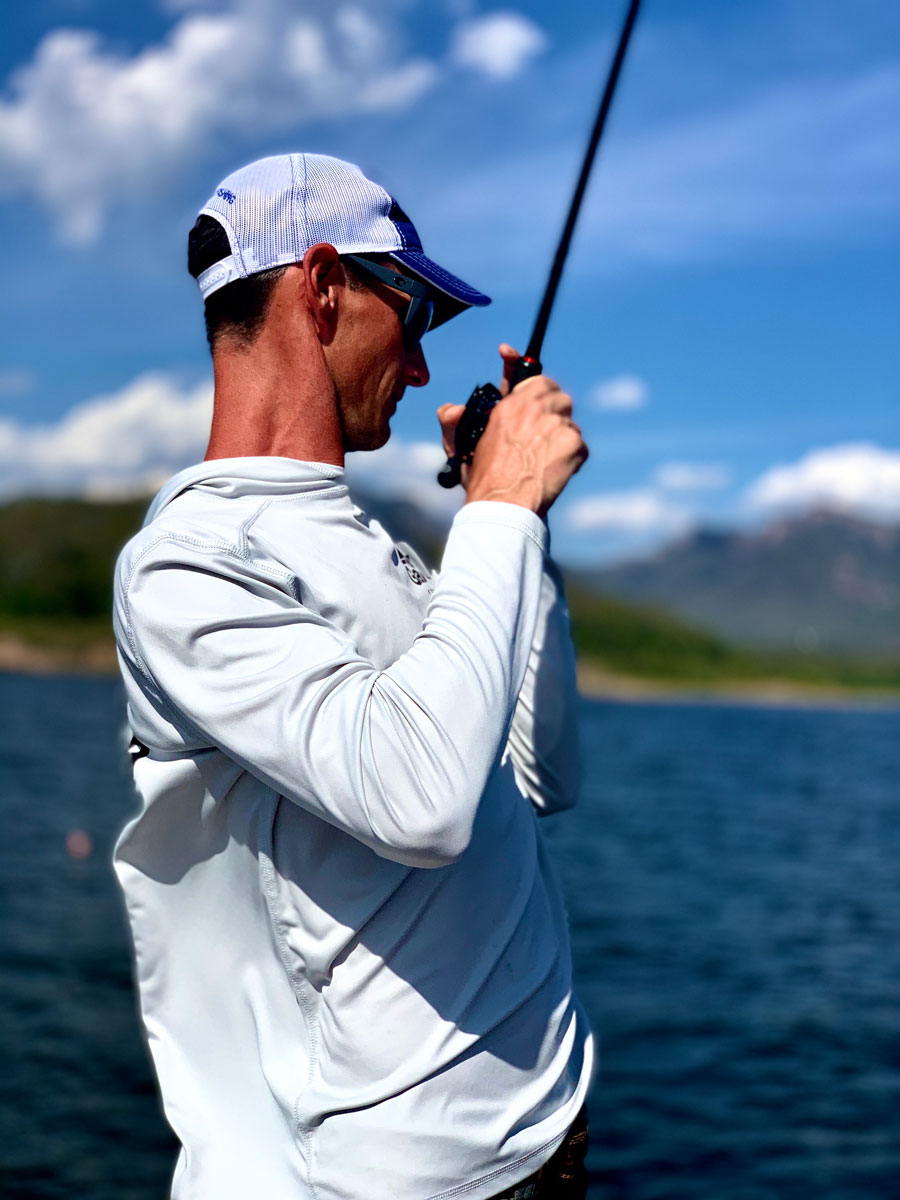 After a lunch break, Cobb decided to come with Victor and me, and was generous enough to offer advice to go along with his rig recommendations that earned me a personal-best fish.
We started off in deep water with spoons (which he and Palaniuk turned into a competition) and caught enough bass to completely wear the finish off each of them. Once we exhausted ourselves with the exaggerated motions that came with spoon fishing, we moved back into Victor's favorite cove from earlier that morning.
Cobb walked me through all the intricacies of jerkbait fishing in a tournament setting, and explained why they were his favorite lures to tie on the end of a line. We couldn't stop catching fish.
But, even though fish continued to fall in the boat, he was determined to return to a spot he and the Mossy Oak crew fished during their "Fish Wars" video shoot on the first day.
While en route, he stressed the limited amount of time left in the day, and recommended I go with my trusty swimbait that had already caught me over a dozen quality fish.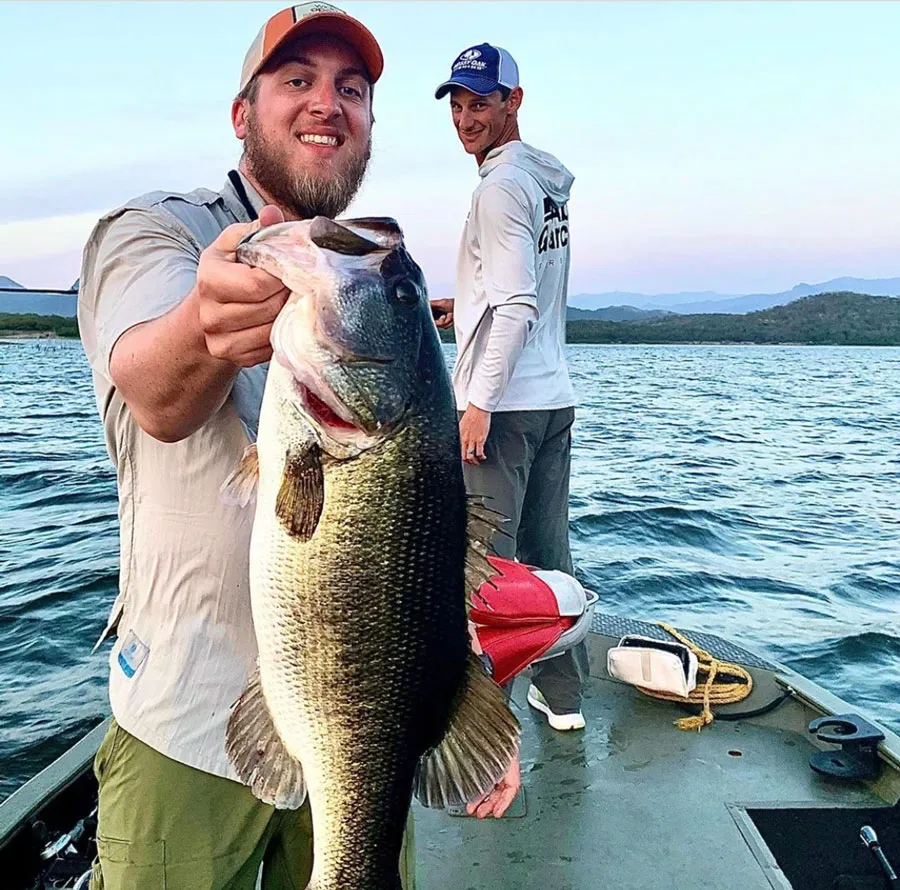 After only two casts, Cobb's intuition paid off. I was reeling in one 5-pounder after the next, a pace that would make any angler feel giddy. With such a steady success rate, it was only a matter of time before one of us hooked into a monster.
It had probably been close to 30 minutes of nonstop action when I set a hook that felt a little heavier than anything I'd ever felt on the other end of a bass rod. The drag had been comfortable up to this point, but I was still somehow losing line.
If it hadn't been for Victor's handy net maneuvering, there's no way I would've reeled in the biggest fish of my life—a 7 1/4-pound bass.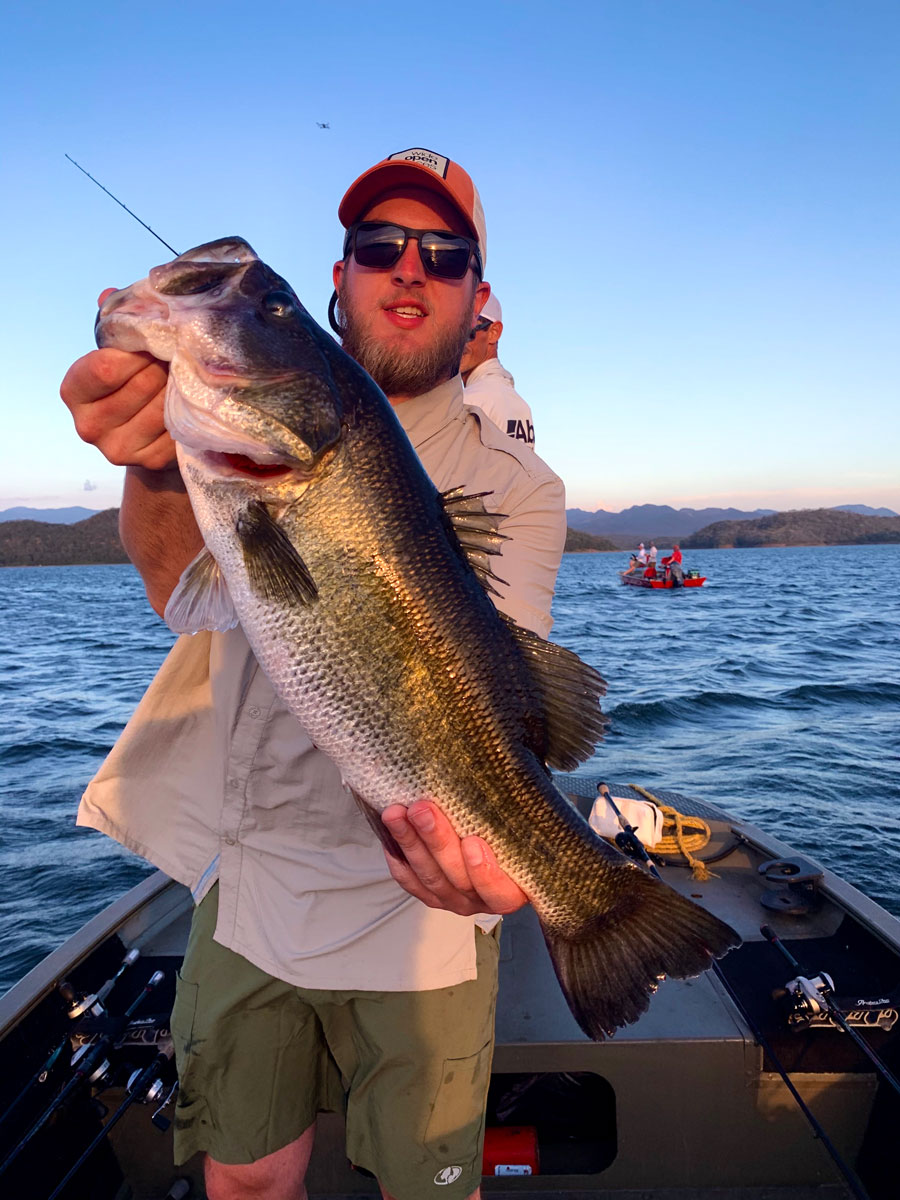 The fun didn't stop there, though, as three more bass over 6 pounds would find their way into the boat, each of which deserved a photo.
We continued to race as many lines out as we could before the sun went down, but there was some joy knowing we still had one more day.
Day Three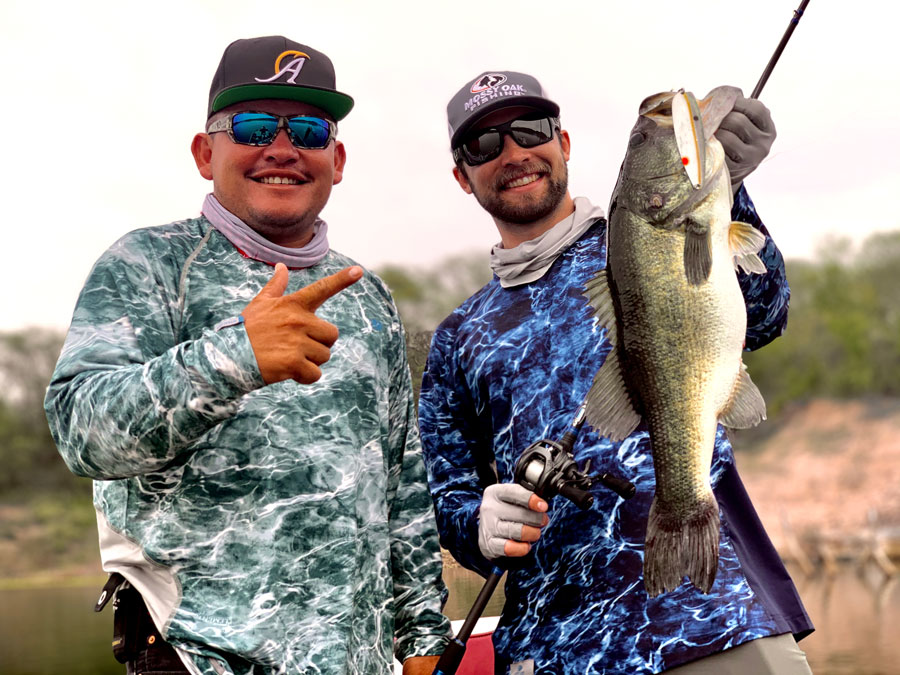 There's maybe nothing better than hunting and fishing with the pressure off. I'd already caught a personal-best bass and then topped it the very next day. I'm never opposed to catching more fish, but my bigger priority was fishing with Palaniuk, who was generous enough to shoot a live video with me for the Wide Open Spaces Facebook page.
Similar to when I went fishing with Cobb, Palaniuk showed me some less common fishing tactics, while also schooling me about the ins and outs of professional bass fishing.
As the 2017 Bassmaster Angler of the Year, Palaniuk has fished all over the country, and had even been to Lake El Salto once before. He noted the consistency of the lake, specifically its ability to produce the same quantity and quality of fish 12 years after his first visit.
Although I didn't match my personal-best in the third day, I still boated four or five bass over the 4-pound mark.
One Last Hurrah
The last night at the resort was nothing short of special. Resort owner Billy Chapman Jr. made sure to send us off with a proper goodbye, offering up top-notch entrees, local entertainers and a top-shelf bottle of tequila.
We spent the night laughing about the fish we lost, stupid things we said and all the things we would do differently the next time we came down. However, coming back was a must.
No matter what your bucket list looks like, you need to move Lake El Salto to the top, as its is unquestionably the best bass fishing trip you could ever take.
NEXT: OPENING CEREMONY: HUNTING THE FIRST DAY OF TEXAS DOVE SEASON
WATCH
https://rumble.com/embed/u7gve.cc4f1l/