Kyle Welcher finds confidence and clarity through a close second-place finish at the Bassmaster Classic.
In his two consecutive Bassmaster Classic appearances, Kyle Welcher has notched an impressive record while collecting a treasure trove of insight and perspective into managing top-tier competition.
After placing 16th in his Classic debut last year on Lake Ray Roberts, the third-year Elite pro from Opelika, Alabama, finished a close second on Lake Hartwell.
Notably, Welcher's recent story parallels that of reigning Classic champ, Jason Christie—the angler with whom Welcher shared Hartwell's Day-2 lead. Hailing from Park Hill, Oklahoma, Christie had twice before led a Classic's second day, only to come up short on Championship Sunday. In 2015, Christie finished Number 2 on Grand Lake and then took third place in 2018, the last time Hartwell hosted the Classic.
Now removed from the bright lights, huge crowds, and final drama, Welcher shared his candid thoughts on his career's biggest moment—starting with the 5-ounce margin separating him the sport's most coveted award. (Christie finished with 54 pounds and Welcher had 53-11.)
"It kind of stung; it was a little bit disappointing because you don't get that many opportunities that often," Welcher said. "But since then, I've had so many fans, followers, and sponsors come out and tell me how proud of me they were. They really liked how I handled myself on Bassmaster LIVE and on stage.
"All of that made me realize how big of an opportunity it actually is just to come in second at the Classic. At first, yeah, you really want to get the win and it really stung at first, but now I've realized just how good it's still going to help me being second on the biggest stage in the world (of bass fishing)."
Making His Mark
The Bassmaster Classic, with all its hype and pressure, can prove daunting even to a seasoned pro. However, while Welcher said he felt solid on the front side, he left his second Classic a newly fortified angler.
"I've had a lot of people tell me that the best thing that can happen sometimes is coming in second because it gives you more motivation. But I honestly feel like I'm already 100-percent all-in, doing everything I possible can to do as good as I can in all of these tournaments.
"The biggest thing is that I have the confidence in knowing that this is where I'm supposed to be, this is what I'm supposed to be doing. I am good enough to hang with the best in the world on the biggest stage in the world."
Of his near victory, Welcher said, "Knowing how close I was to winning the biggest tournament in bass fishing gives me the confidence to get there again. More than motivation, I think it tells me that next time, I'll be better prepared and have a better shot at winning."
Parting Thoughts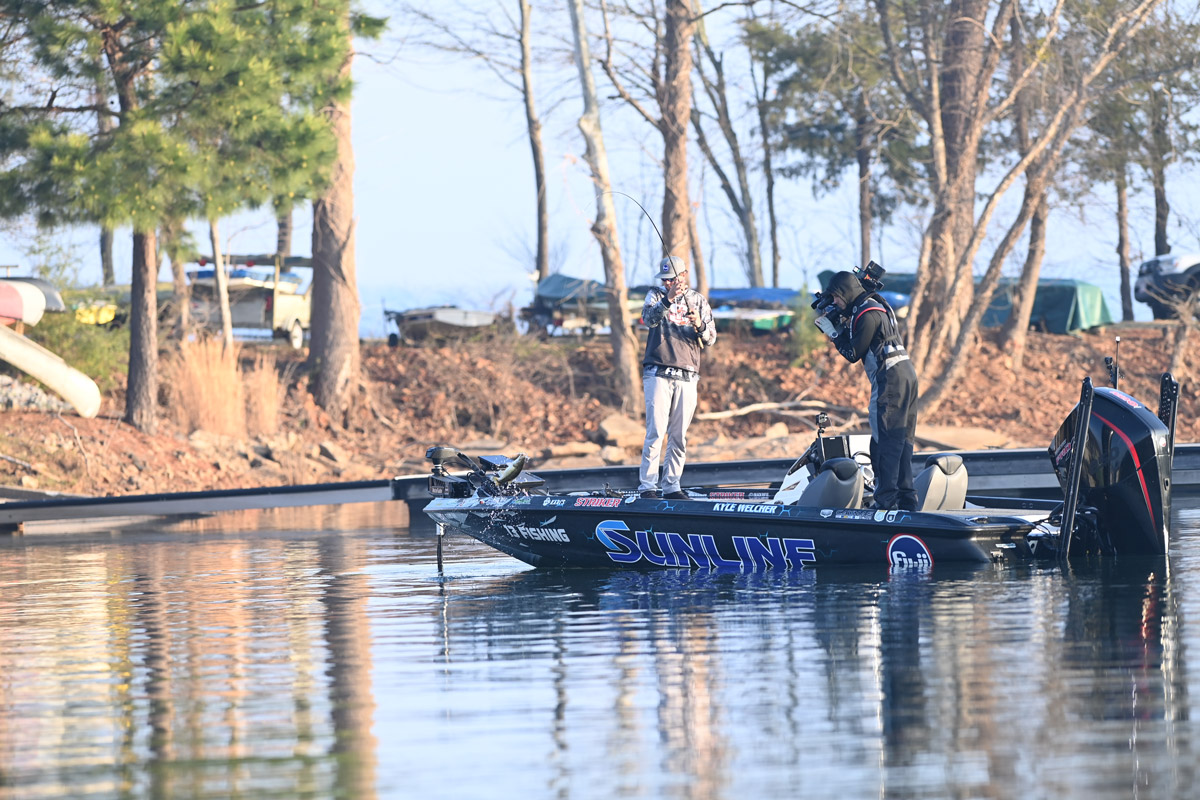 Welcher fielded a speed round of Classic questions.
What were your expectations entering the arena on Day 3?
"I knew I had enough weight that it was going to be very close. I felt like there was a 50/50 chance that I was going to beat (third-place Stetson Blaylock, who weighed the event's biggest bag, 20-9, on Day 3). I knew that Jason and I had very similar weights. So, I felt like each of us had a 33-percent chance of winning the tournament. I did not think it was going to be me, for sure; but I knew I had a chance."
Did your professional poker background help steady your Classic nerves?
"A lot times, people draw the conclusion that I played poker for a long time so that's why I'm calm. But I've always been relatively calm and that's what made me a little bit better at poker and it helps me when I'm in these high-stress tournaments when you're making thousands of decisions a day. I said it since Day 1 of the Classic when I was in second, 'We've got an opportunity, but it's dang sure not a guarantee. Opportunities can go your way or they might not. I was just glad to have the opportunity and we got dang close.'"
You focused on catching a couple of heavier prespawn largemouth each day, then rounded out a limit. Would you have changed anything?
"Looking back now, I can easily find a two- or three-hour window where I didn't cull on Day 1, Day 2, or Day 3 when I might have wasted a little time. I never culled in the last two hours of Day 2, and if I had picked up a wacky rig and skipped it up under docks for the last two hours, I might would have culled, but if I don't cull or I don't get a bite on it, I might have been less likely to pick it up going into Day 3 (when I caught most of my fish on the wacky rig). I can look back and find a place where maybe I could have made a different decision, but that decision would have changed how the rest of the tournament would have played out. So I feel like I fished a pretty solid game mentally. I didn't land everything that bit, but I landed enough to put us dang close."
Will that 5-ounce margin linger in your mind?
"Going into Day 3, if you would have told me I could have 16 pounds, I would have taken it. I went out there and caught 17-4. (Christie had 17-9.)
"In that tournament, 17-4 was a really good bag. I caught enough to where it was way above average for that tournament, Jason just caught a quarter pound more. I feel like I put myself in contention and I just got beat."
READ MORE: BAITS AND LURES THAT WON THE 2022 BASSMASTER CLASSIC, PLUS OTHERS USED BY TOP FINISHERS