After tying for first on Day 2, Jason Christie finally realizes his Bassmaster Classic dream.
Jason Christie found redemption on Lake Hartwell and it came by way of a dramatic victory at the 2022 Academy Sports and Outdoors Bassmaster Classic Presented by HUK on Lake Hartwell.
The last time the Bassmaster Classic visited Lake Hartwell (2018), the seasoned Bassmaster Elite from Park Hill, Oklahoma, led the field into Championship Sunday, but failed to fill a final-day limit and ended in third place.
Today Christie entered Day 3 tied for first with Kyle Welcher, but when the dust settled, Christie nosed across the finish line with a 3-day total of 54 pounds and a 5-ounce margin of victory.
For his win, Christie earned a top prize of $300,000 plus a Toyota Bonus Bucks prize of $7,500. Christie has also won four Bassmaster Elite events and two Bassmaster Opens.
"All of the events I've ever won they come when you least expect it," Christie said. "I won this thing off one deep hole and running around crazy flipping boat docks.
"I had nothing—nothing. That's how I calmed myself today. I was like 'I did all I could do. I didn't lose a fish that mattered. I lost a big one on the first day but I caught it the second day.'"
Christie placed ninth on Day 1 with 17-1 before adding 19-6 on Day 2. He closed out his performance with a final-round limit of 17-9.
Asked if he felt like this was going to be his time to win, Christie said: "I got a 3 1/2-pounder caught on a dock rope and I caught a 3-pounder with 15 minutes left to go that's on other side of a dock cable. When you do that, against these guys, you're supposed to win."
Where He Fished
After a meager practice, Christie started each day in a deep drain within a mile of the takeoff. He said he knew he had a chance at a big fish, but considered this a limit spot.
"One morning in practice I just started running some drains and looking around with Garmin LiveScope," Christie said. "There was this one drain where I fished all three morning of the Classic. It was really just a comfort thing."
By mid-morning, Christie transitioned to shallow docks. Describing the pace as slow and painful, Christie said seasonal transitioning (prespawn movements) made his bite tough.
"In practice I could get bit anywhere on a dock, but as the Classic rolled on, the fish wanted to get super shallow," he said. "They either wanted to be on a dock that I could see bottom all the way around, or they wanted to be under a walkway.
"Usually, what that represents is that they're really close to spawning. I needed those long walkways that were in the water. I think I caught every (dock) fight that way."
How He Caught 'Em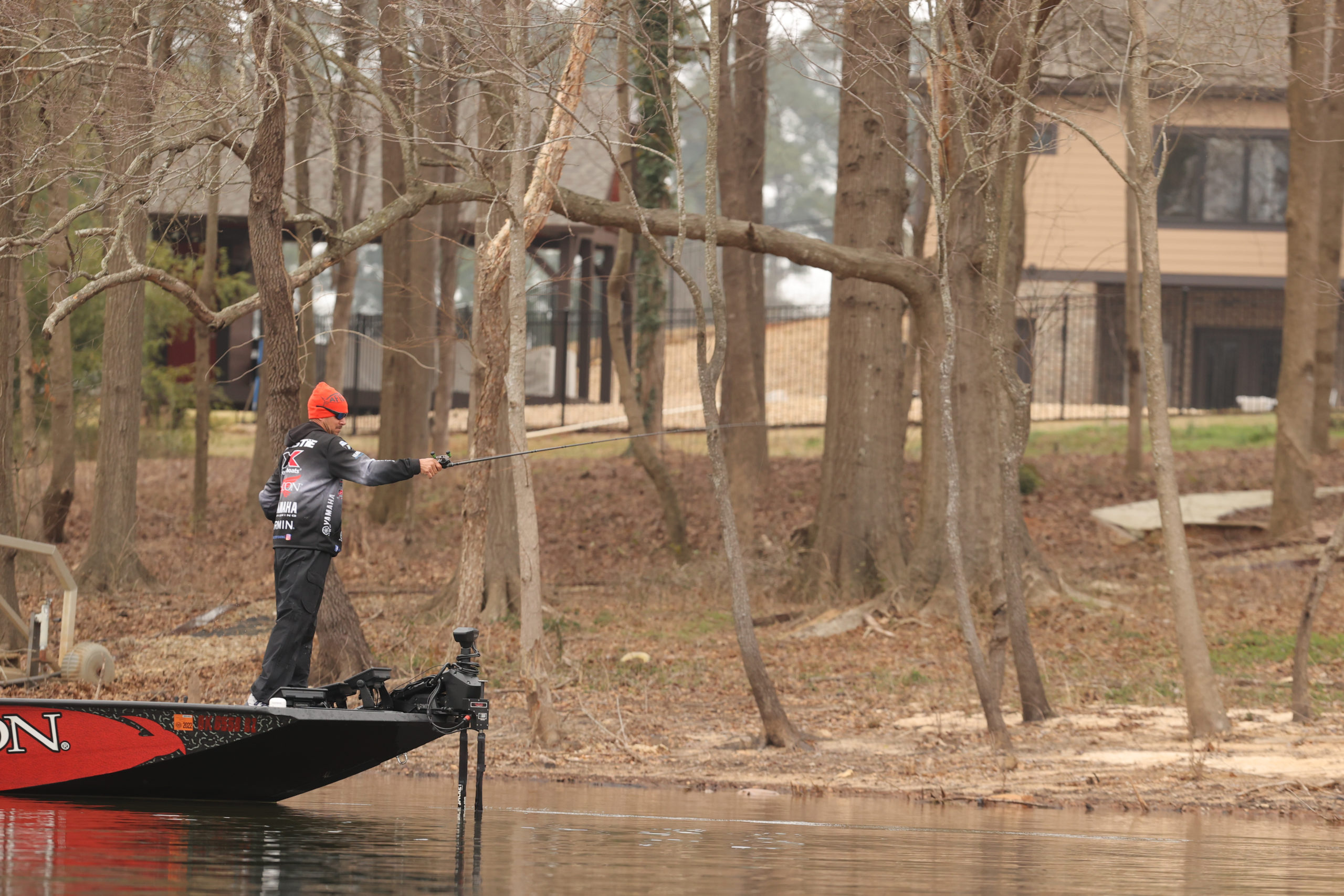 Christie caught his drain fish on a 3/16-ounce jig head fitted with multiple minnow bodies, including a prototype YUM FF Sonar Minnow. The bait's name stands for "Forward Facing,"—the sonar tactic he commonly uses with this technique.
On the docks, Christie threw a 5/8-ounce War Eagle Jiu-Jigsu skipping jig with a 2.75 YUM Craw Chunk.
Rest of the Best
Hailing from Opelika, Alabama, Welcher turned in daily weights of 18-13, 17-10, and 17-4 and tallied a 3-day total of 53-11. His was a highly mobile strategy that centered on targeting largemouth bass, which typically grow larger than the spotted bass also populating Lake Hartwell.
Welcher focused on areas of dirtier water with abundant bait schools. While the nomadic blueback herring often factor into Hartwell fishing strategies, Welcher focused on fish feeding on threadfin shad because these baitfish are less prone to roaming.
Welcher through an assortment of reaction baits and slower presentations. Ultimately, he caught the majority of his fish on a wacky-rigged gray stick worm.
Stetson Blaylock of Benton, Arkansas, finished third with 53-5. Along with his first two limits that weighed 17-5 and 15-7, Blaylock turned in his best effort on Day 3 with a limit of 20-9—the event's heaviest bag.
Blaylock targeted flat points and docks. He caught his fish on a crankbait and a wacky-rigged 5-inch YUM Dinger.
Justin Hamner of Northport, Alabama, was fourth with 49-7. Chris Johnston of Otanabee, Ontario, finished fifth with 49-4.
Brandon Cobb of Greenwood, South Carolina, leads the Big Bass standings with his 6-12.
NEXT: CHRISTIE AND WELCHER TIED FOR BASSMASTER CLASSIC LEAD