Located in the northern part of the state approximately 20 miles north of Park Rapids, Itasca State Park is Minnesota's oldest state park. Minnesota is not just the state where Little House on the Prairie made its mark, it is also where the headwaters of the Mississippi River begins. From here, the mighty Mississippi River winds its way 2,552 miles into the Gulf of Mexico.
The Department of Natural Resources (or DNR) is the best online resource to learn about the headwaters, which is situated three and a half hours from Minneapolis. Whether you are cross-country road tripping or just making a day trip, we guarantee that Itasca State Park is worth the trip. Whatever length of drive you are taking, here are our favorite driving songs to start your trip right!
History of Itasca State Park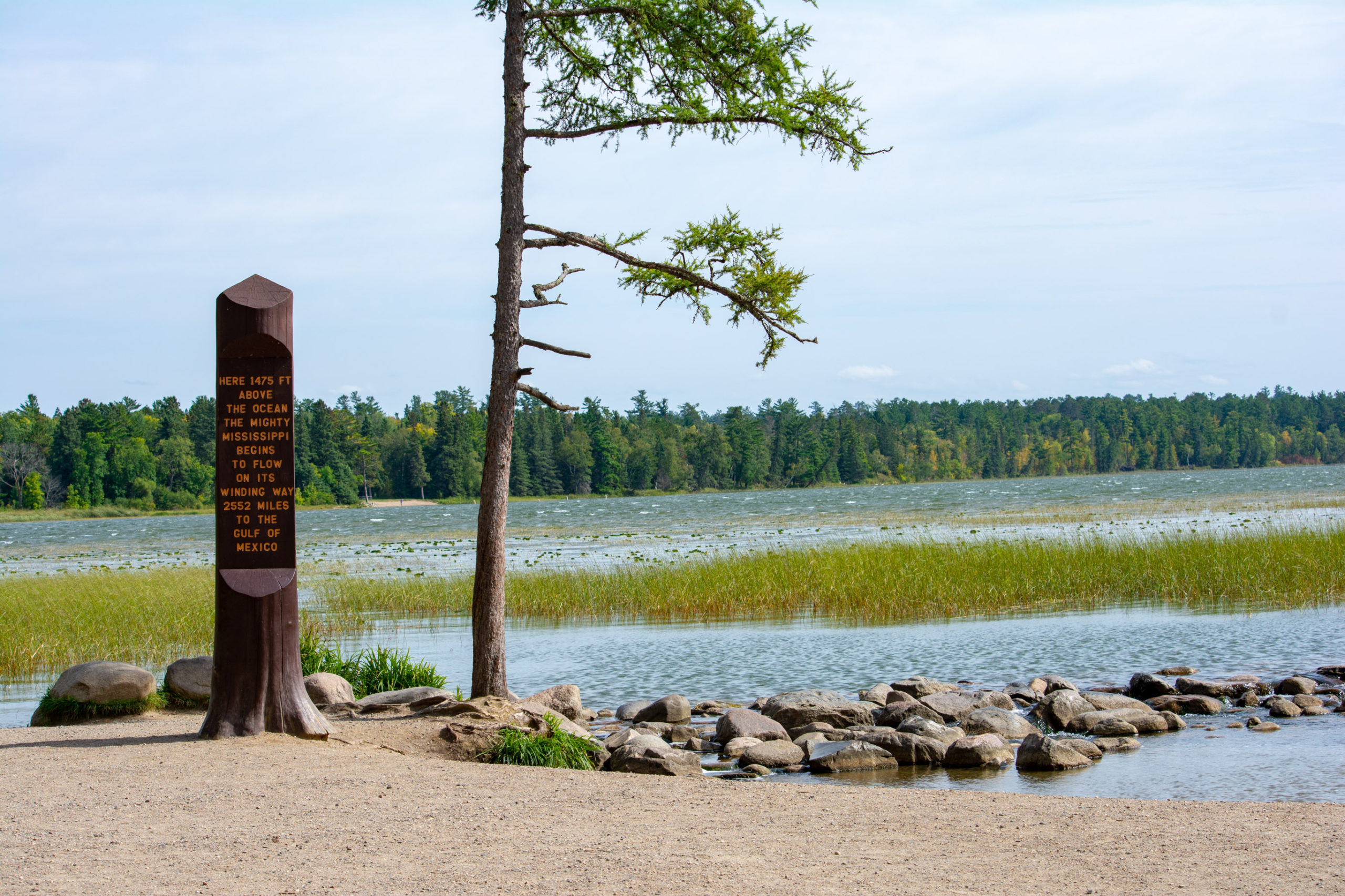 Almost 10,000 years ago, the Native American tribes of the modern-day Park Rapids area hunted bison, deer, and moose and foraged for food. According to this map, the main Indigenous tribe of this region is the Mdewakanton people. Take a scenic drive on Wilderness Drive in the park and learn more about the Bison Kill Site and what happened in this time period.
Larger, more permanent colonies arrived near Lake Itasca a few thousand years later and began building with stone, wood, and bone tools. You can visit the Itasca Indian Cemetery to pay homage to the Native people of the land that lost their lives.
In the early 19th century, explorer Henry Rowe Schoolcraft was guided by Anishinabe guide Ozawindib to locate the headwaters of the Mississippi River. Schoolcraft is the man who came up with the name "Itasca" from Latin words for "truth" and "head".
The area was hastily being turned into a logging mecca and in the late 19th century, a historian, land surveyor, and anthropologist by the name of Jacob V. Brower was called to protect this forested hub for future people to enjoy. His efforts helped create this Minnesota State Park on April 20, 1891.
About the Mississippi Headwaters
This area of northern Minnesota features over 32,000 acres of lush pine forests, "knob and kettle" terrain formed by ancient glaciers, ice lakes, the mighty Mississippi headwaters, and a wide array of wildlife. The headwaters start as a quaint 18-foot wide, few-foot deep river in Itasca State Park where it flows north to Bemidji and then takes a turn east and then south towards Grand Rapids.
When you visit, be sure to snap your photo next to the 90-year-old headwaters marker post. Paddling enthusiasts try every summer to make the ultimate journey from the start of the Mississippi all the way to the Gulf of Mexico. You can even ross the rock damn where Lake Itasca ends and the Mississippi begins.
Visiting Itasca State Park in Minnesota
RELATED: Hiking Hanging Rock State Park is a Dream Come True
No matter the time of year, there is always something interesting to learn and discover at Itasca State Park. Your first stop should be a visit to the Mary Gibbs Mississippi Headwaters Center, where you can learn about the cultural and ecological history of the region. Check out the outdoor interpretive center before exploring the hiking trails. There is also a gift shop and cafe for snacks and souvenirs (seasonally opened).
For educational exhibits, children's play area, and more regional information, head to the Jacob B. Brower Visitor Center, which also has a gift shop, vending machines, and restrooms. The historic Douglas Lodge has been a source of overnight shelter for park guests since the early 20th century. Rest under the towering pines or sit in front of the stone fireplace in the lobby. There is even a restaurant that boasts lovely forest views as you dine.
Things to Do at Itasca State Park
Outdoor activities abound in this fruitful region of northern Minnesota. In warmer months, there are 49 miles of hiking trails, 16 miles of biking trails, and a boardwalk that is ideal for orchid viewing in summer months. Favorite hiking trails and sites include Red Pine, Preacher's Grove, Large White Pine, Aiton Heights Fire Tower, and Bear Paw Spur. Bring your kayak to explore by water or rent a pontoon boat for a family excursion.
If you visit in cooler months, the park offers snowshoeing, cross-country skiing, and snowmobiling. Wilderness Drive leads you through the 2,000-acre Wilderness Sanctuary, which is actually one of the state's seven National Natural Landmarks.
Camping at the Park
Overnight guests will delight in the multiple options for staying at this park. For campers, there are hundreds of drive-in campsites, electric campsites, RV sites with hookups, backpacking sites, and group camps. For non-camping lodging, Itasca State park has Four-Season Suites with cabin, room, and suite options. For wheelchair-accessible stays, there are two sites located in Bear Paw Campground and two sites in the Pine Ridge Campground.
Additional Information
If you plan to visit Itasca State Park, there are three key items that the park recommends to prepare for your trip: The first item is to plan ahead. Buy your vehicle permit, record your confirmation number, and place it on your car's dashboard. If you are going to be skiing on the groomed trails, make sure to purchase your ski pass too. The second item is to bring everything you need to be comfortable during your trip. This means to dress for the weather (which can drastically change) and bring extra supplies for emergency situations. The last item is to follow all posted guidelines and restrictions when you arrive at the park. Check the website beforehand for any extra rules that may be in effect while visiting.
Have you been to the Mississippi headwaters? Share your story on the Wide Open Roads Facebook Page!