Now's the time to pick up a new ice fishing shelter.
Like many anglers, we love heading out on the ice each winter to try our hand at catching fish during the dead of winter. The only thing we don't love is the cold weather that can cut a day on the water shorter than we would like. After all, the longer you can sit out on the ice, the more likely you are to catch your limit or finally hook up with that trophy fish you've been looking for all these years.
Which is why a good ice house or ice tent is must. A quality ice fishing shanty or portable fishing shelter will keep you and your fishing gear warm and dry even during a blizzard.
With that in mind, here are some of the top options on the market for ice fishing shelters this winter. These will keep the warmth in and the elements of winter out. Expect to limit out a lot more often this season!
Eskimo QuickFish Series Pop-Up Portable Ice Fishing Shelter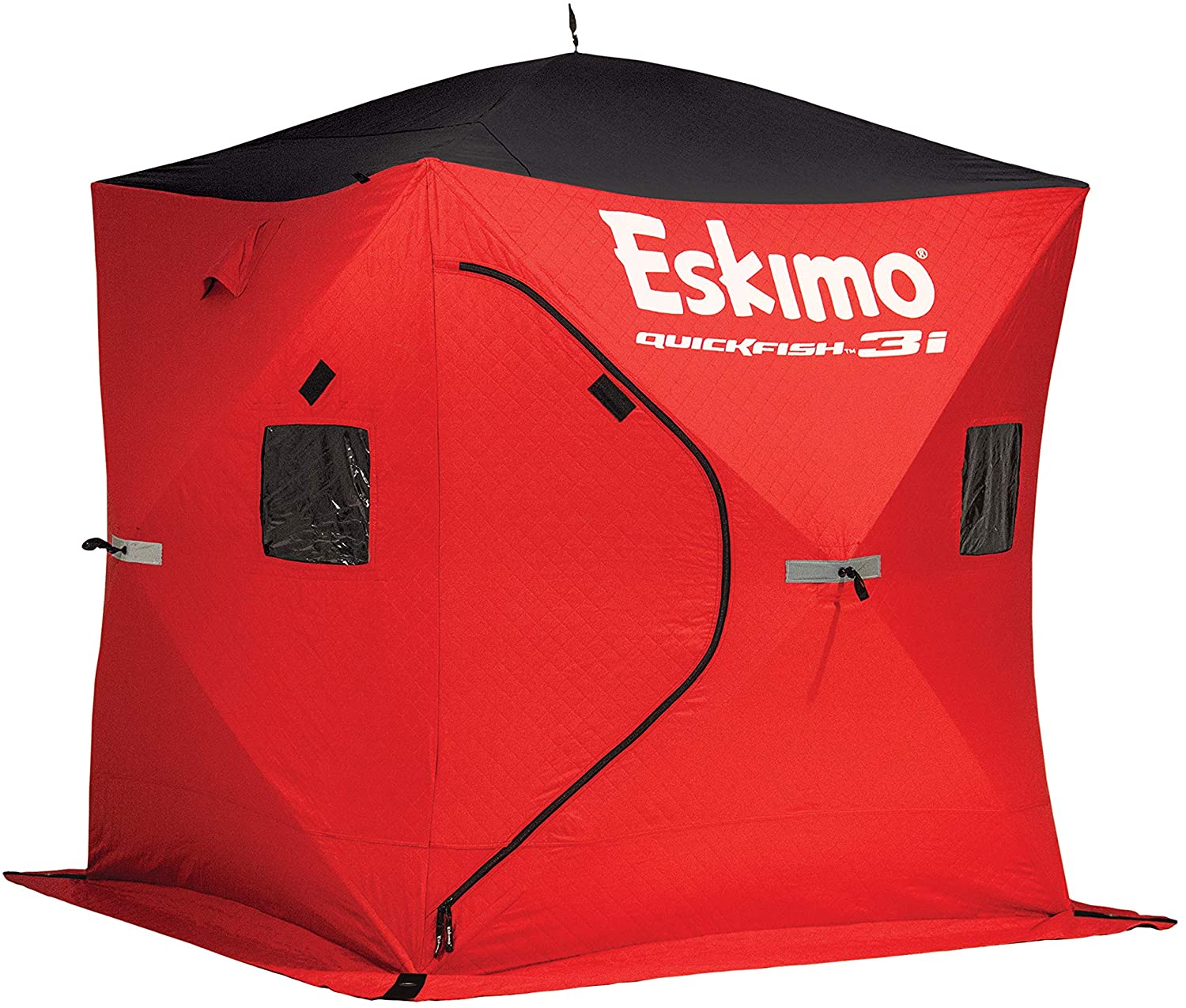 This ice fishing tent is one of the highest rated shelters being sold on Amazon right now and is available in models that will shelter between two and six people. You can expect this one to last a while thanks to the tough, 600-denier, insulated, quilted fabric. It holds in the heat extremely well. If that was not enough, this pop-up ice shelter also sets up in just 60 seconds thanks to the easy-up, take-down hub shelter design. No assembly required, and no poles and tiny parts to lose while it's in storage during the off-season. The entire setup fits into an included duffle bag. Eskimo also includes some heavy-duty self-tapping anchors and tie-downs. This shelter has vinyl windows which will let needed light in, but will keep those freezing winds out.
Clam Corporation C-360 Hub Shelter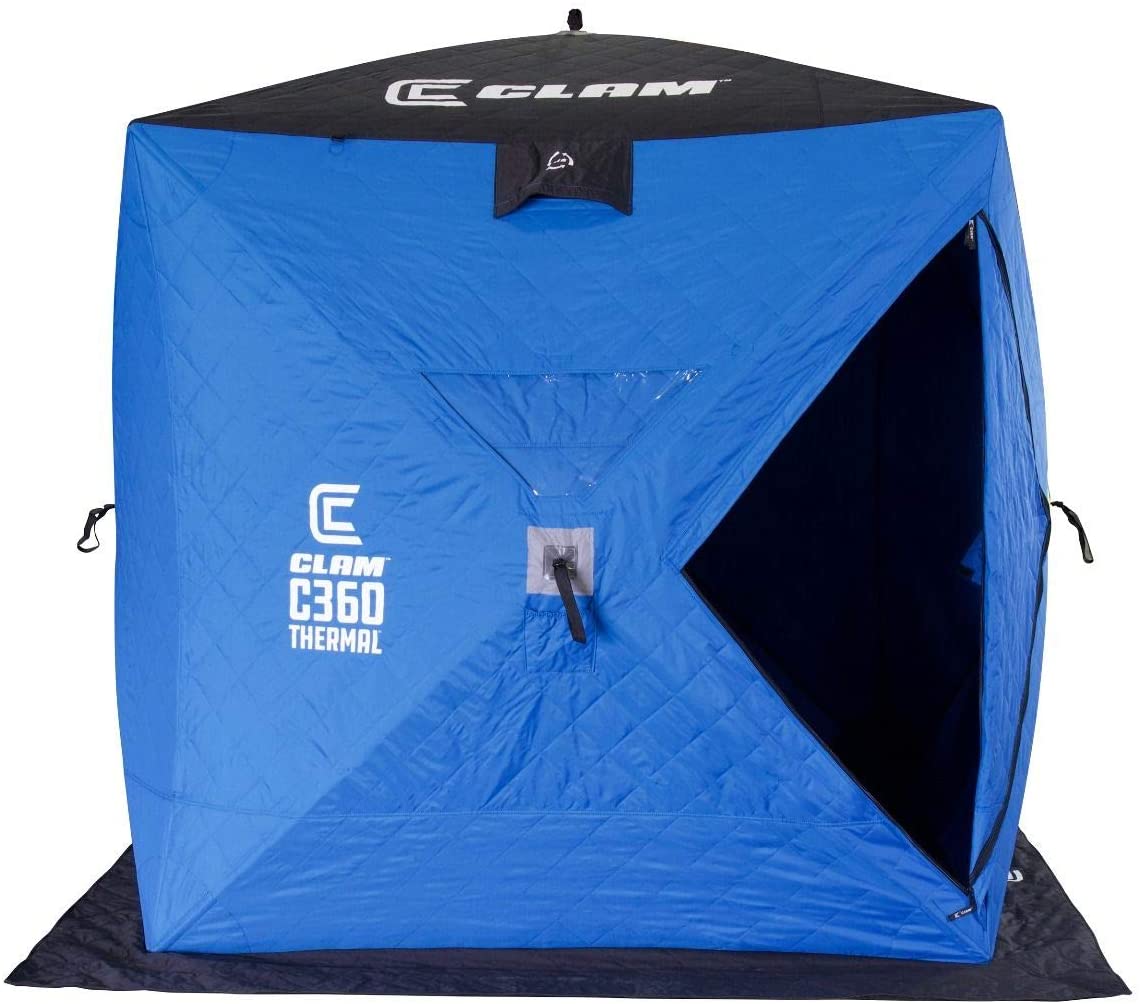 This fish house gets high ratings for staying warm thanks to 60 grams of insulation per square meter and a thermal trap. The Clam features a tough, 600-denier fabric construction that should hold up to the elements extremely well. The 54-inch packed length and 36-pound weight in the carry bag should help it easily pack onto the back of an ATV or a sled towed by a snowmobile. A large skirt around the outside will help you bank the shelter in with snow. This ice shanty is just right for a couple of anglers and their fishing equipment.
Yokstore Ice Fishing Tent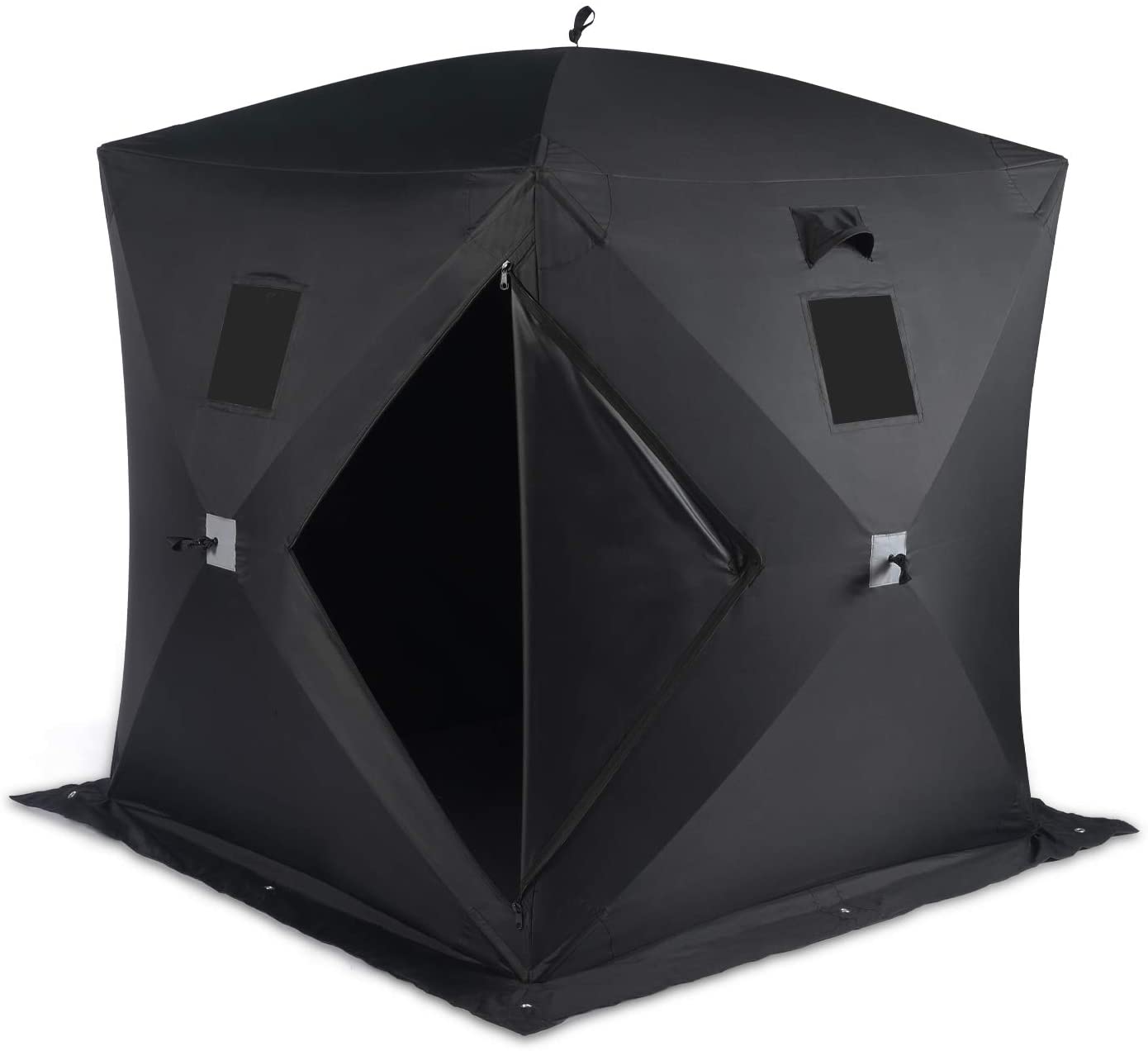 If you are looking for a solid budget option multi-person ice fishing shelter. This shelter is made from a 300-denier oxford waterproof fabric. This pop-up shelter is available in multiple sizes and comes with stakes and detachable windows. Yokstore says this shelter will stand up to extreme temperatures of -30 C (-22 F). The best thing about this one is the price, it's extremely affordable, allowing you to spend more money on new reels and ice augers.
Frabill Bro Series Hub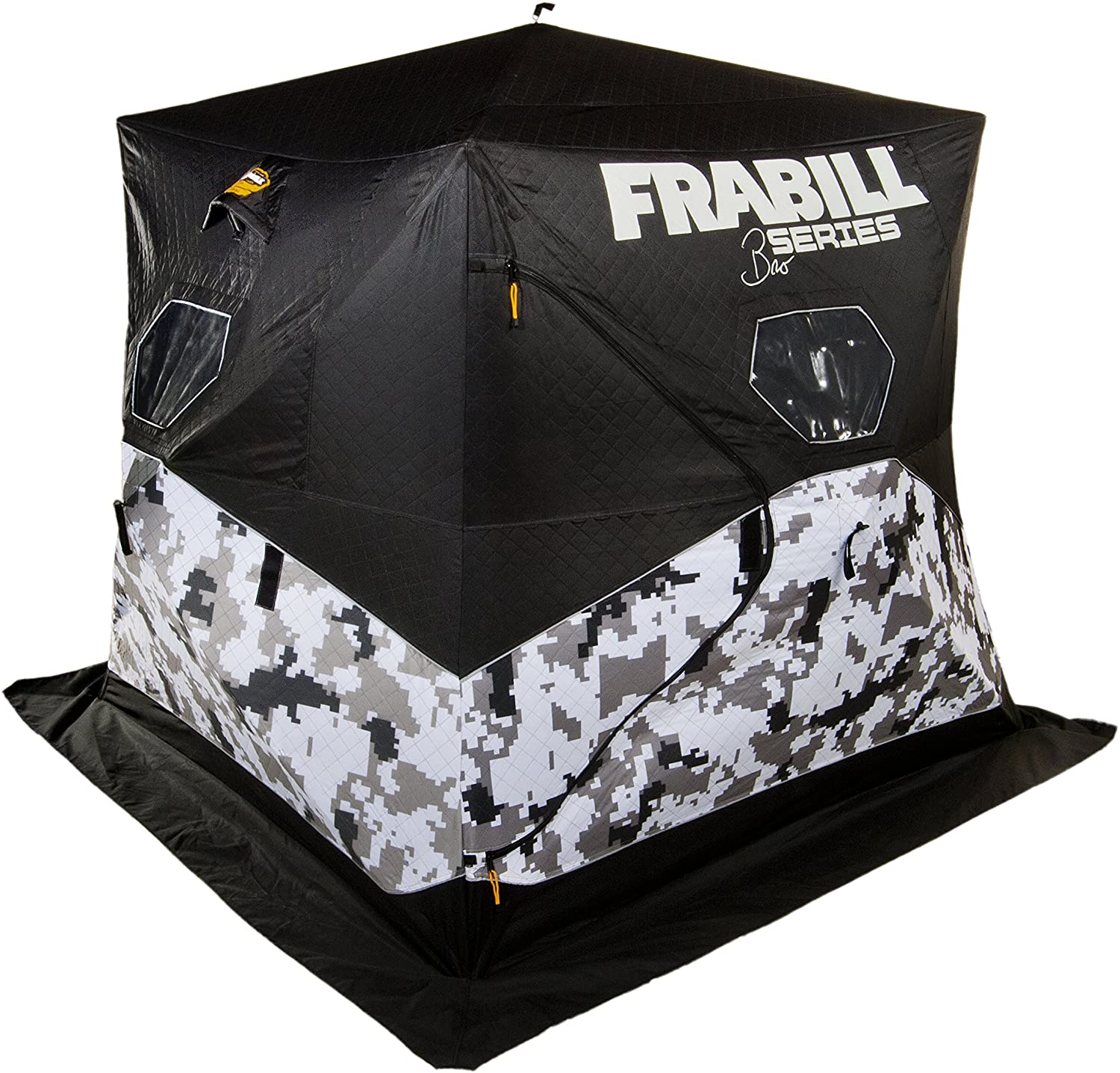 It's hard to go wrong with something designed by a pro. This shelter was designed by Brian "Bro" Brosdahl. Add in the Frabill name, which is one of the oldest and most popular names in ice fishing, and you've got a winner. This shelter is mostly made from a 600-denier polyester. The skirt is an extra-durable 900-denier polyester so it will handle a beating every winter. This one gets lots of positive reviews for its easy, quick setup, having a roomy, warm interior and the quality construction. It should stand up to many seasons of angling adventures in even the chilliest of conditions.
Otter Outdoors XT X-Over Cottage

If you are in the market for a flip-over style shelter, Otter Outdoors makes some of the best ice shelters on the market. We like this one if you're running tip-ups because of the quick exit side entry doors. Work your jigs over cover in comfort waiting for a flag on the outside. Meanwhile, the insulated 600-denier layering system will keep you toast and warm. This shelter comes with Otter's XT Sled, and a flip-up padded bench seat. You get a lot of features for the money with this shelter option.
Clam Nanook XL Thermal Flip Ice Fishing Shelter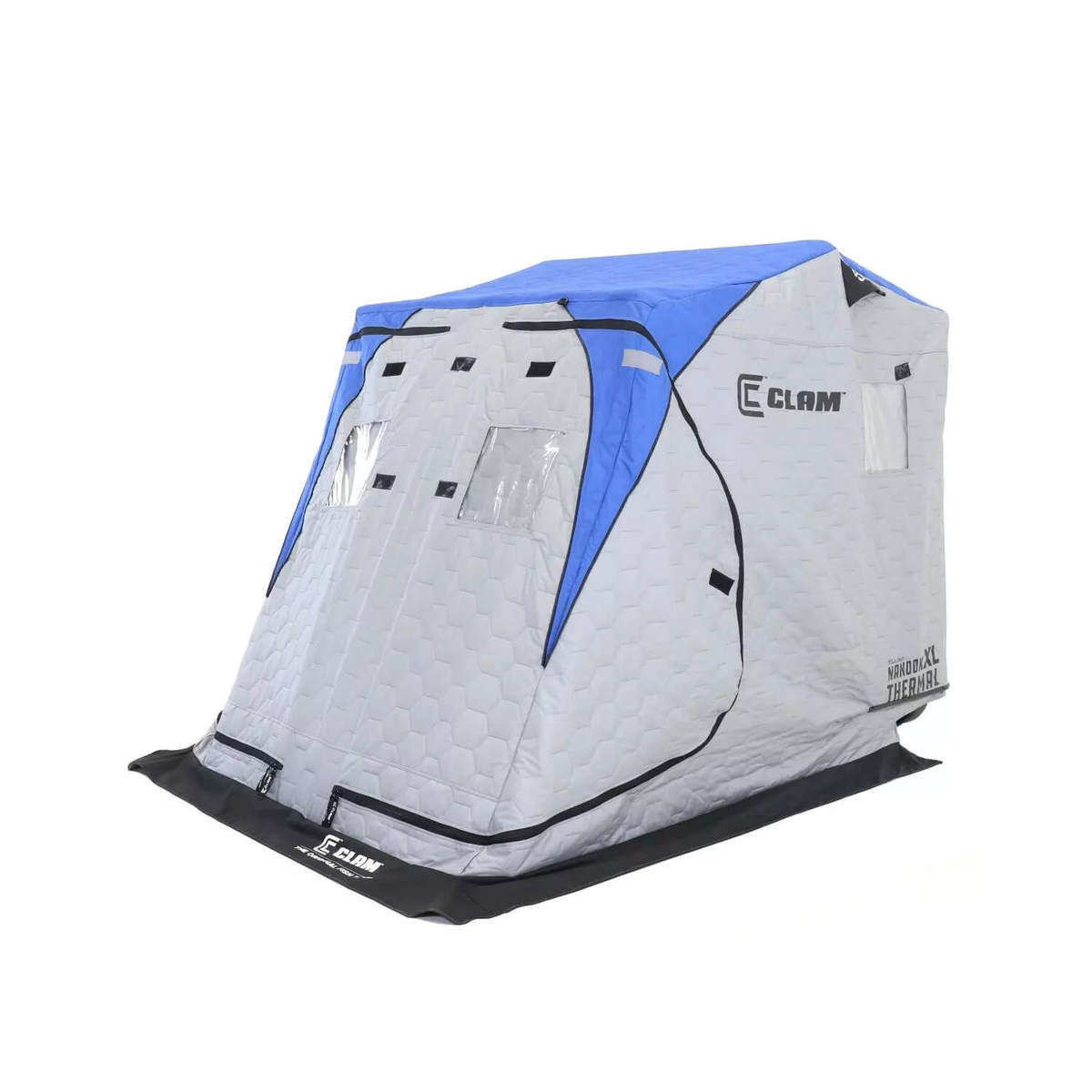 Another flip-over style shelter with enough room for two anglers. The Nanook XL features 90 grams of insulation per square meter, making this one warm ice shelter. It should also stand up to the elements extremely well thanks to a 900-denier fabric and thermal skin. Clam also built in an overhead mesh storage area for storing extra ice fishing gear. The side doors allow easy access in and out of the shelter. There are also six windows so you can better see what you are doing inside.
Eskimo Fatfish 949i Insulated Hub Ice Shelter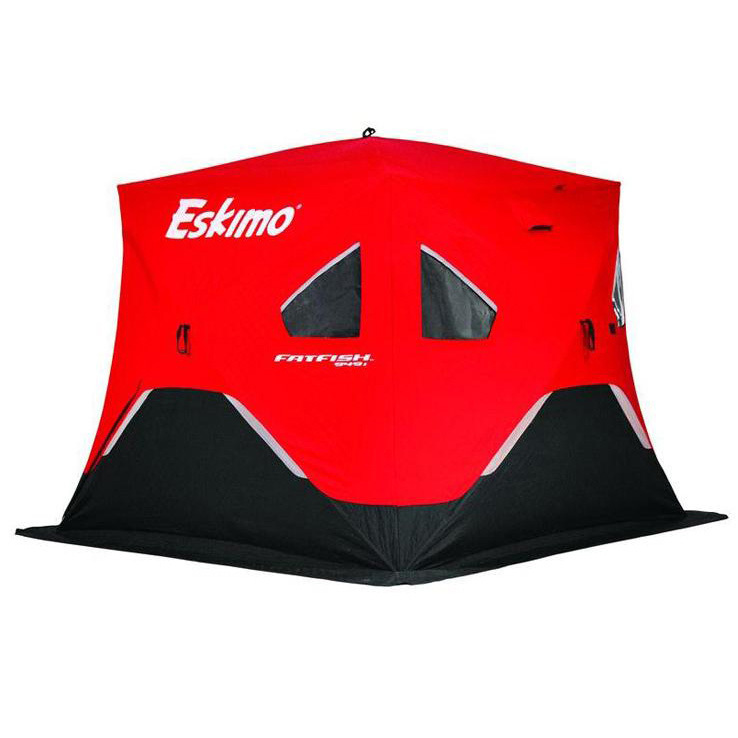 This three to four-person shelter has 61 square feet of space that can be fished in the interior. This shelter is fully insulated with quilted fabric, which keeps the interior nice and toasty on freezing days. User reviews rave about how comfortable this shelter is when the weather starts getting nasty. The quality YKK zippers help with sealing you off from the elements. Eskimo includes ice anchors and mesh interior storage pockets standard with this model.
Otter Outdoors Vortex Monster Lodge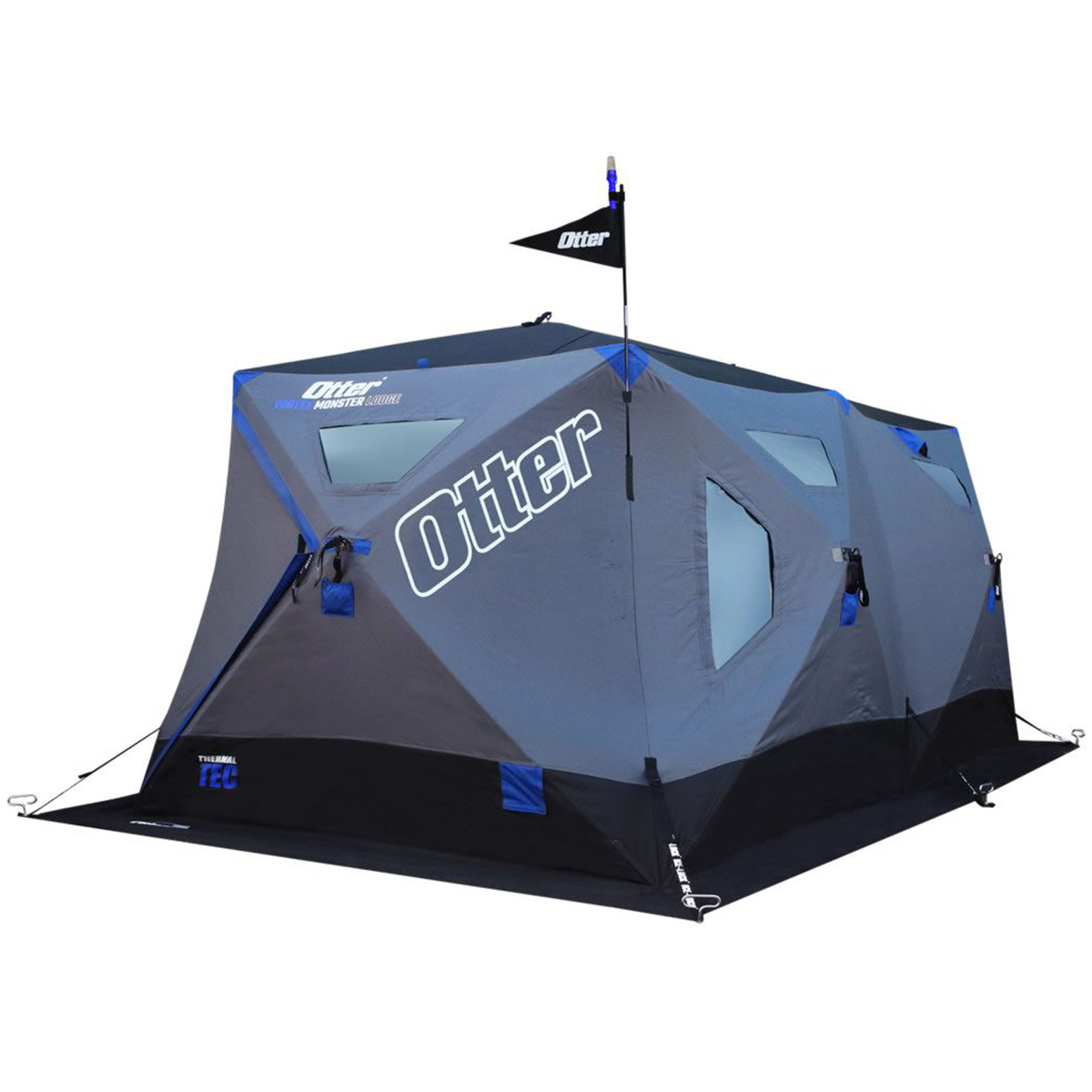 Maybe you're looking for an extra-large ice shelter for multiple anglers. Or maybe you need the extra space for sturgeon or pike spearing. Whatever you need the extra room for, this giant from Otter Outdoors should do the trick. It has a huge, 168 by 96-inch footprint featuring 112 square feet of fishable space. This shelter features Otter's Thermaltec 600-denier fabric layer system for extreme warmth. The interior features multiple storage pockets, rod, and tool holders, and an overhead cargo storage net to keep everything organized while spending long hours on the ice.
Products featured on Wide Open Spaces are independently selected by our editors. However, when you buy something through our links, we may earn a commission.
For more outdoor content from Travis Smola, be sure to follow him on Twitter and check out his Geocaching and Outdoors with Travis YouTube channels.
NEXT: PIKE SPEARING BRINGS AN EXCITING CHALLENGE TO TRADITIONAL ICE FISHING
WATCH