These tips will help transform your new Yamaha side-by-side into a veritable fishing machine.
What would you use a brand new Yamaha side-by-side for?
Whether it's for work or fun, owning one is a boon for your outdoor appreciation. If you're a dedicated angler who plans on using a side-by-side to its fullest advantage, then you're in luck. We've come up with a few ways to customize your Yamaha UTV into arguably the coolest (and most functional) fishing vehicle you can imagine.
Some additions are obvious, others are out of the box, and most are exclusive to Yamaha. That's because they know how valuable a customized side-by-side can be, and want to match accessories with machines as seamlessly as possible.
Go this route, and you'll create the ultimate fishing adventure vehicle before you know it.
Yamaha Adventure Pro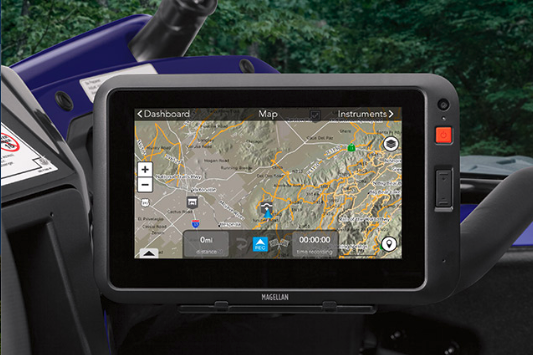 Perhaps the most advantageous accessory anyone could add to a UTV, the Yamaha Adventure Pro system is one-of-a-kind. It's a GPS-oriented program used to search, download, record, and share trail routes, and it's all controlled with a high-powered unit with a 7-inch, full-color display.
The newest Yamaha models come pre-wired and Adventure Pro-ready, meaning all you have to do is choose it as an added option, and you're in business. There's no better way to show your fishing buddies where your sweet spot is located (if you're willing to spill the beans).
Lights and More
Electrical accessories are easy to add on to a side-by-side, and Yamaha makes it simple to match up their suggestions with the fishing needs you've accumulated.
The Wolverine X4, for example, has nearly 600 watts of electrical output from the engine, two standard 12V DC ports and four pre-wired accessory switches. All Yamaha side-by-sides can be paired up with specific lighting accessories, making the connections a cinch.
An LED Light Bar is the obvious place to start, but Yamaha also has perfectly matched flood and spot lights available, plus a unique footwell lighting kit, great for early morning trips to catch the sunrise bite.
Brush Guard
The terrain surrounding water bodies can often be unforgiving, so a good brush guard will go a long way.
Yamaha offers both front and rear guards, plus A-Arm covers and Skid Plates that will protect your side-by-side no matter where you take it.
Bigger, Better Tires
Swap the factory rubber for some heavy duty tire kits like the MotoClaw or MotoBoss, both great choices for a Yamaha side-by-side that is likely to encounter muddy, wet conditions.
A better pair of shoes will get your machine to the lengths you need to reach if you're after the really good fishing spots.
Enclosure System
It's nice to feel the wind in your face, but a hard cab enclosure system has its benefits. You'll be better protected from the elements if you have a brisk, early-morning ride to your fishing spot, and you'll keep fingers and faces warm leading up to the angling.
Plus, you can lock and secure all your fishing gear inside the cab while you're away from the side-by-side. That peace of mind is worth a lot, especially considering the expensive nature of some of the necessary equipment.
A simplified version of this same notion would be the Rear Cargo Box, available for any side-by-side model. Four and a half cubic feet of space comes with an integrated lock, but has room for an additional padlock, too.
Plus, there's even a soft rear window that can help keep the inside dry if you're riding in the rain or crossing creeks.
What else will you add to your fishing-centric Yamaha side-by-side? There are plenty of options, and the only limits come from your imagination.
NEXT: 6 NEW FEATURES THAT MAKE YAMAHA'S OFF-ROAD UTILITY VEHICLES EVEN BETTER