Alan Jackson lyrics have been captivating listeners for years.
And now his fan club can include these restless shelter dogs at Friends of Vance County Animal Shelter.
Chad Olds is an animal control officer in Vance County, North Carolina but he is also a former country musician who loves Alan Jackson songs. One of his favorites to play is "Like Red on A Rose."
When visiting the Vance County Animal Shelter one day, the director of the shelter Frankie Nobles suggested that Olds play a song since he was touting around his guitar anyways. The way the dogs reacted was a surprise to everyone so they decided to film the next private concert.
"They just stopped barking," Olds told TODAY. "It blew my mind."
https://rumble.com/embed/u7gve.v1tjpt/
The shelter hopes the video will help get the dogs adopted and show how shelter dogs benefit from additional enrichment in their environment like music, toys, and activities. Additional enrichment can make for a calmer, happier dog, which will help its chances of adoption.
"What we did it for is the exposure for the animals," said Nobles.
"We want to find them homes," Olds added. "Get them adopted."
There are more live performances planned for the pups, since there is research that music can help sooth dogs in animal shelters. The shelter plans to add concerts to their new enrichment program which will be shared on their Facebook page.
Many shelters have tried music therapy in the past including this Florida shelter who invited an orchestra cellist to come play in the shelter hallways.
And even Alan Jackson agrees "Like Red on a Rose" was the perfect song to play for the pups.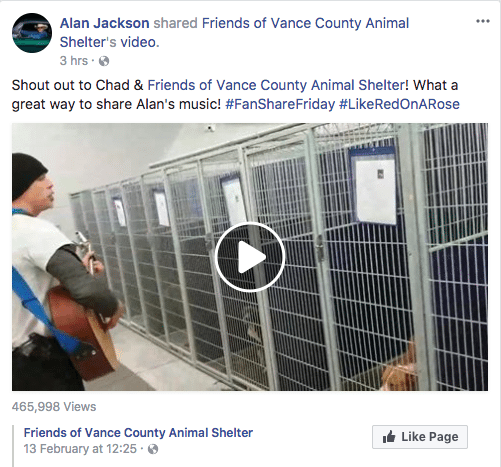 What do you think of music in shelters? Tell us in the comments below.
WATCH NOW: Yard Bar Adoption Event with Wag in Austin, TX
Enjoy the outdoors?
Sign up for daily stories delivered straight to your inbox.