With summer officially here, outdoor enthusiasts are turning to the one thing they've been looking forward to all year: camping. But if setting up your own tent, snoozing in a sleeping bag, and not having access to hot water doesn't quite sound like your thing, there is another option: glamping.
A spin on the traditional camping experience, glamping offers more luxurious lodgings and amenities, allowing you to experience nature but with a few more of the comforts of home. For example, some glamping sites offer electricity, running water, scrumptious meals and, of course, outstanding views of the great outdoors. Others offer experiences such as live music and morning yoga that you might expect from a hotel. With that said, additional amenities can come with a higher price tag than traditional camping; but if you're budgeting to stay at hotels, glamping can be a great option.
Whatever your vibe, there's a plethora of glamping options around the country that'll meet every budget and need. Check out our curated list of the best glamping spots in the U.S. below to inspire your next adventure.
West
AutoCamp Zion in Virgin, Utah
Soak up the picturesque views of the red-rock landscapes of Utah while resting your head in a midcentury caravan. Situated on 16 acres of land, AutoCamp Zion features 72 custom Airstreams, 10 basecamps, and nine "X suites"—which offer modern accommodations for up to four with a private bedroom, bathroom, kitchen, and living area. Classic Airstreams feature panoramic windows for views of rock formations, plus heating and air conditioning, Wi-Fi, and mountain bikes to use while you're on the property.
Prices start at $201 per night.
Sonoma Treehouse Adventures in Occidental, California
Channel your inner child at Sonoma Treehouse Adventures. Near the coast of Northern California and deep in the redwood forest, Sonoma Treehouse offers a unique experience consisting of zip lining, sky bridges, guided hikes, and gourmet meals. The treehouses (requires a minimum of two guests) are equipped with a comfy bed, a small seating area, and dinner with a view—and memories that will last a lifetime. Trust us, you're not going to want to leave.
Prices start at $523 per person.
READ MORE: 8 Beautiful California Glamping Sites To Visit This Summer
ULUM Moab in Moab, Utah
Nestled just steps away from the Looking Glass Arch, ULUM Moab is a camping paradise with prime views of the desert and Canyonlands National Park. Just because ULUM Moab is tucked away in the desert doesn't mean comfort is compromised. In the glamping tent, you'll enjoy luxury amenities including rain showers, a private deck for stargazing, Turkish robes and linens, and upscale furniture that blends with the nature around you. You can also take advantage of complimentary yoga, dipping pools, and sound bath meditation. Romantic getaway, anyone?
Prices start at $549 per night.
The Resort at Paws Up in Greenough, Montana
Enveloped on 37,000 acres of untamed land with access to the Blackfoot River, the Resort at Paws Up is where nature meets luxury. Don't let the rugged nature of the resort fool you—the accommodations and experiences are anything but rough. The safari tents are spacious and are finished with a king bed, a private deck, an en suite bathroom, and air conditioning. While there, you can enjoy fly fishing, horseback riding, climbing, and whatever else your adventure-filled self desires. If you have a furry friend, the Resort at Paws Up—which gets its name from over-friendly, wiggling dogs—is pet-friendly, providing a complimentary kennel, collar, and homemade treats. Now, who's ready to hit the hiking trails?
Prices start at $1,255 per night (four-night stay minimum).
Midwest
Under Canvas Mount Rushmore in Keystone, South Dakota
Luxury and nature converge at Under Canvas Mount Rushmore. There, you'll be able to explore the Black Hills and take in views of the carved faces of past presidents. The stargazing and deluxe rooms can comfortably fit two for a couples getaway. For families of four, you can opt for a suite, which is decked out in upscale and modern furnishings and en suite baths. It's a getaway you don't want to skip this summer.
Prices start at $229 per night.
Lost Hill Lake Glamping in St. Clair, Missouri
If you're looking for a unique glamping experience in the Midwest, look no further than Lost Hill Lake's glamping site. Surrounded by 15 acres of lake and Instagram-worthy views of Meramec River, Lost Hill's offerings really help folks get situated in nature. Guests can stay in different types of renovated vehicles, from campers to school buses to houseboats (how cool). Each one is outfitted with comfy beds, a large porch, and electricity and heating. Canoes and kayaks are also available if you want to hit the water. This experience emulates road-tripping minus the wheels.
Prices start at $95 per night.
The Fields in South Haven, Michigan
Located on a blueberry farm, the Fields offers a luxe glamping experience in southwest Michigan. En suite bathrooms, lush tents, and chef-curated meals are all a part of the stay. On the farm-to-table menu, you'll find options including spring pea risotto, a camp salad, and rhubarb pie (yum). You can even get a massage or participate in aromatherapy sessions in small huts along the Black River.
Prices start at $379 per night.
Southwest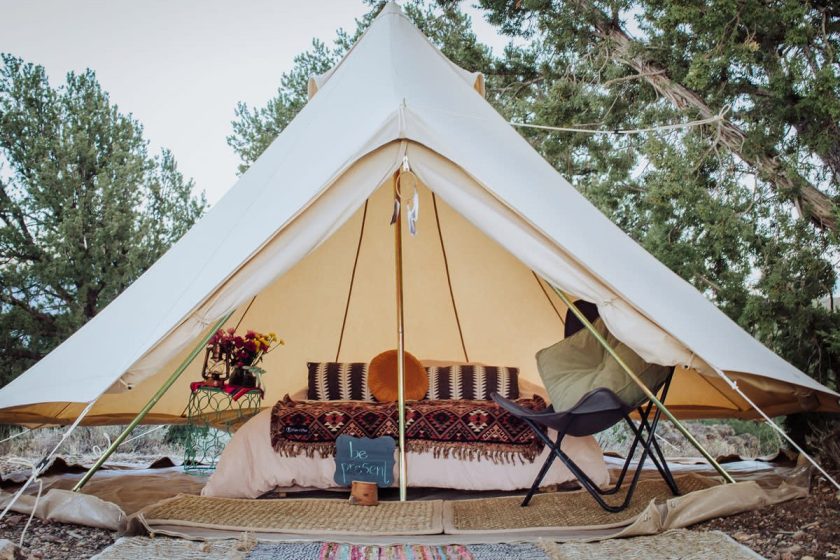 Heritage Inspirations in Albuquerque, New Mexico
Culture and adventure await at Heritage Inspirations' Chaco Canyon Glamping Excursion. On your two-day glamping experience, you'll get to lie under the stars in Chaco Culture National Park, a UNESCO World Heritage Site. Accommodations include a spacious canvas tent with a memory foam mattress, a multi-course dinner, and views at Fajada Butte. We don't think life gets much better than that!
Prices start at $1,499 per night.
Walden Retreats in Johnson City, Texas
Named after Henry David Thoreau's Walden, Walden Retreats is an oasis located in Johnson City, Texas. The luxurious, canvas-style tents are perched atop the hills, so guests can enjoy views of the Pedernales River with sunset views throughout the year. To mimic the experience of camping, Walden allows guests to bring their own food and groceries, and to build their own fire pit (because s'mores are life). When not snoozing, guests can take advantage of swimming, fishing, and canoeing in the river.
Prices start at $176 per night.
Onera in Texas Hill Country
At Onera, you can relax in the comfort of one of Onera's treehouses. What looks like it could be straight out of an architecture museum, the Spyglass Treehouse is suspended 10 feet above the ground and offers a private deck, hot tub, an efficient kitchen, and a king-sized bed. What's more, the back of the treehouse offers ample space for yoga, stargazing, and wildlife watching. Onera really is a wellness haven within the Texas Hill Country.
Prices start at $259 per night.
El Cosmico in Marfa, Texas
When creatives are in town, they flock to El Cosmico in Marfa. The property offers an array of accommodations ranging from cozy vintage trailers to cosmic yurts, providing a unique off-the-grid experience in the Lone Star State. No creative space is complete without a lounge, outdoor stage, and wood-fired hot tubs.
Prices start at $199 per night.
Southeast
The Dome in Asheville, North Carolina
Ever wondered what it would be like to sleep in a dome? Now you can with Asheville Glamping, and this spot has a slew of impressive amenities including a private hot tub and an indoor slide (yup, you heard that right). You'll also enjoy air-conditioned rooms, mini kitchenettes, and comfy beds. Although there's a two-night and day minimum, we promise you'll be wanting to stay even longer. Now, who's ready to go glamping?
Prices start at $125 per night.
Getaway in Moss, Tennessee
By now, you've probably already seen photos of the Getaway's picturesque cabins on your Instagram feed. With more than 25 locations and counting, Getaway is the perfect way to escape the hustle and bustle of everyday life, especially the location in Moss, Tennessee. The tiny cabin is equipped with a queen bed (or bunks), a two-burner stove, and private bathrooms. During the day, hit the trails or enjoy a good read at the picnic table. As for the views? The majestic forest is waiting.
Prices start at $127 per night.
Northeast
Fortland in Portland, Maine
Unplug at Fortland, a 16-acre campground on House Island in Casco Bay. The property features seven furnished campsites: three yurts and four tent cabins. All rentals include a boat ride to and from the island (yes, island!), access to three private beaches, cotton linens, and access to lawn games. Grill up some BBQ in the outdoor cooking area or enjoy the panoramic views of the Portland Harbor. A stay at Fortland is guaranteed to be a good time.
Prices start at $449 per night.
Collective Retreats in Governors Island, New York
Recharge and rejuvenate from city life at Collective Retreats on Governor's Island. Situated on 173 acres of sprawling green space, Collective Retreats is a space for all travelers, including daytrippers, tired workers, and visitors across the country. Guests can take a self-guided tour on a two-wheel cruiser, relax at the QC NY spa, and enjoy the gastronomy that the island has to offer, from private chef's tastings to specialty cocktails. Bonus: You'll be surrounded by sweeping views of the Statue of Liberty. You'll sleep in a spacious tent with rustic furnishings and a big 'ol comfy bed.
Prices start at $239 per night.
Eastwind in Windham, New York
Inspired by Scandinavian design, Eastwind's tiny houses—which are 220 square feet—are minimal without sacrificing luxury and comfort. The Lushna rooms, which are equipped with firewood and a dreamy bed, comfortably sleep two people and offer views of endless greenery. Sip on a cocktail at the Bunkhouse Lounge. Or, if you're hungry, options such as Atlantic salmon and red wine-braised short ribs can be found on the supper menu. Don't forget to check out the wood-barrel saunas for an ultimate spa day.
Prices start at $359 per night.
READ MORE: Best Ladies-Only Camping Trip Destinations for an Awesome Adventure