Watching this cat commercial from Furkids Animal Rescue & Shelters is like hitting internet gold! The hilariously cheesy commercial went viral getting nearly 5 million views.
We love a good cat video as much as, or maybe even more than, the next person! And right now, we are loving this "Kitty Kommercial" by Furkids Animal Rescue & Shelters, a no-kill shelter based in Atlanta, Georgia. The Fur Kids Commercial became somewhat of a legend on the internet with all the memes any animal lover could want.
This hilarious, low-budget, (and very cheesy may I add!) cat commercial by the animal shelter features native Atlantan, Paul Preston, in a comedic 3-minute clip of him "selling" their adoptable cats like a used car salesman. There are so many purrr-fect funny moments in this shelter commercial: from the very-real-and-not-inflatable women in pink at the beginning acting like the inflatable arm-waving tube person you usually see at car retail places to the spoof on a certain Sarah Mclachlan song for a certain animal rescue organization commercial that always manages to make us tear up... Yes, this animal non-profit commercial is indeed chock-full of comedic genius!
However, no disrespect to Preston, but we think the real stars are the cats in the video who, like the comedic pros that they are, seem to riff off Preston's funny lines flawlessly.
Fun fact: The charismatic human star of the commercial, Paul Preston, is not some local comedian, but a contractor with a rental property management company whose sister volunteers at the shelter.
It's no wonder why this Fur Kids Commercial for the local Georgia animal rescue caught on social media like a firestorm!
Be sure to watch this "it's so hilariously bad it's good" video to the end to catch bytes of comedic gold such as:
"You like sleepy kitties? We've got the sleepiest kitties you've ever seen!" (followed by a long pause with a blank stare from sleepy kitty)

"You don't like tails? No problem! Get a cat without one!"

Let's not forget, "Cats just not doing it for you? Just try out this new thing called dogs, seriously, they are really cool, you should try it!"
And lastly, one of our favorites: "All of our cats are self-cleaning and cleaning and cleaning and cleaning and cleaning and clean..."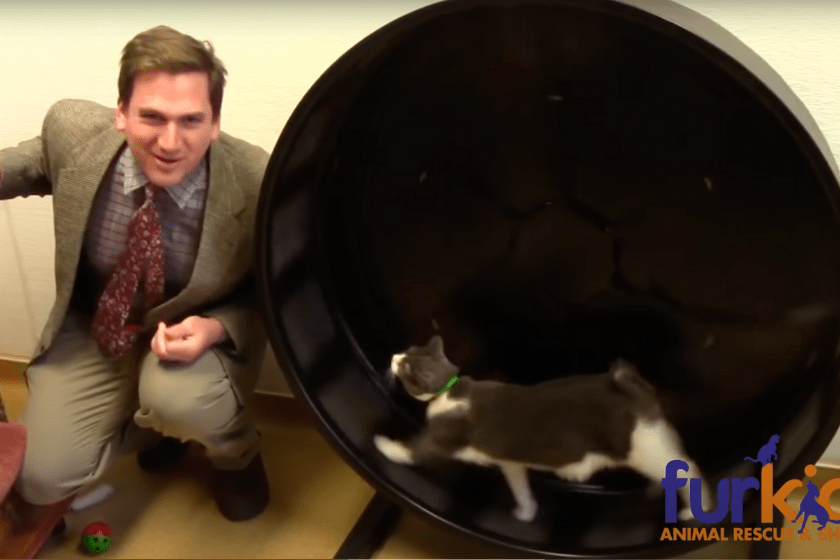 Thanks primarily to an explosion of attention on Reddit, this cheesy yet funny commercial has achieved their main goal: to spread awareness of adopting from the shelter and their animal residents— to "really just to show that animal shelters are happy places with 'wonderful' animals", says Furkids founder Samantha Shelton.
What do you think of the Fur Kids commercial? Let us know on the Wide Open Pets Facebook page!
This article was originally published January 7, 2021.
Enjoy the outdoors?
Sign up for daily stories delivered straight to your inbox.