After the Mardi Gras parade is over, dozens of horses who participated will now be offered up for adoption.
It's a long-standing tradition to have horses trotting down the streets of New Orleans during the annual Mardi Gras parade. But after the celebration is over, these horses need homes.
Cascade Stables has supplied the parade horses for years. The stables rent out horses for the celebration, buying back additional horses each year. The problem is, after the Mardi Gras parade, there isn't much need for the horses. So, the stable sells the horses back to horse brokers and auction barns, and after that, the horses' future is uncertain.
Jeff Dorson, the director of the Humane Society of Louisiana, told WDSU:
"There's such a need for surplus horses during the Carnival season that these horses are brought in from out of state or out of city and then leased to the Carnival krewes. Then after Carnival, we don't know what might happen to them. They could be resold or end up at auction or a sale barn and have a very uncertain, possibly tragic ending."
Horse brokers may sell horses to just about anyone interested, including kill buyers who ship the horses to slaughter. It's an uncertain fate at best, and hardly seems fair after the horses have taken part in the Mardi Gras celebration just a few weeks prior.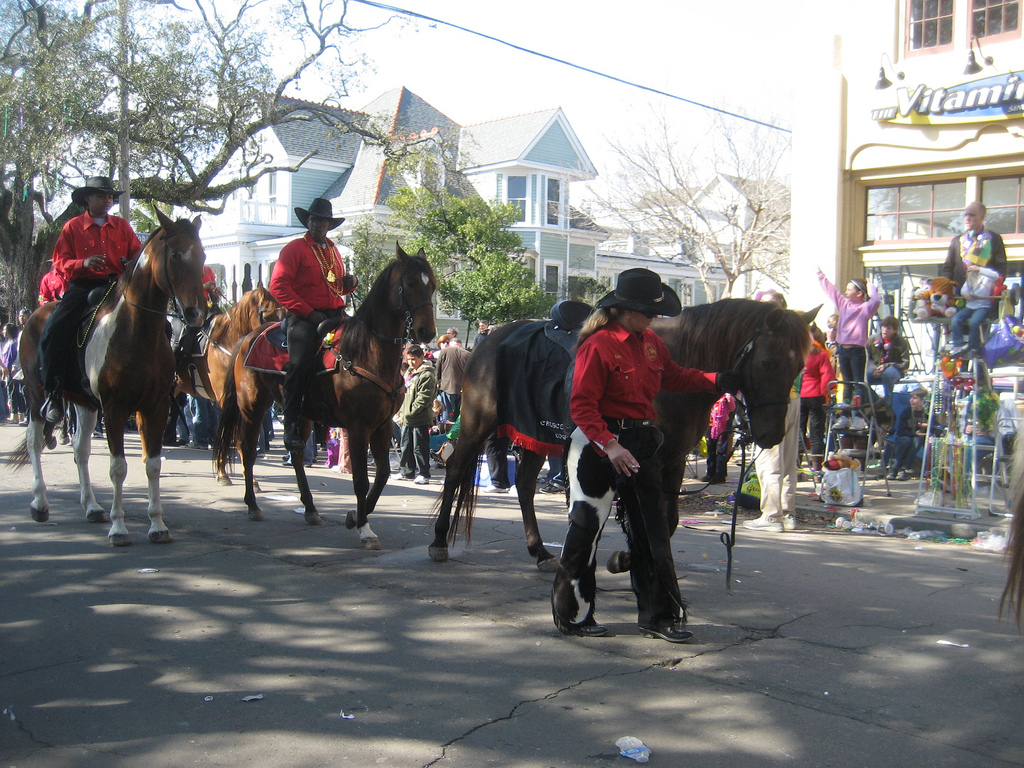 That's why the Humane Society of Louisiana is teaming up with Cascade Stables in order to ensure that all of the parade horses go to new homes. The parade horses will be offered up for adoption, with adoption fees ranging between $500 and $1,500. Anyone interested in adopting one of the horses can put down a $100 deposit at any time.
The Mardi Gras horses are all well-trained and up to date on their vaccinations.
https://www.facebook.com/mardigrashorses2017/photos/a.718193455014024.1073741829.715172291982807/894235897409778/?type=3&theater

"We have some quarter horses, some thoroughbreds," Barbe Smith, the owner of Cascade Stables said. "I think we have a horse of every color out here just about. We have some older ones, some younger ones. They're all just great horses this year."
If you're in New Orleans and are looking for a new horse, adopting a parade horse just might be a great option. Plus, you'll be helping to ensure that the horses go to a good home after the Mardi Gras celebration. Check out the horses available this year on the New Orleans Mardi Gras Horses Facebook page.
What do you think about the Mardi Gras horses? Let us know in the comments below!
All images: Magazine Robert Horse Riders/Flickr
WATCH NOW: Wide Open Pets Goes to the BEHS Horse Expo
Enjoy the outdoors?
Sign up for daily stories delivered straight to your inbox.