Here are a few tips on considering which fish finder for your kayak works best for your needs.
Make no mistake, having a fish finder on your kayak can be a game changer for those of us who love to paddle and fish. It can be one thing to view your surroundings from above, but to know the depth, the water temperature, and whether or not the bottom is soft or hard can be the difference between a good day kayak fishing and a great one.
Since there are some great makes and models out there, we'll look at a few of the most popular along with some of the gear necessary to mount one to your own paddle-powered fishing kayak. There shouldn't have to be a lot of head scratching to get properly equipped.
Since Garmin, Lowrance, Raymarine, and Humminbird (plus others) already make fish finders with models to suit the kayak angler, it shouldn't be all that difficult to find one that will fit your needs. Obviously, they are made with smaller screens and designed to be attached to a more diminutive kayak, but they generally have all of the same great features that you expect in a fish finder.
Kayak Fish Finder
Basics
Most portable fish finders built for kayaks are similar, and there are typically three things that you will need to think about: where will you mount it, where to place the transducer, and where to fit the battery.
Universal mounts may work for most brands of kayaks, but not all. Many kayak fish finders come with mounting systems of their own that can be used for many different types of kayaks.
Most kayaks come with scupper holes which is a good choice for mounting transducers there. Other brands have molded recesses below the hull of the kayak, some being specifically designed to house a transducer. Others have rail systems.
You may want to store the battery inside a dry bag or waterproof box to keep your power source dry and safe on a kayak since you are more exposed. Fish finders usually use a 12-volt power source.
Kayak Fish Finder Choices
This isn't an end-all list of kayak fish finders, but these few stay relatively close to the top each season.
Most of these do the basics: show you an image or visual of what's beneath you, allow you to save waypoints and track your whereabouts, and give you a way to really put your best fishing foot forward.
Raymarine Dragonfly 4Pro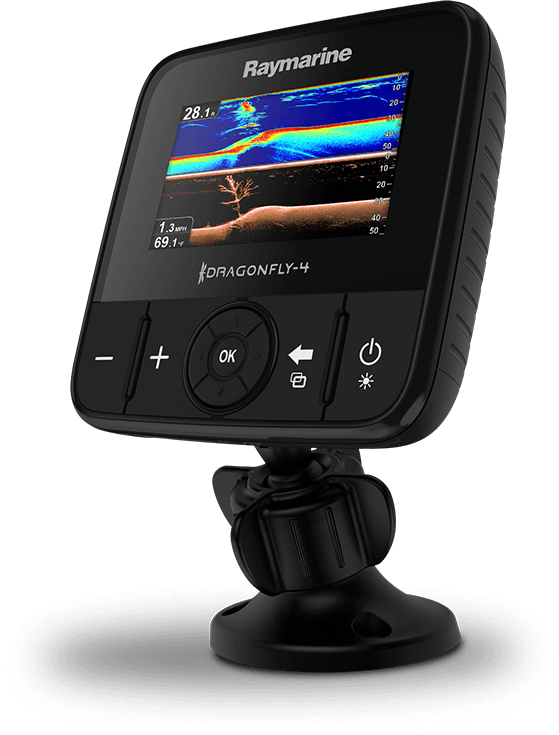 The Raymarine Dragonfly 4PRO is a nice-sized model and is a great fit for most any kayak. It has the functionality to work well for any angler, and though it tends to be more expensive than some of the other options, it also gives the user a number of capabilities and functions not often found.
Lowrance Hook 4x
There are quite a few decent reviews of the Hook 4x to choose from since it is easy to set up and use on a kayak. It has a great color display, but better than that, it comes equipped with both CHIRP sonar technology and Lowrance's DownScan Imaging feature.
It does not come equipped with GPS capability, but honestly most kayakers aren't going far enough to worry about that.
Garmin Striker Plus 4
Some say that this one is the best for the money, but you'll have to find that out on your own. The full-color display yields extremely clear images that are easy to see in any weather conditions along with a great keypad control for ease of use.
This unit offers three modes that may set it apart from the rest: A built-in flasher for techniques like vertical jigging, transom and trolling motor mounting hardware, and a GPS function which allows the kayaker to mark their whereabouts.
Humminbird HELIX 5 CHIRP GPS G2
We can't complete the list without mentioning the Humminbird Helix 5. It has a big (for kayak fish finders) widescreen 5-inch display and comes with GPS mapping, AutoChart Live, the new Humminbird basemap, DualBeam PLUS and SwitchFire. It's a truly high-quality system.
Handheld Fish Finders
There are several brands such as the aforementioned Hawkeye Fishtrax, Lucky, Venterior, and Ricank that all make handheld fish finders for use even by bank fishermen. Some of these are meant only as depth finders. You might find a system like this works best for your on-the-go kayak tactics.
The Choice is Yours
It's no easy task to pick the best fish finder for you and your kayak. Screen size (including LCD display), whether or not a micro SD card is included, portability, backlight capability, and even battery life will all need to be a part of your decision making process.
A quality fish finder for some may be all about the amount of pixels for a crisp picture, and for others more about the efficiency and accuracy. Since many kayakers, whether they're freshwater fishermen or saltwater fishermen, ply mostly shallow water it stands to reason that they may not need all of the features that deep water anglers want in the same unit.
For kayaking enthusiasts that plan their fishing trips well in advance, one thing is for sure: if we want to be successful then we're going to want to know where the fish are.
Looking for a little more or even hot lunch for your hunting blind? Follow my webpage, or on Facebook and YouTube.
NEXT: TURKEY HUNTING CLOTHING: WHAT TO LOOK FOR IN APPAREL, FACE MASKS, FOOTWEAR, AND MORE