Filson and Helinox have teamed for some premium lightweight camping furniture.
As we get into the fall months, many sportsmen and women are going to be hitting the woods for hunting. Others might be trying to squeeze in that last camping trip of the year. Either way, just because the weather is cooling is no reason to not keep outdoor adventure going before the long winter.
Now, premium outdoor clothing company Filson, and lightweight camping furniture maker Helinox, have teamed up for a limited-edition collaboration of outdoor furniture sure to appeal to hunters and campers everywhere.
The Filson x Helinox Collection is designed to capture the spirit of autumn through two new color schemes for folding chairs and tables that are sure to please outdoor lovers.
Tactical Sunset Chairs in Printed Gray Shrub Camo and Flame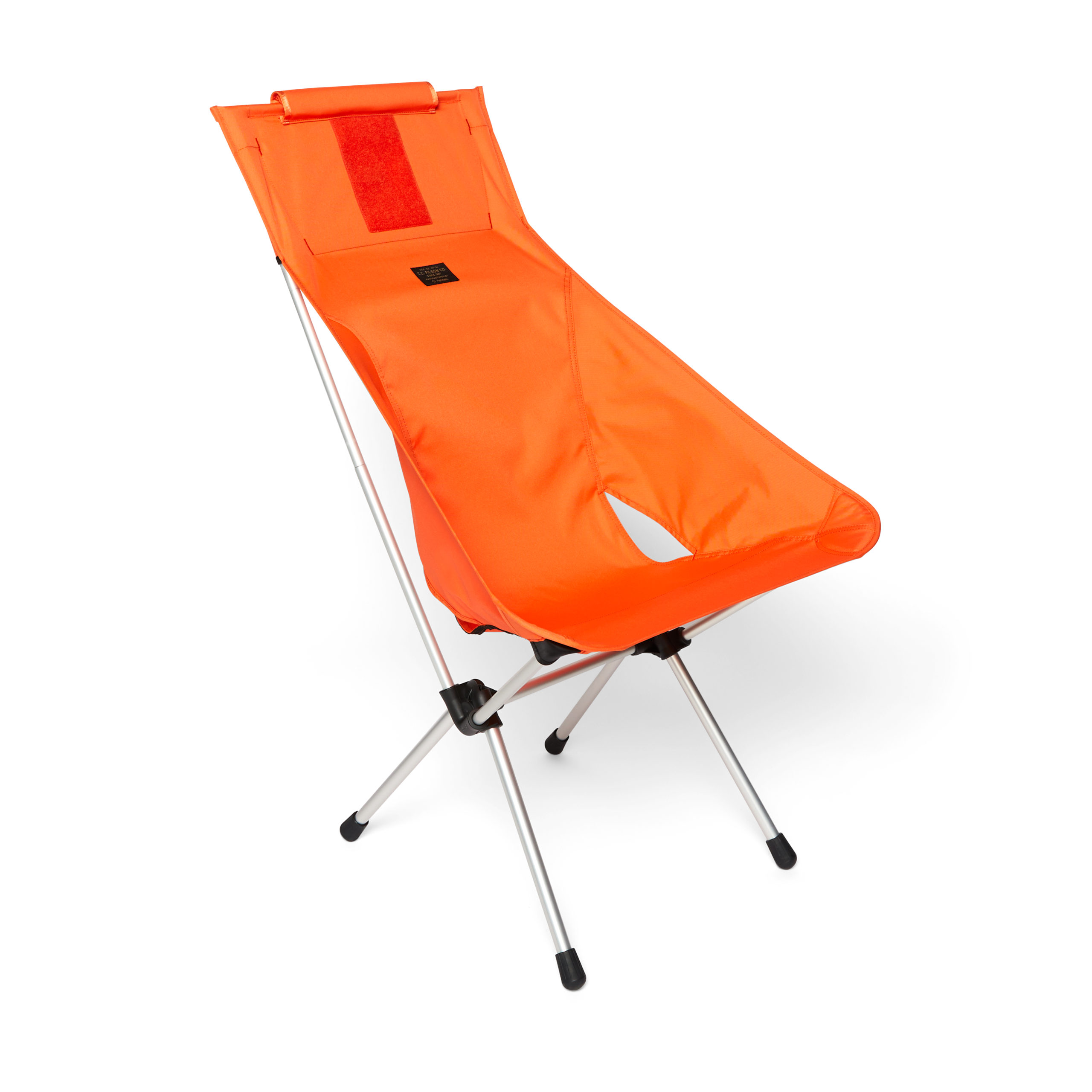 The first notable addition to this collection is these super lightweight tactical chairs which are made to be easy to pack into the field, yet tough enough for serious outdoorsmen and women. These chairs have a capacity of 320 pounds, yet the chairs themselves only weigh three pounds, four ounces. They also pack down to 18 inches long by 4 ½ inches wide and 5 ½ tall when folded. Filson says the small size helps it to double as a neck pillow if you insert a piece of clothing.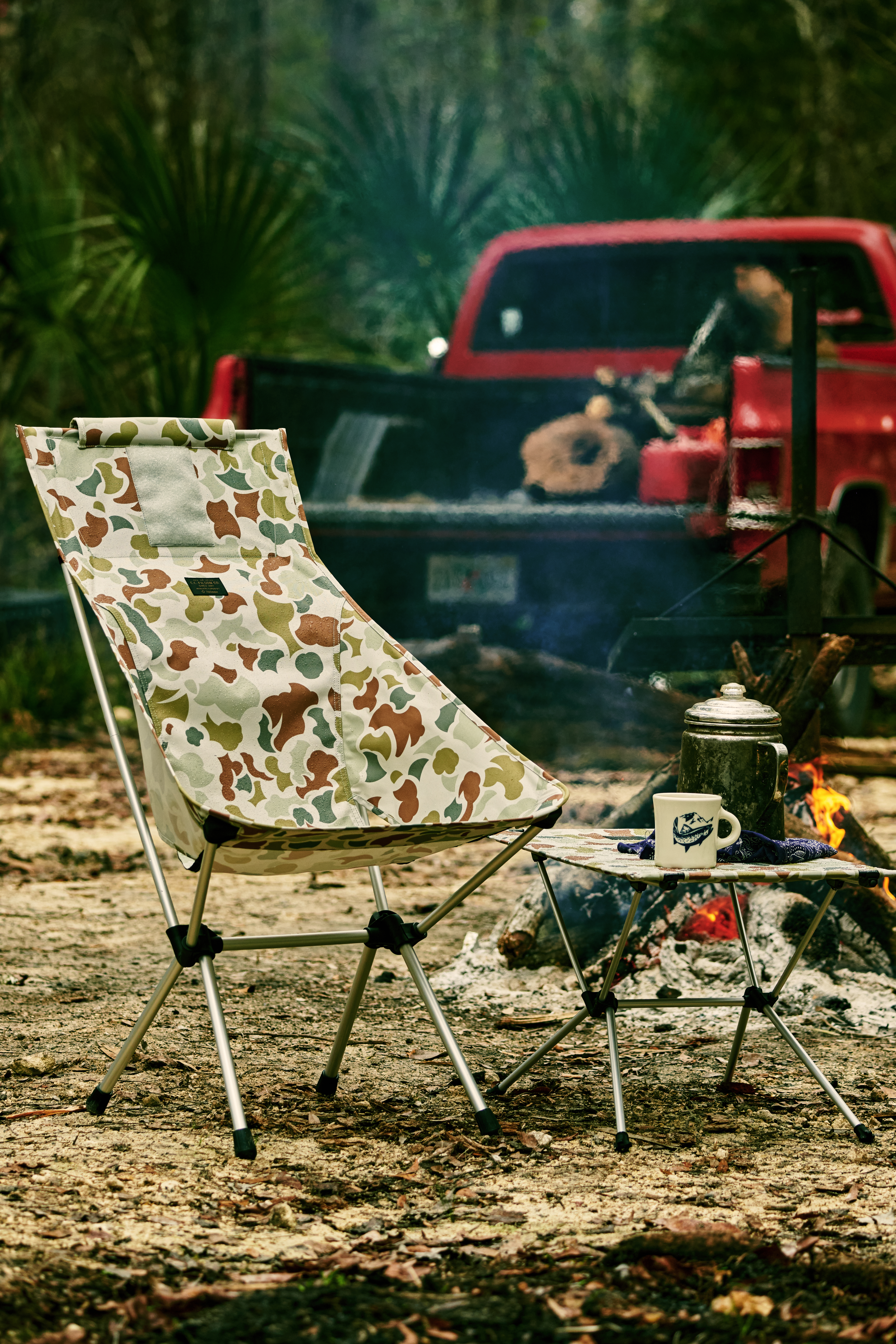 These chairs have DAC aluminum poles for strength and feature a tough 600 denier polyester seat fabric that will last season after season. They are offering these chairs in two different color schemes, a gray shrub camo that will blend into any backcountry setting and a flame orange for optimal visibility. We could see the flame as being a solid choice during firearms season
Tactical Hard Top Tables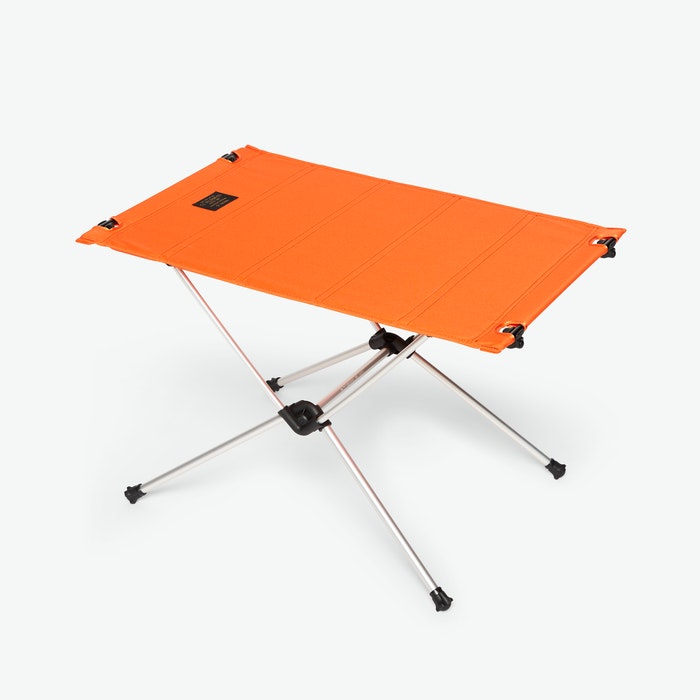 Of course, every camp can use a sturdy table for cooking supplies, eating breakfast, or simply for holding a light in the evenings after the sun goes down. This collaboration has produced these new tactical hard top tables in the same color schemes as the chairs. The table top is made from the same tough 600 denier fabric and DAC aluminum legs as the chairs. Filsom says these tables can hold up to 100 pounds of weight.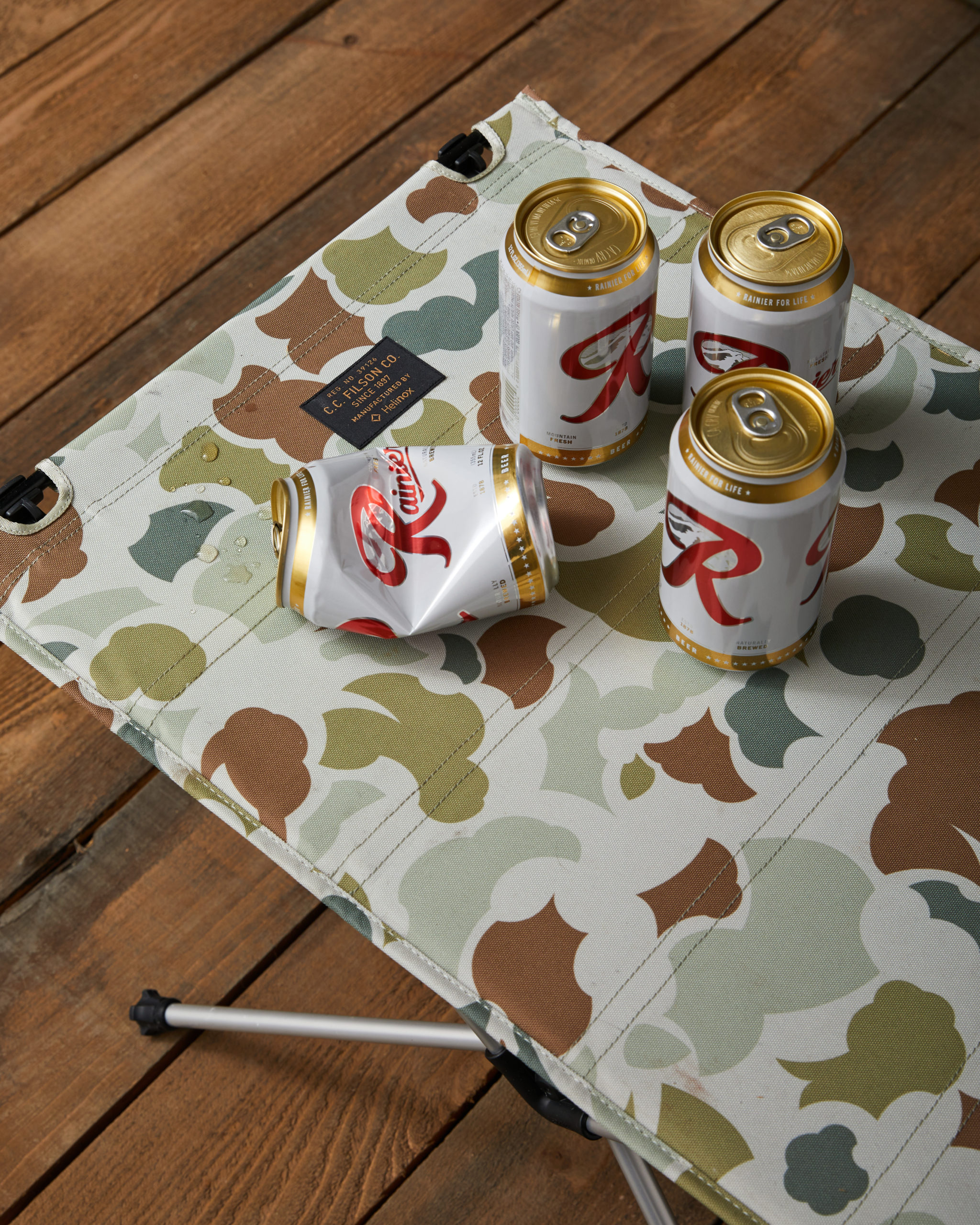 These tables are approximately 15 inches high and have a 23.5" x 15.5" table surface. More than enough room for assorted camp odds and ends you do not want to set on the ground, especially on a frosty autumn morning in camp. This table only weighs two pounds, two ounces when packed.
Printed tactical cot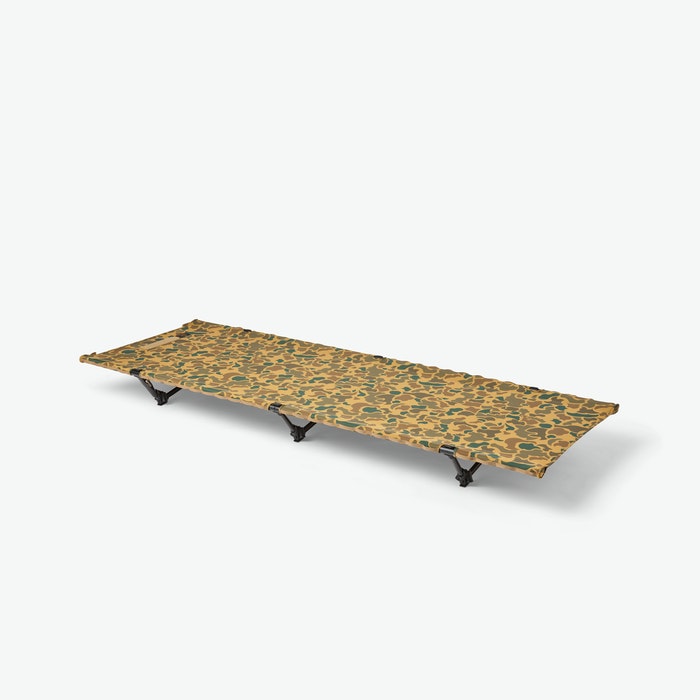 As much as we like camping, sleeping on the ground can get a bit old. Especially if you are on a multi-day backcountry hunt. This new cot elevates you off the cold ground and makes for a dry platform to sleep no matter the conditions. Like the chairs and tables, it uses the same 600 denier polyester fabrics, and DAC aluminum poles. When assembled, it provides a generous 74.5" x 26.5" sleeping area. It also holds up to 320 pounds while packing down to just five pounds of weight.
The two companies gave this cot nylon resin hubs that are shock-corded for easy assembly. They also lock down with a lever to keep the cot together during the night. When packed down, the cot measures just 21 inches long by six inches wide and six inches tall. Filson gave this cot a printed light shrub camo pattern perfect for hunters.
For both companies, this is their second time collaborating and it just made sense for them to do it again.
"Following the success of the first Filson x Helinox collab, this refreshed collection features pops of color inspired by the fall foliage in our Pacific Northwest backyard," Filson Director of Marketing Neil Morgan said in a press release. "The collection's modern and portable design offers our customers the perfect camp furniture for their next adventure."
For more information on the collection, visit the Filson and Helinox websites.
Products featured on Wide Open Spaces are independently selected by our editors. However, when you buy something through our links, we may earn a commission.

For more outdoor content from Travis Smola, be sure to follow him on Twitter and check out his Geocaching and Outdoors with Travis YouTube channels.
NEXT: THE AXIS DEER AND HOW THEY'RE IMPACTING PARTS OF THE UNITED STATES
WATCH