Isle Royale National Park is a true wilderness backcountry adventure.
There are few places in the lower 48 United States where one can truly get away from it all and find true peace and serenity. Especially when it comes to National Parks. Michigan's Isle Royale National Park is a rare exception.
Located far out in Lake Superior, closer to Canada than the Upper Peninsula, this park is a true hidden gem of the wilderness. It is filled with picturesque inland lakes, extensive hiking trails, and plenty of wildlife. It is also one of the least-visited National Parks in the U.S. By National Park Service estimates, it often receives less than 15,000 visitors a year.
That makes this park the ideal place for campers looking for a wilderness backpacking adventure unlike any other in the Great Lakes state.
Where is Isle Royale Located?
One of the reasons this National Park sees little traffic is because of the remote location out in Lake Superior North of the Keweenaw Peninsula. The Canadian border is only about eight miles from the island's northernmost shores. The northeastern-most part of Minnesota is only about ten miles from the island's western shores. The only way to reach it is by boat or plane. Thankfully, you do not need to be a boater to reach it. There are multiple ferries and seaplane services that will help you get there.
The greater Isle Royale National Park area encompasses nearly 570,000 acres of wilderness and hundreds of islands. The largest island is Isle Royale. It is about nine miles wide and around 45 miles in length. There are over 150 miles of hiking trails to explore and 36 campground tent sites to stay at. All of them are walk-in sites. No RVs or glamping in this place!
Historically, Isle Royale was a copper mining destination back for decades. There are still some mines and pits left over from the 1800s scattered across the island. Offshore, the waters of Lake Superior are filled with historic shipwrecks that went down before a series of lighthouses were installed.
How do you get to Isle Royale?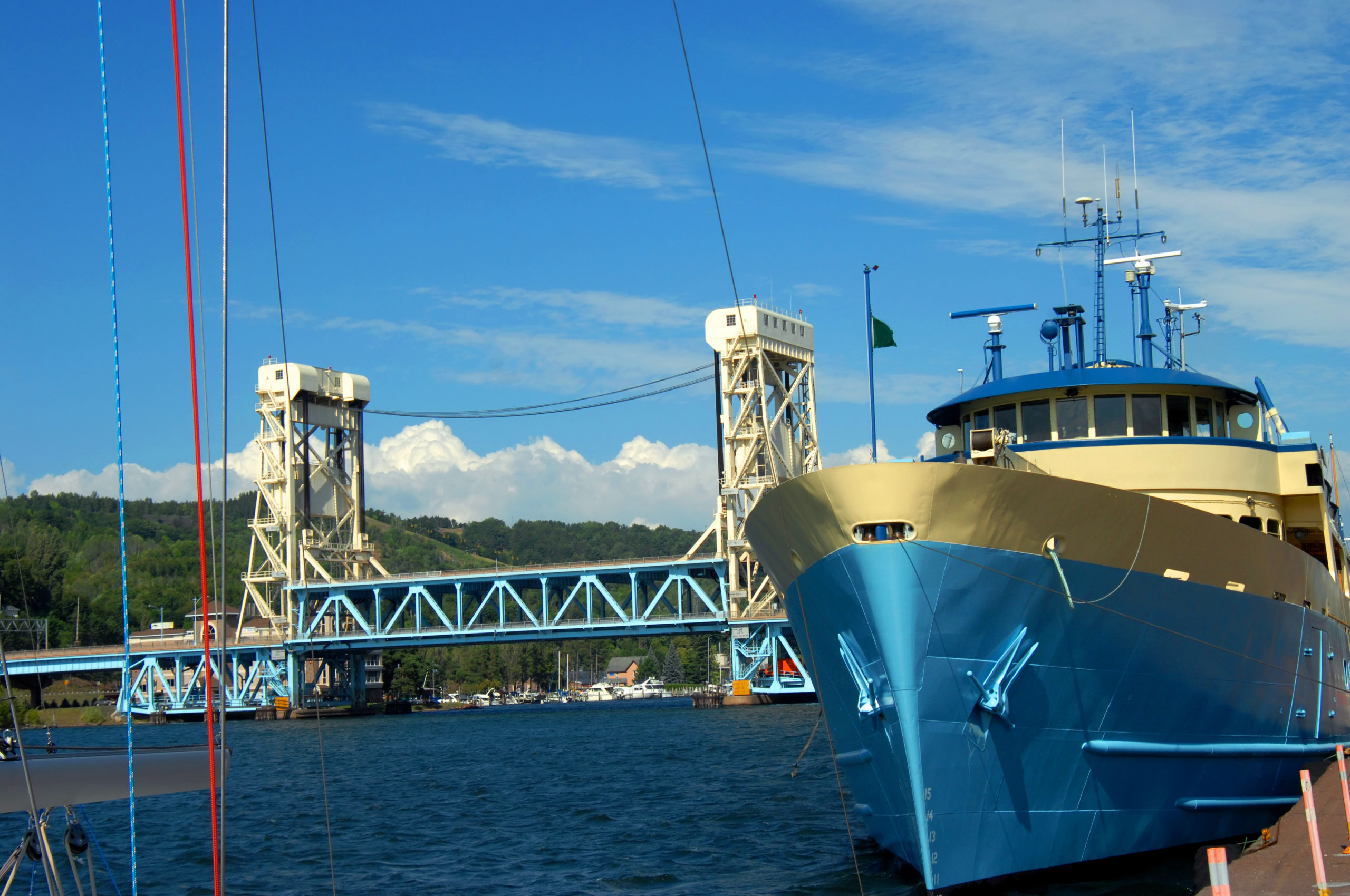 While it may seem like a hassle to get to this National Park, it is easier than most people think. The NPS website breaks down the options nicely. From the Michigan side, you can catch two ferries, the Isle Royale Queen IV ferry, a 3.5-hour boat ride from Copper Harbor, or the Ranger III ferry, a 6-hour ride from Houghton, Michigan.
On the Minnesota side, there are two ferries out of Grand Portage that are slightly shorter since the island is closer. Take either the Voyageur II or the Sea Hunter III. The NPS estimates the travel times for these ferries at 1.5 to two hours. You must contact these ferries ahead of time to make reservations for your trip. This is the cheaper option of getting to the island. Fares are based on the season. Low season (Prior to July 6 and after August 28) cost $55 per adult. High season fares (From July 6 through August 28) are more expensive, approximately $70 per adult for the Ranger III. Rates out of Minnesota are slightly more expensive for the ferry option. You are looking at a one-way fare of $76 for adults and $68 for children.
Canoeing or kayaking enthusiasts do have the option of taking along their craft for some truly scenic paddling opportunities. The islands are not just for kayakers though. Boats with motors can also be taken over. Just expect to pay additional fees for transport of your kayak/boating equipment.
For hikers and backpackers who just want to get to the island and hit the trails quickly, the fastest way there is via float plane. There are multiple routes that will take you to Rock Harbor on the island's northeast shores or to Windigo on the west side.
Only one company does flights to and from the island, and that is Isle Royale Seaplanes. They offer flights from both Grand Marais, Minnesota and Houghton, Michigan. A round trip flight costs anywhere from $300 to $350 per person depending on your chosen destination. Some people take a one-way flight in or out and utilize a boat for their arrival or return. Those flights cost anywhere from $200 to $240. The good news is, you get to the island in a half hour to 45 minutes depending on weather conditions. You will also enjoy some breathtakingly scenic views of the island on the flight over, which for some people, is part of the experience.
How much does it cost to camp on Isle Royale? And how do I reserve a campsite?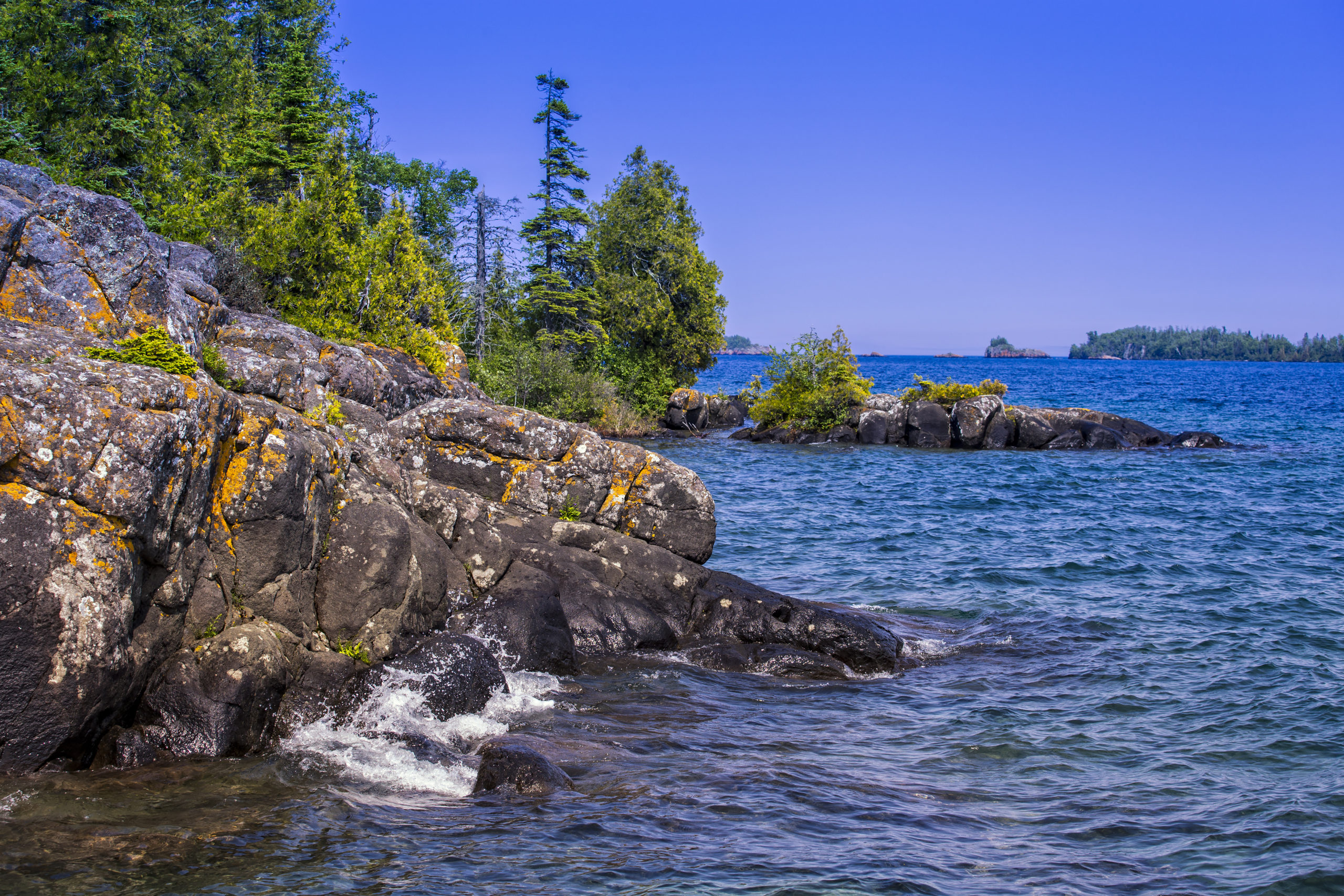 This is the great thing about this park. If you have a party of six people or less, camping is completely free. Although campsites are available on a first-come, first-served basis. You are required to get a permit, but those are also free. The only cost would be the usual entrance fees you would pay at any National Park.
Isle Royale does require reservations for groups of seven or more campers. Larger groups do have to pay a fee of either $50 or $75 depending on your party size. Still, that is a great deal for a wilderness camping adventure. And when you split the costs with multiple friends, it makes for an extremely cheap adventure. Overnight boaters and scuba diving enthusiasts are also required to get a permit, but again, there are no fees. Who says you cannot get anything cheap or for free anymore?
For those who want to experience the island without roughing it too much, there are options. Windigo has camper cabins for rent for $51 a night. They have outside bathroom facilities and no indoor plumbing, but it is cozier than a tent. There is also the Rock Harbor Lodge which offers rooms that can accommodate up to four people. Each room has a view of Lake Superior. Rates vary based on the season.
For those who do not mind a little hike, consider the Housekeeping Cottages on Tobin Harbor, back away from the main lodge and Rock Harbor Visitor Center. We should mention that the main points of interest/ranger stations all have close camping available. Windigo for example has camping on Beaver Island in Washington Harbor, and Washington Creek close by. Malone Bay has a campground by the same name not too far from the ranger station and Siskiwit Lake. As we already mentioned, the camping on Isle Royale is almost exclusively first-come, first-served. If you want to reserve a group site, go to nps.gov for more information.
What are the camping rules at Isle Royale?
With so many campgrounds to choose from, it can be a bit overwhelming the first time you set foot down the Greenstone Ridge Trail or Rock Harbor trail to do a little exploring. The big rule we should mention right off the bat is a strict no pets allowed rule. The only exception is for service dogs.
The main reason for this is because the NPS does not want domestic animals bringing parasites and diseases to the island's native wildlife. Because the animals are isolated from the mainland, they do not have immunities to certain diseases. Specifically, the island's wolf population dropped to just 14 animals back in 1980 after the introduction of canine parvovirus. So, leave man's best friend at home for this one. Most of the other rules are obvious. Fireworks, radios, and drones are not allowed. This place is all about peace and solitude. If you are planning on fishing while there, make sure you are using barbless hooks in the inland lakes. The cool thing about fishing on Isle Royale is that a fishing license is not required for inland waters like Siskiwit Lake, Lake Richie, or Lake Desor. Just be aware if you go fishing in Lake Superior, even in places like Lane Cove, Huginnin Cove, etc, you will need a license for that.
While you can bring a small camp stove, another big rule is no campfires at most Isle Royale campgrounds. There are exceptions, but you will likely not know them until you get there. Plan accordingly. Rangers may also limit the number of days you can stay consecutively at a campsite. Especially during the busy season. The good news is that the campgrounds all have outhouses and water sources. That means you should not have to pack out excess waste, nor should you need to lug around a ton of water for your trip. Just remember to treat the water before you drink it, for safety reasons.
What is the best time to camp on Isle Royale?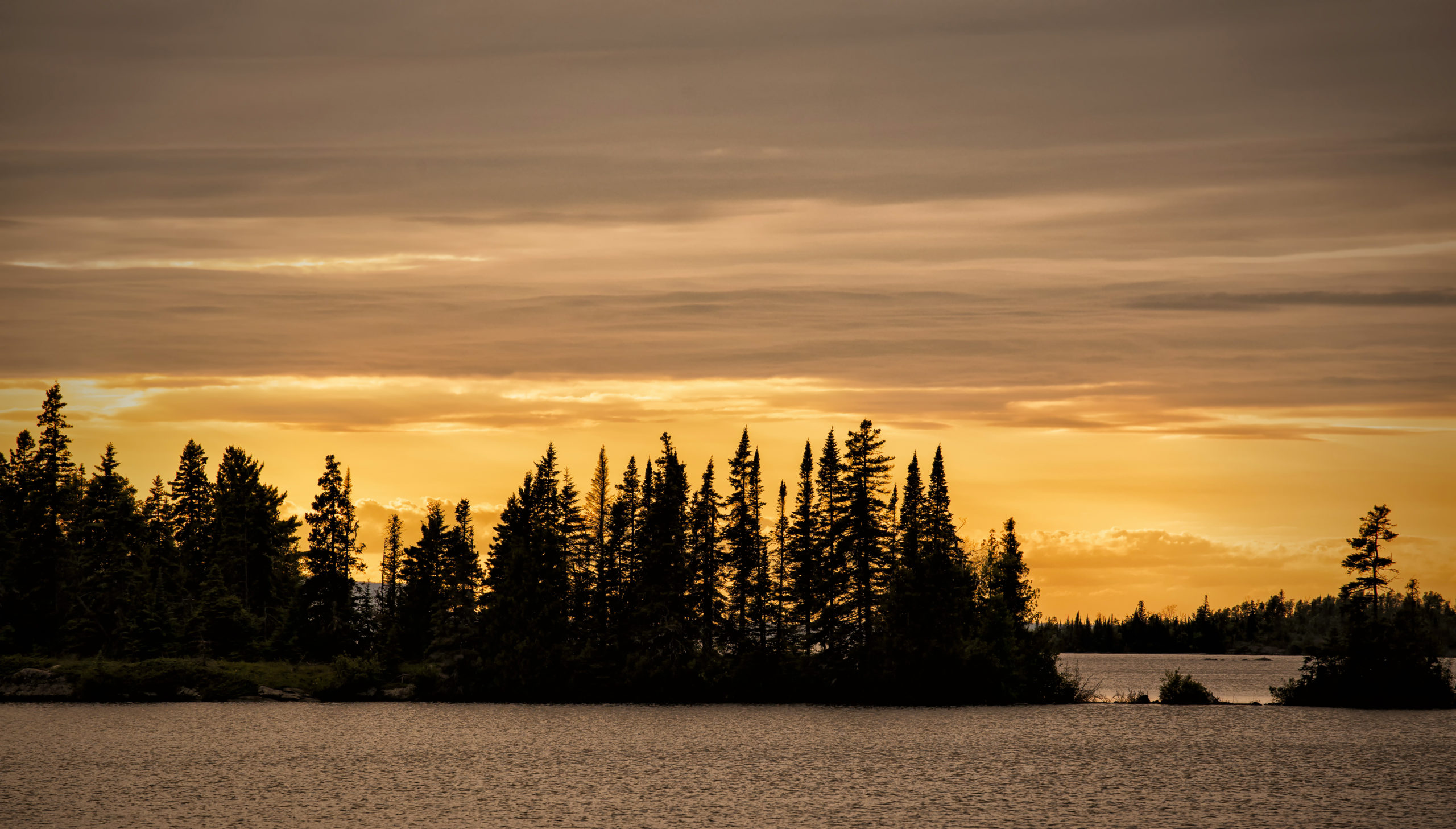 Much of this is subjective. However, it is worth noting that the busiest part of the year is July through August. That leaves a small window of approximately three months after the park opens in April before things get busy. For many people, this is their preferred time of year to explore the islands.
However, there is something to be said for coming after the crowds leave from September until the park closes on October 31 too. That is your best betting for seeing moose with hard antlers, and rutting activity. Although you likely must deal with colder temperatures during that time frame.
Camping on Isle Royale is very seasonal. The area experiences some truly extreme winter weather. To the point that the park is closed completely on November 1 and does not open again until April 15. This makes it the only National Park that completely closes to visitors during the winter months.
Wildlife and sights to see on Isle Royale.
This National Park is home to a thriving population of moose. They are an extremely common sight, as are their shed antlers, which litter the island. Just remember you cannot pick them up and take them home. It is a National Park after all. The island is also home to wolves, although their numbers have taken a huge dip in recent years. Your odds of encountering one are probably low. However, if you are lucky, you may hear them howling in the evening while enjoying a view of Lake Superior.
The most popular trail in the park is the Greenstone Ridge Trail, which runs about 41 miles across the interior of the island. There are nine campgrounds along the way to stay at as you make the journey. Most people complete it in four to eight days. Another popular trail is the 28-mile-long Minong Ridge trail near Windigo. This one is a little more challenging due to the terrain. However, it offers some great views of Lake Superior.
For those looking for something a little less grueling, consider the 4.4-mile Scoville Point Trail near Rock Harbor. A great option for those staying at the lodge, and you will be treated to some excellent lakeside views. Even though Isle Royale ranks as one of the least-visited National Parks in the U.S., it is high up there for parks with repeat visitors. Do not take our word for it, a trip there will show you why some people return season after season!
Products featured on Wide Open Spaces are independently selected by our editors. However, when you buy something through our links, we may earn a commission.

For more outdoor content from Travis Smola, be sure to follow him on Twitter and check out his Geocaching and Outdoors with Travis YouTube channels.
NEXT: THE AXIS DEER AND HOW THEY'RE IMPACTING PARTS OF THE UNITED STATES
WATCH
Enjoy the outdoors?
Sign up for daily stories delivered straight to your inbox.