Here's your new addition to every camping supply list you make from here on out.
You can pack everything you think you need for a camping trip, and inevitably realize you've forgotten something. It happens.
But one thing you're not going to ever want to forget once you start using it is the Field & Stream Double Hammock.
It seems simple enough, and something that you don't necessarily need for a typical camp, but once you realize how easy it is to set up, take down, and enjoy, you'll put it on your list of gear permanently.
For starters, the hammock comes packed in its own attached carrying bag, no bigger than a football, and the packable parachute material stuffs right inside. You don't have to worry about misplacing the bag or rolling and folding it to fit.
The other thing that immediately caught our attention was the simplicity of hanging the hammock; there are virtually no knots needed, and almost any two trees or posts will do. The two included polyester webbing straps, which also fit perfectly inside the attached bag, wrap around the tree tightly without the need for a branch to prop up on.
The straps have multiple loops that the included carabiners easily latch on to, meaning you can adjust the height of each side by merely moving up or down the loops.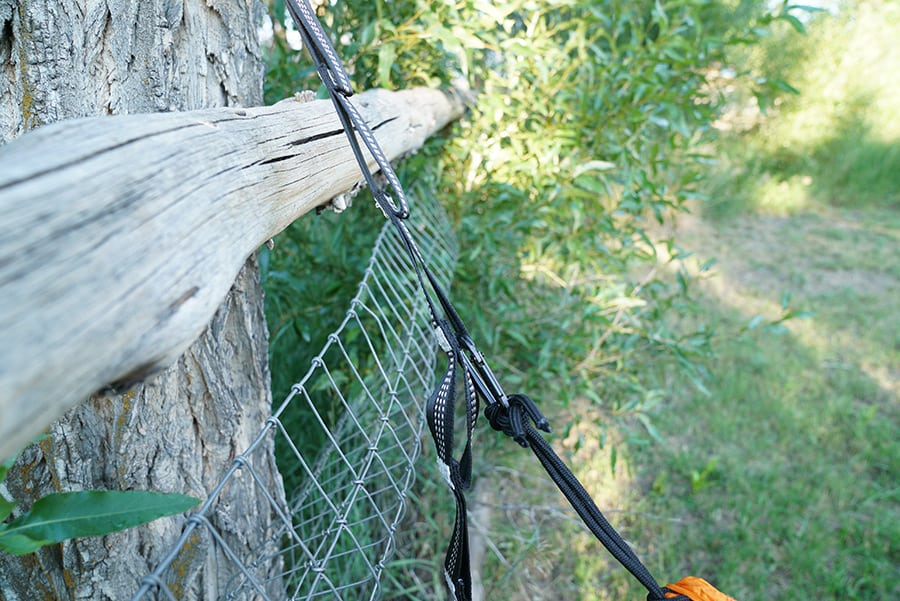 There's an integrated pillow pocket that will keep a small pillow from sliding around, and the hammock fits two people comfortably. You can choose from blue, olive, orange, gray, or red.
It's so simple to use, a kid can do it (which you should be careful of, because once they sit in it, you might not get a chance to yourself...).
All in all, we see no reason why this hammock shouldn't be added right alongside your tent, sleeping bag, and cooler for every camping trip from here on out.
NEXT: WE GOT TO CHECK OUT FIELD & STREAM'S AWESOME NEW KAYAKS
WATCH
Enjoy the outdoors?
Sign up for daily stories delivered straight to your inbox.