Here's a closeup look at two unique and useful knives from a less-than-obvious source: the master gunmaker that is Smith & Wesson.
Nine out of ten people are going to be familiar with Smith & Wesson firearms. But if asked, how many people would know about Smith & Wesson knives?
We've been aware of it, and think you should know too: the same minds that have been bringing quality gun production and knowhow to the market for generations have been offering a line of knives for quite some time. And as we'd expect, they're all above average pieces of equipment worthy of the brand's stamp.
To help prove S&W knows what they're doing in the blade department, and to bring up some ideal suggestions for Father's Day gifts, we wanted to highlight two models from a descriptive and practical standpoint. The Allegiance and the Homeland are both well-built tools that would fulfill a need in anyone's collection of gear.
Here are the details on this fixed blade and folding knife, both of which come heavily influenced by the Smith & Wesson Performance Center, known for its innovation and dedication to excellence.
Performance Center Allegiance Fixed Blade Knife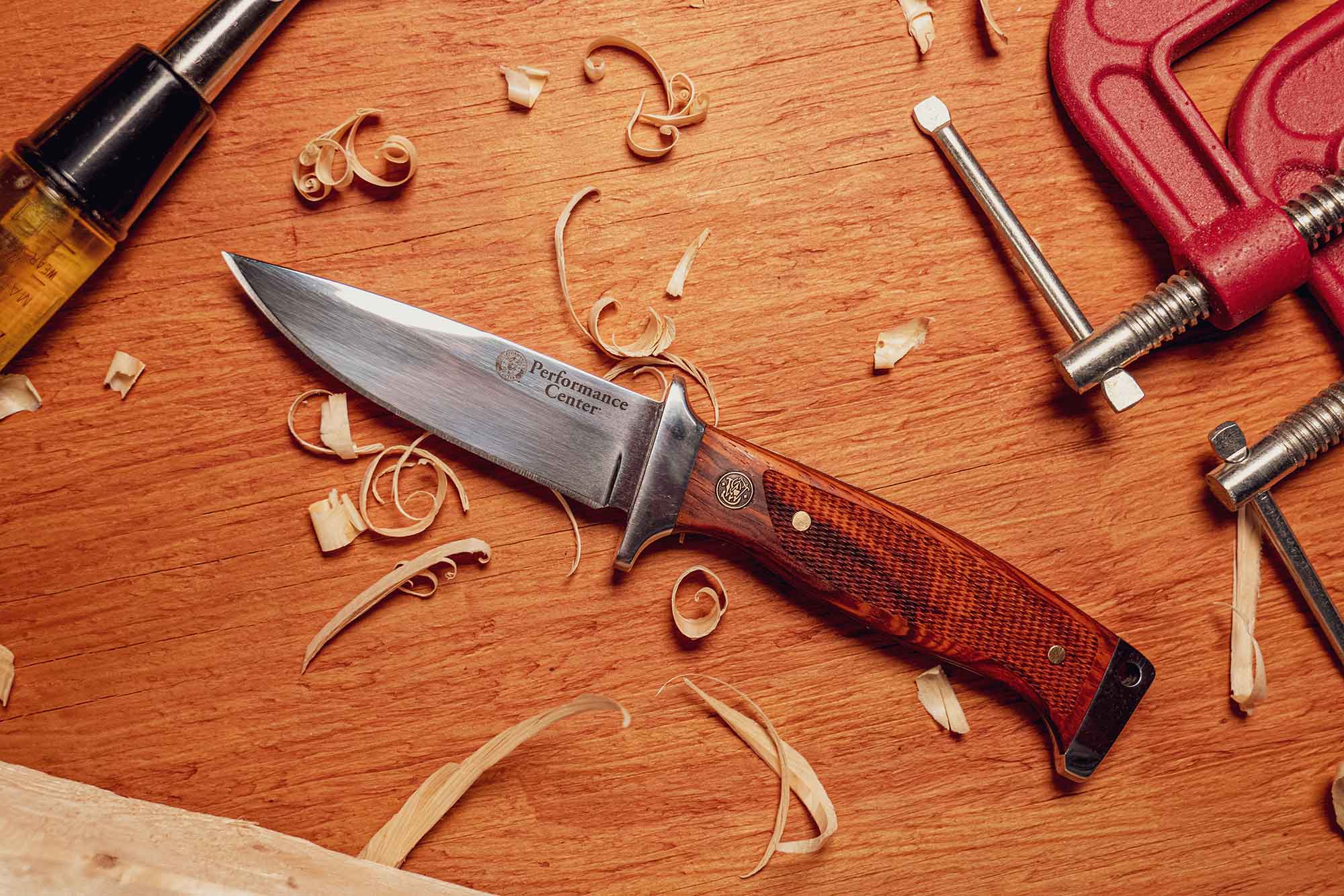 Much like a good Smith & Wesson gun, the Allegiance is perfect to set to work immediately, while maintaining the expectation that it will continue to be just as useful for generations. It's family heirloom-level stuff, which you can directly see and feel in the knife's expert craftsmanship.
The full tang blade results in four inches of 14C28N stainless steel, and the cocobolo handle gives it the perfect combination of performance and looks. It is stout and tough enough for jobs that are often deemed too big for a typical full tang, thanks to its reinforced brass pins and stainless guard and pommel.
The leather sheath can be strapped to a belt or pack, making the Allegiance a great go-to for the moments when a heavy duty knife is called upon.
It comes down to this: it's the knife you'll pass on to your kid, who will pass it on to theirs.
Performance Center Homeland Folding Knife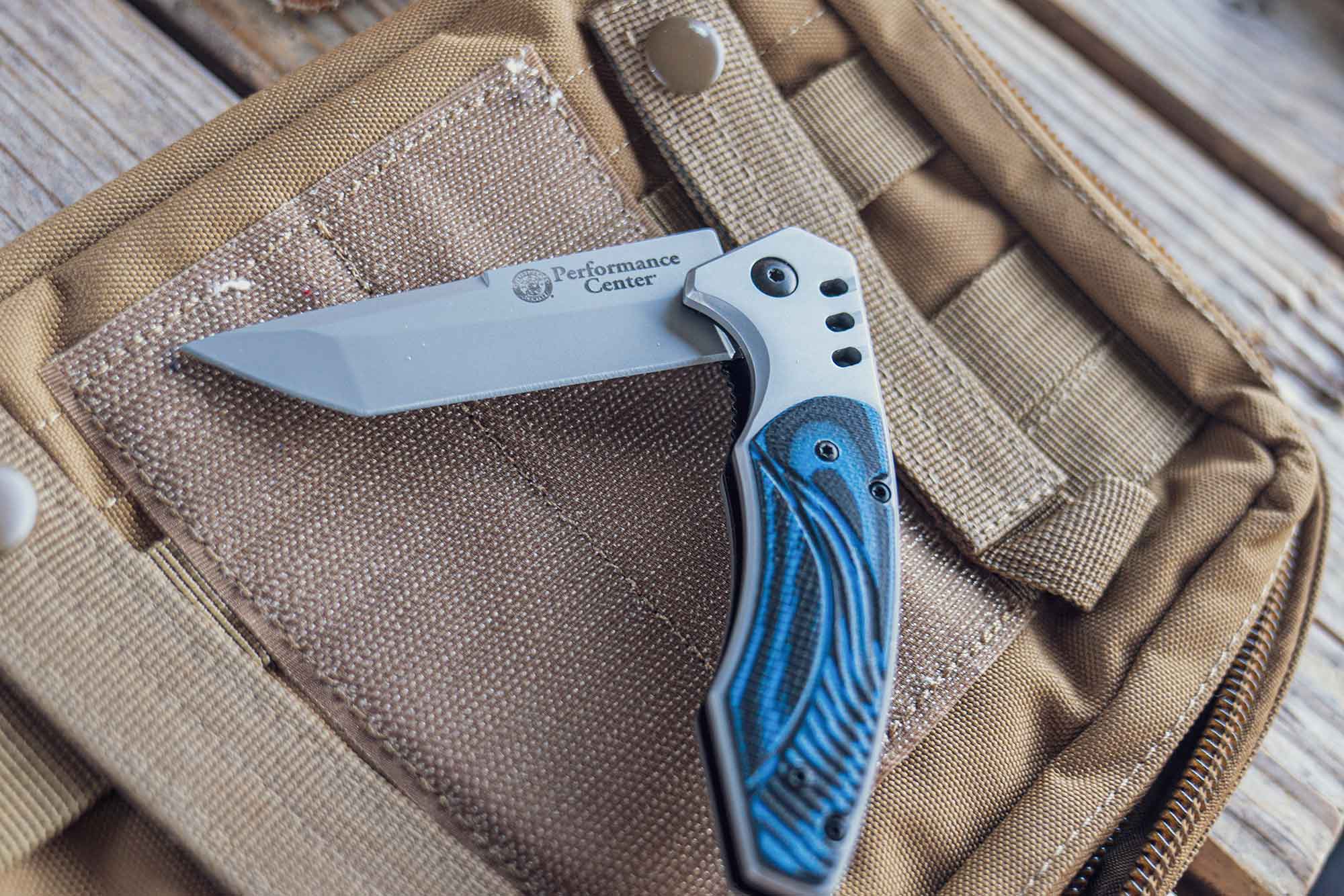 If an everyday carry, concealable knife is on your must-have list, then the Homeland folder should be on your radar. Its blade is also made of 14C28N stainless steel, and it's held together with an aluminum and G10 handle to give it stability and grip without adding heft.
This pocket knife can be employed with a flick of the finger, but is kept safe with a dependable liner lock, a secure tip-down pocket clip, and the reliability of UltraGlide, their super smooth, ball bearing-based pivot pin technology.
A quick deploy, easy access approach is what's needed in an everyday carry knife, and the Homeland model delivers in spades.
Smith & Wesson Performance Center Series
Both the aforementioned knives hold some important similarities between them that help round them out as quality recommendations. First, they're both handcrafted in the U.S., which helps promote our domestic economy and instills a level of pride we can all share as Americans.
These knives support the higher-end S&W Performance Center line, featuring an appearance fit for display, but also the durability for everyday use, just like their firearm counterparts.
Second, they're both limited editions, and only 1,000 individual units were made of each. They're numbered to help authenticate, and that alone ups their overall value. Not everyone will have unlimited access, and when they're gone, they're gone.
If that isn't convincing enough, the Smith & Wesson knives section of their online store has all the info needed to fully appreciate what they're doing in the knife industry. While most only know them by their guns, it's easy to see how the same mindset and standards can translate to their knives. If these two choices don't spark some interest, the rest of their selection will.
It's for these reasons that they come so highly recommended, especially for a gift-giving opportunity like Father's Day.
NEXT: HOW TO CREATE THE RANGE KIT THAT HAS EVERYTHING