Pssst. Want in on a secret? Eva Shockey has a book coming out and YOU can be part of the exclusive launch team!
We here at Wide Open Spaces love Eva Shockey. She's the true epitome of what a hunter should be: an educator, conservationist, and role model. Not to mention, she's a loving wife and a mom-to-be. So, you can imagine our excitement when we heard the news that Eva is releasing her very first book this year! Even better, she's giving us a chance to be part of the exclusive launch team.
Eva broke the news on January 4 across her social media channels: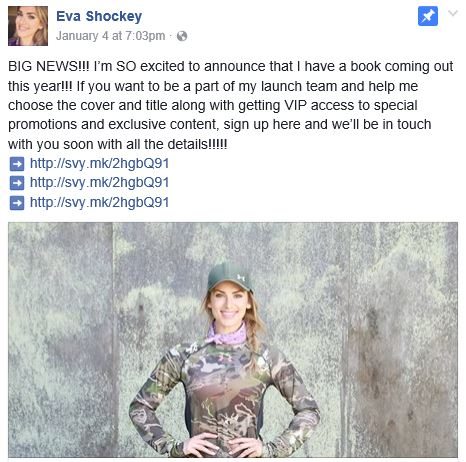 For your chance to join the exclusive book launch team, fill out Eva's survey here.
What is a Launch Team?
A launch team is a small but focused group dedicated to helping people learn about Eva Shockey's new book. As a team member, you'll be in the know for all things Eva Shockey and all things regarding the book. Membership is limited only to those who love what Eva Shockey stands for, and are looking to support her passions of hunting, the outdoors, and healthy living.

As a member, you will receive exclusive content from her book, digital assets to share, Facebook group access, a printed advanced release copy (based on availability, limited print quantities available), and more.

Who Should Apply?

Anyone who loves Eva Shockey and wants to support her new book

People who love books!

Hunters or anyone who loves outdoor life

Those who are active on social media (Facebook, Twitter, Instagram, Snapchat, Pinterest, etc.)
Who's ready to join the fun? I've already sent my application in.
NEXT: EVA SHOCKEY ARROWS A BRUTE OF A BUCK IN SASKATCHEWAN