If you need an emergency food supply, these are the most appealing.
There is a lot of hype about the coronavirus or Covid-19 in the news right now. We've also heard rumblings of possible quarantine procedures. That makes this a good time to go over your own emergency preparedness.
Odds are, you aren't going to need a bunch of emergency supplies or a bunch of food items designed for long-term storage. We also don't expect you'll need the ultimate doomsday bunker anytime soon. On the other hand, it never hurts to be prepared with long term emergency food rations.
After all, natural disasters often strike when we least expect it. However, just because it's food for a "just-in-case" scenario doesn't mean it has to be nasty. We did the research and here's 10 of the best-sounding survival food kits we could find for sale online.
After all, you're already likely to be miserable in any emergency situation. Why make it worse with crappy food?
Augason Farms 30-Day, One Person food supply

This is one of the top-rated meal kits on Amazon with over 74 percent perfect five-star reviews. The customer photos of prepared meals don't look nearly as appealing as the ones in the advertising. Of course, not that we didn't already expect that. Fast food chains do it all the time. I've never bought fast food that looked as good as the commercials.
In any case, this kit has a mixture of dishes that don't sound super-exciting, but they would give you more than enough calories per day to keep going. The instant potatoes and macaroni and cheese dishes look decently appetizing. The granola might be a bit bland, but it's better than nothing. We're not so sure about the "Moring moo's low fat milk alternative." It appears to be a powdered milk. It's worth noting we did read a review stating it was the best powdered milk that person had ever had.
The great thing about a kit like this is that it has a 25-year shelf life. Even if coronavirus doesn't cause any major problems, it's not a bad idea to have one on hand in case of flood, earthquake or tornado. This single bucket is going to be much easier to store than a bunch of canned foods.
Augason Farms Lunch & Dinner Emergency Food Supply

This kit is from the same brand as our first, but in a more affordable package. It is a slightly shorter-term solution with 92 servings, but hopefully you're only breaking this out for a bad snowstorm at the worst. These buckets serve up nearly 20,000 calories and have a 20-year-shelf life. The options for entrée meals here seem a bit less bland with this one too.
This kit has vegetable chicken and chicken noodle soup, creamy stroganoff, fettuccine alfredo and Italiano marinara among the dishes offered. Most of the reviews say the meals aren't bad for an emergency food supply kit. Stick a couple of these in your basement with your water storage and you should be prepped for any short-term emergency.
The biggest reason we put this kit on the list was because it includes chocolate pudding. After all, who doesn't love chocolate? Personally, I could make my entire emergency kit chocolate, but that wouldn't be very healthy would it?
Wise Company Whey Milk Alternative

Let's be real. "Whey milk alternative" does not sound very appealing when you read about it. This is another powdered milk-like product. You add water and you have a drink that simulates milk. Some of the reviews state that it does have a funny taste while others say it is was delicious for a camping trip. We'll let you be the judge on that one.
There are a few reasons you might consider this product. First off, it is gluten free, so it will be safe for anyone in the family to drink. Second, it will provide some fat and should be filling. It should help stave off hunger a little bit. The other reason to consider a product like this is as a comfort food.
After all, what's the point of stockpiling cereal or a similar product if you don't have milk to go with it? Remember that comfort foods do help in an emergency and anything that helps calm someone down and keep them from panicking is going to be helpful. We also like the fact you get 120 servings with this product and that it has a 20-year shelf life. It's one of those products that gives us peace of mind, but we also hope we never have to use it.
Survival Tabs 60-Day Food Ration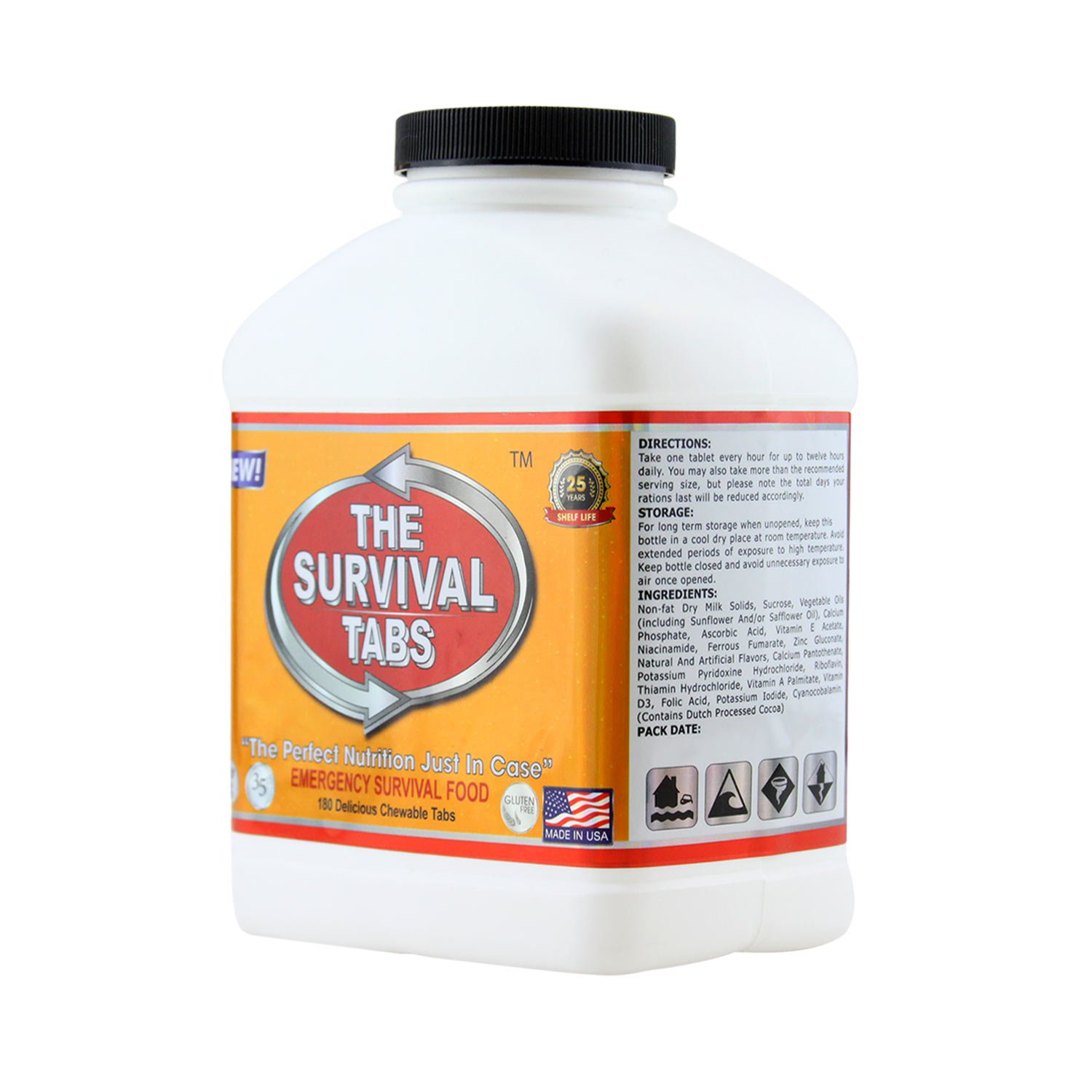 To us, the word "food tab" conjures up images of something you would have seen on the TV "The Jetsons." Wasn't all food supposed to be in pill or tab form by now? In any case, these tabs are available on Amazon and are much cheaper than most other long-term food storage items we've looked at. Each bottle weighs only 1.8 pounds, which means you could throw it in a bug-out bag in a pinch. This is as simple as it gets for meals. You don't even need a can opener.
These tabs are also gluten-free, and the company also says they are non-GMO. Each bottle contains 180 tablets that provide approximately 20 calories a tab. We know that's not a lot, but they contain protein, fat, carbohydrates and iron. They aren't mean't to be a filling as meal as much an energy source to keep you going while you source something more filling.
As another bonus, these tabs provide essential vitamins and have a shelf life of approximately 25 years. You could store several bottles easily in your basement for emergencies. As weird as this product is, most of the reviews online say they taste pretty good. Who would have thought?
Augason Farms Italian Variety Pail

This one may seem a little ridiculous. After all, let's assume an extreme SHTF scenario. Will you really be eating pizza in the post-apocalypse? Well, we guess you COULD with this kit! Before you laugh too much, we again remind you to not underestimate the power of comfort foods, especially to comfort upset children.
This kit offers 87 servings and approximately 17,550 calories in one bucket that has a shelf life of 30 years. You get pizza and breadsticks, macaroni, alfredo, Italiano marinara and more with this kit. The one problem we see with this kit is power outages. Most reviews state you will need one to prepare this food. Of course, you could always use a brick, wood-fired oven in the backyard too. This is one of the stranger emergency kits you can buy, but it's probably also one of the better-tasting options too.
Wise Company Long Term Emergency Freeze-Dried Food Supply

If you're a serious prepper, you may already have a food storage kit like this. This is one of Wise Company's more popular offerings on Amazon. The "stock up kit" offers 240 servings of food a bucket. This is serious emergency food storage. The meals are compact and made to be prepared quickly using only water and heat in as little as 12-15 minutes.
The serving entrée portion includes things like vegetable rotini, pasta alfredo and three cheese macaroni. One thing this kit has that others don't is a breakfast portion. It includes servings of granola, apple cinnamon, brown sugar and multi-grain maple cereals. The variety is nice if you are ever stuck indoors during an extended quarantine and you forgot to hit the grocery store beforehand.
Wise Company lets you order these in bulk. Maybe you're not worried about coronavirus, but if you're prepping a bunker for the end of the world, well, you can up to 36 buckets in one go to cover a whopping 4,320 servings. That's a lot of food. You won't be losing any sleep with a survival kit like that!
Mountain House 14-Day Emergency Food Supply

If you're looking for one simple box to store somewhere in the closet or basement for a "just in case" scenario, this freeze-dried emergency food is a good option. The whole box weighs a little over 14 pounds and is just 20x16 inches. Almost everyone can find room somewhere in their home for one of these, even if you live in a small apartment in the city.
This box offers a nice variety of meals that only require a little hot water. It has breakfast items like skillets. Scrambled eggs and bacon make an awesome option for anyone looking for those comfort foods in their supplies. It has the usual spaghetti and granola items, but it also has eight Italian style pepper steaks. The company says that comes with red, yellow and green bell peppers, tomatoes and onions.
There's a lot to like with this supply, especially the fact that it has a 30-year shelf life. That means you're covered for a long time with this food.
Augason Farms 6-Month, One Person Emergency Food Supply

If you prefer canned goods for your emergency rations, Augason Farms has you covered with this kit. It is on the pricey side, but you get 2,863 servings providing a whopping 232,355 calories. There's a nice mixture here of freeze dried fruits and vegetables, protein items and wheats and grains.
One interesting thing about this kit is that it also includes materials for you to cook a loaf of bread or make a batch of brownies. Again, you'd need to ensure you had power of some kind, but that's something we haven't really seen in other kits on the market.
Oh, and most of the items in this kit have a 30-year shelf life, increasing their usability far beyond any current disease outbreaks.
Wise Foods Emergency Favorites Sample

Maybe you're not quite ready to dig a deep survival bunker and seal the hatch from the outside world like it's the zombie apocalypse. However, maybe you still want to have a week's worth of food handy without shelling out big bucks. We hear you, and apparently, so did Wise Foods. They offer these freeze-dried food favorites sample kits for $19.99 each.
This food has the same 25-year shelf life of their other products. One box contains 16 servings of things like stroganoff, cheesy lasagna or vegetable rotini. Throw a couple boxes like this in the back of your pantry and you have a little peace of mind for virus quarantine or even just a simple snowstorm that shuts down the roads to the grocery store.
Legacy Emergency Food Ultimate Sample Pack

This company packed a little bit of everything from their freeze-dried food offering line and packed it into kit. It has the usual mac and cheese, pasta alfredo and rice offerings you'll see in many other kits. However, they also included treats like freeze-dried strawberries, pancake mix and even 35 servings of coffee!
You just never know when you're going to need a good cup of coffee in a pinch. This food offers a 25-year shelf life and is GMO free. Most of the reviews praise this food for being extremely filling and great tasting.
Better to have it and not need it.
"When you need it and don't have it, you'll be signing a different tune." That's one of my favorite quotes from the "Tremors" series of movies and satirical uber-prepper Burt Gummer. As weird as Burt is, he's right. We honestly don't think coronavirus will cause the end times. However, at the same time, it never hurts to have extra supplies on hand, whether that's for quarantine or something more likely like an earthquake or tornado. You just never know when you may need it!
For more outdoor content from Travis Smola, be sure to follow him on Twitter and check out his YouTube channel.
NEXT: SURVIVAL LILY GIVES CORONAVIRUS PREP TIPS IN CASE OF A QUARANTINE
WATCH
Enjoy the outdoors?
Sign up for daily stories delivered straight to your inbox.