Humans aren't the only ones who love ice cream when the weather gets hot. Nothing beats the classic, creamy treat on a hot day, and any dog owner knows that dogs are very good at coveting human ice cream. Unfortunately, many dogs are lactose intolerant, and a bit of human ice cream can ruin both their day, and yours. No one wants to deal with doggy diarrhea during the dog days of summer. So how can your pup enjoy ice cream with the family? With a dog ice cream recipe, of course!
Ice cream melts fast, but this recipe is so good that your pup will finish it before you have to worry about it melting. Ice cream made for dogs doesn't cause stomach upset in your pooch, which means you can let them enjoy it as a summer solstice tradition without any consequences. Pumpkin and bananas round out this delicious treat, so you can even feel like you're helping them get some much needed fiber and potassium. Enjoy!
This recipe was created by HGTV.
DIY Doggie Ice Cream for Hot Summer Days
Here's how to make DIY Doggie Ice Cream.
Ingredients:
32 oz. plain kefir or any plain lactose-free yogurt (dairy in traditional yogurts can cause upset tummies in our furry BFFs)
2 ripe bananas
1/4 cup of pumpkin puree (alt: cooked sweet potatoes or natural peanut butter, or 2 Tbsp of honey)
9" x 9" baking dish
freezer paper
Directions:
Mix the yogurt, one banana, and the pumpkin puree together in a large bowl. You can mix by hand or in a blender, but don't worry about getting the banana perfectly smooth. Dogs won't care, we promise.
Line baking dish with freezer paper, and organize slices from the other banana along the bottom.
Pour the blended kefir/pumpkin/banana into the muffin tin atop the banana slices. Fill it on up, and note, if any of the mixture is left over, store it in the fridge until you're ready to freeze it.
Freeze the tray until the treat is solid. Once it hardens, lift the block of ice cream out of the tray by pulling the edges of the freezer paper, flip it upside down, and the paper will peel off of the food effortlessly. Use a sharp knife to chop the block into squares.
As a bonus, there are a lot of benefits to using pumpkin in your pup's diet!
While it sounds paradoxical, adding pumpkin to the diet can both clean up excessive digestive issues as well as help move food along. Pumpkin has just the right amounts of fiber and water to defeat GI upset. It also is loaded with nutritional benefits!
Changing Up Your Dog's Treats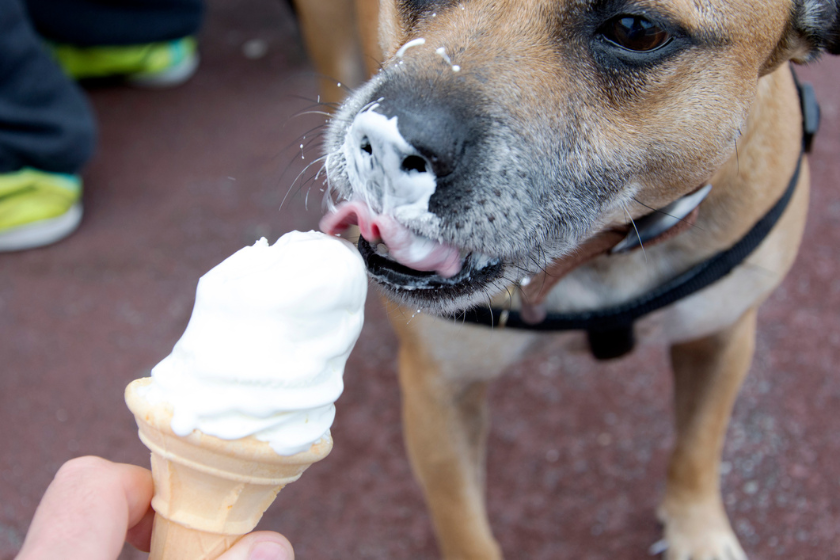 There are plenty of store-bought treats available, and your dog might already have a favorite. When you make your own dog treats, though, you have the chance to customize the treats with fun shapes to suit your needs.
We also use an ice cube tray to freeze fruit like blueberries for the dogs as a summer snack. You can freeze canned pumpkin, too!
Homemade dog ice cream is one of our favorite recipes to make during the summer for our two best friends. Always check and make sure the ingredients don't include artificial sweeteners like Xylitol as that's often found in human foods and even in some yogurts. Xylitol is extremely toxic to dogs, so it's nothing to mess around with!
Try to make sure all the ingredients you use in dog ice cream recipes are low-fat like plain yogurt or Greek yogurt vs. vanilla-flavored yogurt. Try to also pick a few easy recipes so you're not in the kitchen when the weather is super nice out. Check the prep time and total time before you begin. You also don't 'need' a food processor for most dog treat recipes. Frozen treats are by far the easiest to make.
We also love banana ice cream, peanut butter dog ice cream, popsicles, and watermelon for the hounds.
Source: https://www.hgtv.com/lifestyle/entertaining/diy-dog-ice-cream/
Have you tried any of these DIY pet treat ideas? Tell us on the Wide Open Pets Facebook page!
Enjoy the outdoors?
Sign up for daily stories delivered straight to your inbox.