As much as we love camping, we hate paying expensive campsite fees. It seems like all our favorite State and National Parks increased their fees recently and we suspect it won't be the only increase in the coming years. For full-time RVers, the costs can add up quickly to the point of becoming completely unaffordable. What's one to do when all you want is a quiet place to pitch a tent or sleep in your RV for the night? Well, there is one option where one can camp for free on some of our nation's public lands. We know some of you are likely wondering, "What's the catch?" We can't blame you. Free camping seems like a deal that's too good to be true, especially in today's economic climate. However, it's very real, and it's a great option for anyone who wants to save a little money on their next camping experience. It turns out it's also sometimes a great way to get away from the usual crowds of people that flood the popular campgrounds during the warmer months. Today we'll explain why dispersed camping is free. We'll also explain how you can start to take advantage of it during your outdoor adventures.
What is Dispersed Camping?
Dispersed camping or "boondocking" as it is sometimes referred as, is allowed on both National Forest land and areas managed by the Bureau of Land Management (BLM). These are areas where campers can set up and stay completely free of charge.
The big difference between a dispersed camping area and a designated campground is the facilities. There are usually none for dispersed areas. There are also no full-service hookups for RVs. Usually, it's just a spot to park your RV or set up your tent and that's it. These campsites are as basic as it gets.
Many of these camping sites are on BLM land, and don't have existing fire rings or picnic areas. Some aren't even marked to indicate what they are. Campers are expected to adhere to leave no trace principles. That means packing out all your trash, toilet paper included. Human waste must be buried in accordance with each area's regulations. These sites usually do not have trash cans, so that means taking everything with you when you leave.
Simply put, dispersed camping is roughing it. For those already well-versed in backpacking or car camping, it shouldn't be too big of an adjustment. While dispersed camping doesn't grant you any of the comforts of home, it makes up for it by giving you a chance to really surround yourself with nature. Because dispersed camping lacks facilities, not as many people take advantage of it, preferring instead the comforts of electrical hookups and picnic tables in the paid camping areas. In some remote areas, you may find yourself all alone with nature. Isn't that what we're all looking for in our outdoor experiences?
The big downside is that most sites are first come, first serve. If you pack up and leave for the day, there's not guarantee your spot won't be taken when you return in the evening.
The Rules Of Dispersed Camping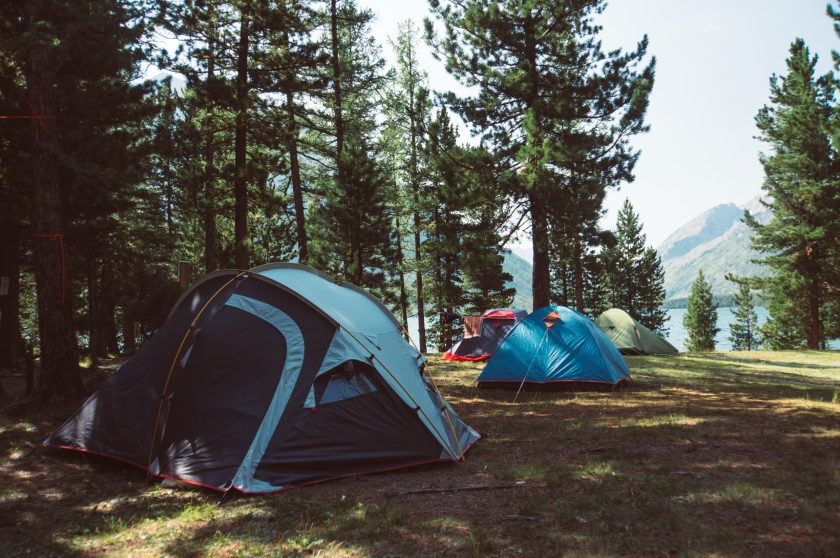 We already went over some of the basics. In some western states, especially places like California, you're going to want to pay attention to fire restrictions. Many dispersed camping areas don't have fire pits, especially those deep in the backcountry. You don't want to inadvertently start a bad brush or forest fire in a remote area.
Other camping rules may prohibit parking in certain parking lots overnight. I've noticed most areas have restrictions like this within a mile of a paid, designated campground. There are also restrictions on how long you can stay, but they are usually generous. Both the U.S. Forest Service and BLM tend to limit stays in a dispersed camping area to 14 consecutive days. After that, you'll have to move. Most will specify 10-25 miles from the last spot you camped. If you're planning an extended trip in the American west, it's usually not too difficult to find another spot like that.
For some areas, you are only allowed to camp in marked dispersed campsites. It's helpful to call the management office or check their website ahead of time for their rules on primitive camping. Other areas may have special rules on free camping spots listed at trail heads or in parking areas along Forest Service roads.
How do I Find Dispersed Camping?
This is the challenging part because these sites are rarely advertised. The quickest way is to hop on Google Maps and just start looking for green shaded areas that indicated National Forest lands. It's not an ideal solution because lots of other areas like county parks, state parks and National Parks will show up the same way. However, it's usually obvious what each area is once you click on it. At the very least this will get you started in your search.
The U.S. Forest Service has extensive camping information maps for popular states like Colorado, Wyoming, Nebraska, Kansas, California, Arizona and more. If you click on an area of state forest on these maps, it will take you to yet another page detailing all the places you can camp. It will also notify you of amenities like pit toilets and will give you stay limits.
With BLM land, it's a little more difficult to plan your trip ahead of time. Mostly because when you search for campsites on their website, it's going to give you everything. This includes all the paid camping areas. It may take a little searching to find exactly what you're looking for. One shortcut is to filter for camping areas on BLM's maps. Again, it can be difficult to find campsites this way, but it will point you in the right direction. These maps will also tell you the office in charge of managing that area. Give them a call and ask for pointers on good locations to try.
National Parks are trickier. In most cases, you will not be able to car camp in a National Park. The chance of natural resource damage is too great, and most places simply do not allow anything outside established campgrounds. Although some National Parks do have some sites. Be warned that they are also usually much busier. If you want to disperse camp in a National Park, you will likely have to pack-in on a hiking trail to a remote area. Some of these areas may require additional permits too. In most instances, you will probably have an easier time finding a place to setup on BLM land, or any National Forests bordering it than the National Park itself.
Other Dispersed Camping Tips
There is a misconception that you need a heavy-duty 4x4 or other vehicle capable of off-road travel to take advantage of these sites. While that may be true in some instances, there are usually sites that anyone can reach using any type of vehicle. Study the satellite maps carefully before you leave to determine if your intended site is along a paved road, or an old logging trail. If you have any doubts, a call to the nearest ranger station can usually clarify more. We have seen and heard of people going dispersed camping in anything from high lifted Jeeps to a simple minivan. If it can hold your gear and get you to the site, you can go camping with it.
Some dispersed camping areas are specialty walk-in areas only. Load up your favorite pack and go for a little hike in the wilderness. Sometimes you'll have these areas all to yourself, even in the busy season. Don't be afraid to get a mile or two off the main roads. You might just find it leads to the greatest camping trip you've ever had.
Prepare properly before you go and make sure you're ready for camping in primitive conditions. Don't forget to be a good steward of the natural resources you are out there to enjoy. Leave every campsite in better condition than you found it. If the area has unmarked sites, try to find areas that have obviously been used as campsites previously. They usually aren't hard to spot. This just helps to lessen the impact on the land.
One last final tip, stop in at the ranger station or visitor center when you enter an area to find out about wildfire dangers. Most will have specific rules on campfires in their dispersed camping areas. Some may require you to obtain a free permit before you can use them. You might also want to inquire about the best place to get safe drinking water during your visit. It may be a natural water source, but some areas might let you fill up water jugs in the developed campgrounds to take with you. Finally, ask for some tips on the best sights and trailheads to explore while you are there too. The rangers almost always know a secret hidden gem they are willing to share.
Dispersed camping is a good way to get away from the crowds and to save some expensive camping fees this season. Give it a try!
For more outdoor content from Travis Smola, be sure to follow him on Twitter and Instagram For original videos, check out his Geocaching and Outdoors with Travis YouTube channels.
READ MORE: HOW TO MAKE A DIY CAMPING TOILET
Enjoy the outdoors?
Sign up for daily stories delivered straight to your inbox.