DECKED has flipped the script on what a truck tool box can do. It's time to check out their latest storage system, the DECKED Truck Tool Box.
Truck owners can rejoice: there's finally been some advanced innovation applied to the trusty truck tool box, and it's no surprise that the company responsible is DECKED, the truck storage system experts.
The Ketchum, Idaho brand that makes all their products in the U.S. is officially introducing the DECKED Truck Tool Box. It's a completely durable, fully waterproof, and easily accessible storage option that's able to safeguard your tools and gear better than just about any other option on the market.
"As a brand rooted in creating innovative solutions for working men and women, the Truck Tool Box was a natural evolution for DECKED," said DECKED General Manager, Jake Peters. "Between updated, more durable materials and simple, creative features like the integrated ladder and a more secure locking system, we brought the traditional tool box into the 21st century."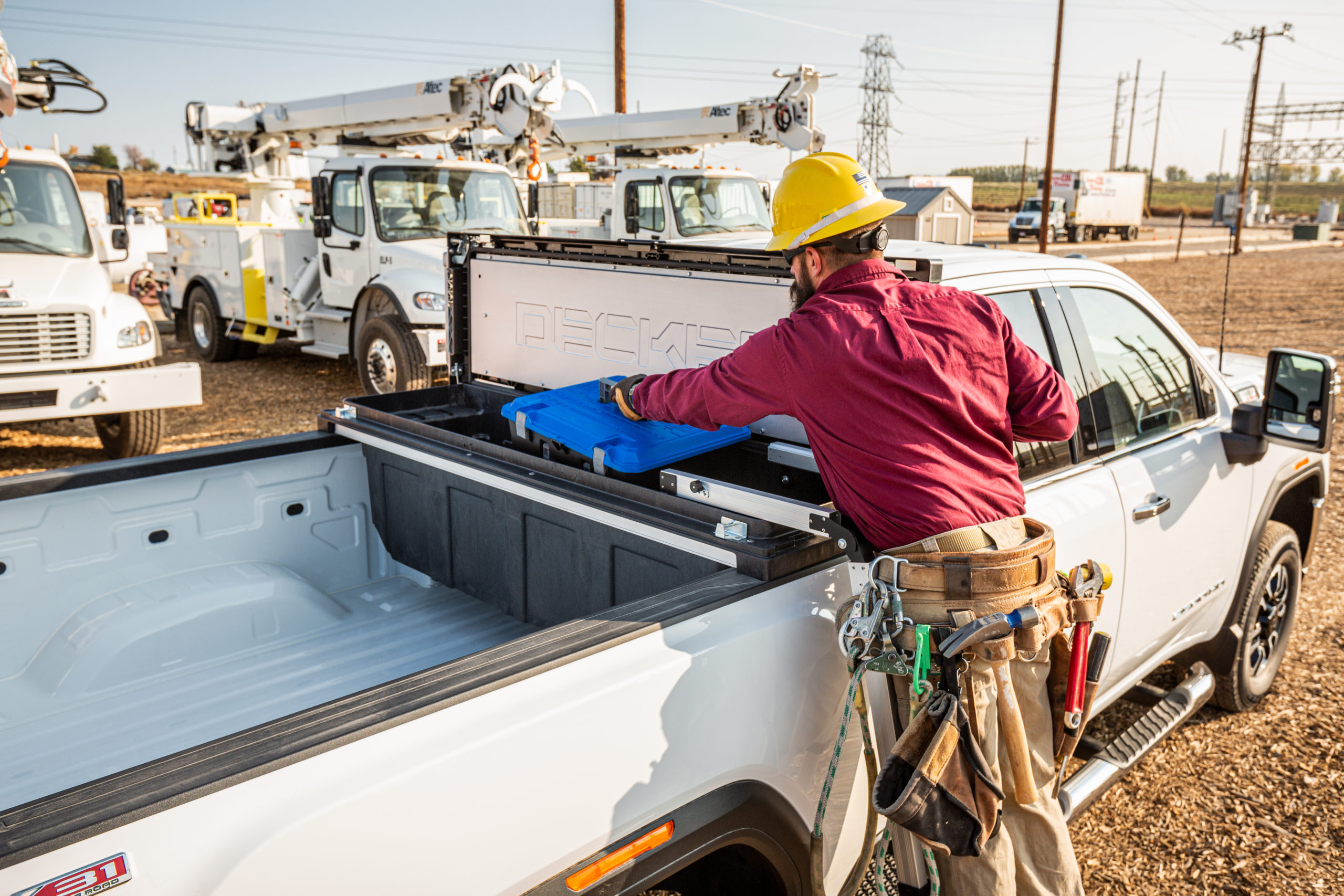 The DECKED Truck Tool Box is made from high-impact, injection molded polymer ASA and HDPE resins for what the company calls "bombproof protection" against damage like dents or punctures. The incredibly secure locking system will protect anything you choose to store inside.
The storage system uses anti-corrosion steel hardware and aluminum to prevent rust and add to the lifespan of the Tool Box. The DECKED Tool Box fits any full-size truck 2001 to current. If you have a full-size pickup truck older than 2001, the DECKED Tool Box will most likely be compatible if your bed width is between 61-70.5" inside bedrail to inside bedrail. Odds are it can make a seamless improvement to your truck.
The optional integrated ladder is nested beneath the lid and allows for strain-free access to more than half of the entire storage area. All told, the DECKED Truck Tool Box can store 9.82 cubic feet of gear, or the equivalent of 73.4 gallons. With the ladder included, it weighs just 113.5 pounds, cutting down on the overall load added to your truck bed (compared to other, older tool boxes) while still maintaining its robust construction and top-notch durability.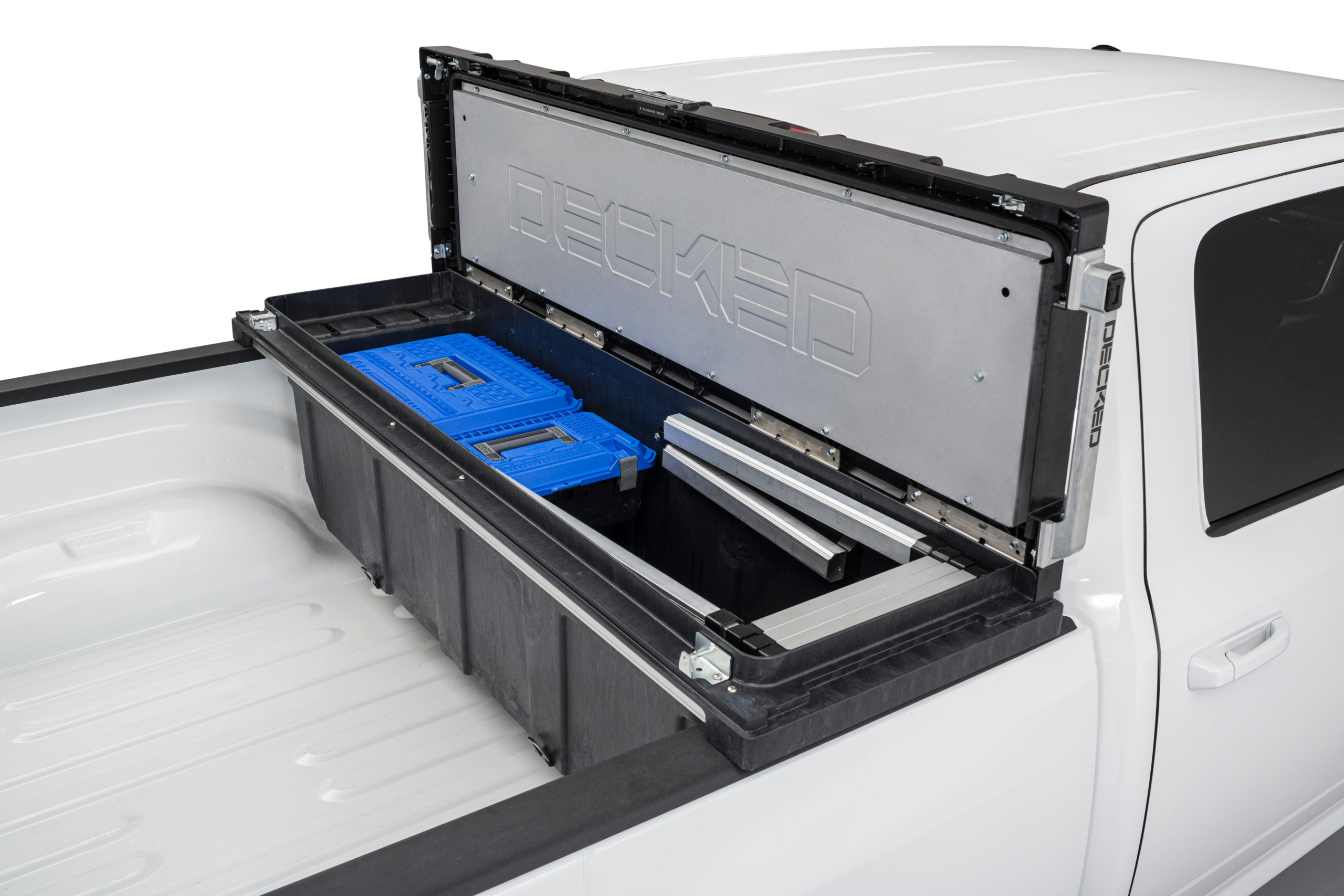 The Tool Box also includes a DECKED D-Box, the smaller, modular organization crate that's custom made to fit in the box and rest securely upon an integrated hanging system. Smaller items can be organized inside the D-Box, while larger items are stored within the Tool Box itself.
Plus, it has two cargo tie-downs at the base of the tub for securing an ATV or other large equipment. The combination of smart engineering and thoughtful manufacturing have made the Truck Tool Box an obvious upgrade to your ride's capabilities.
It's worth mentioning that if you're interested in adding a Tool Box to a truck that's already equipped with a DECKED sliding Drawer System, they're currently only jointly compatible with a certain number of 8-foot truck beds. Eventually, DECKED plans on offering a shallower version of the Tool Box for shorter beds, so keep an eye open for that.
The $875 price tag is more than reasonable, considering all the security and longevity the Truck Tool Box can offer. If you opt to not include the ladder, it's $699.
The overall dimensions are:
Length: 76"
Width: 22"
Height: 20.53"
Height above bedrail: 5.78"
If you've been looking for a trustworthy truck storage system, or wanting to replace a less-than-perfect and outdated version, then the DECKED Truck Tool Box is exactly what you've been waiting for. Whether you need it to store tools of the trade for transport to and from the job site, or for outdoor gear and equipment as you venture out on hunting, fishing, or camping trips, the Truck Tool Box from DECKED is an ideal option.
For more details and specs, be sure to check out DECKED.com and learn all about the benefits of owning one of their brand new Truck Tool Boxes. It's innovation at its finest, something DECKED is specializing in year after year.
NEXT: THE DECKED TRUCK BED STORAGE SYSTEM IS A MUST HAVE FOR THE TURKEY HUNTER
Enjoy the outdoors?
Sign up for daily stories delivered straight to your inbox.