There's an arms race among gun manufacturers to see who can build hunting rifles that offer the best accuracy in a lightweight and easy to carry package. The Nosler M48 Mountain Carbon is a great example of a rifle that checks both of those boxes. But with an MSRP of $3,140, that sort of performance doesn't come cheap. The Christensen Arms Mesa is a lightweight hunting rifle that delivers pinpoint accuracy in a very light rifle, but also comes in at a much lower cost for those hunters in search of a quality product at a reasonable price.
With short action models weighting 6.5 pounds unloaded, it's not quite as light as some of the super lightweight bolt action rifles out there, but the Mesa has a much more affordable MSRP of $1,295. It also comes with the Christensen Arms Sub-MOA Guarantee (3 shot group at 100 yards of 1" or less with high quality match grade ammo). The result is a rifle that's affordable, accurate, and a lot easier to carry around in the woods or up the side of a mountain, all of which are great attributes for a hunting rifle. The shooting world should take notice. How did the folks at Christensen Arms do that?
Attributes of the Christensen Arms Mesa rifle
First, the Christensen Arms Mesa rifle has a 416R stainless steel barrel with a featherweight contour. The featherlight contour barrel helps reduce weight without adversely affecting accuracy. Most chamberings use a 22-inch, free-floated barrel (also potentially a 20", 24" or 26" barrel length depending on the caliber) that's button rifled. The barrel also has a seamless radial muzzle brake to reduce perceived recoil. The muzzle brake is removable and the barrel also has a ½ x 28 (5/8 x 24 for 28 Nosler) threaded muzzle for hunters who want to use a suppressor.
Next, the Mesa has a match chamber and a hand lapped barrel. The rifle also comes with an adjustable Trigger Tech match-grade trigger, which is renowned by serious hunters and shooters. Additionally, the Christensen Arms Mesa has a sporter style carbon fiber composite stock with Invar Pillars, spot bedding, and a Limbsaver Recoil Pad. It also has the traditional Ruger three-position safety. Both the barrel and receiver have a tungsten or burnt bronze Cerakote finish.
Finally, the rifle is compatible with standard Remington 700 scope bases.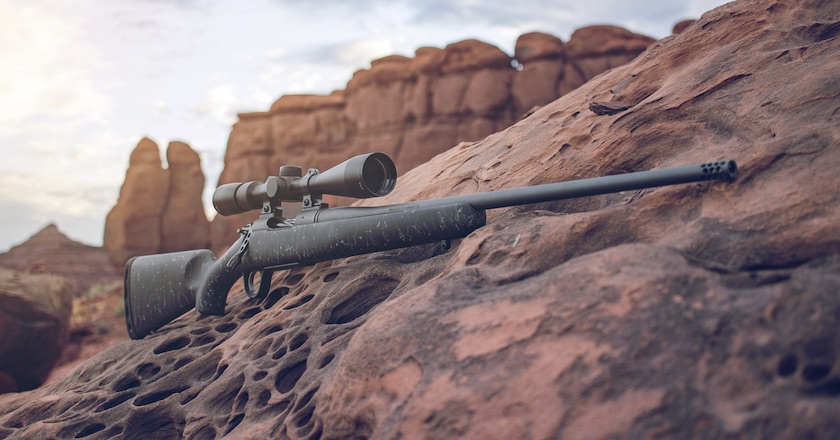 Designed with North American hunters in mind, Christensen Arms currently offers the Mesa in 6.5 Creedmoor, 6.5 PRC, 7mm-08 Remington, 7mm Remington Magnum, .308 Winchester, 28 Nosler, .300 Winchester Magnum, 300 PRC, and .450 Bushmaster.
Left hand models of the rifle are available in 6.5 Creedmoor, 7mm-08 Rem, and .308 Winchester.
As a side note, Mesa rifles chambered in .450 Bushmaster do not qualify for their sub-MOA guarantee.
The rifle has an internal magazine with a 4-round capacity (3 for magnum calibers like the 7mm Rem Mag and .300 Win Mag). Additionally, the long action models are a little heavier with an advertised weight of 7.3 pounds.
When all is said and done, the Christensen Arms Mesa is great all around rifle that's easy for hunters to carry in the backcountry, but is also still capable of outstanding accuracy on game at extended range if necessary.
There are lighter hunting rifles out there, and there are more accurate hunting rifles on the market. However, the Christensen Arms Mesa is the perfect rifle for hunters who need a reasonably lightweight option that's also very accurate and offers long range capability without breaking the bank.
For more information on this new rifle, visit ChristensenArms.com.
For shooting accessories, visit walmart.com.

Like what you see? You can read more great articles by John McAdams on the Big Game Hunting Blog and be sure to subscribe to his show: the Big Game Hunting Podcast.
NEXT: SIG SAUER CROSS RIFLE FOLDS THE GAP BETWEEN TACTICAL, HUNTING PURPOSES
WATCH