Chama Chairs added a few upgrades to the traditional tripod stool that could make the difference in how long you stay on a hunt.
Chama Chairs' mission is to be the best all-terrain swivel chair on the market. And, with added features that make it ideal for sitting for long periods, it's the sort of seat any hunter can appreciate. But, is it truly the world's best hunting stool?
We took the Chama All-Terrain Swivel Chair out for some predator hunting right before early deer season for a test and review and came away pleasantly surprised. I decided to compare it to a traditional tripod.
I'll break the Chama down by comfort, quiet maneuverability, and durability.
Comfort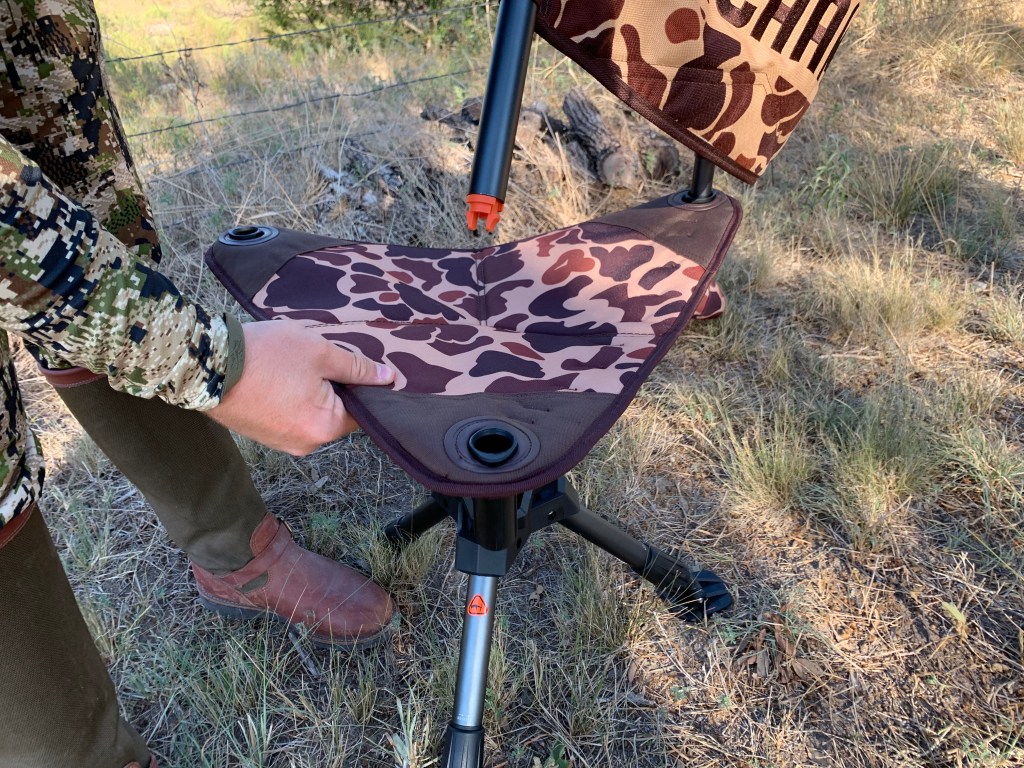 There's a lot to be desired when it comes to searching for the best hunting chair. Numb feet or the pressured sensation felt when squatted on a small tripod stool are all too common. The reasons you feel those sensations are typically written off to low-quality efficiencies.
The height of the stool is usually about a foot and a half off of the ground, meaning you're all bunched up and can't comfortably let the blood flow through your legs. If you stretch them out, the stretch of fabric that starts cutting into the back of your thighs can cause more issues. These things can cause any hunter to be uncomfortable, so much so that they may walk away from the hunt altogether.
The Chama camo chair delivers a different result. To take care of the height issue encountered in a traditional folding tripod stool, Chama has incorporated telescoping legs made of a premium aluminum that boost you up to a normal height off the ground. At first, I was worried about the extension system, but it's almost foolproof. The extensions are built on a telescoping system that tightens down with a high-strength polymer lock, so it's easy to adjust.
The seat also has a substantial upgrade. Compared to a traditional square setup, the triangular seat size is about double the surface area and comes padded for extra cushion. It prevents the pressure from hitting directly onto your thighs, allowing you to sit longer without discomfort.
Chama even tops it off with a backrest to make sure you're not ruining your lower back in the process. The fabric is covered with a cool vintage camo pattern, and could fit easily into an elevated hunting blind or ground blind without much of a footprint.
Quiet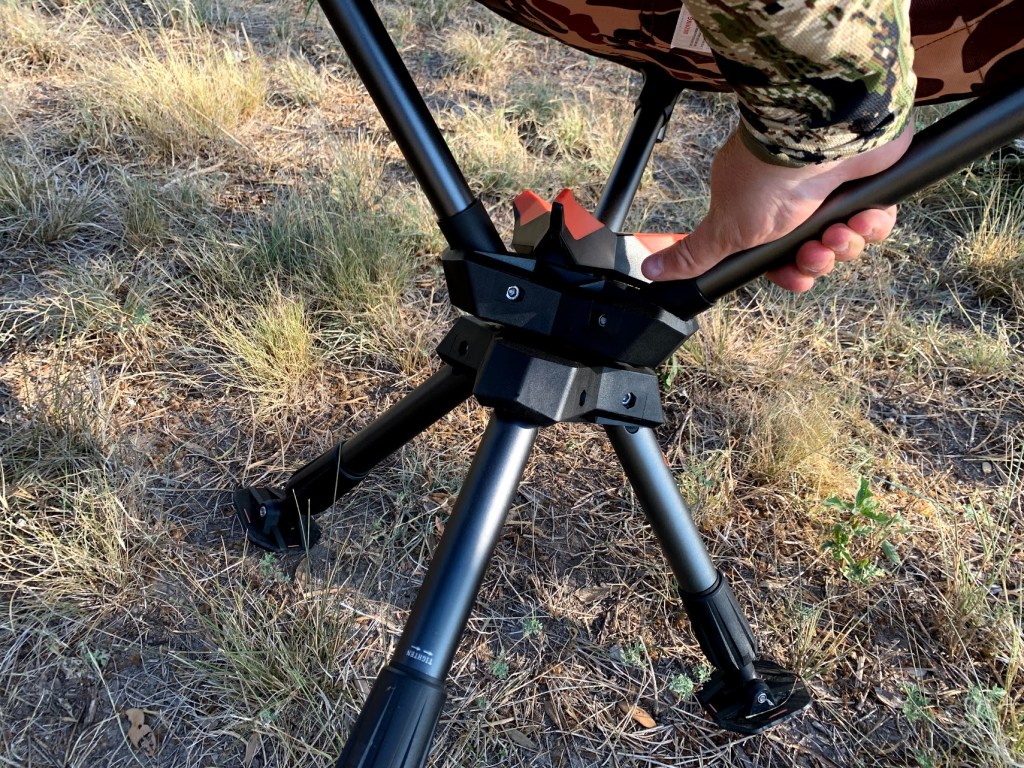 If you're an avid hunter, you know being quiet is probably one of the most important rules of pursuing an animal. You also know that at any given moment, an animal can make an appearance from several different locations. Basically, I needed to make sure I could swivel in the Chama Chair without making a noise.
Straight out of the package, it didn't make a peep. I let all the hunters at my West Texas hunting lease try it out, and the chair has yet to make a whisper. It's the self-lubricating swiveling hub system that makes it so silent.
I typically like to be as critical as possible of things I test out, but this is one great feature I can't deny. The swivel won't cause problems besides the snap that locks the top portion of the tripod into place during setup.
It's easy to maneuver and as quiet as can be.
Durable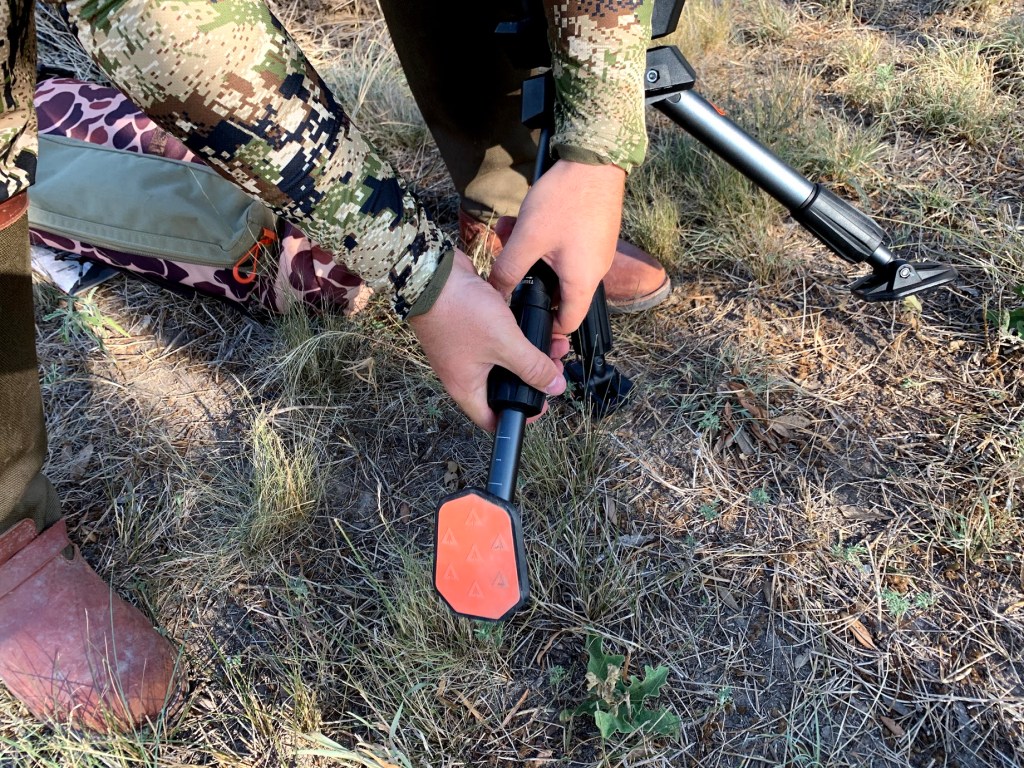 All the packable tripod stools I've owned have blown out the feet and left me sunk into the dirt. There's nothing worse than having to find a rock to prop yourself up on when the animals show up. Chama added swiveling feet with increased surface area, giving you plenty of space and stability. They are just big enough to make sure you don't sink into the mud.
The strength of the pipe legs is fairly surprising, too. They didn't even flex from the hefty fellas I tested them on at the lease or dent after being tossed against tools in the back of our Polaris Ranger.
The canvas seat, the backrest, and the carry bag all show reinforced stitching and double-layered materials to prevent ripping. The tear-resistant fabric got its fair share of testing, and it held up beautifully.
Overall Reaction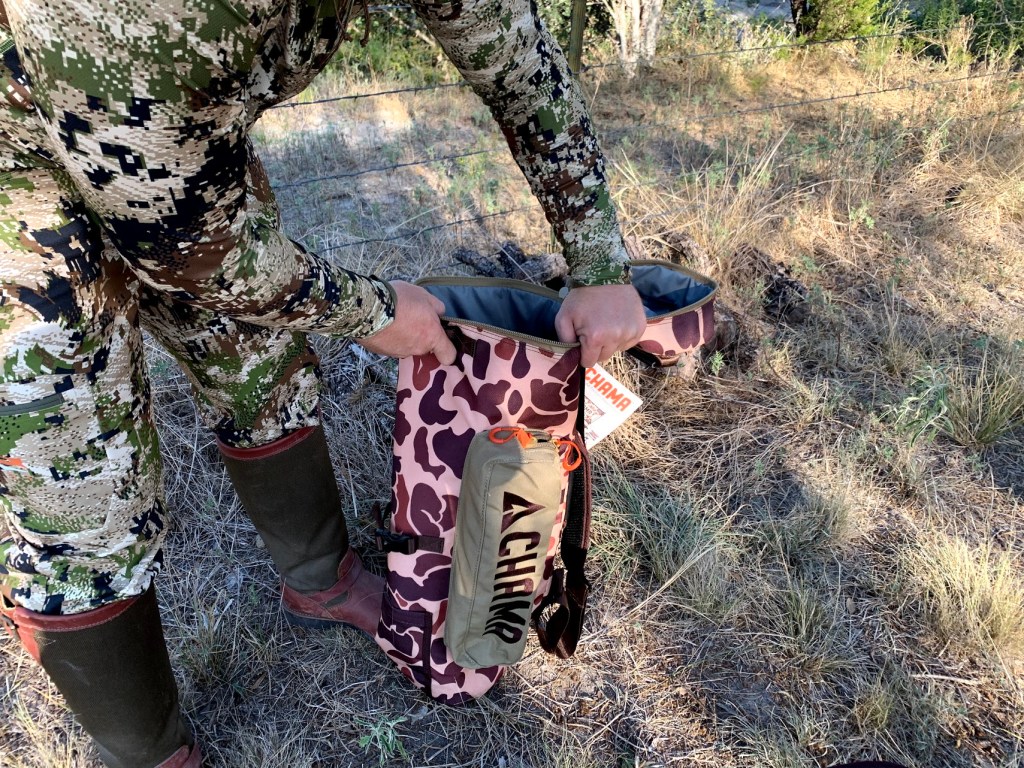 My only reservations are the fact that it is still a tripod, it's not a full bag chair. I recognize a bag chair provides limitations the Chama excels at (such as the ability to swivel quietly), but sometimes I want a chair that can double as a campfire seat. Not that this wouldn't serve that purpose, but it's the best hunting chair I've used to date.
I really like the fact that it has a heavy-duty travel bag to carry the chair. The extra bag can be a place you could stuff everything in and be set for a hunt, giving you true portability to move when needed.

If you're looking for a packable chair to set up on hunts that's more comfortable, durable, and quiet than a traditional tripod chair, this is the one that'll leave you satisfied. Of all the hunting gear that gets overlooked, the Chama all-terrain swivel hunting seat might be the one thing that positively changes things for the better.
NEXT: KEEP YOUR TRAIL CAMS AND TREESTANDS SAFE WITH THIS SMART GEAR
WATCH