Vanlife and full-time travel has become the country's hottest new thing since the pandemic. Considering America's long-standing love affair with the automobile and road travel, it's not surprising that all kinds of folks, both full-time vanlifers and part-time vacationers, are turning their vehicles into mobile basecamps for bring a new level of comfort, convenience, and self-sufficiency to their car camping adventures.
You don't need a sprinter van or a motorhome to get started, and for most folks, that kind of travel setup is wildly impractical. Trust me. Your Forester will work fine. I've even seen folk's car camp and live long-term out of their Honda civics. It sounds wild, but you can do it. So, if you're itching to hit the road but not ready to take the plunge into buying a motorhome or DIY'ing a complete camper van conversion, keep reading for hacks and tips on creating the best car camper conversion setup for you.
Car Camper Conversion First Steps
One of the first things to do when planning any camper conversion is to assess the space you have to work with. Get realistic about its capabilities and then seriously sit back and consider all your priorities for the area.
Will you need to break down and take apart your camping setup, or will you be traveling for a while? Want to Netflix in the car on your memory foam mattress, or are you more interested in snuggling into a sleeping bag and falling asleep under the stars? Will you not have enough headroom inside the vehicle on a rough weather day unless you forgo the sleeping platform for your small-car buildout? Having a clear picture of what you want in the space will save time and money and give you an idea of what you're willing to give up.
The next thing to do is to consider the budget and the amount of effort you're willing to put into the project. Keep in mind that these things always have an inverse relationship (i.e., lower budget = more elbow grease and vice versa). Lucky for you, I've researched the most popular ways to turn your vehicle into a small camper. I'll help you get started with tips on hitting the road in your ideal setup.
No-Build Car Camper Conversion
Accessories make even a tiny car feel like a palace on the road in today's market. Companies like Luno create inflatable mattresses custom shaped to your vehicle, be it a Toyota, Subaru, or Honda. The beds fit perfectly on top of the vehicle's rear seats after being folded down, creating a generous sleeping area in the back of the car.
For some vehicle models, there are also mattresses for the front seats. After a good night's sleep, all you must do is pack up the removable mattresses and put the seats back in a driving mode in the morning. This or something similar is one of the easiest ways to convert a vehicle. Because they're inflatable, the mattresses are incredibly compact, leaving plenty of extra storage for other gear and necessities.
If you're not into inflatables, rooftop tents are a decent choice, especially for folks starting with an SUV or something on the larger end of mid-sized. These do not need any substantial assembly outside of securely mounting them to the roof. The upside of having your sleeping area above the vehicle is that you have even more storage space available in your car for wherever the road might take you. If the ticket price for a new one is a bit of a shock, look on the Facebook marketplace or other reselling platforms for a better deal.
Keeping devices charged and power flowing is also crucial. If you're not in the business of attaching a solar panel to the roof of your hatchback (I don't blame you!), there are still options. Invest in a portable power bank that you can charge while driving to keep devices up and running while you're out. It is a simple and straightforward way to add power to your car camping situation without DIY'ing a single thing. Suppose you're feeling adventurous and want to be off-road and off-grid. In that case, a small portable solar panel can also keep your bank and devices powered for those camping trips where driving is not an everyday occurrence.
RELATED: These 11 Must-Have Products Will Seriously Make Road Trips With Kids So Easy

Mid-Build Car Camper Conversions
This is the goldilocks of car camper conversions. There is a little bit of DIY, some supplies ordered from Amazon (or directly from businesses), and a car full of happy campers. Mid-Builds hit the sweet spot of not being too expensive and not taking up too much effort for many folks, and I highly recommend trying your hand at this type of camper conversion if you have the time. One of the key features in these builds is modular bed platforms.
As with all components of camper conversions and DIY projects, the bed platform can be as complex or as simple as you need it to be. Some are just raised platforms that support a mattress and have room underneath for extra storage. Others have built-in drawers and extendable flat surfaces (like a tailgate but cooler) for cooking, eating, and working at the campsite. Browse Pinterest and YouTube for inspiration from other DIY car campers. Learn the time, effort, tools, and money needed to build the platform that works best for you and your vehicle.
Fair warning: This arrangement can be challenging to navigate for folks who need their back seats on the trip, depending on the construction. Bed platforms can be a bit of a pain to deconstruct and are often built to slide in and out of the vehicle in one or more pieces, taking up the entire back of the car. It can also make it surprisingly difficult to store all your camping gear in the vehicle. If you find this the case, a rooftop storage box is a good solution.
Once the platform and sleeping area arrangements have been sorted out, it's time to make sure the rest of your "life on the road" essentials have room in your build. Finding homes for your camping gear, cooking equipment, and entertainment should be easier now that there's a platform with storage underneath your rig.
Under-the-bed storage, however, does not work for coolers (I recommend 12-volt electric coolers over ice chests any day) and other bulky items. Foldable mattresses can help in this arena, allowing you to keep your sleeping materials and your cooler or other big gear on top of your sleeping platform. Online retailers offer memory foam mattresses that fold into threes at accessible price points if you're hoping to incorporate convenience into your build without sacrificing comfort.
Full Modular Build Conversion
This is what the outdoor crowd would consider a "full send." In this, your vehicle will get a platform, yes. Still, you may also take out the back seats entirely, especially if you intend to be out for an extended road trip. One of the perks to this avenue is that you genuinely get to dig in and make your small space extremely comfy, giving your small car the complete vanlife treatment.
In these builds, the platform is fastened to the vehicle's metal, and cooking equipment such as camp stoves and mini-fridges have semi-permanent, if not permanent, spaces in the setup. Extra gear can be stored in the platform or, if needed, in a rooftop storage box.
Full conversion builds are among the more time-consuming and challenging projects to complete depending on the specifics of your vehicle. So, scour Pinterest and YouTube to see what the internet says about building out your specific vehicle's make and model.
Extras For Every Build Option
The build of your car camper conversion will look different depending on what you're physically and financially able to put into the project. Still, a few things complement all the build styles.
Reflectix is great for blocking sunlight, insulation, and privacy when car camping at night. Sold by the roll online and at most hardware stores, all you must do is trace your windows and cut the shapes out before putting them into your vehicle's windows.
Shovel: Public restrooms are OK but sometimes nature beckons and there aren't any facilities around. Keep a small garden trowel on hand if you need to dig a cat hole to relieve yourself. Remember to do all your business 200 feet (70 giant steps) away from water sources, trails, or campsites.
Extra blankets and fans: The weather is weird, and depending on the climate of your destination, you might be surprised by sudden changes. Keeping extra supplies for hot or wintry weather can help make sure you're comfy and prepared.
Solar shower: Truck Stops and swimming pool showers are fine but sometimes you want to rinse off wherever you're camping. Keeping a solar shower in your kit of road trip gear can be a game-changer.
Cooler: I will scream the praises of 12-volt coolers from the mountains for the rest of my life, and this is no exception. 12-volt coolers end the need to fuss with bags of ice, water-logged food, and spoiled goods; what's not to love? Find a cooler that fits in the passenger seat when sleeping to reduce the risk of attracting animals to your campground while you sleep.
Lanterns/light: Luminaid and other brands offer solar-powered lanterns to ensure the adventure doesn't have to stop when the sun goes down. Hang one in your rig for some late-night reading or use it to light the way for nighttime exploration.
Bear Canister: Keep toiletries and yummy-smelling foods safe from predators by buying or renting a bear canister. Fill it with your scented goodies and hang it up high when sleeping.
Stove: Either a camping or backpacking stove is ideal for car camping. You may be able to semi-permanently install your cooking equipment into the build, making your life easier.
Building a camper conversion in a small car or an old-fashioned Volkswagen bus is always a rewarding experience. Mainly because of the adventure that lies at the end of the preparation. No matter what your rig looks like, the vanlife spirit is one for folks wild enough to set their sights on a dream (and a spot on the map) and do whatever it takes to get there. I have no doubts that whatever your final build looks like, your daily-driver-turned-mini-camper will get you wherever you want to go fine.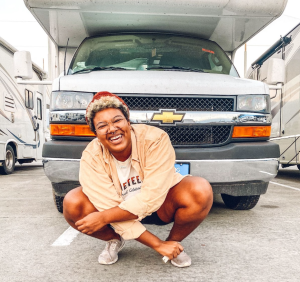 Jupiter (they/them) is a twenty-something wanderer who has traveled the United State full-time in a Class C RV since 2019. They are accompanied by their two dogs, and spend their time hiking, writing, reading, seeking out the best food on the road, and finding new Black & LGBTQ+ friendly places to explore. Instagram: @doesthiscountasvanlife
Ask our community for more tips on Wide Open Roads Facebook!