I live on the road, solo and full-time, and have long been a big fan of traveling on my own. One of the things I hear the most frequently about solo road travel from folks is how a solo road trip is on their bucket list, but that they think they'd be too scared ever to go through with it.
Considering the perks that I've found as a solo traveler, it pains me to think of all the new experiences people miss waiting for someone to join them on their adventures. While hitting the road with nothing but a destination and a playlist can be intimidating the first time, the experience is definitely worth the effort. You are designing your itineraries, making new friends, enjoying your own company, and sightseeing at your own pace. These all build confidence and resilience as you drive out of your comfort zone are just things that make solo travel worth it.
Maybe your ideal travel experience includes museums and hotel rooms in a new city. Perhaps it needs free campsites, open skies, and a taste of the slow lane. Either way, keep reading for our top tips on surviving and thriving on a solo road trip.
Solo Travel Tips From a Pro
Be Safe on Social Media
Share your selfies and videos after you leave the campsite. I feel like delayed posts are a necessity when traveling solo (and not a bad idea for all travel). Putting time and miles between you and the latest Insta-worthy stop on your trip keeps you safe by making you harder to track down and identify as a solo traveler.
Keep your location to yourself (i.e., only sharing your itinerary with close family and friends you trust). This is crucial for maintaining safety alone on the road. Use discreet or ambiguous geotags when marking your location on social media. Be mindful of the trip details you share with folks you meet on the road. These are things to practice as a solo traveler, especially if you're a member of an oppressed group.
Be careful meeting people through the internet. Meeting people online is great, and honestly, many nomad meetups are advertised and organized using Instagram, Facebook, S?"kr, and other apps made for socializing. However, two steps can go a long way in keeping you safe. First, make sure that you are comfortably familiar with one or more people in attendance for informal campground meetups. And you should only attend legitimate events that advertise themselves as more organized can go a long way in keeping you safe.
Read the reviews before you go. It's a safety tip that also dips its toes in many different categories. Still, as planning road trips based on recommendations from social media is 4000% a thing in this day and age, I think it fits here. Instagram, Pinterest, Facebook, S?"kr, Google Maps, and iOverlander are apps that provide inspiration and preparation before you head out to your dream solo travel destination. Just make sure you did deeper and not make decisions on one source.
Join solo travel groups online. If making new friends is something you're worried about during your first solo trip, join a group full of people who have done precisely the same thing as you. Be sure to use your internet street smarts (aka common sense), but you can use these groups to see who will be in the same part of the world/country at the same time as you.
I recommend Facebook groups, but Clubhouse and Twitter spaces are also fantastic. Each offers extremely niche groups like LGBTQ solo travelers, solo female travelers, Black solo travelers, full-time travelers, etc. Who knows, what starts as a joint walking tour or sightseeing adventure could turn into a lifelong friendship.
Navigate the Road & Camp Responsibly
RELATED: How to Camp on the Beach (Tips & Tricks from a Pro)

Make sure that arrangements are made in advance, whether you're staying in hotel rooms, sprawling out on Airbnb, or using a road travel app like iOverlander to locate campsites as you go. Make a Plan B in case of a road closure, full campsite, sudden cancellation, etc. It'll help save you time and energy and insulate your peace of mind as you travel.
Arrive before nightfall. New places and grand adventures often mean unfamiliar terrain. Arrive before sunset to safely navigate roadways and possible obstacles (and then sit back and enjoy the sunset after a successful day of road-trippin'.)
Park strategically. When camping on the road, "Battle Parking" or backing in is a great way to make sure you can make a speedy and efficient exit in case of emergency. It is especially handy for solo female travelers and anyone else who worries that their solo status might make them appear substantially more vulnerable.
Bring an atlas. Atlases are not only handy offline navigation tools. They often highlight lots of little roadside things and points of interest that can be a great way to incorporate some extra, intentional sightseeing (and time to stretch your legs) as you're passing through.
Stay connected. As an experienced solo traveler, I still recommend staying somewhat close to cell service. While you may eventually get used to not always having Wi-Fi access, the stress of not having cell service when you're on the road alone (especially the first time) is a different beast entirely. When in doubt, remember: it's better to have it and not use it than need it and not have it.
Invest in a high-quality phone holder and pack extra chargers. Make your life and entertainment situation more manageable while on the road by having backups. Fumbling with phones and cords is NOT the wave. Pack a battery bank of some sort. You're going to want to charge your devices, yes. Still, you're also presumably going to want lights or a tiny fan, any number of things that a power bank can operate. I've never traveled anywhere on the road and thought, "dang, I wish I hadn't brought my power bank." Pack it!
Be a good neighbor. Taking out the trash, cleaning up the campsite, and donating extra firewood to campers staying behind is an excellent way to build a sense of community with fellow travelers and a charming way to make new friends.
Stay cool. If you're traveling for longer than a week or two ,especially if you're an avid road-trip taker/outdoor enthusiast, you may consider investing in a 12v cooler. They run off the power in your car or campsite and keep your food cold and fresh without the hassle, mess, and plastic waste of bags of ice.
Factor in gas. Gas prices will continue rising through the summer as supply races to keep up with demand. Check the prices near your destination, at your starting point, and everywhere to ensure your road trip doesn't break the bank.
Don't be afraid of cities. This one is significant for folks traveling in bigger rigs for the first time. Don't be scared to park somewhere in a city and use public transportation to go sightseeing. Navigating tight roads and high rises is a bit intimidating when you're moving a larger vehicle, but facing that fear is usually worth it.
Staying Connected on Solo Road Trips
Being #OutOfOffice and #OffTheGrid are not the same as being entirely offline. While road trips can be a prime time to practice less screen time, Wi-Fi is still sometimes necessary in the modern world. Places like McDonald's, Starbucks, and some travel centers offer free Wi-Fi for customers. You can typically access them no matter where in the country you are.
Don't forget your bank. After I know what my ideal road trip/stop list looks like, one of the things I like is to call my financial institutions and let them know that I'll be traveling. I let them know where I'll be going and how I'll be getting there ("Hi, I'm going on a road trip from Texas to Baja California") and how long I will be gone. Doing this ensures that the bank or credit card issuer can help me ensure my accounts don't get frozen as a fraud prevention measure.
Order backup cards and travel with them. Losing a debit card or credit card on the road is the WORST. Trust me. I've done it about 6,638 times. I order extra cards from external financial institutions to avoid standing at the gas pump frantically patting my pockets (think Venmo, CashApp, Chime, etc.). I keep those in a safe place in the rig if I lose my main cards while I'm out. I then can call and cancel the lost one or freeze it from the app without having to cancel my trips.
Make a check-in schedule with loved ones at home and stick to it. Even if the point of your trip is to run off the grid and enjoy your own company (we've all been there), make an effort to keep in touch with people that love you.
This helps with the loneliness that can and does creep up when driving and gives you the security that comes with knowing that somewhere in the world, someone will know where to start looking if they don't hear from you on schedule.
Don't be afraid to disconnect. Yes, stay near service so that you can call AAA or hail emergency services (one to two bars is plenty for this) but don't be afraid to cut your screen time way down on your adventures. Driving for long stretches of each day can leave you feeling like you've got to catch up to the world, but you don't. You're allowed to step back and immerse yourself in the world around you for a while. After all, that's kind of the point, isn't it?
Solo Traveling Self Care
Routine maintenance. Try to keep some of your everyday routines while on the road; thank me later. Wake up at the same time. Go to sleep a little later if you must. Still, driving can be tough on the body/mind. Sticking to the general flow of your days can give you a sense of regularity that can be monumental when change is the only constant.
Stop and stretch. Road tripping is essentially sitting down for extended hours every day. Stop and get out to walk around, stretch your legs, grab a snack, etc. Your body will thank you, and movement/fresh air can be powerful tools to combat driving fatigue.
Pace yourself. It can seem like the road trips we see online hit the coolest stuff in absolutely no time, but that's not the reality. Road tripping solo often comes at a different pace than couples or group trips. There aren't any fellow travelers around to take the wheel when you get tired, for starters. Schedule time for breaks, drive less, go slow, and sleep in. Do whatever you have to do to feel comfortable while driving long distances. You're on no one's timeline but your own.
Don't rush your driving days. This sounds like the last tip, but it's not. When packing up and getting ready to get on the road for the day, take your time. Make sure that you have everything squared away, eat breakfast, carry out your morning routine, and get going. It'll feel like a less frantic and chaotic day than waking up and jumping into the driver's seat.
Make sure you're eating your vegetables. It's effortless to use road trips as an excuse to live off of snacks and coffee. However, your body and brain still need fuel and will be much stronger allies on your journey if you give them the nutrient-dense goodies it needs.
Take Care of Your Car
Check your fluids before you go. Yes, I know I sound like a dad, but I don't care. This is necessary! Think about the changing elevations, weather, and road conditions. Your vehicle is likely doing a lot more work than you think. Check the oil, transmission fluid, brake, and power steering fluids (ask a mechanic but YouTube can also teach you how to do all of this) and get in the habit of doing it before leaving a campsite or getting gas.
Check the air in your tires whenever you get a chance. Over or under-filled tires can have a less than stellar impact on your gas mileage. You don't necessarily need to air them up all the time, but use the sticker on the inside of your door or check the tire manufacturer's recommendations for a healthy pressure (this changes with winter and summer extremes) and keep them in that general area.
Road travel can suck sometimes. As in, suck your tires into the ground and get you stuck. Keeping tread mats, cat litter, and salt on hand in case of emergency is never a bad idea.
Sometimes that's not enough, though, which brings me to the next tip.
Roadside assistance is a lifesaver, and I mean that very literally. If you don't already have this kind of coverage, you need to have it before hitting the road. I repeat, roadside assistance is a NEED, not a WANT. AAA and GoodSam are great options, but many insurance providers include a roadside option in their policies. In my personal experience, the third-party roadside is generally a quicker and smoother experience. Still, the best roadside assistance is whatever is affordable and accessible for you.
Why Solo Travel is the Way To Go
Solo travel is, in my opinion, not only one of the best ways to get to know a place but the best to get to know yourself. Stepping out of your comfort zone in the way that hitting the open road on a solo trip builds immense confidence and can bring us home to ourselves in a way that has to be felt to be understood fully. If you're planning your first solo trip this summer, the final piece of advice I can give is this:
Don't let other people's fears become your own.
You are more capable than you think of hitting the road and having the solo travel adventure of a lifetime. The first time is understandably scary, but with this handy little mini guidebook, you hopefully feel a little more prepared than the average wanderer. You're not the first, and you won't be the last buckaroo to hit the wide-open road. Take this advice and run with it, as far and as fast and for as long as possible.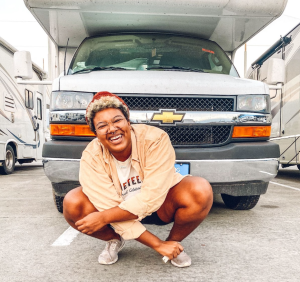 Jupiter (they/them) is a twenty-something wanderer who has traveled the United State full-time in a Class C RV since 2019. They are accompanied by their two dogs, and spend their time hiking, writing, reading, seeking out the best food on the road, and finding new Black & LGBTQ+ friendly places to explore. Instagram: @doesthiscountasvanlife
Share your fuel-saving tips on Wide Open Roads Facebook!