It's time to put the Henry Single-Shot Rifle to the test.
Single-shot rifles have many benefits you don't get from other rifles. Ease of maintenance is certainly a plus after a long day of hunting in rain or sleet.
Additionally, a longer barrel can be housed in a shorter package.
Let's take a closer look.

The test rifle I reviewed has a full 22-inch barrel with a 1:20-rate rifling twist. The rifle's overall length is just 37.5 inches, making it handy in tight quarters like a thicket, a hunting blind or a treestand. This Henry Model H015-4570, which features a blued-steel receiver, weighs in at a light 6.83 pounds. The American Walnut stock with quality checkering makes this rifle an American-made beauty. The added solid-rubber recoil pad tames recoil quite well, too.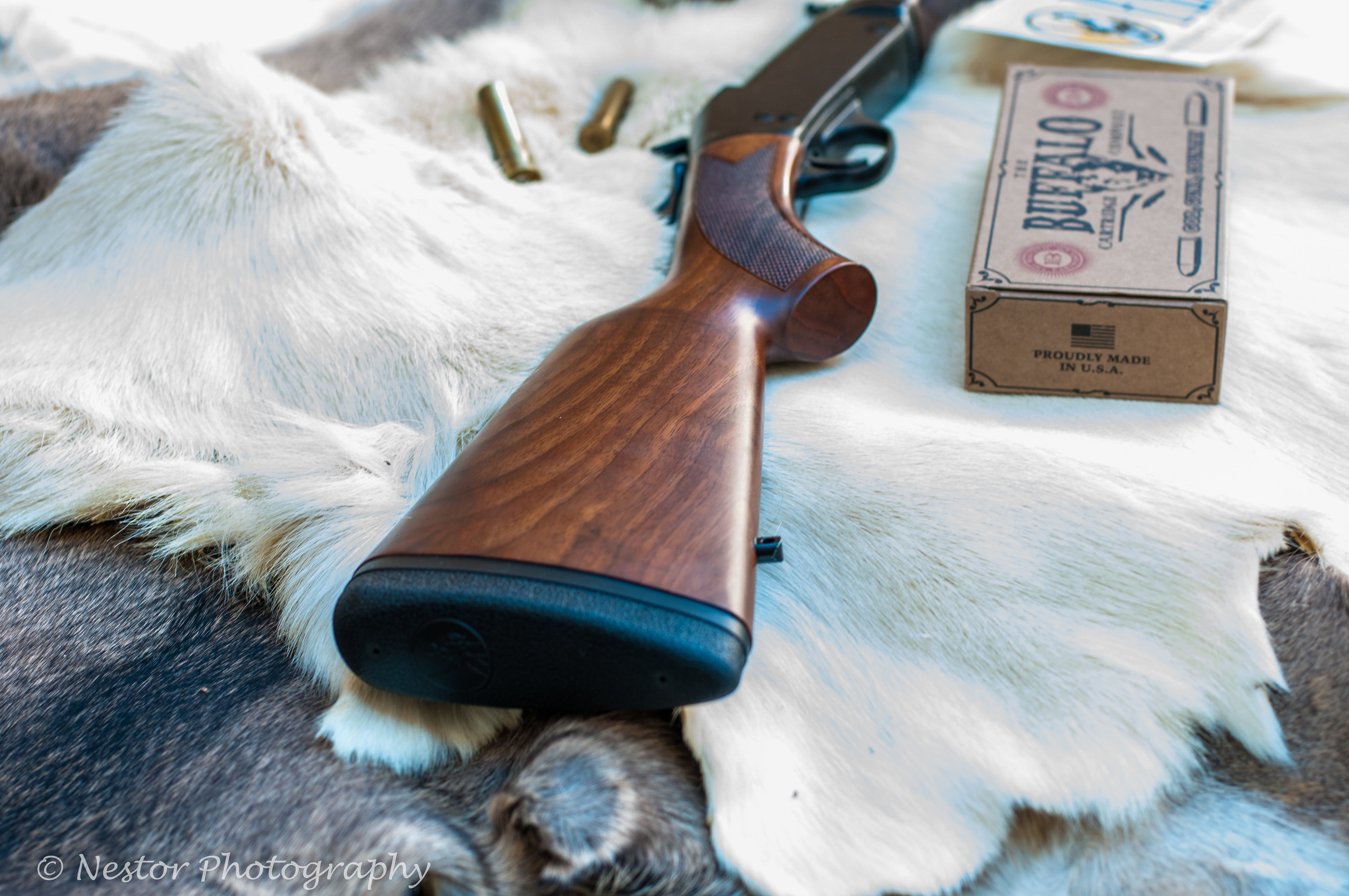 The rebounding hammer adds safety without requiring those terrible cross-bolt and tang safeties found on the competitor's rifles. You won't find any of that useless lawyer-ordained jewelry on this beautiful rifle. One cock of the hammer is all you need to fire.

This rifle comes with a fully adjustable folding-leaf rear sight with a brass-bead front sight. Accuracy testing was done first with supplied iron sights and then with the aid of a mounted scope.
After receiving the rifle from my friend Steve at Silverado Arms, I headed off in light, late-winter rain to the gun range the very next day for preliminary testing.
A winter storm was on the way and I just had to get in some trigger time. I normally fire rifles from a shooting bench with sandbags or various hunting positions. For this review's groups, I used a Caldwell Lead Sled 3 Gun Rest loaded down with 100 pounds of lead shot to assure the readers I'm testing the rifle's performance and not my own shooting skills. This impromptu picture was my sighting in position for that wet-morning zeroing.
First, I sighted in the iron sights for 100 yards. As you can see, my best three-shot group that day with Buffalo Cartridge Company's 300-Grain Deer Dropper Jacketed Hollow-Point .45-70 ammunition buzzing along at a published muzzle velocity of 1680 FPS did extremely well. The group wass just over an inch.
I fired off about 30 rounds total at various ranges from a standing offhand stance as well, and found the rifle handles the recoil very well. It was a lot of fun firing those big .45-70 slugs downrange. The rifle very maneuverable in my hands, too, making this a great big-game rifle to carry long distances. Additionally, supplied sling swivel studs allow a sling to be used when you need both hands to drag out your game.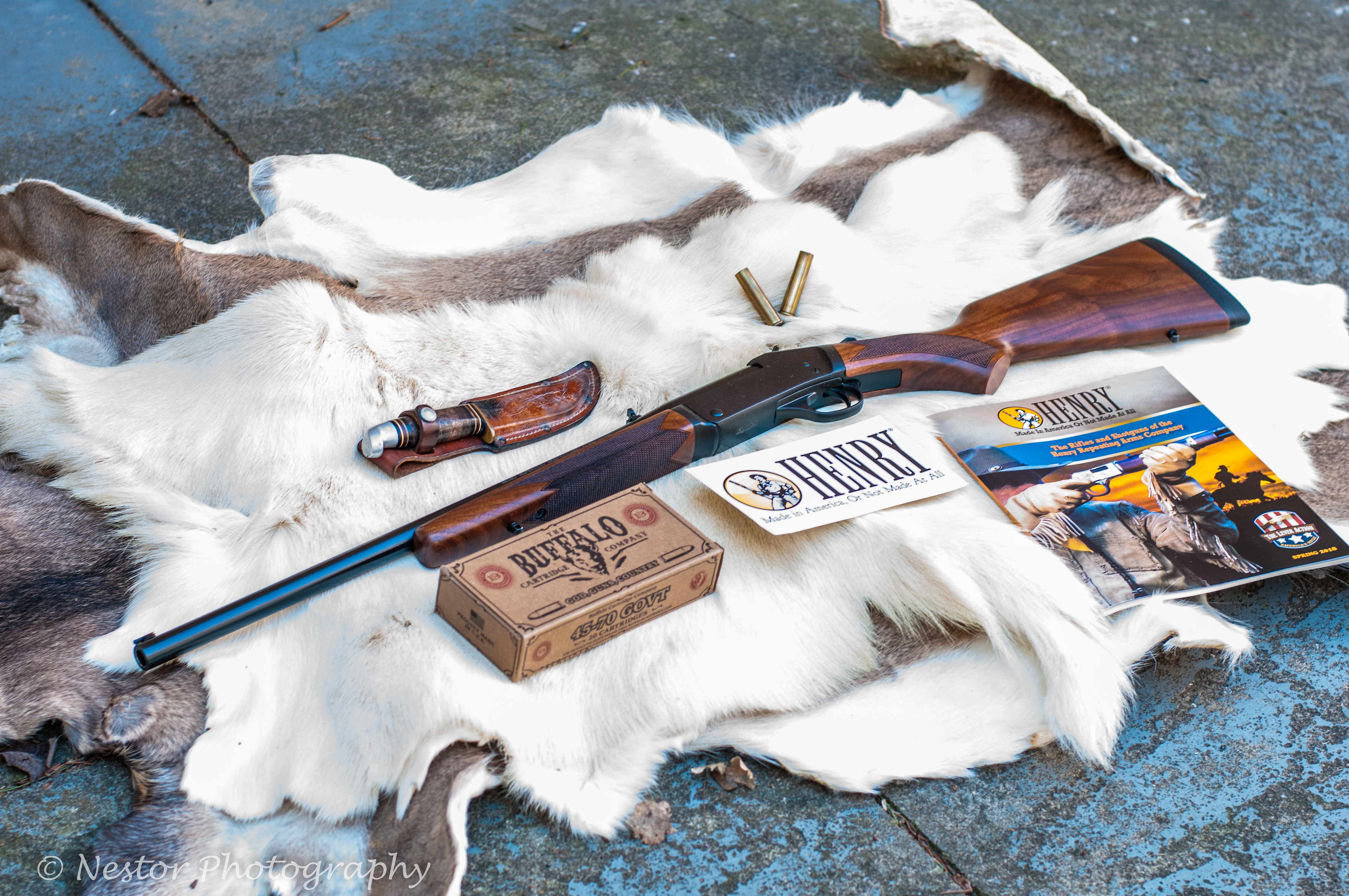 Extraction was positive and the spent shell is held ready for you to manually remove. That's handy for all of us who save the fired brass, and it also makes unloading easier than chasing ejected shells around.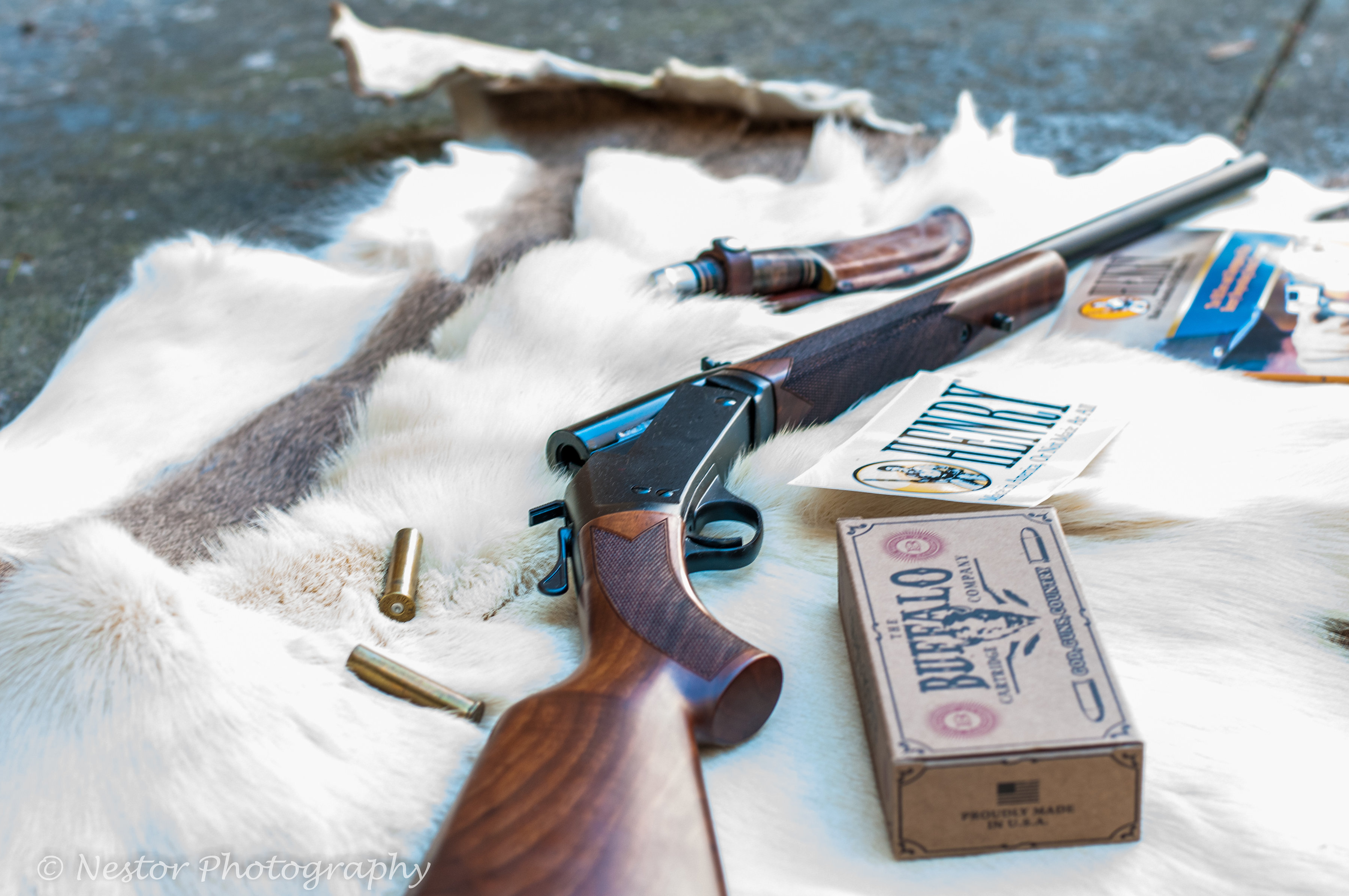 This rifle feels like an extension of my arms. It points well and has a very natural swing, even in the big .45-70 cartridge.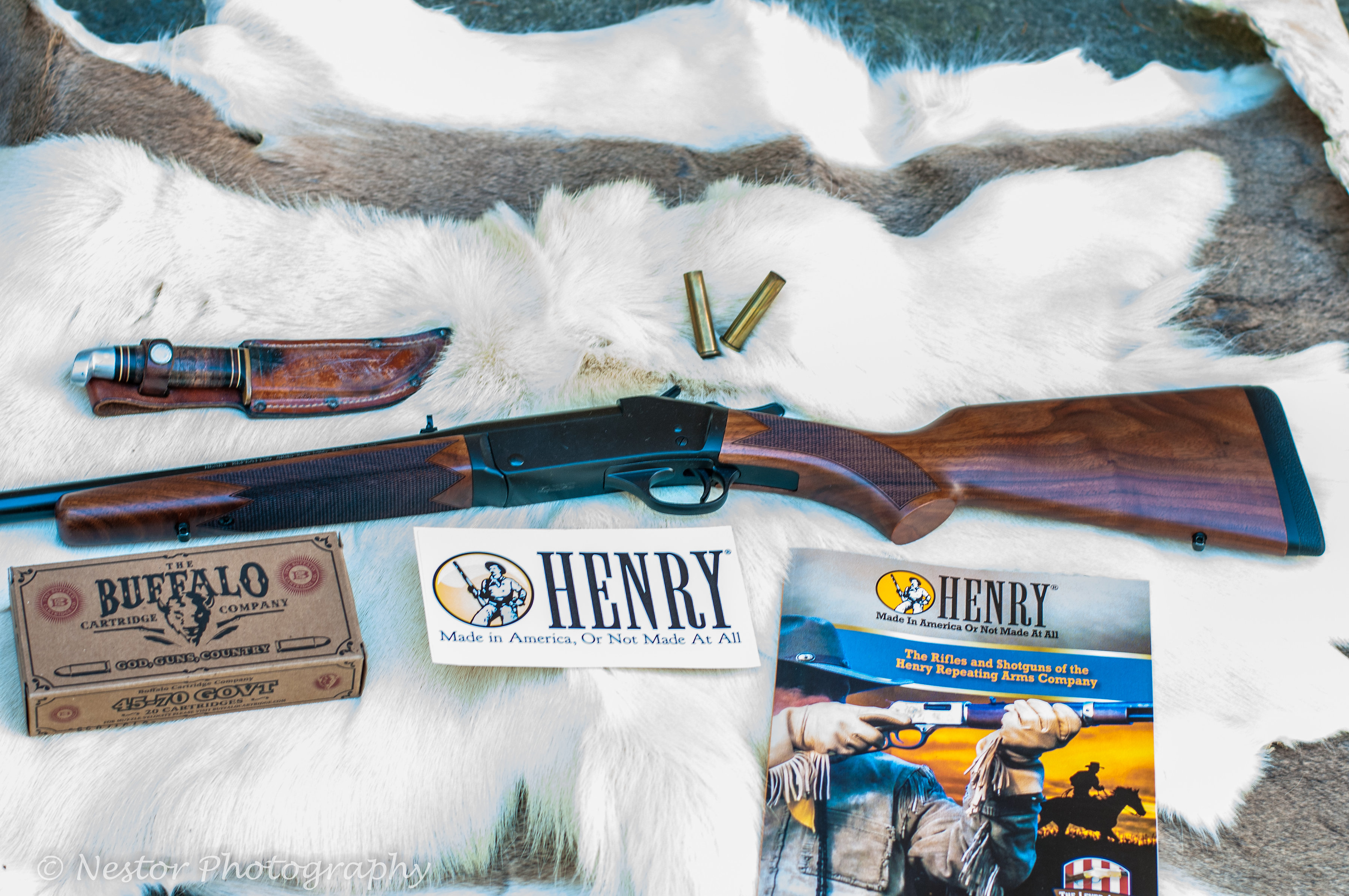 The next thing to test was its performance with an added scope. The scope I chose from my personal supplies was a Barska Variable 3-9 Power Scope. All test-shooting was done on the 9-power setting.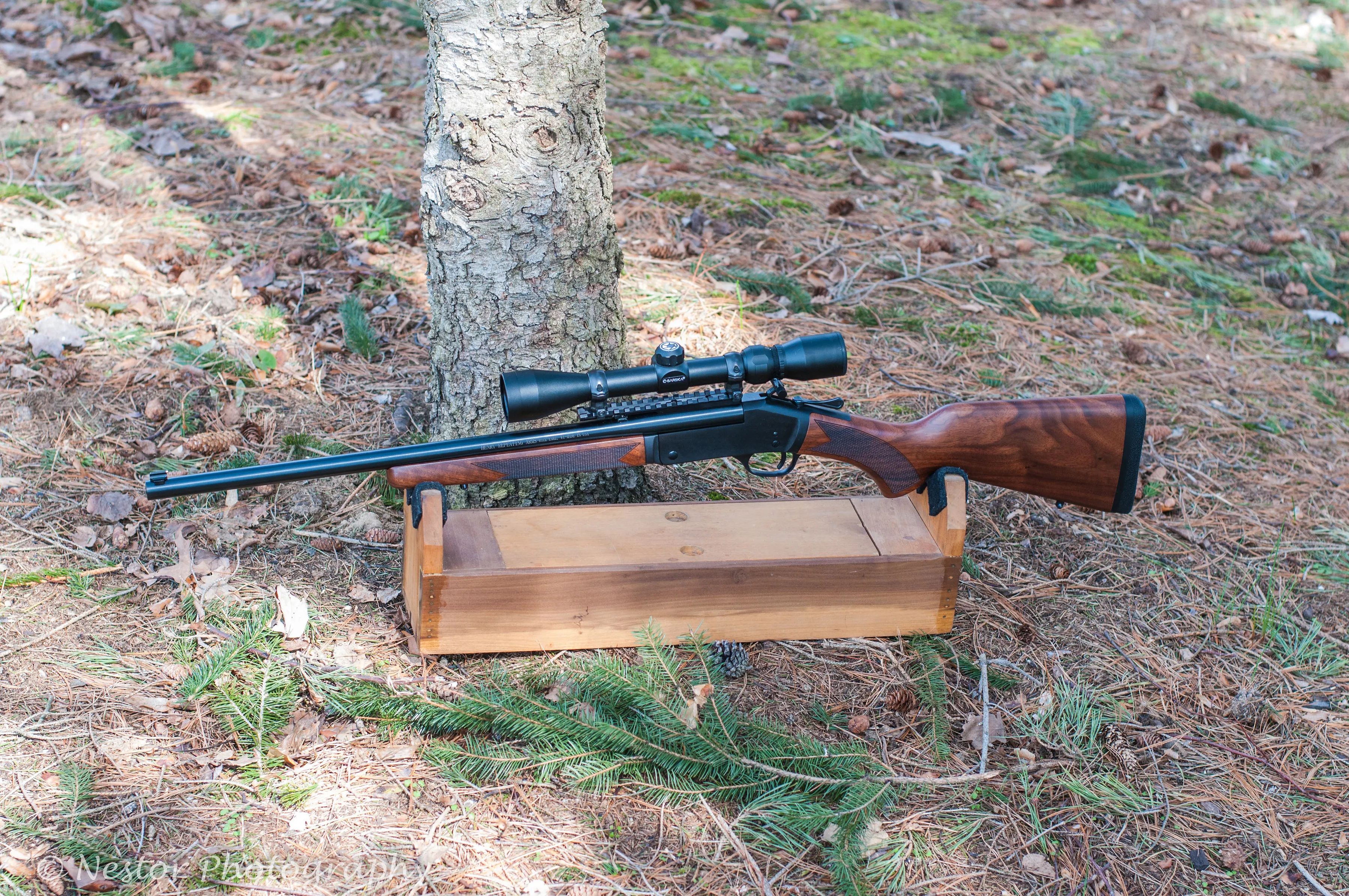 The
scope mount chosen
is available on the Henry Arms website. Fair warning, though: this particular base will not seat properly with your rear sight in place, even when the sight is folded down. Drift off the sight to put on your scope mount. I didn't have the heart to lose the already-sighted-in iron sights as and emergency backup. So, a couple hours of careful filing the bottom of the scope mount base allowed the rear iron sight to sit up inside of the scope mount itself.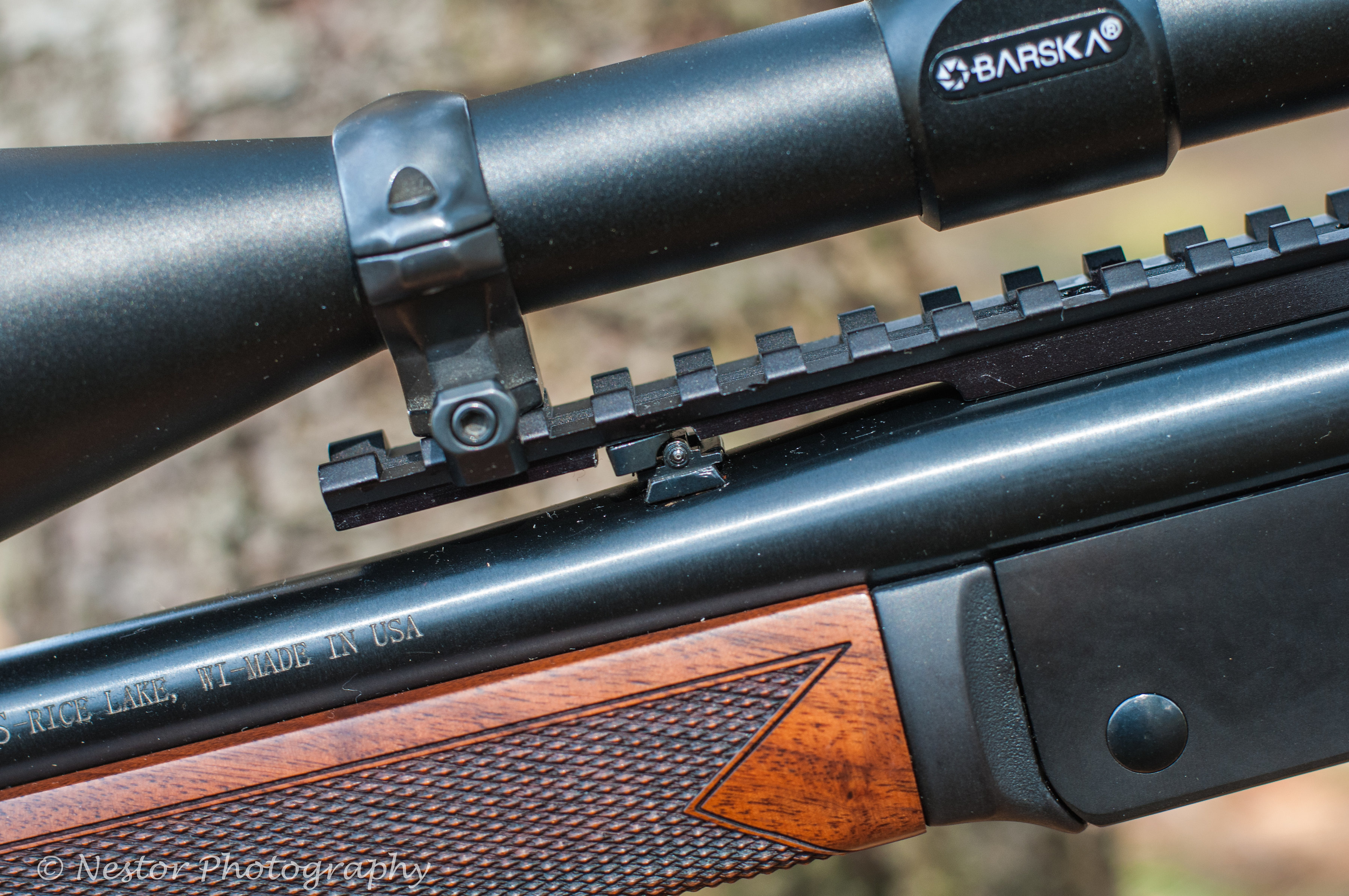 If you aren't comfortable doing this yourself, seek a good gunsmith. Or better yet, just drift off the rear sight with a brass punch. Don't forget to also get the
Henry Carlson's Hammer Expander (Ambidextrous)
. That'll give you better access to the external hammer when your rifle is scoped.
The next range day, a snowy, mid-April afternoon
went well
for sighting in the scope. Below is what I ended up with after the sight-in was complete at 100 yards away.
At this point, a metal skillet hanging on an angle at the 200-yard rifle range was begging to be perforated. I obliged by targeting the sideways skillet with
the thick bottom
post of my scope crosshairs. This sight picture proved to be dead on at 200 yards shot after shot, as proven with this picture. Notice how the holes are at an angle from the sideways bullet impacts.
I found the Henry Arms Single-Shot Rifle to be ultra-dependable and an ideal big-game hunting rifle. While I tested the .45-70 caliber, the steel receiver model also comes chambered in .223, 243, .308, and .44 Magnum cartridges. In the brass receiver, though, only .44 magnum and .45-70 calibers are available. Check out these great rifles on
Henry's website
and order one from your local gun shop today!
Do you like articles about the outdoors? Click here to view more articles by Eric Nestor. You can follow him @ericthewoodsman on Twitter, The Classic Woodsman on Facebook, and @theclassicwoodsman on Instagram. You can view more Nestor Photography photos at Nestor Photography.
NEXT: GUN REVIEW: THE ALL-NEW HENRY .410 LEVER ACTION RARE CARBINE SHOTGUN
WATCH
https://rumble.com/embed/u7gve.v3trur/
Enjoy the outdoors?
Sign up for daily stories delivered straight to your inbox.