Do you need to feed your .45/70 for deer or other big game this season?
Well, Buffalo Cartridge Company in Ohio has four great choices to bag your game. I got a chance to review the whole Buffalo Cartridge Company .45/70 ammunition line.
Just released from Buffalo Cartridge Company, this press release describes the whole .45/70 cartridge lineup ready for this fall's hunt.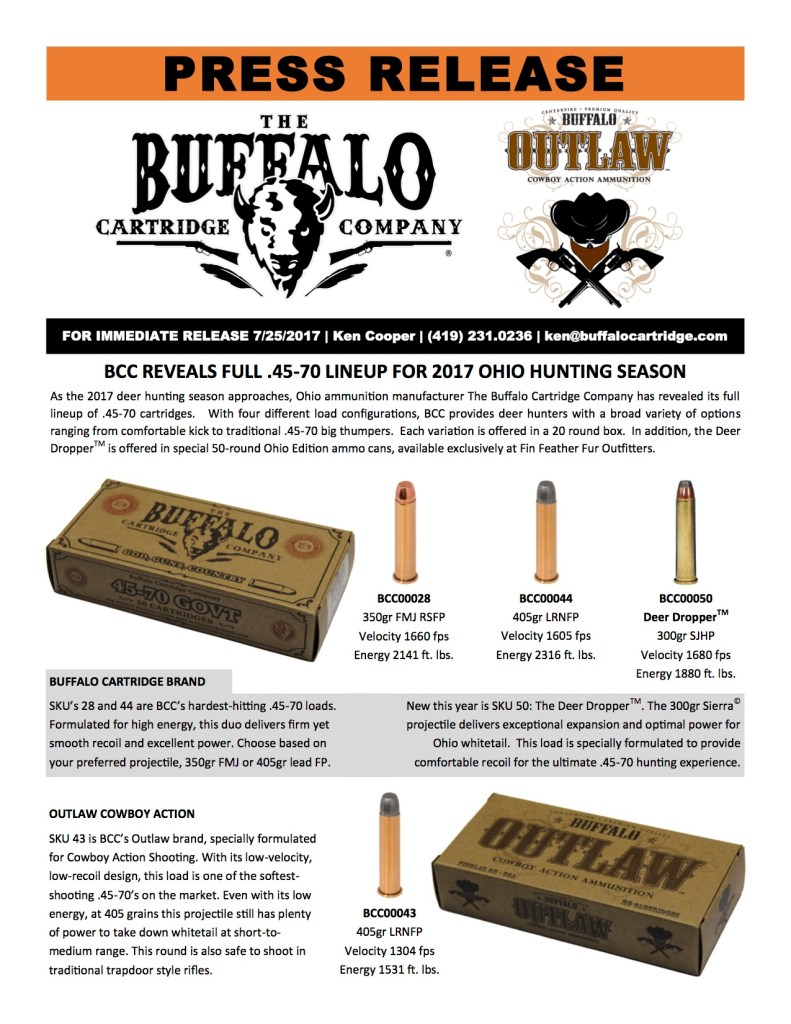 The great folks at Buffalo Cartridge Company in Findlay Ohio are loading cartridges right. This all-American company has a full line of ammunition available. They sent me the full line of .45/70 ammunition in anticipation for the Ohio deer gun season coming in the end of November. With four cartridges to choose from the hunter armed with the grand ole .45/70 cartridge weapon is well served by Buffalo Cartridge Company.
Three shooters, including myself, with a total of five rifles, became the testers in this review.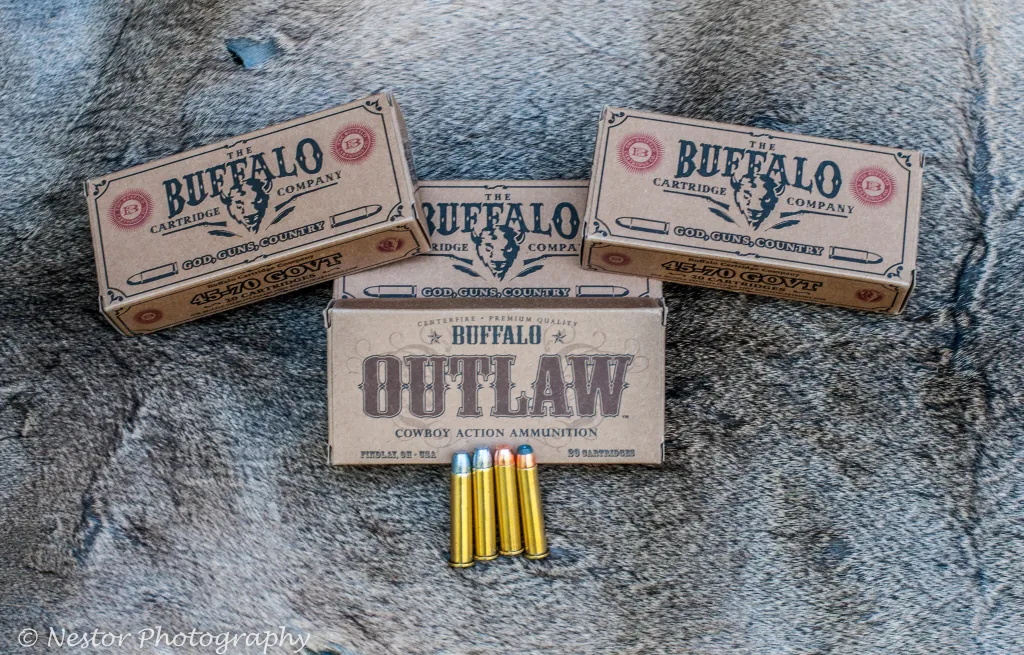 The first rifle I used for testing is a 1972-made Marlin Model 1895 .45/70 with a vintage Weaver 4 power scope attached. It had been previously sighted in for Hornady's Lever Evolution Cartridge to be dead on at 100 yards. This is certainly the classic deer, moose, bear or other big game rifle choice of many hunters. The quick 5-shot hard hitting lever action rifle was born to hunt. While utilizing the Caldwell Lead Sled 3 secured with 4 lead shot bags containing a total of 100 pounds of weight, I set my targets at my local gun club at 100 yards away.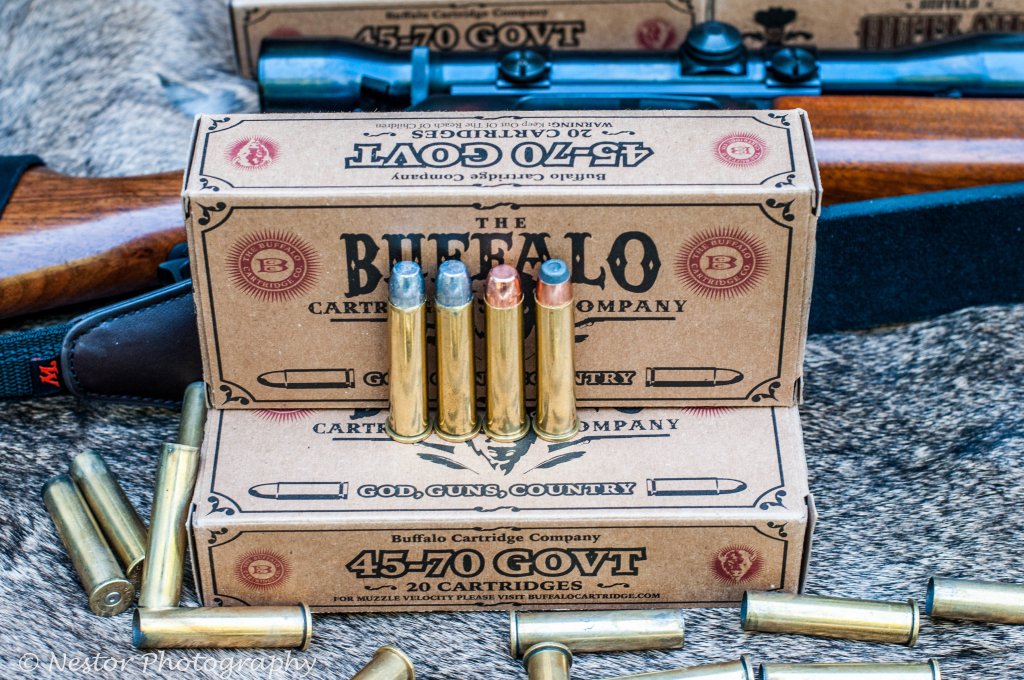 The first cartridge tested was the Buffalo Cartridge Company's Outlaw Cowboy Action load. This 405-grain lead round nose flat point (LRNFP) hops along at a published 1,304 feet per second (fps) with 1531 foot pounds (ft. lbs.) of muzzle energy. This low velocity and low recoil cartridge is a really soft kicker. However, it has plenty of punch for a short or medium range whitetail deer. As expected, the lower velocity heavy bullets out at 100 yards dropped 8" from the target bullseye. The group was 6.5" for 5 shots. This load would certainly take a deer out that far but with my specific rifle tested I would keep the shots closer if utilizing this load for deer. Remember each weapon groups differently with each load.
The second load tested was the 405 grain LRNFP load with 1605 fps and 2316 ft. lbs. of energy. Now we're talking more power. This load printed 5" low to my previous sight in with high velocity ammunition and came out with a 7" group for 5 shots. See a pattern here? Yes, my Marlin rifle does not group the best with all lead projectiles and prefers jacketed ammunition.
Never fear, jacketed bullet fans. The next Buffalo Cartridge Company load I tried was the 350 Grain Full Metal Jacket (FMJ) buzzing along at 1660 fps with 2141 ft. lbs. of energy. These loads grouped 4" low and had some interesting groupings. I had two shots clover leafed on two occasions. This four-shot group was separated by only 1.5" horizontally.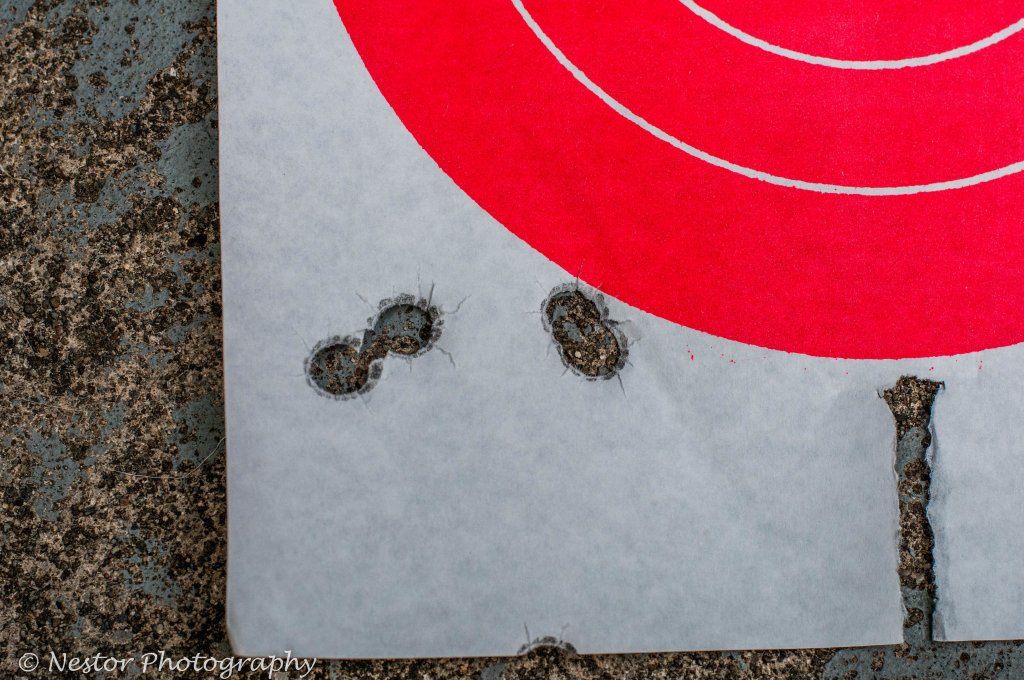 The last cartridge I shot is the Marlin lever action rifle was the all new Buffalo Cartridge Company's Deer Dropper. It sports a 300 grain Semi Jacketed Hollow point (SJHP) at a hot 1680 fps with 1880 ft. lbs. of energy at the muzzle. It was specifically made for Ohio whitetail deer with quite an impressive Sierra projectile. This cartridge would be my pick for my specific Marlin Model 1895 rifle while targeting big game. The group was dead on target at 100 yards with the smallest group at 4.5" wide.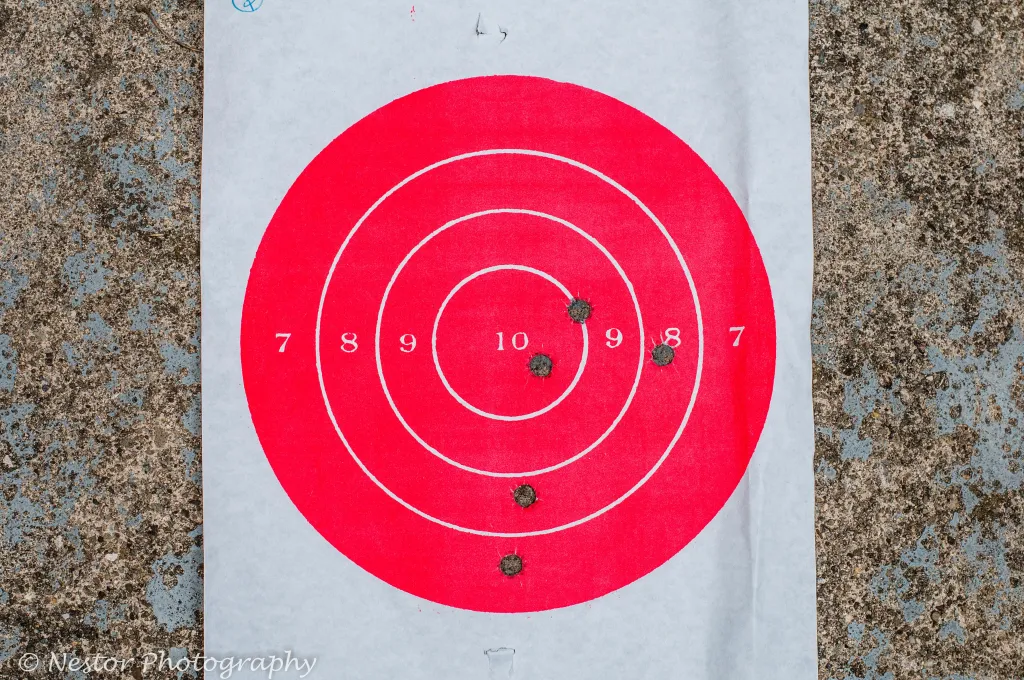 I must add that during my range trip a medium breeze on a hot and humid 85-degree heat was evident and the range filled up quickly with other shooters. It was far from a quiet woods during deer season. With more practice, I am sure the groupings would have tightened up quite a bit.
The cartridges had zero problems functioning in the vintage lever action rifle. Cleaning the rifle later that day, I was surprised at the small amount of fouling that was evident. The Buffalo Cartridge Company's .45/70 line up sure shoots clean. That is certainly a plus. The cases are Starline brass for all you reloaders out there. The head stamp is either the Starline stars or the OUTLAW logo. All fired cartridges were in excellent condition too.
I have the honor of being friends with a group of seasoned shooters of the grand ole .45/70 cartridge. A range trip with them yielded testing with 4 other rifles and the other shooters used sandbags off concrete shooting benches for accuracy. The first target below was 4 shots taken from another vintage scoped Marlin 1895 Rifle at 100 yards. Ammunition used was the Buffalo Cartridge Company's 350 grain FMJ RSFP .45/70 cartridge running at 1660 fps. The group was an astounding 1.25" with a 4th shot opening the group to 5".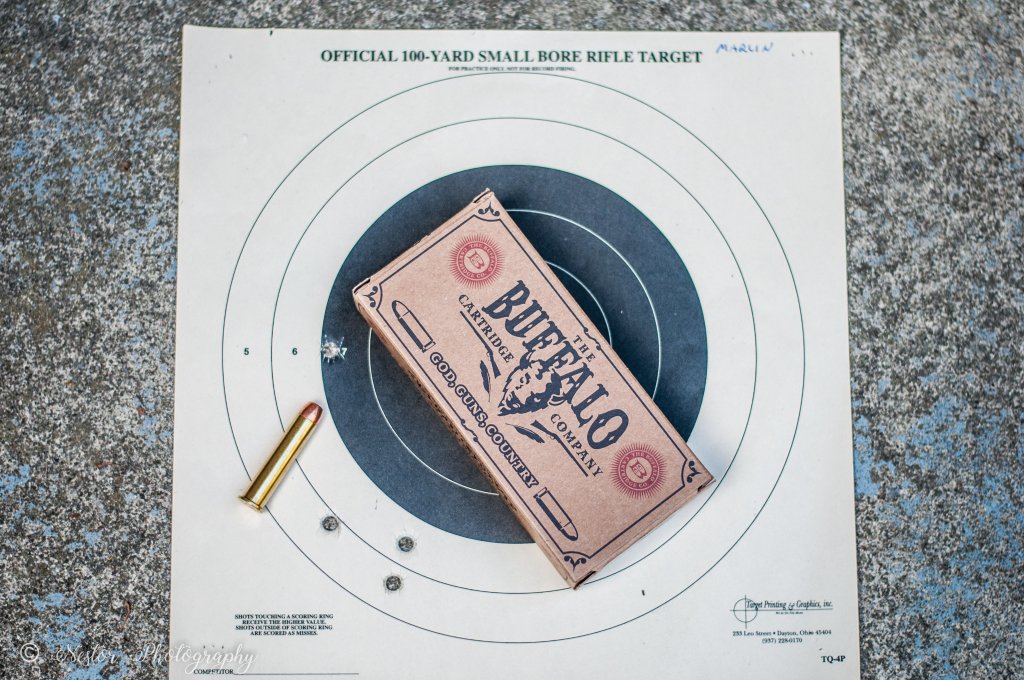 The next rifle used was a modern manufactured Remington Rolling Block Rifle with Buffalo Cartridge Company's LRN FP 405 grain LRN FP load buzzing along at 1605 fps. Nice group of 1.25" with the 5th shot a flyer at 2.75".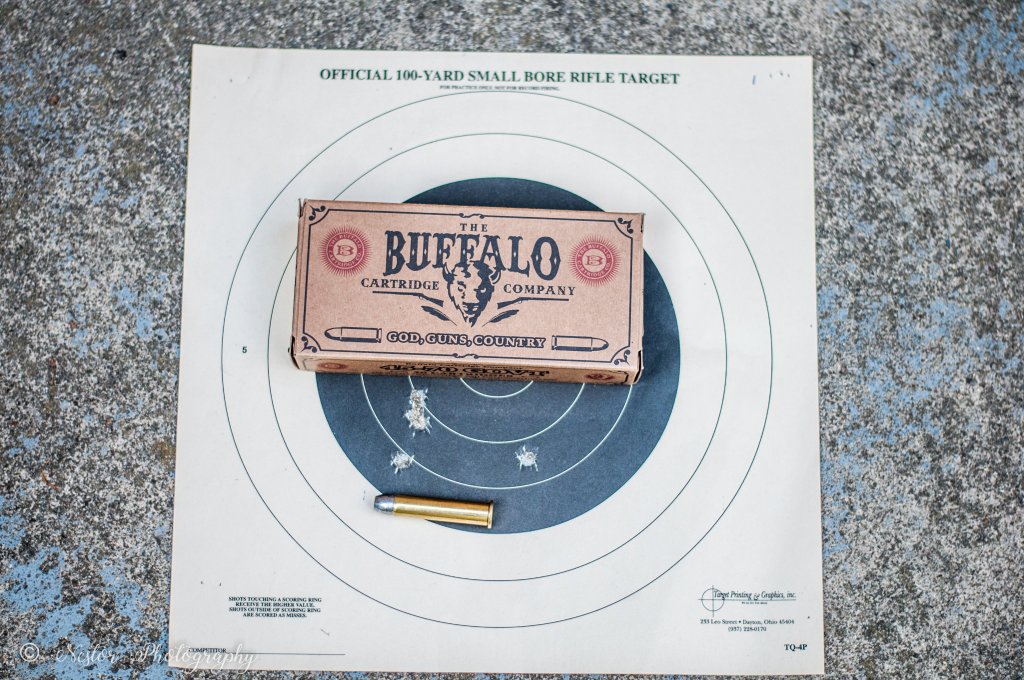 Vintage long guns like the old 1884 Trapdoor Rifle can still get to the range safely while shooting the Buffalo Cartridge Company's Outlaw Cowboy Load. With 1304 fps. out of the 405 grain LRN FP bullet it is safe for old rifles such as trapdoors. They group very well out at 100 yards in that very old battle rifle. These lead bullets are very hard cast and in testing did not cause barrel leading in any of the test rifles. As the barrel heated on this hot range day the shots increased in elevation. Over all group was 3.25" for 3 shots.
The last rifle used was an Officer's Model U.S. 1873 Trapdoor. Ammunition used was the same Buffalo Cartridge Company's Outlaw Cowboy Load. The 5 shots speak for themselves. With 4 shots in 1.5" and a 5th flyer at 3.75" I would say that is dropping the lead on target quite well.
My fellow shooters and I found the Buffalo Cartridge Company's .45/70 line up to range or big game tasks. We certainly recommend this all American made company with the absolute best customer service out there. When you are in the market for ammunition check out the full line of great shooting cartridges at Buffalo Cartridge Company's website.
Do you like articles about the outdoors? Click here to view more articles by Eric Nestor. You can follow him @ericthewoodsman on Twitter, The Classic Woodsman on Facebook, and @theclassicwoodsman on Instagram. You can view more Nestor Photography photos at Nestor Photography.
NEXT: GUN REVIEW: THE ALL-NEW HENRY .410 LEVER ACTION RARE CARBINE SHOTGUN
https://rumble.com/embed/u7gve.v3trur/
Enjoy the outdoors?
Sign up for daily stories delivered straight to your inbox.