Here are five of the best turkey hunting states in terms of potential across the next several years.
Trying to list the best turkey hunting states is tough, and always debatable. For our interests, we're trying to determine the states that have the best future-oriented potential for quality turkey hunting opportunities.
We want to find the ones that show the most promise through management efforts and harvest numbers over the next five years.
We're seeking the healthiest populations, often managed by wildlife agencies that treasure this native bird for the long run.
We understand that determining the best states for Eastern wild turkey, Merriam's, Rio Grand, or Osceola is subjective. Everybody hunts in different ways, and birds certainly act unpredictably across the hunting landscape.
It's just that these key turkey hunting states need to be recognized: when a lot of hunters shoot a lot of turkeys, you're doing something right. Investigate further, and you'll find it's never by accident.
With regards to the many other states in the union that offer excellent turkey hunting, narrowing it down to a short list like this is like trying to decide between fishing with nightcrawlers or minnows: you can do it, but there will be some arguing.
Turkey hunters have a unique advantage: we have not only the spring turkey season, but the fall as well. And as anyone who bowhunts knows, getting up close with these amazing birds on an archery turkey hunt is like no other hunting experience in the world.
With that in mind we simply want to share some of the facts and figures that show how well these six states have managed their flock and why hunters love to hunt there.
Keep your eye on these places, because they may be good now, but still show a lot of promise.
Texas
The estimated population of wild turkeys in the Lone Star State is right around 500,000 birds and it only seems to climb. Hunters can target three of the four subspecies of wild turkey in Texas (excluding the Osceola, which can only be found in Florida).
After a solid production year, the Texas Parks and Wildlife Department, or TPWD, said, "Wild turkey recruitment was excellent in 2019 and spring turkey hunters will see the results in the field this season with an abundance of jakes in the population. This will be a great year to introduce someone new to turkey hunting as jakes are much less wary than their adult counterparts."
Those 2019 fall and 2021 spring seasons produced just over 10,000 and 17,000 harvests, respectively. Factor in the number of hunters and hunting days, and the success rate boils down to right around 50%.
Hunters can find wild turkeys in 223 of 254 counties in Texas thanks to the efforts of conservation minded hunters and especially the Texas Parks & Wildlife Department. While public land hunting opportunities pale in comparison to some other states, Texas still has abundant habitat with plenty of turkeys. Hunters can harvest up to four turkeys, only one of them being an Eastern.
Alabama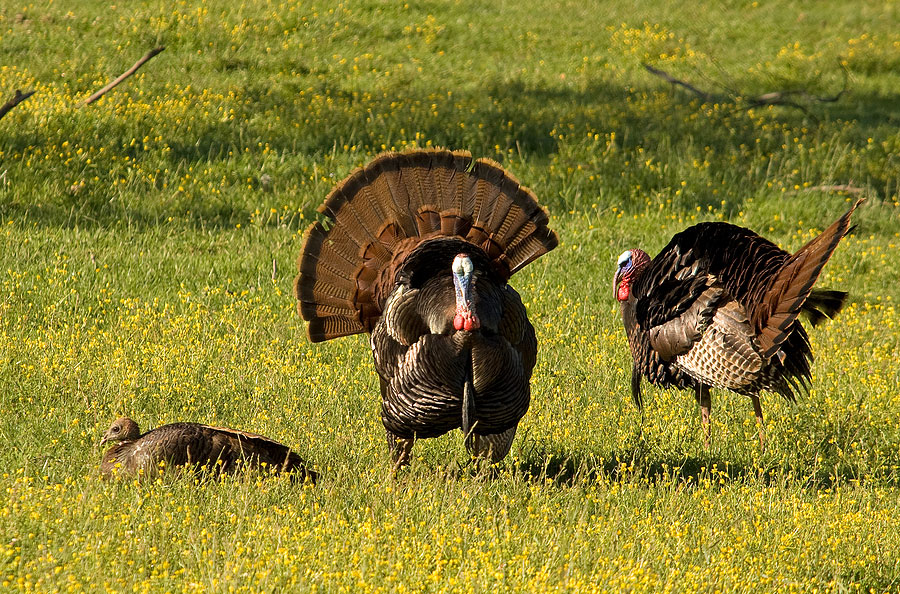 For a state that is much smaller than Texas, Alabama has a slightly smaller population of birds, but hunters annually take around 35,000-40,000 of them. In addition to that, hunters can harvest as many as five birds each during the spring and fall seasons, making for a great place to start your search.
Out of state hunters have an excellent chance to bag a bird in the Ridge, Valley and Southwestern Appalachian regions of northeastern Alabama as they are historically prime areas.
According to Alabama Cooperative Extension System, "The wild turkey thrives as a classic example of wildlife management success. During the Depression years, wild turkeys numbered fewer than 10,000 in Alabama and were restricted to scattered pockets of isolated habitat. In the short time since then, restocking of suitable habitat, protection, and management have allowed turkeys to respond dramatically to favorable land-use changes. Wild turkeys now occupy portions of all 67 counties in Alabama and may exceed 300,000 in number."
Alabama hunters also enjoy one of the longest turkey seasons in the country, and habitat management efforts include "prescribed burning, the creation of wildlife openings, periodic disking in fallow fields and timber harvest management."
Kansas
North-central and northeastern Kansas continue to consistently have the most turkeys in the state and also provide abundant public hunting access. There are an estimated 300,000 wild birds, roughly half of which are Rio Grande turkeys. There are also plenty of eastern wild turkeys, and a fair amount of hybrid birds run around the farmlands of the Sunflower State as well.
Kansas is at the top of the list for an out-of-state turkey hunt due to its WIHA or Walk-In Hunting Access Program. According to KS Outdoors, "...other lands are leased for spring turkey hunting only (April 1- May 31). Land enrolled can be in CRP, native rangeland, wheat or milo stubble and riparian or wetland areas."
Basically, with help from the NWTF, land leases of about 160,000 acres of private land for public access means that hunting turkey is available to a wide range of hunters.
Missouri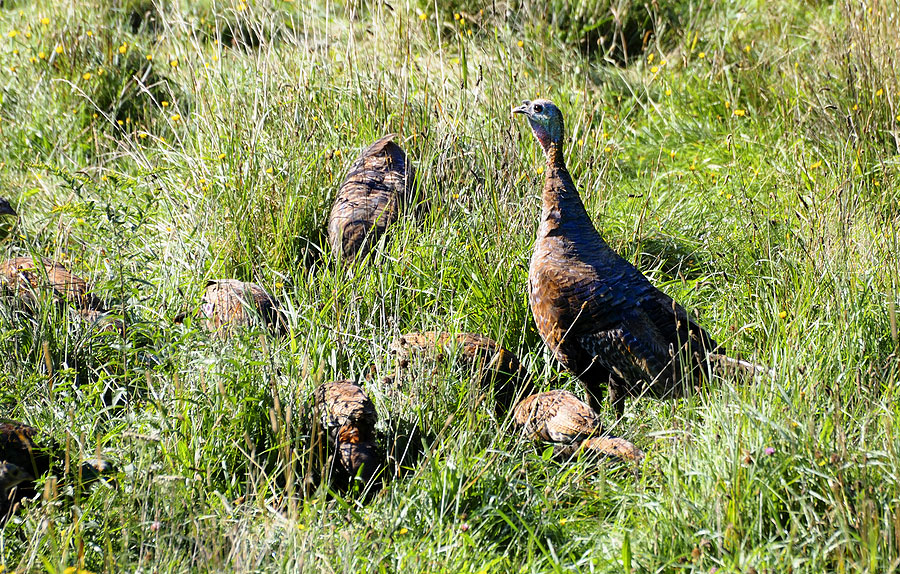 With nearly 350,000 turkeys, Missouri ranks among the best in eastern wild turkey population. In 2019, Missourians and out of state hunters harvested almost 39,000 turkeys during the open season. By the looks of it, things just keep getting better.
As a welcome state for hunters, the Show Me State refers to the Whetstone Creek and Gist Ranch Conservation Areas as two superb public land areas with easy access. The MDC (Missouri Department of Conservation) says, "In the 1950s, populations in the state were at an all-time low of fewer than 2,500 birds in 31 counties; in 2004, hunters checked nearly 61,000 turkeys." That's a lot of gobblers!
The MDC also said that youth hunters killed 2,712 turkeys in Missouri in early April 2020, compared with 2,546 turkeys taken during the 2019 youth weekend turkey hunt.
Nebraska
It seems that Cornhuskers have been taking wild turkeys ever since there's been wild turkeys in the state, and the next several years should be no different. Nebraska is another state that has three of the four American turkey species living within its borders.
A hunter that is serious about turkey hunting in Nebraska can obtain enough permits to take three bearded birds in a season should they so desire. Good public land options are in the Pine Ridge, Loess Canyons, and riparian public hunting areas in the eastern part of the state.
Population estimates are in the range of around 150,000 birds. According to Outdoor Nebraska the spring 2019 season saw close to 25,000 hunters take around 17,000 birds, which equals as impressive success rate of 68 percent.
Where Are the Best Turkey Hunting States for the Next Several Years?
We don't want to leave any states (or the proud hunters within them) out of consideration as having potentially great turkey hunting in the years to come. Wisconsin, Wyoming, Kentucky, Tennessee, Oklahoma, Pennsylvania, South Dakota, New Mexico, Indiana, and New York show great promise, just to name a few.
The honest truth is that there are many states that have distinguished wild turkey populations with more than one option to fill a turkey tag. Turkey numbers are doing reasonably well across the country, although areas that suffer through wet springs always have an adverse affect on breeding and resulting population success.
If recent years are any indication, relatively long hunting seasons, generous bag limits, and increasing hunting pressure doesn't necessarily have a negative effect on longbeards. From the Black Hills to Georgia, turkey hunting in this great nation is a heck of a lot better than it was a generation ago.
Resident and non-resident hunters seem to continue finding success, and if things keep heading in the same direction, we'll probably have to add more locations to this list.

Looking for a little more or even hot lunch for your hunting blind? Follow my webpage, or on Facebook and Twitter.
NEXT: 15 QUICK TIPS FOR SPRING TURKEY HUNTING
WATCH