Editor's Note: Products featured on Wide Open Spaces are independently selected by our editors. However, when you buy something through our links, we may earn a commission.
Rain pants aren't needed for most outdoor activities, but if you're looking forward to hiking, camping, cycling, or even snowboarding during some rainy months, you'll need a pair. Rain pants have a water-resistant or waterproof shell for your protection.
There are many reasons why you should care about investing in rain pants. Staying dry is important so you don't get too cold. Getting too cold outdoors will slow you down, and especially isn't a great feeling. Plus, you don't want to feel sick! Also, chances are you'll have some essentials on your person. Maybe it's your phone, keys, or even a map! Keep a few essentials dry in your rain pant pockets.
To help you get a head start on rain pants shopping, we rounded up 5 of our favorite pairs. These pants are a round-up of waterproof hunting, fishing, and hiking pants for light rain, snowy weather, and heavy downpour. No matter what Mother Nature throws your way, you'll be prepared.
If you've been caught in a nasty thunderstorm, then you know the pain of having to get through a day in wet clothes. Kiss those days goodbye, here are some of our favorite pairs of rain pants.
1. Our Top Pick

KUIU's rain gear is truly the best of the best. Their durable water-repellent clothing repels and beads water so it doesn't penetrate your clothing. These are a great pair of lightweight pants to wear for just about any outdoor activity. The pants are quite pricey, but they're worth it. They can handle unexpected downpours. Reuben B. wrote, "Great product, used for Az bull archery elk . Rained everyday first week. I remained dry with rain gear on . Very durable going thru brush and getting snagged on dead fall . No rips or leaks!!"
Choose from four colors.
2. Best for Snowy Weather

Moosejaw's insulated waterproof pants are great for winter sports (or for anyone hanging out in the snow). They have built-in gaiters to keep snow out of your boots and are super warm. You'll stay dry, warm, and so cozy in these. And no, you won't get stuffy in them! They're moisture-wicking so you won't feel sticky and sweaty. With plenty of hand pockets and back pockets, you can bring your phone along for the adventure without worries of it getting wet.
3. A Quality Pair Under $40

Here are some wallet-friendly rain pants we think are pretty nice. While we don't recommend them for downpour, we think they're a great affordable option for light rain. So, if it's a little brisk outside with some light rain, toss these on to stay dry. These waterproof pants have a high-density nylon outer shell to keep rain out. Rain pants can be a bit baggy, but you can customize the fit with velcro closures. Take advantage of the zippered pockets for your phone and keys.
4. Best Bibs for Fishing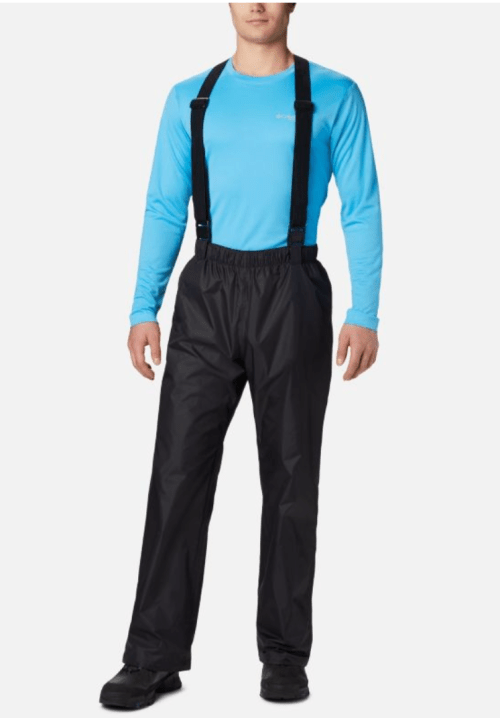 Whether you get caught fishing in the rain or you're trying to stay dry fishing from a boat, Columbia's got you covered. These fishing bibs are waterproof, breathable, and are fully seamed. They have adjustable leg openings and an elastic waist so you can have the best and most comfortable fit for a day on the water. Customers say they hold up well in freezing temps as well. One customer left a 5-star rating and wrote, "Bibs didn't let me down in the pouring rain in the first tournament with them. Never once got wet and stayed nice and cool as well."
There's a zippered back pocket for your phone. Note: we still recommend waterproof phone cases for rainy days and water activities.
5. Best Rain Pants for Hunting

As mentioned KUIU is a great brand for rain gear. We included this pick in case hunters are looking for a pair of rain pants. The Yukon rain pants have a 3-layer hard shell for cold, wet hunts. Not only are they waterproof, but they're also windproof. That'll come in handy in the coldest months of the year. As for protection, these pants have knee protection that customers love. Fans are also raving about how they're the perfect pants for forests and all types of hunting — ranging from duck and deer.
NEXT: THE 4 BEST HUNTING RAIN JACKETS