The automotive industry is quickly rising the ranks, slowly accounting for more market share than personal computers for semiconductors.
According to IC Insights, a semiconductor market research firm, the automotive market is set to be the highest growth sector for semiconductors through 2021, with a compound annual growth rate of almost 6 percent from 2016 through 2021.
Previously led by the PC market, the semiconductor demand from the computer world has faced steep declines for six consecutive years.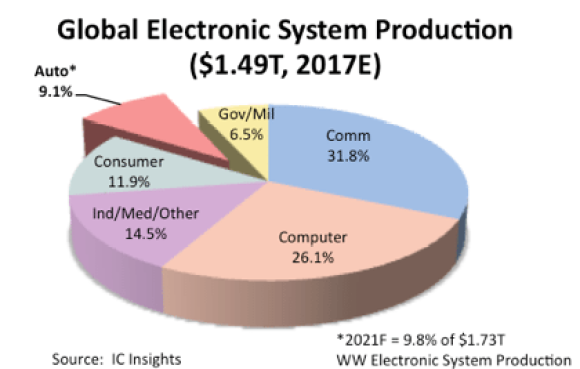 This is due, in part, to soaring demand for autonomous (self-driving) vehicles, vehicle-to-infrastructure communications, and technology using infotainment and driver assist systems.
Valuations of semiconductors move higher with the shift from traditional to hybrid cars and even higher with all-electric vehicles and concepts known for wraparound LED screens, augmented reality, and gesture controlled infotainment that consumes tons of resources.
In all, automotive IC sales are expected to grow by 16 percent in 2018 and that the automotive industry will be responsible for close to 10 percent of all global electronic system sales.
NEXT: HYLIION "HYBRIDIZING" THE TRACTOR TRAILER INDUSTRY
WATCH