ATVs are great for having a blast outdoors and awesome to have on any work site, but have you ever thought that all that power could be put to even more productive use? Well, in fact, there are quite a few ways to improve the functionality of your ATV.
ATV attachments can do almost any heavy-duty job you've can think of, whether you're working a food plot or just in need of a new riding mower. Here, we'll go over the most popular attachments out there and link you to a recommended product for each!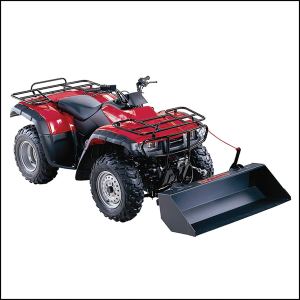 A front-end loader is used for scooping, transporting, and dumping different materials like soil and mulch. We recommend the easy-to-install Swisher 15714 Universal Dump Bucket.

A tiller mixes up the soil before planting a food plot in order to restore the soil's nutrients and loosen up the ground for new roots. We can recommend the Agri-Fab Multi-Fit Univeral Tow Behind Tiller, which is motorized for heavy-duty jobs.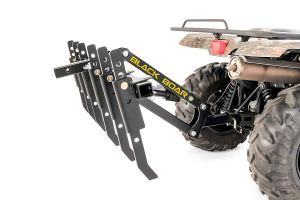 A plow works much like a tiller in order to loosen and mix top soil. Plows are not motorized like tillers. You might consider the Black Boar adjustable plow.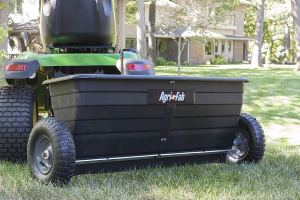 A spreader is used to efficiently spread out large amounts of small or fine materials, such as seeds or fertilizer. We recommend the Argi-Fab option for its 175-pound bucket capacity.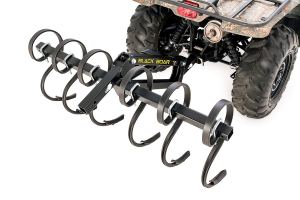 A cultivator can continue the mixing and rejuvenation process further once tilling has been completed. Black Bore's S-Tine Cultivator is lightweight and easy to install.
Read More: 10-YEAR-OLD OFF-ROAD PRODIGY MAKES HISTORY WITH UTV JUMP IN CALIFORNIA SAND DUNES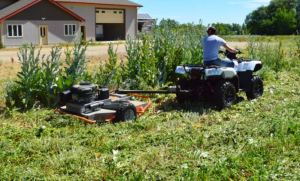 We are guessing you already know what a mower does. Buying an ATV mower is a great way to hook yourself up with a riding lawn mower without having to shell out quite as much cash. This heavy-duty option can even take down small saplings.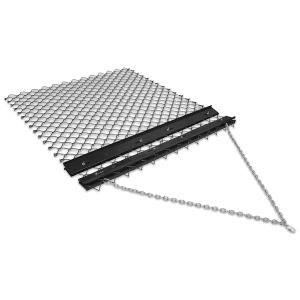 A harrow can be used to level uneven ground after tilling or to spread out a large pile of materials. The steel frame on this copper ridge option is built to last.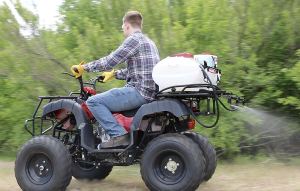 Sprayers do exactly what you'd think they would: spray. They are useful for spreading weed killing or fertilizer solutions. Chapin International's sprayer should get the job done.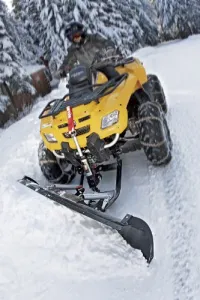 A snow plow is of course used to push snow off of roadways or other paths. The Provantage option is affordable and works quite well.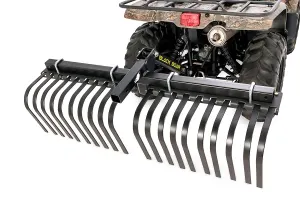 If you need to remove rocks or other large and intrusive object from a big area, a landscape rake is the tool you're looking for. Black Bore again has an excellent product.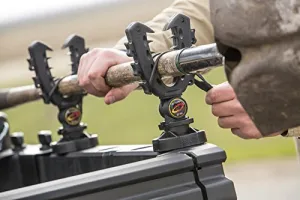 Kolpin rhino grips are useful if you have several tools that you need to carry around like shovels or axes. They keep tools secured to your ATV as you drive around the work site.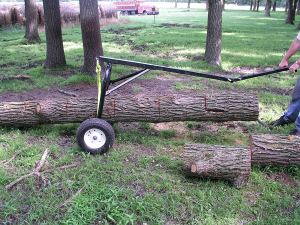 A log arch is used to haul logs. Timber Tuff's log dolly should work great.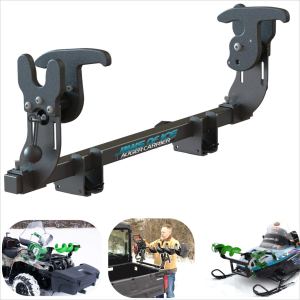 You can't actually hook an ice auger up to your ATV, but you can buy a mount, like the one offered by Jaws of Ice, specially made for ATV transportation.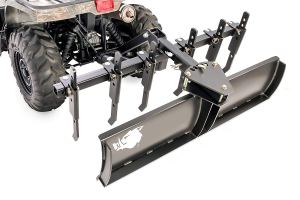 Scrape blades are usually used for smoothing out gravel or other course materials. This Black Bore product is outstanding.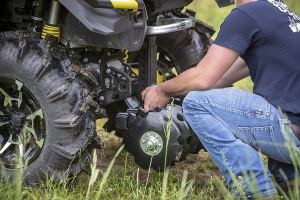 A disc harrow is another variation of the harrow that works better on tougher grounds. Battle Armour Design's disc harrow works wonders.
Conclusion
Each of these tools are highly useful in specific situations. Pick the ones that apply to your work site or food plot and consider purchasing. They are far more economic than buying a full tractor, that's for sure!
Read More: The Bush Winch Is the Perfect Tool for the Hardcore Off-Roader
Enjoy the outdoors?
Sign up for daily stories delivered straight to your inbox.