Furry fans #1.
Guide dogs need to go to a lot of public places during their training. They must be prepared to guide their handler through different scenarios, including crowds at sporting events. So these two new Golden Retriever puppies in training from Guide Dogs for the Blind got to go on an outing to the local minor league soccer game in Reno, Nevada on Saint Patrick's Day.
Oh yes, and did we mention it happened to be snowing?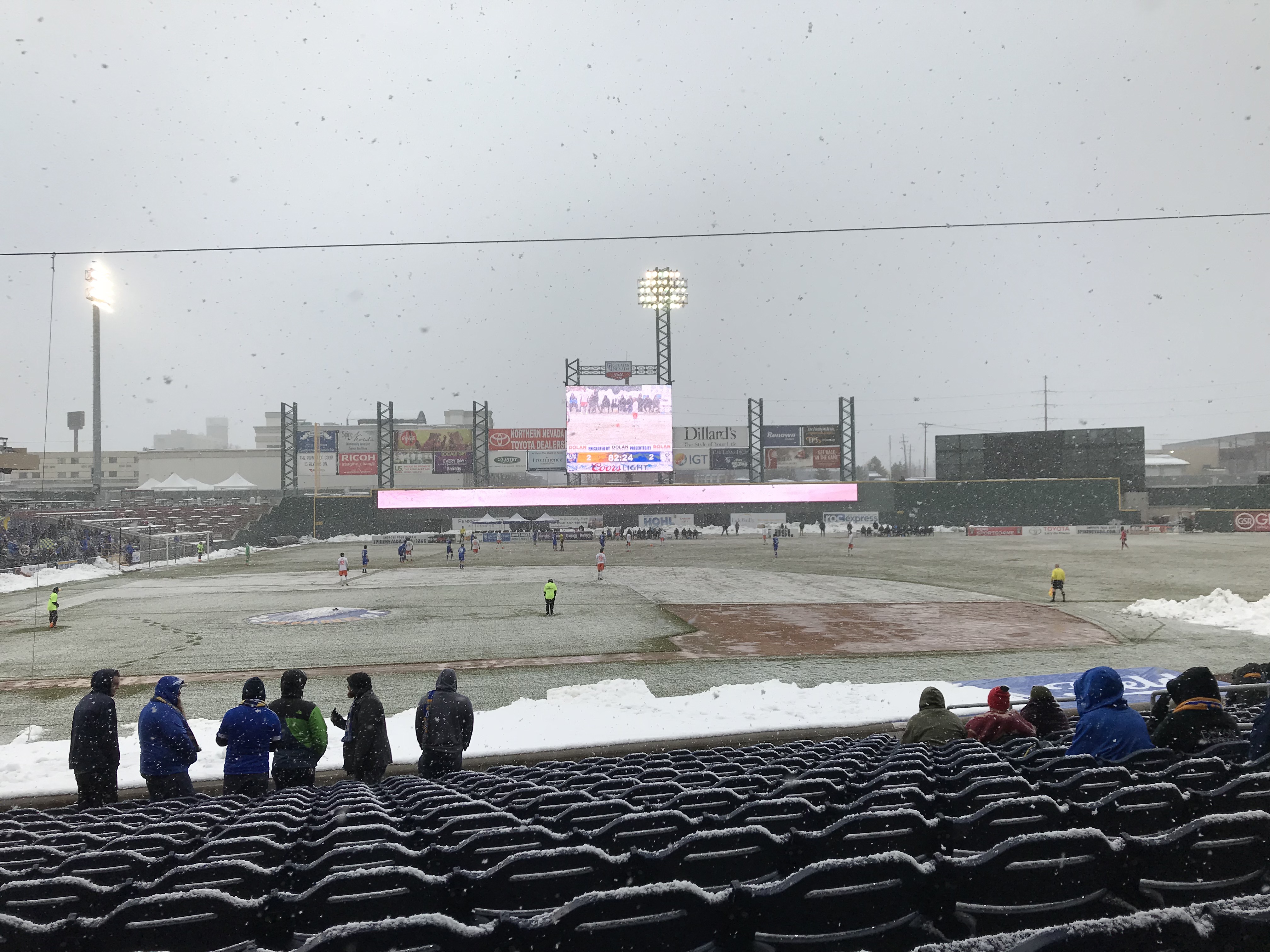 The puppies in training were on their outing with their volunteer puppy raisers who live in Reno, Nevada. Guide Dogs for the Blind actually has a wide network of volunteer puppy raisers from Arizona, California, Colorado, Idaho, Nevada, New Mexico, Oregon, Texas, Utah, and Washington.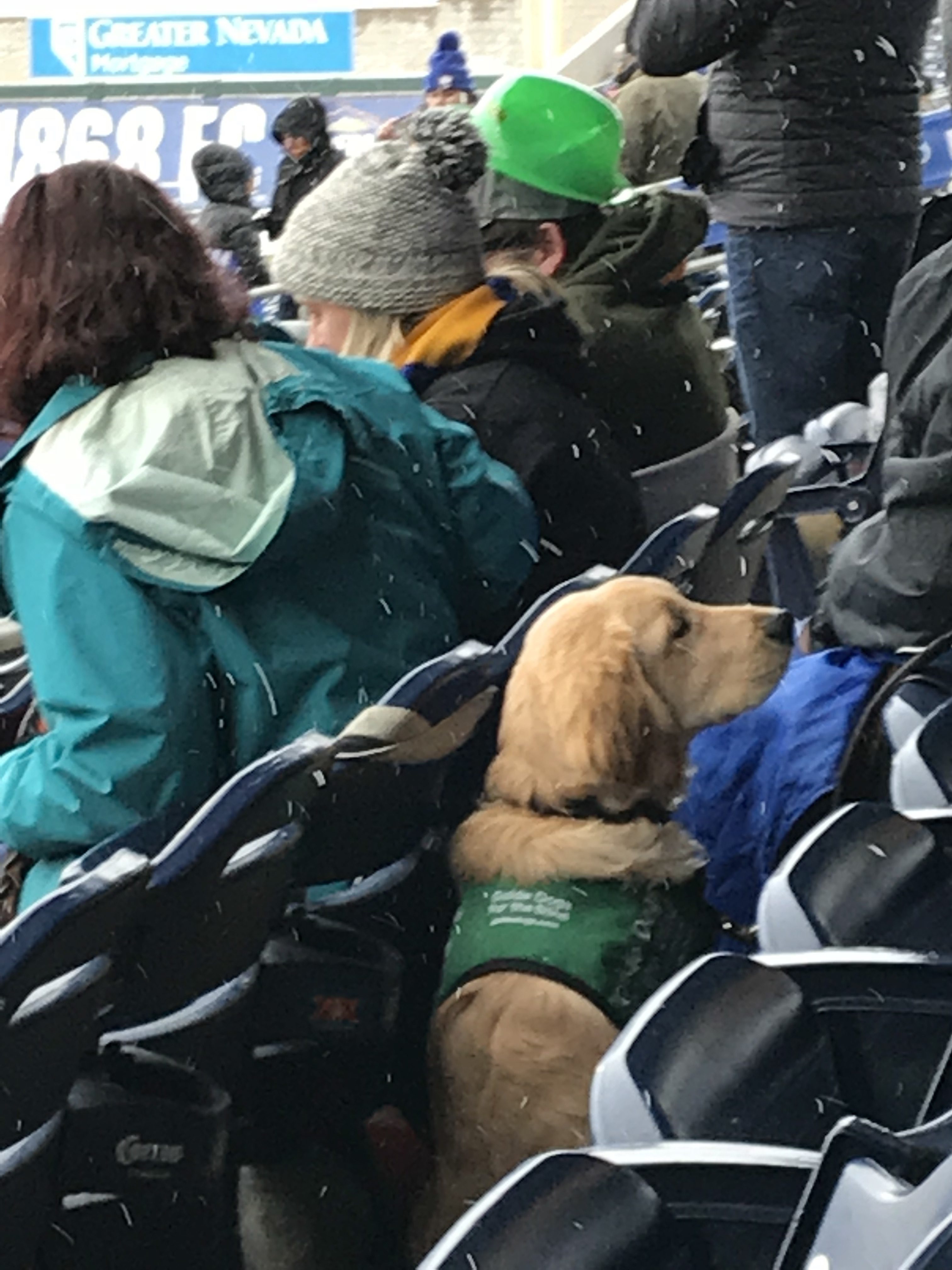 The puppies learn good manners and basic obedience from their first puppy volunteers who raise them for about a year. The volunteers take them on lots of socialization outings, like soccer games, where they work on how to be a polite pup before heading back to a Guide Dogs for the Blind campus either in San Rafael, California or Boring, Oregon for formal training from official instructors. When the pups are ready to leave their first homes, there is a graduation ceremony where the pups are introduced to their new partners.
Anyone can apply to the puppy raising program!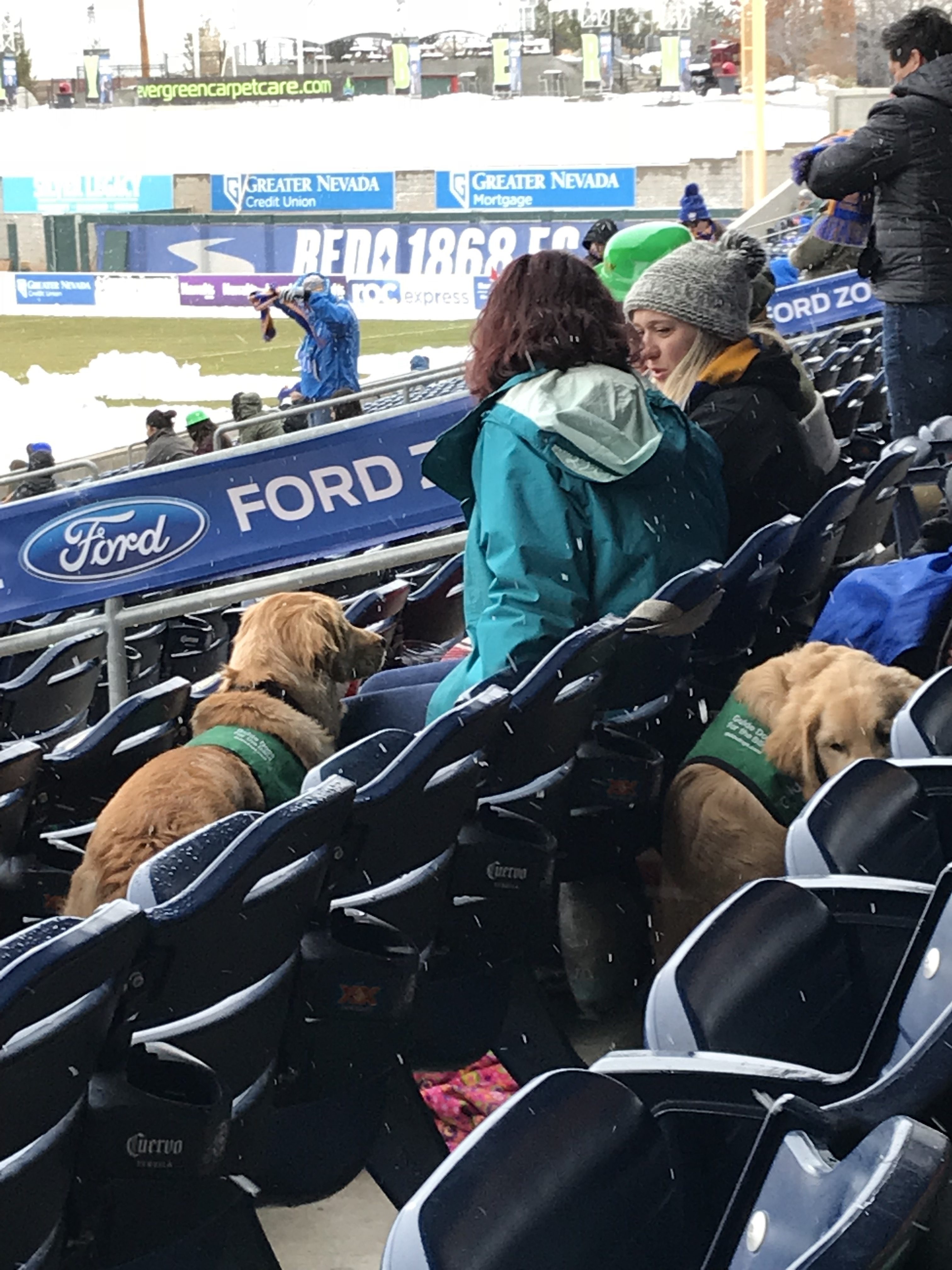 Two pups were at the snowy Reno soccer game, wearing their "puppy coats" signifying they are part of the Guide Dogs for the Blind program. It was the first game of the season for the minor league team Reno 1868 FC, who played against the Swope Park Rangers. The weather was crazy for mid March, especially during the second half!
Luckily, the pups had those thick golden coats to keep them warm. Soon the future guide dogs will be professionally trained to guide the visually impaired to more events like these! Hopefully their next sporting event won't be so cold!
Guide Dogs for the Blind (GDB) was founded in 1942 by Lois Merrihew and Don Donaldson. The non-profit organization was originally started to help blind veterans returning from World War II. It is now the largest guide dog school in the United States with more than 2,000 service dog teams across the U.S. and Canada. They typically work with Labrador Retrievers, Golden Retrievers, and Golden/ Lab crosses.
GDB graduates go on to help their handlers who are blind or visually impaired by providing enhanced mobility, all for free of charge. GDB also includes post-graduation support and financial assistance for veterinary care if need be. This is all possible with donations; they do not receive any government funding.
To find out how you can help by donating or becoming a volunteer, go here. And be sure to follow Guide Dogs for the Blind on Facebook to see some more guide dog puppies in training hard at work.
What do you think of the program? Have you seen any Guide Dogs for the Blind trainees on outings? Tell us in the comments below!
WATCH NOW: Golden Retrievers Are the Friendliest Dog Breed
Enjoy the outdoors?
Sign up for daily stories delivered straight to your inbox.