Ruger designed their Hawkeye Long Range Hunter specifically for those who want a hunting rifle that can deliver long-range performance.
With the rise in popularity of long-range precision shooting, many of the big gun and ammunition manufacturers have responded by rolling out new rifles and ammunition lines specifically designed for long range work. Well, Ruger recently announced the release of their newest bolt-action rifle and it's targeted specifically for hunters who want long-range performance: the Hawkeye Long Range Hunter.
Most long range precision target rifles are very heavy. For instance, the Ruger Precision Rifle chambered in 6.5 Creedmoor tips the scales at 10.7 pounds unloaded and without a scope. Heavier rifles like that have very mild recoil, provide a very stable shooting platform, and are ideally suited for shooting small groups or banging steel at extended distances at the shooting range.
However, they're not a lot of fun to carry around in the woods or up the side of a mountain.
For this reason, the Ruger Hawkeye Long Range Hunter is quite a bit lighter: 7.2 pounds in it's base configuration from the factory.
Even so, the rifle still incorporates a number of features that facilitate good performance at longer range in order to provide a balance of portability and precision shooting capability.
First, the Hawkeye Long Range Hunter rifle has a 22-inch, free-floated, cold hammer-forged stainless steel barrel with a radial-port muzzle brake to reduce perceived recoil. The barrel also has a 5/8x25 threaded muzzle for hunters who want to remove the muzzle brake and replace it with a suppressor.
Ruger also advertises that the rifle uses 5R rifling, minimum bore and groove dimensions, minimum headspace, and a centralized chamber. Properly done, those things should all increase the accuracy potential of the rifle without adversely impacting reliability. For what it's worth, these are all features of the Ruger Precision Rifle and the Ruger Hawkeye Long Range Target, but not for most of Ruger's other hunting rifles.
Next, the Hawkeye Long Range Hunter uses Ruger's LC6 trigger, which is well liked by hunters for crisp performance with no creep.
For shooting accessories, visit walmart.com.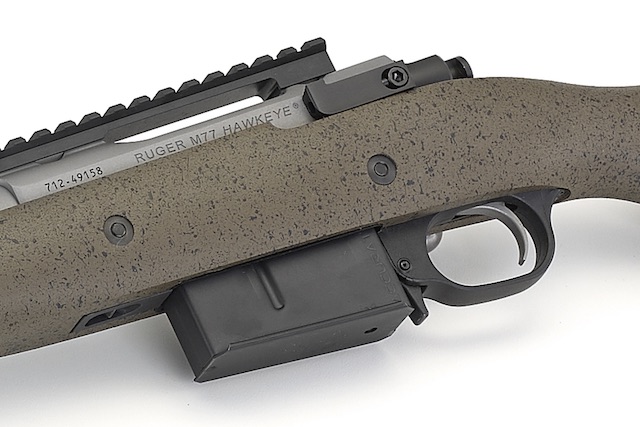 The rifle has a laminate target stock features with a soft rubber recoil pad and adjustable pull length via adding or subtracting spacers that come with the rifle.
Additionally, the Long Range Hunter uses Ruger's legendary Hawkeye action with a non-rotating, Mauser-type, controlled-round-feed extractor and a fixed blade ejector for optimum reliability when during feeding and extraction. It also has the traditional Ruger three-position safety. Both the barrel and receiver have a matte stainless finish.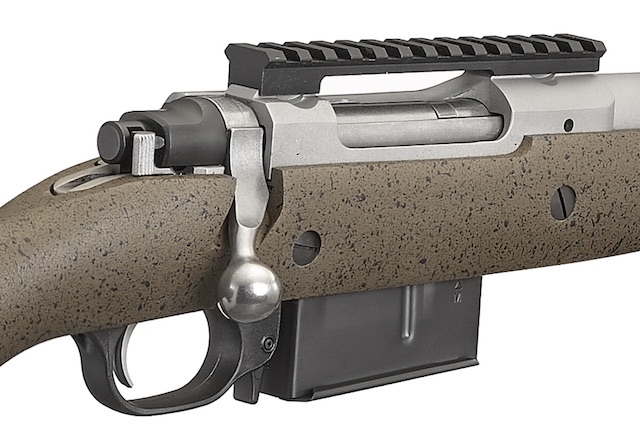 Finally, the rifle comes from the factory with a one piece 20 MOA Picatinny rail. This helps maximize the elevation capabilities of the rifle. However, the rifle does also have the traditional ruger integral scope mounts that are machined directly into the receiver.
Designed with North American hunters in mind, Ruger currently offers the Ruger Hawkeye Long Range Hunter in 6.5 Creedmoor and 6.5 PRC. Both are fantastic short action cartridges for longer range shooting situations and also have the added bonus of producing light recoil, especially in a rifle with a muzzle brake.
Ruger Hawkeye Long Range Hunter rifles chambered in 6.5 Creedmoor utilize a five-round detachable box magazine while rifles in 6.5 PRC can only have a three-round magazine capacity. Rifles come with one Accuracy International (AI-style) box magazine.
This is same style magazine as used by the Ruger Precision Rifle and the Ruger Gunsite Scout. Like on those rifles, the magazine release on the Hawkeye Long Range Hunter is located just in front forward of the trigger guard.
Both rifles have a 22-inch barrel length and 42.25-43.75 inches of overall length (depending on the length of pull desired by the hunter).
When all is said and done, the Ruger Hawkeye Long Range Hunter is a well-designed rifle that's light enough for a hunter to carry afield, but still capable of delivering the goods on game at longer range at the moment of truth.
The rifle is still brand new, but anecdotal reports to this point indicate that the rifle is indeed capable of excellent accuracy. When quality 6.5 PRC or 6.5 Creedmoor hunting ammo is used (remember, this is a hunting rifle after all), the Hawkeye Long Range Hunter can deliver sub-MOA performance in the right hands.
Hornady Precision Hunter ammunition is a good place to start. That line of ammo seems to generally produce very good results with Ruger rifles in general, particularly for the 6.5 Creedmoor.
Keep in mind that while it's indeed very accurate, Ruger didn't design the Hawkeye Long Range Hunter for long-range competition shooting. This is a high-end hunting rifle designed for hunting in rugged terrain where a longer-range shot are a possibility (like a tahr hunt in New Zealand for instance).
There are certainly lighter rifles out there and there are also more accurate rifles out there, but Ruger Hawkeye Long Range Hunter offers an excellent combination of portability and great performance at a reasonable price point (MSRP of $1,279).
For more information on this new rifle, visit Ruger.com.
All photos obtained from Ruger.
Like what you see? You can read more great articles by John McAdams on the Big Game Hunting Blog and be sure to subscribe to his show: the Big Game Hunting Podcast.
NEXT: I'VE HUNTED WITH A RUGER HAWKEYE FTW HUNTER FOR 2 YEARS, HERE'S WHAT I THINK ABOUT IT NOW
WATCH
Enjoy the outdoors?
Sign up for daily stories delivered straight to your inbox.