Ever since Annie Oakley set the trend, shooters have tried to replicate her famous shot. Sometimes, they succeed.
Enter six more good shooting folks to show us how to do it and do it right. Some are using shotguns, some .22 cal, and even a couple of pistol wranglers!
The main thing to know is that they have done it safely using all the caution needed to make the shot and walk away with a smile.
Warning: don't try this at home!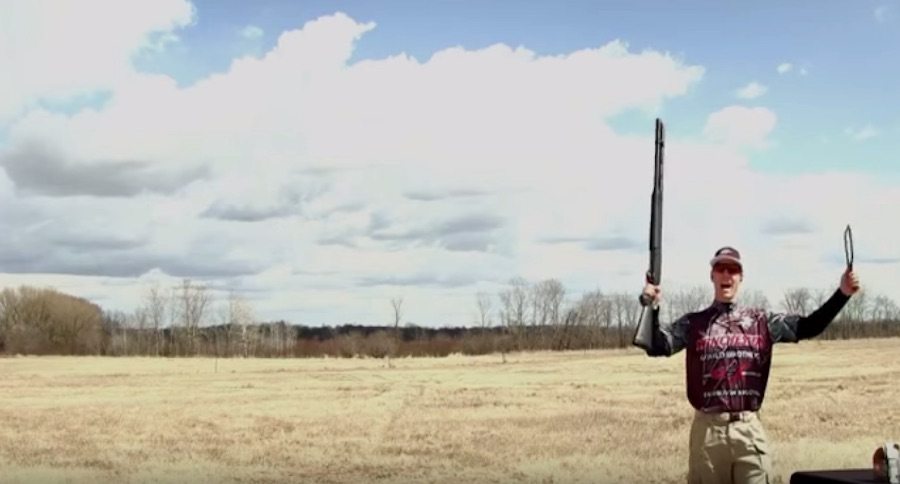 1. .22 Cal and Easy as Pie
We all started in the backyard somewhere firing dad's plinker .22 at cans. Basic.
2. 12ga Reverse Clay Pigeon: One Thrown by the Shooter
Thank goodness for slow motion.
3. Reverse 'Ping Pong Ball Off a Sawhorse' Shot
Look easy from 15 feet away? Betcha can't do it!
4. Clay Pigeon with a... .22??
The replay told the tale! Whatta shot!!
5. Splitting a Card at 20 Yards... Yes, with a Mirror!
Again KJW shows us why she calls it "The Joy of Shooting"
6. .45 Tactical and a Steel Target (Don't Blink)
This might be the most dangerous of them all. One hurried movement and you might ruin a good shirt or worse.
Safe shooting and fun-with-a-gun go hand in hand. Never stop pushing yourself to think about what you are attempting and where you are attempting it.
Trick shots were an invariable offshoot of our love for the shooting sports, so have fun with it, but remember: firearms safety is everyone's responsibility.
NEXT: CHECK OUT THE NEW JOHN WAYNE 1873 TRIBUTE RIFLE