A broadhead is a broadhead is a broadhead, unless you are trying to hunt turkeys this spring. Then you need a turkey broadhead.
I often find myself at the beginning of turkey hunting season, getting only my bow hunting equipment ready and seldom getting out my shotgun. That is, of course, until I get frustrated about halfway through the season and then work to capitalize on my mistakes. This year has been no different so far.
As I have set out and begun packing my bags to head to the Hooray Ranch in Kansas in the second week of May, I wanted to make sure to have my complete setup ready to go. I will be bringing my new Xpedition Xplorer SS which has been proven to be extremely accurate, as I have been shooting every day.
As 2017 gains momentum, technology and innovation never slow down. With that, have some new broadheads are coming to the turkey woods. As always, accuracy is most important to many bowhunters, but there are also many other important factors when it comes to a turkey broadhead that will ensure a proper kill shot. For body shots, we want a large cutting diameter that will easily take out the wings and vitals with no chance.
With such small vitals, a turkey broadhead for the body needs to fly just like a field tip and expand on impact, leaving very little room for error. As for the head and neck shots, we need it to have a large cutting diameter, but most importantly, it needs to be accurate as well. A broadhead with a wing span of, say, five inches that doesn't fly good, is no good to us when we have a turkey at twenty yards. For 2017, here is our top list of broadheads that we will be using this year.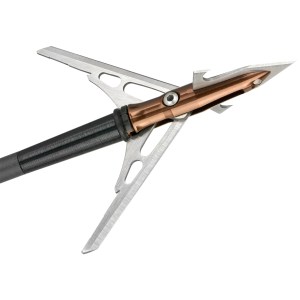 Rage has designed a new broadhead specifically for turkey hunters that will eliminate the problem of a flopping-then-fleeing gobbler following a normal pass-through. The new Rage Xtreme turkey broadhead features a cut-on-contact tip with a pair of massive Meat Hooks to inflict maximum lethal damage. These meat hooks will help in slowing the arrow enough to anchor the bird. This turkey broadhead combines a 2 1/8-inch-cutting-diameter, two-blade Slip-Cam broadhead with the Meat-Hook Tip to stop a turkey dead in its tracks. It's large enough to take out the wings, vitals and turkey all in one punch. For that, this is our number one choice of 2017 for turkey hunting.
MSRP: $29.99 per 2 Pack
2. Bloodsports' Gravedigger Extreme Cut on Contact
The end all mechanical versus fixed blade broadhead. Bloodsport has introduced new for 2017 a broadhead that features a 1 1/4" cut on contact blade, backed by a mechanical 2 1/4" cutting diameter blade. Designed with no collars, rubber bands or o-rings, and patented with its blade retention system, the gravedigger is a surefire turkey broadhead. Often times hunter's worry about their mechanical broadhead and if it will release upon impact. Although there have been no reports of this with the gravedigger, if it were to happen, the broadhead is a hybrid. This will ensure it as a no-failure broadhead.
MSRP: $39.99 per 3 Pack
Now anyone that knows me, knows I am not much of a fan of the 3-blade expandable broadheads. This however, related mostly to deer hunting and not so much turkey hunting. I have my cautions when choosing the right turkey broadhead, and the Wac'Em made the exceptions. Although I have yet to personally shoot this broadhead, reviews online show this to be an extremely accurate broadhead that expands after a cut-on contact tip. The 3-blades expand to a 2" cutting diameter. A great choice for any hunter looking to expand their turkey broadheads, pun intended.
MSRP: $44.99 per 4 Pack
**DESIGNED AS A CROSSBOW BROADHEAD**
Introduced last year towards the closing of turkey hunting season, the Spitfire Doublecross by New Archery Products. It is a four-blade, mechanical broadhead. It features no-fail blades, with a two-stage deployment. The front deploying "stage one" main blades boast a massive 1-7/8" cutting diameter while the rear deploying "stage two" 'bleeder' blades feature a 1-1/18" cutting diameter. This broadhead cuts vertically and horizontally and leaves little room to miss the vitals. With a hole that big, a turkey really has no option but to play dead or be dead.
MSRP: $39.99 per 3 Pack
5. Muzzy Trocar HB
One of the most unique broadheads at the 2016 ATA show, the Muzzy Trocar HB is a great all around hybrid broadhead. We've all known muzzy to be one of the most trusted brands and most accurate fixed blade broadheads on the market. As for them adding an expandable to their fixed blade line-up, well, trust is inviting, results are everything. Many deer hunters had tremendous success with the Trocar HB this past season that should carry over to turkey season. As a turkey broadhead, the steel, 1 5/8" cutting diameter broadhead will guarantee to cut with its hybrid design. Accuracy is key and reviews rave on the accuracy of the Muzzy Trocar HB. This leaves us looking forward to getting our hands on one to put through some feathers this spring as well.
MSRP: $39.99 per 3 Pack
One of my favorite broadhead companies introduced this new Savage broadhead. Ramcat has always packed a punch as the number-one most penetrating broadhead on the market. It gets its name from hitting like a ram and cutting like a cat. My favorite feature of their broadhead is their accuracy, and I can imagine their Savage to be the same. It features a 3-blade design that opens to a two-inch cutting diameter. It features their airfoil point that allows for proper air movement while in flight, maximizing accuracy. For turkey hunting, or deer hunting, the Savage is a broadhead we expect to live up to its name.
MSRP: $39.99 per 3 Pack
As with any broadheads, be sure to check with your state to ensure that it is legal to use.
Like what you see here? You can read more articles by Dustin Prievo here. Follow him and his hunting team, Top Pin Outdoors, on Twitter, Facebook and Instagram.
NEXT: KANSAS TURKEY HUNTERS SHOT WHILE BEHIND A TURKEY FAN
Enjoy the outdoors?
Sign up for daily stories delivered straight to your inbox.