Exotic environments and fantastic fishing, here is a list of the top 5 destinations for adventurous anglers.
Palm trees and coconuts equal margaritas, right? For many vacationers, that equation is correct, but there are other travelers who might want to add one more thing: fishing.
This guide will help narrow down the choices for the venturesome fisher.
1. Pointe Denis Beach, Gabon, Africa
Located on a peninsula just south of the Akanda National Park, Pointe Denis Beach is home to the most sought after gamefish in the world. Monstrous tarpon patrol waters surrounding the river mouths here. Tarpon are the pinnacle of sport fishing, and it takes a determined sailor to reel one in. Specimens nearing the 200-pound mark are not unheard of in Gabon. You better eat your Wheaties before departing from shore!
2. Wineglass Bay, Tasmania
Wineglass Bay frequently appears on lists of the top 10 beaches in the world. It's breathtaking beauty and luxurious reputation have made it a popular honeymoon destination. For couples with a taste for exotic fishing, this is your beach. It resides within the Freycinet National Park in Tasmania, and offers spectacular chances of hooking up with flathead, Australian salmon, and barracuda.
What if your partner is having issues with sea sickness? You can calm things down a bit by targeting trout in the nearby rivers, lakes, and streams.
3. Southwestern Beach, Koh Rong, Cambodia
Don't let the originality of the name fool you, Southwestern Beach is a magnificent spectacle. It is nestled within the Gulf of Thailand and sits on an island with over 43 miles of sandy beach. Cambodia holds one of the largest freshwater fish on Earth, the Mekong catfish. Capable of growing upwards of 650 pounds and starring in an episode of Jeremy Wade's River Monsters, this behemoth will impress even the most seasoned angler.
Koh Rong is also known for rare displays of bioluminescent plankton. These tiny creatures illuminate the water at night if you time your travels with the right moon phase.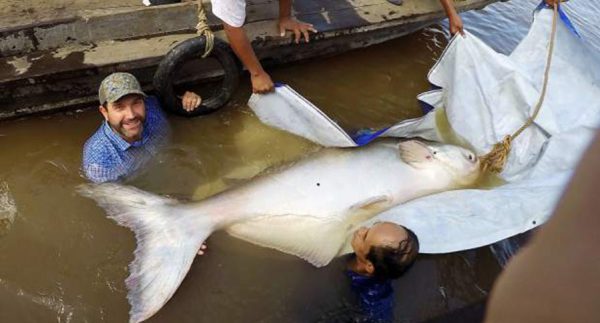 4. Los Roques, Venezuela
Shallow sapphire ocean and hundreds of islands surround Los Roques in Venezuela. This area is known within the fly fishing business as one of the finest bonefish habitats in the Caribbean. Sight fishing the flats could be a struggle.
Would you focus on the fish or get distracted by the pristine wonder of this exotic beach? Luckily, you'll have time to enjoy both. Catching dozens of 4-10 pound bonefish will exhaust you in a hurry, giving you the chance to rest up and relax on shore.
5. Mentawai, Indonesia
Mentawai is a cluster of Indonesian islands and beaches just west of Sumatra. A popular spot for surfing and snorkeling, Mentawai also offers a wonderful variety of fish to catch. Yellow fin tuna, mahi mahi, and sailfish are the most pursued. Their vibrant colors and powerful fighting nature match the personality of their environment. You'll compile a tropical photo album full of potential profile pictures!
NEXT: 5 LESSONS YOU ALREADY FORGOT ABOUT FISHING
https://rumble.com/embed/u7gve.v3tsf1/
Enjoy the outdoors?
Sign up for daily stories delivered straight to your inbox.