Half car, half motorcycle, and all fun!
Before I even had the chance to embark on my weeklong experience with the 2018 Polaris Slingshot, the Polaris representative warned me of the attention this three-wheeler commands. And he wasn't wrong.
Whether I was driving down the road, picking up my daughter from school, or just filling up with gas, the Slingshot's three-wheeled motorcycle look draws the same kind of crowds as some of the six-figure supercars I've driven over the years.
The Slingshot, of course, is known for its odd wheel count, which is essentially the front three-quarters of a car finished off with the swing arm and belt-driven single rear wheel of a motorcycle. Fittingly, the Slingshot is one of the most popular examples of a growing vehicle segment called the autocycle.
For the most part, the Slingshot is set up to be far more user friendly than a traditional powersports vehicle (which Polaris specializes in) like motorcycles, ATVs, and side-by-sides, but it isn't as "motorcycley" as, say, a Can-Am Spyder or a Harley-Davidson trike.
Just like most powersports equipment, the 2018 Polaris Slingshot is most definitely a toy; this isn't going to be anybody's primary transportation. But as I learned from my week of driving it, the Slingshot is fully capable of doing so.
For starters, you get a solid drivetrain snatched from a Pontiac Solstice consisting of a 2.4-liter GM Ecotec inline-four and a five-speed manual gearbox. The engine's 173 horsepower and 166 lb-ft of torque is fed to the rear wheel by a carbon-reinforced drive belt.
That power output might not seem like a lot, but the Slingshot has an amazing power-to-weight ratio with a base curb weight of just 1,749 pounds. While fun off the line, the best part about driving the Slingshot is tossing it around in sharp corners. This is made even better with the optional $1,899 Bilstein shock kit.
The only other performance upgrades you can get are wider rear tire (305 mm versus the stock 255 mm) and sportier brakes. To be honest, the brakes are more than adequate on the stock Slingshot, and the electric power steering is responsive with plenty of feedback. Wrapping your hands around this steering wheel is a joy.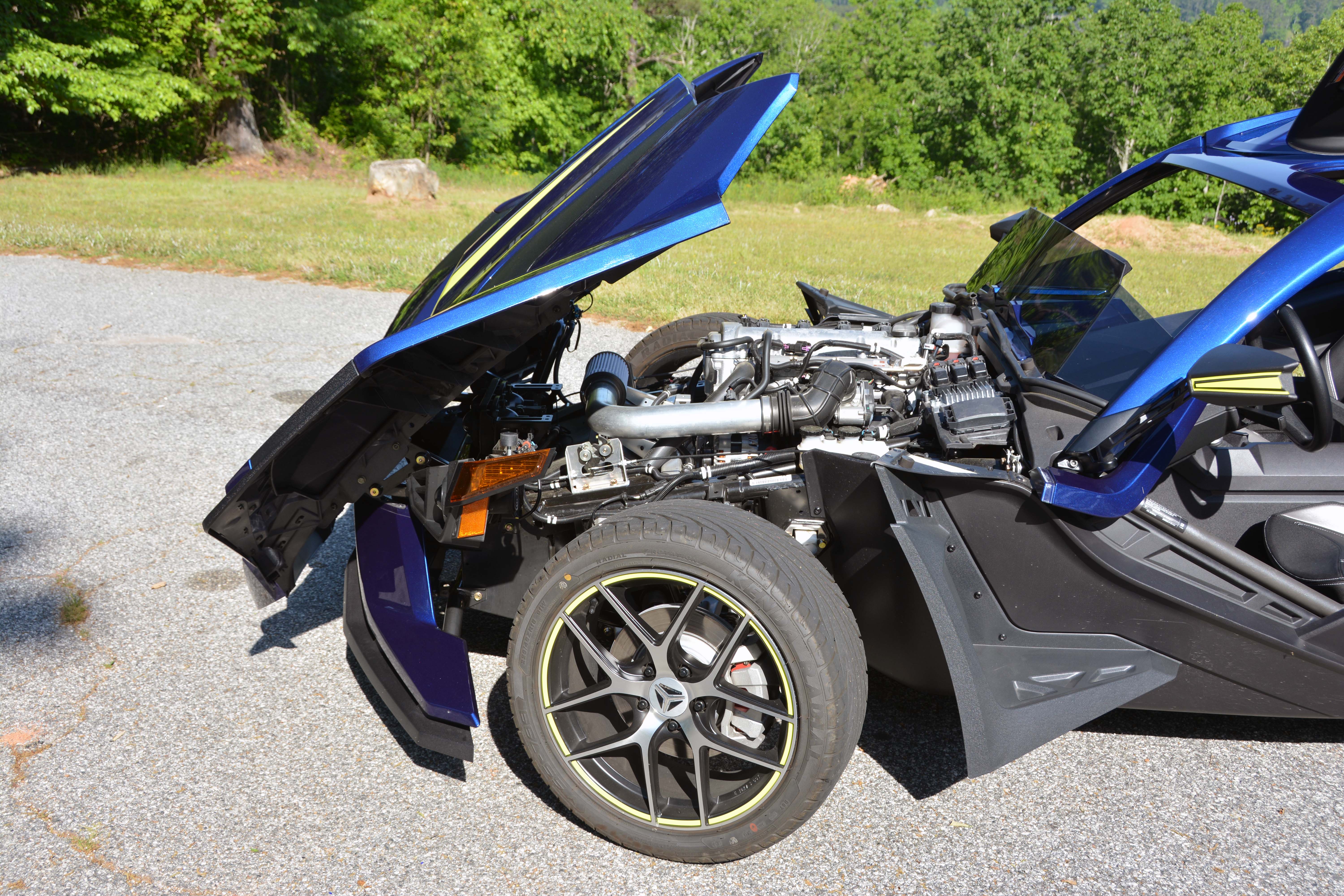 With its 9.77-gallon fuel tank (premium gas recommended), the Slingshot has a cruising range of well over 200 miles, depending on your driving habits. My first tank was limited to 265 miles due to my exuberant acceleration, but my second tank was over 300 miles with still a little more left in the tank when I gave the Slingshot back.
Doing the math, I got between 27.1 mpg and 30.7 mpg in mixed driving, and the highest fuel economy I saw on the trip computer was 38 mpg while cruising along a flat road at 60 mph.
The hardest part about driving the Slingshot (other than dealing with all of the attention), though, is relearning how to dodge obstacles in the road such as potholes and debris. In a car, the logic is to straddle such obstacles, but maneuvering so in the Slingshot means that you're probably going to hit what you were trying to avoid with that rear tire.
It's probably the only driving quirk you have to deal with.
The standard anti-lock brakes, traction control, and electronic stability control all make the Slingshot easy for anyone to drive. To put it simply, if you can drive a car with a manual transmission, then you can drive the 2018 Polaris Slingshot.
Driving the Slingshot is easy, but you'll want to touch up on your "street legal" local laws before you get behind the wheel, as the Polaris Slingshot has become an excellent example of states' rights when it comes to license requirements. With its autocycle classification, helmet and licensing laws vary by state. Lucky for me, Georgia is in the majority by not requiring a motorcycle endorsement, and it doesn't require a motorcycle helmet in this state either.
That being said, Polaris recommends a full-face helmet even though there are seat belts and massive roll hoops. A full-face helmet is more useful at preventing rocks and large bugs from hitting you in the face, which I learned firsthand after being hit in the forehead by a dragonfly at 50 mph (for the record, I was wearing a brain bucket and sunglasses).
The optional 7.5-inch polycarbonate wind deflector can only protect you from so much, but Polaris also offers a 9.5-inch deflector option as well.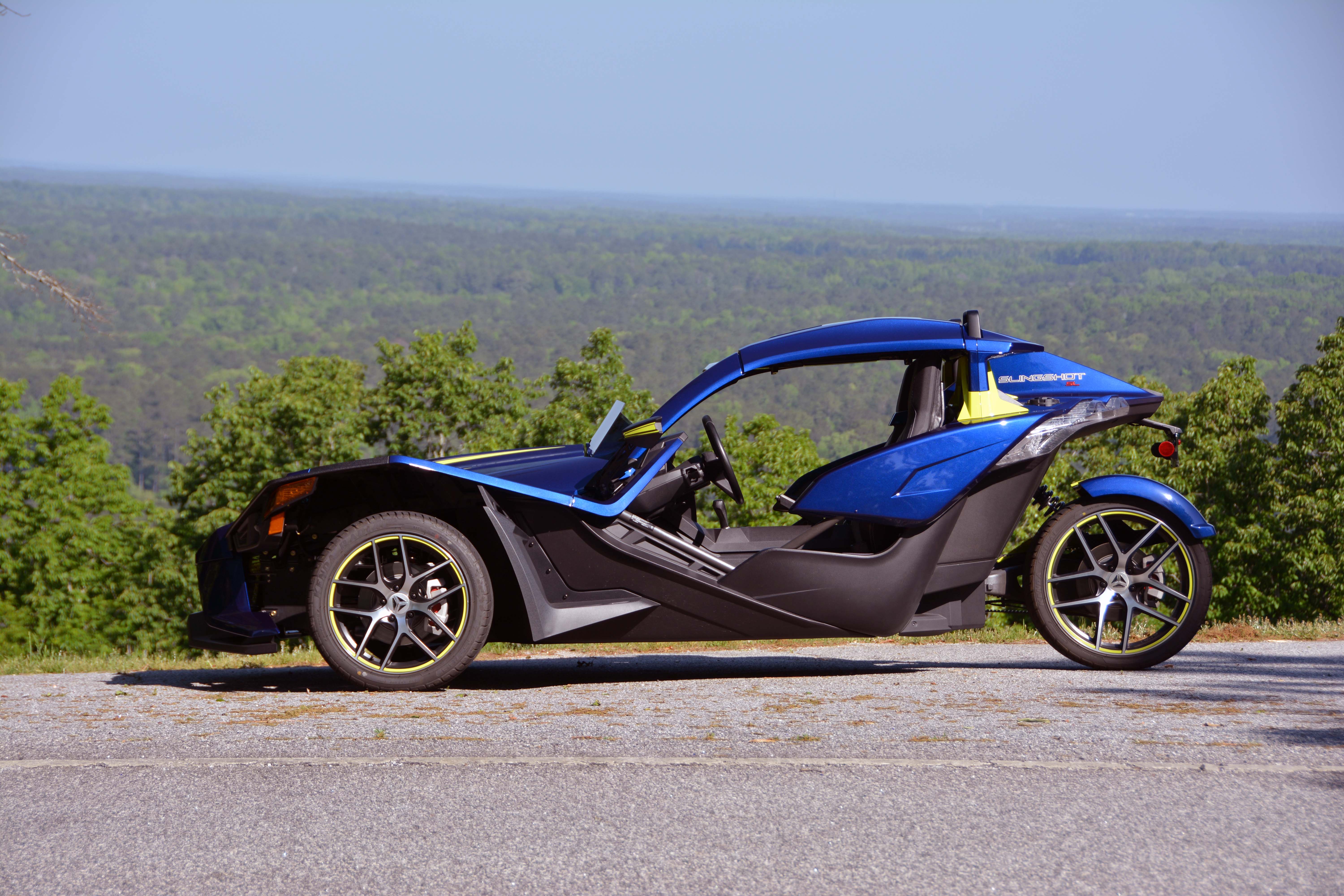 Just about any three-wheeler will garner some attention on the road, but it's impossible to miss the 2018 Polaris Slingshot. The exotic styling looks like something a superhero would drive, yet the construction is very straightforward with plastic body panels over a steel tube safety frame.
This tester was painted in Navy Blue with Lime Squeeze accents, and it looks even more like a car with the optional ($2,799) Slingshade. This fiberglass top has polycarbonate inserts and gull wing-like panels with magnetic latches and manual locks. The Slingshade definitely improves comfort, reducing the abuse from the sun while you're driving, but it also lets you make a grander entrance wherever you go. In addition to the top, this tester also had the $699 rear fender and $99 belt guard.
Inside, the Slingshot doesn't have air conditioning or air bags, but you can get modern conveniences like a backup camera, navigation system, and Bluetooth; there's even a power outlet and USB connector in the massive, locking glove box.
Touching on storage really quick, there are two locking cubby holes behind each seat large enough to fit helmets, and this tester also had soft storage bags next to each seat (a $109 option). Overall, it had the materials and fit and finish that you'd expect from an open-air vehicle constantly exposed to the elements.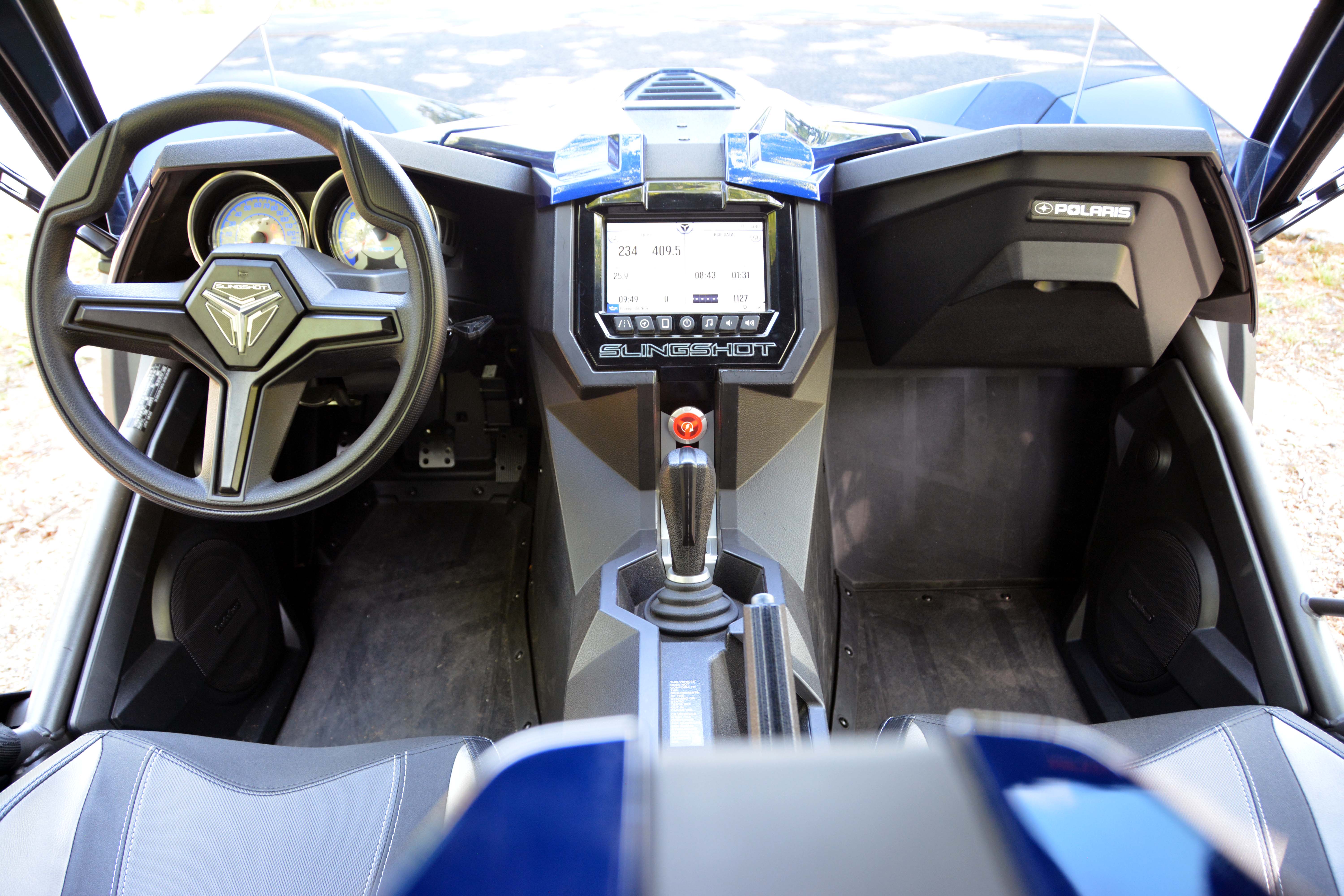 My only complaint about the interior of the Slingshot is the cramped driver's footwell, which was made even worse by the Rockford-Fosgate speakers that were part of the $799 premium stereo system. The 2018 Polaris Slingshot isn't for everybody, but that only makes driving one that much cooler.
With a starting price of $19,999, there's simply no other new car in this price range that will deliver as much exhilarating fun as the 2018 Polaris Slingshot. The base price is for the Slingshot S, while the new SLR Limited Edition is the top trim starting at $30,999.
This tester was the SL trim that starts at $25,499, and all of its options and goodies added up to an as-tested price of $33,258. Plus, Polaris backs the Slingshot with a two-year/unlimited-mile warranty.
Even though you could buy a used Porsche Boxster and Mazda Miata for that kind of money, you're just not going to find anything else that is as rewarding for your soul - and self-esteem - than the 2018 Polaris Slingshot.
Just like a motorcycle, you can just cruise solo soaking in the scenery, but you can also have a normal car experience with your passenger. Either way, the Slingshot has the conveniences of a modern car with the visceral simplicity of a motorcycle.
Bottom line, the 2018 Polaris Slingshot delivers the open-air experience of a Jeep Wrangler, the corner-carving ability of a Mazda Miata, and the styling of a Lamborghini sports car. And all this at a price that is less than a brand-new Ford Focus hatchback!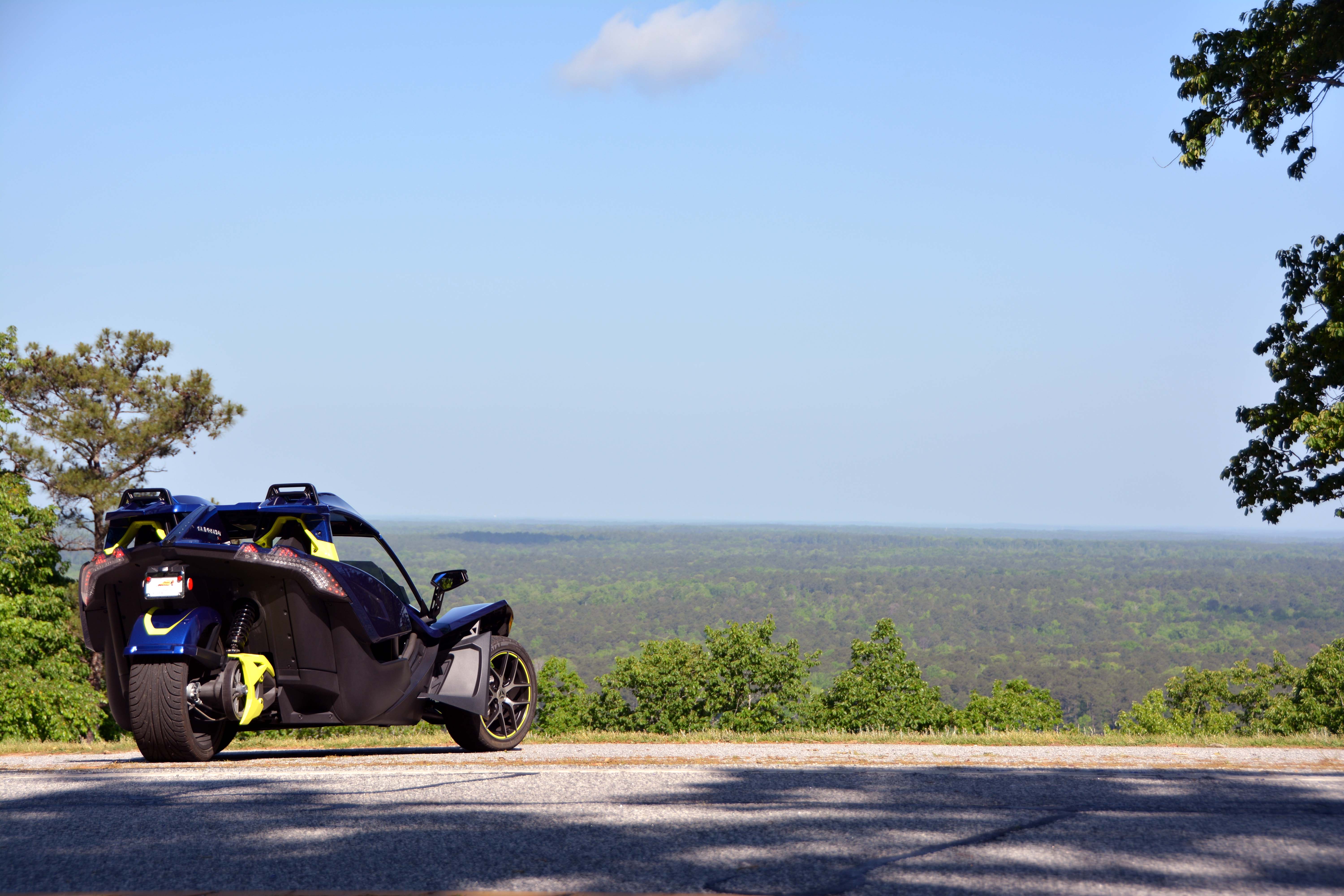 View more photos of the 2018 Polaris Slingshot below.
If you want to find out more on the Slingshot, go to Polaris.com.
All images copyright Jeffrey N. Ross/Wide Open Roads
NEXT: 2017 FORD F-150 RAPTOR REVIEW
WATCH