The Ford F-150 Raptor is designed for the desert but ready for anything! And we got to spend a week with this bad boy.
Growing up around a group of dirt-loving off-road enthusiasts, I've always lived by the mantra of "built not bought" when it comes to the best vehicles for the trail.
The last decade or so, though, has delivered a handful of trucks that left me doubting my unwavering belief that bloody knuckles can produce anything better than an assembly line. I was weakened by the Wrangler Rubicon, Ram Power Wagon, Toyota TRD Pro and Colorado ZR2, but the 2017 Ford F-150 Raptor just chopped me at the knees. This was thanks to my recent week spent with the Lightning Blue Raptor SuperCrew you see here.
For the record, this wasn't my first rodeo with the Raptor as I've driven the previous-generation 5.4- and 6.2-liter models in the past. Ford had a lot more at stake with the second-gen Raptor, though, especially with all the buzz surrounding its aluminum body and V-6 engine.
The 2017 Ford F-150 Raptor has already proven its endurance after successfully running in the rigorous Baja 1000 in mostly stock form, but I still wanted to find out for myself.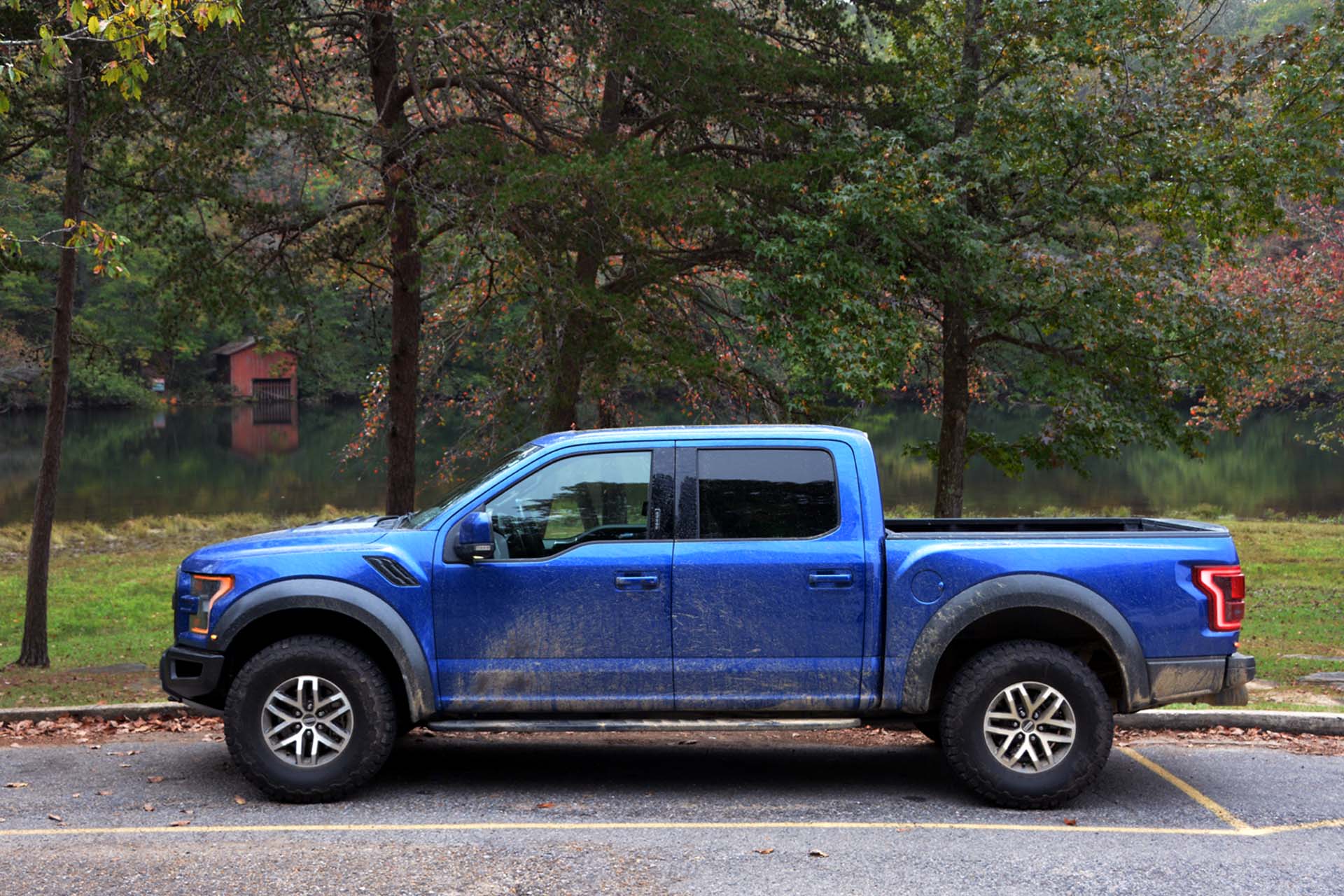 Since I live nowhere close to the desert, I did the next best thing I could think of... drive the 2017 Ford F-150 Raptor more than 400 miles round trip for a weekend of camping and off-roading. I was putting a lot of faith in this truck to drive it that far to go off-roading and expect it to get me home safely.
Hitting the road with the Raptor packed to the gills with my family and camping equipment, it didn't take long to find out how popular this truck is.
No matter where I drove, people always seemed to be checking out the Raptor and giving thumbs up. Driving around town in a muddied Raptor was even better, but the most appreciation this truck got is when people saw it in action out on the trail. I'm guessing it's about the same reaction people have when a Lamborghini pulls up at a local autocross event.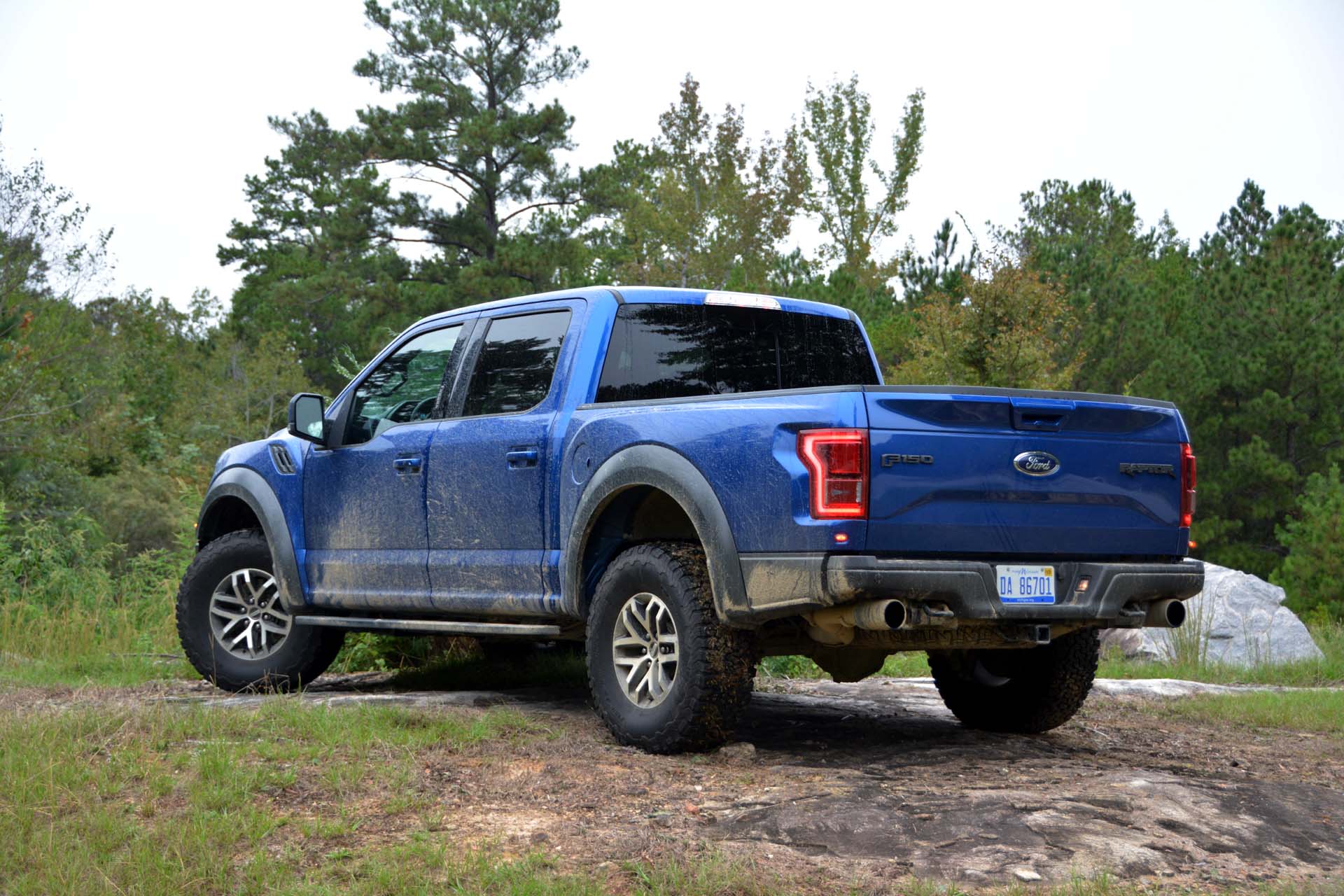 It's not hard to see why this truck garners so much attention either. Size alone gives the Raptor an imposing presence; it's six inches wider and two inches taller than the already-massive, previous-gen (2010-2014) F-150 SVT Raptor, and the overall design is as menacing as a Shelby GT350.
The wide body and unique bumpers make the Raptor look like a street-legal trophy truck, and they were necessary to accommodate the performance bits that makes this truck ready for any terrain.
The 2017 Ford F-150 Raptor hadn't been in my driveway 10 minutes before I took it out in search of some mud to splash through or a mound of dirt to jump over. By the end of a week, I had the Raptor airborne, sideways, and partially submerged underwater.
Most of the fun took place on trails around Desoto State Park in Fort Payne, Alabama. It admittedly wasn't the most challenging terrain, but since I was out there with no other vehicle, I didn't want to get too crazy.
In rugged terrain, the best attributes of this truck are the wheel tire combination (35-inch BF Goodrich KO2 tires on 17-inch wheels equal lots of sidewall flex), excellent approach and departure angles (30.2 degrees and 22.9 degrees, respectively), and a race-worthy suspension setup with big Fox Racing shocks at all four corners.
The driver-selectable Terrain Management System features six drive modes including Baja and Rock Crawl modes, but the Mud and Sand mode performed flawlessly during my time with this truck. Even with all the rugged rocks, the deep, rutted mud, a waist-deep river crossing, and a 17-degree incline, these trails proved to be no match for the Raptor.
In fact, the only downside of off-roading in such terrain is how obscenely wide the Raptor is, which makes tighter trails a little scarier if you're trying to preserve your paint.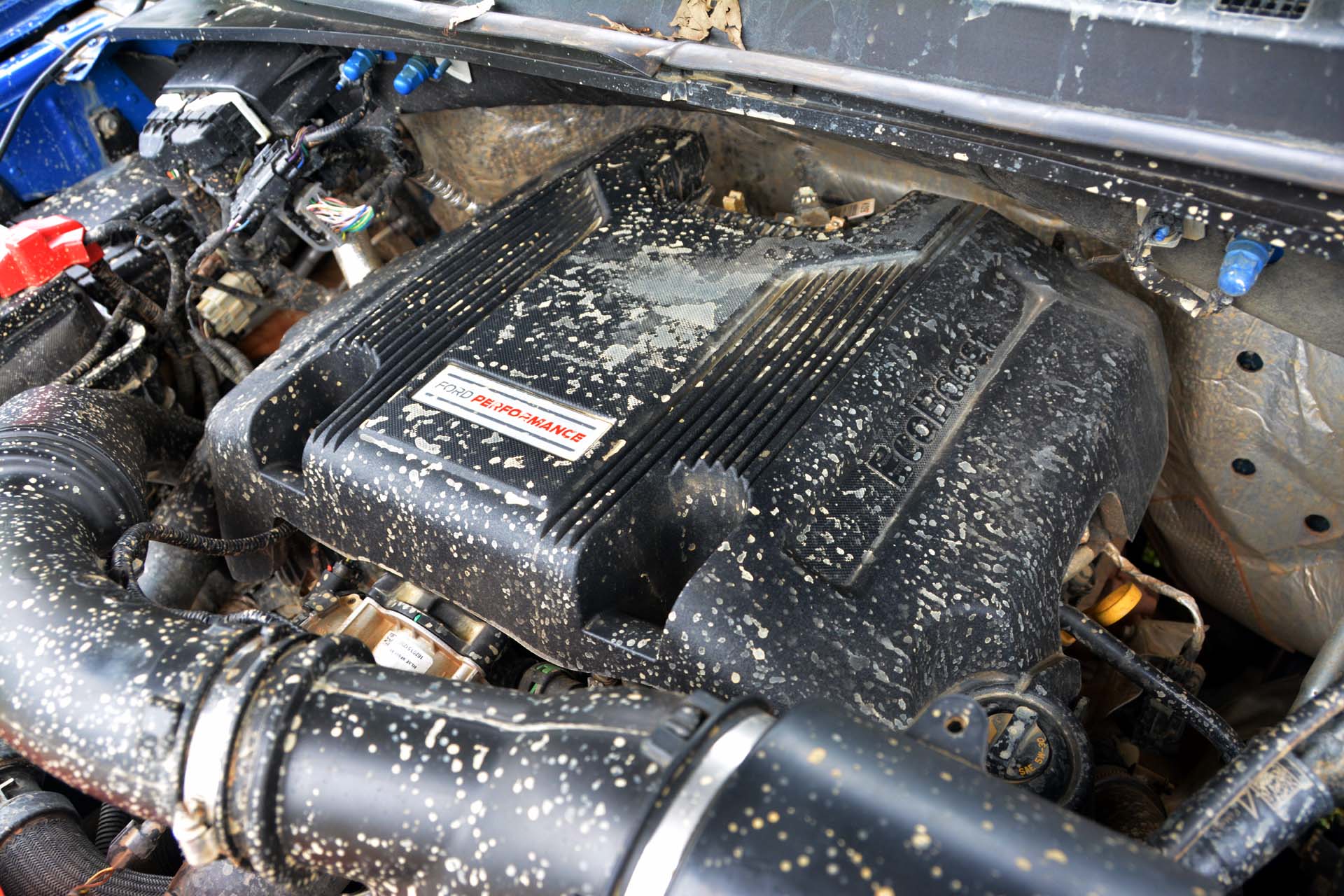 The best part about driving the Raptor is its 3.5-liter twin-turbo EcoBoost V-6, which is a version of the engine found in the Ford GT. With 450 horsepower and 510 lb-ft of torque, this engine is far more powerful than the previous V-8 Raptors, and it is also more efficient.
The 2017 Ford F-150 Raptor has EPA ratings of 15 mpg city and 18 mpg highway versus 12 mpg city and 16 mpg highway for the 2014 Raptor. By the end of a week of driving and off-roading, I saw an average of 15.7 mpg.
One of the more unique elements developed for the Raptor was its four-wheel-drive operation that uses a clutch-based torque-on-demand system. Like modern a AWD system, the Raptor can automatically apply torque between the front and rear wheels, and it also has a true mechanical lock for 4x4 High and 4x4 Low driving.
Ford says this combines the best of all-wheel-drive and four-wheel-drive worlds, but all I know is that the Raptor made easy work of most of the trails I encountered.
Despite its size, the Raptor was fun, easy and incredibly rewarding to drive. The big tires weren't too loud and didn't raise any concerns driving on the asphalt, and I was constantly surprised how quickly this 5,697-pound truck could accelerate.
Ford's 10-speed automatic transmission doesn't seem to search for gears as much as some other high-gear transmissions do these days, and the Raptor offers drivers some manual shifting abilities with steering wheel paddle shifters. Although the new Raptor was designed to be an off-road beast, this truck is impressively refined on the road with a smooth, quiet and comfortable ride. If it's too quiet, though, just put the windows down to enjoy the satisfyingly loud exhaust combined with the whistling of the spooling turbochargers.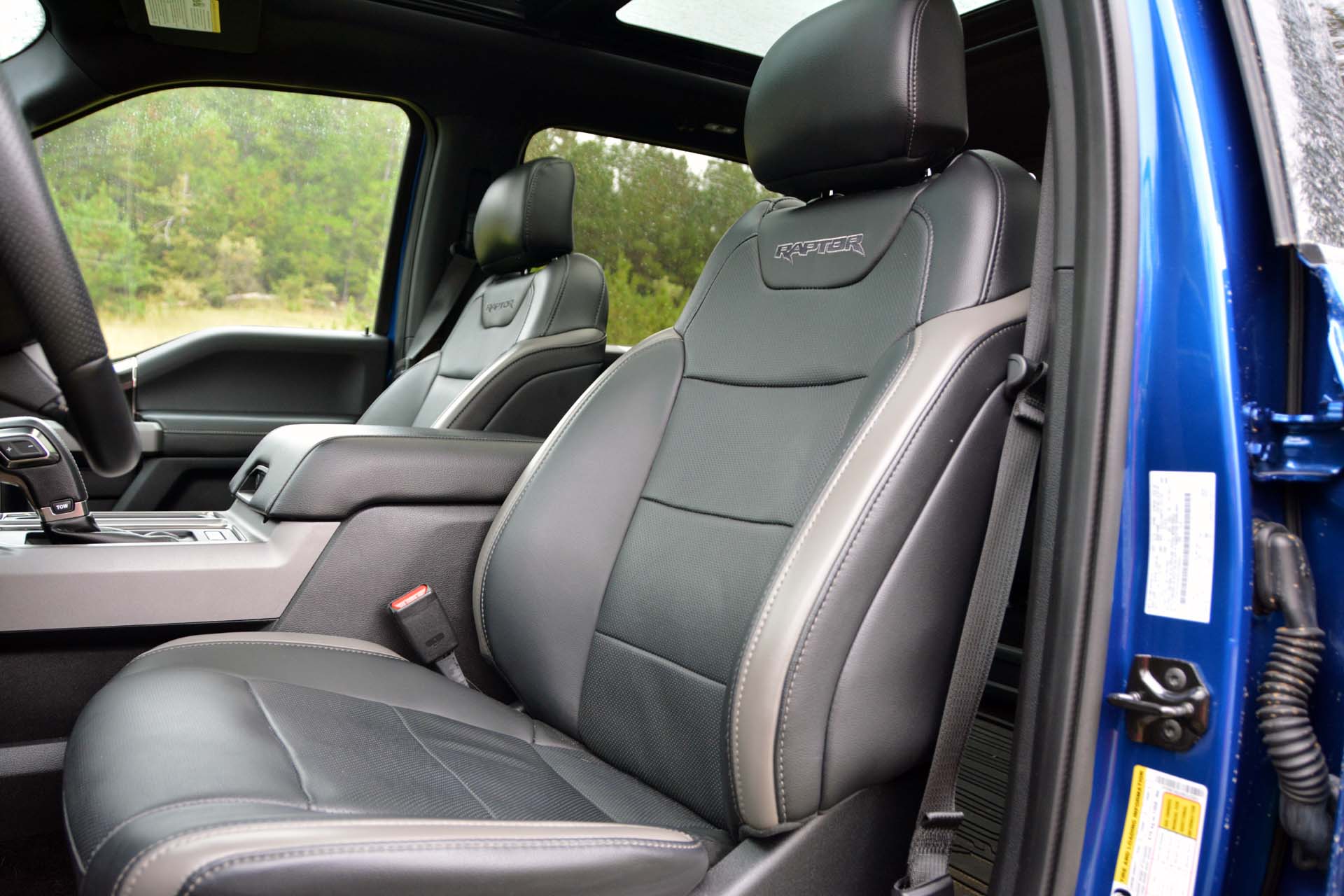 While the 2017 Ford F-150 Raptor is an undeniably tough truck, this tester's interior is as luxurious as you would expect from a $65,000 vehicle. Whether I was cruising on the interstate or bouncing off rocks, the optional leather seats were comfortable and supportive.
If that wasn't enough, this truck also had features like heated and cooled front seats, navigation, a panoramic sunroof, adaptive cruise control and a power-sliding rear window - infinitely more luxury than the first-gen Bronco I learned how to off-road with.
Even with its off-road prowess and this tester's extra options, the Raptor is still an F-150 at its core, so it still performs all of the duties you would expect from a pickup truck.
This Raptor had all the goodies in this regard, too, with an integrated trailer brake controller, blind spot monitor with trailer tow monitoring, Ford's innovative Pro Trailer Back Up Assist, a 360-degree backup camera, LED in-bed lighting, and a factory spray-in bedliner. The added ride height made the optional tailgate step essential for getting into the cargo bed.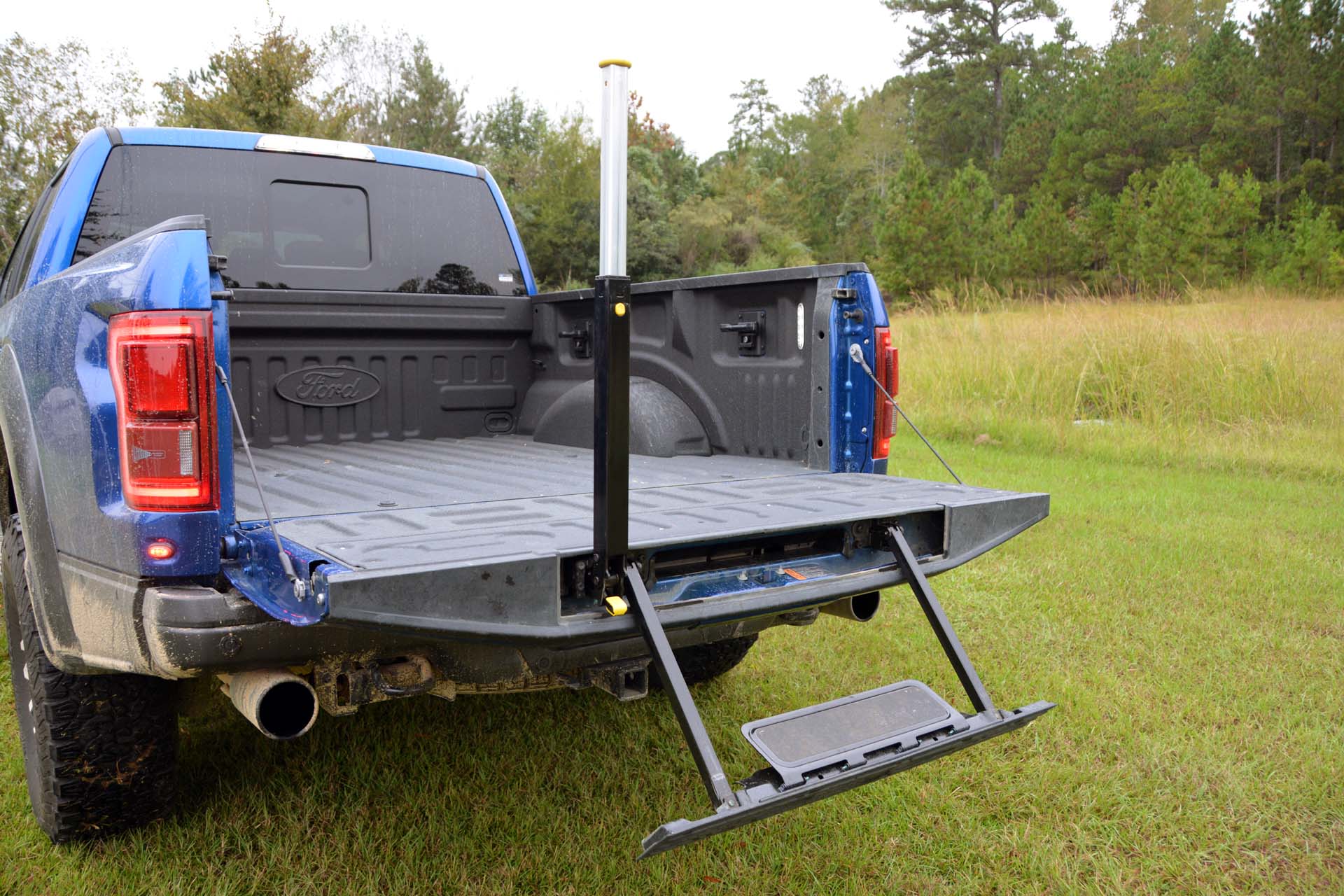 Now, the downfall of getting such a badass off-road vehicle from the factory is that you're going to pay for all that engineering, and a base price of $49,265 for a 2017 Ford F-150 Raptor shows that.
Personally, I couldn't fathom the idea of spending this much on a vehicle just to take it off road, so I can't really fault the dirtless, scratchless Raptors I see driving around town. Tack on all the options, and this truck carried an as-tested price of $65,965!
That's a lot of cash to pony up for a vehicle to go blasting through the desert or crawling over rocks, but the only real apples-to-apples comparison out there might be a Wrangler Rubicon with an LS3 shoved under the hood. Of course, if the Raptor isn't cool enough, there's always the $349,000 Hennessey VelociRaptor 6x6!
View more photos of the Ford F-150 Raptor below.
Images via Jeffrey N. Ross/Wide Open Roads
NEXT: LAND ROVER TEASES NEW RANGE ROVER SV COUPE
WATCH
Enjoy the outdoors?
Sign up for daily stories delivered straight to your inbox.