These 10 tree tents are the forts we always wanted as kids.
Remember what it was like to sleep in a tent for the first time? Want to sort of have that feeling again?
Tree tents are the coolest new thing, and ideal not only for camping, but for other outdoor enthusiasts who seek out the best hunting and fishing trips: There's almost always a place to put a tree tent.
Check out some of the coolest ones we've found, and start dreaming of floating among the leaves on your next camping trip.
10. The Cocoon Tree
The Cocoon Tree is something you might find if you washed up on a mysterious desert island. The cocoon-like tent can be suspended from trees, installed on the ground or onto a platform. The tent frame is made from steel and is covered by a weather-resistant tarp.
Luminair's spherical tree tent is definitely a fort for grown ups. The interior has two beds, a woodstove, a skylight, water storage and options for renewable electricity. The frame is made out of steel and wood and covered by hand-woven canvas.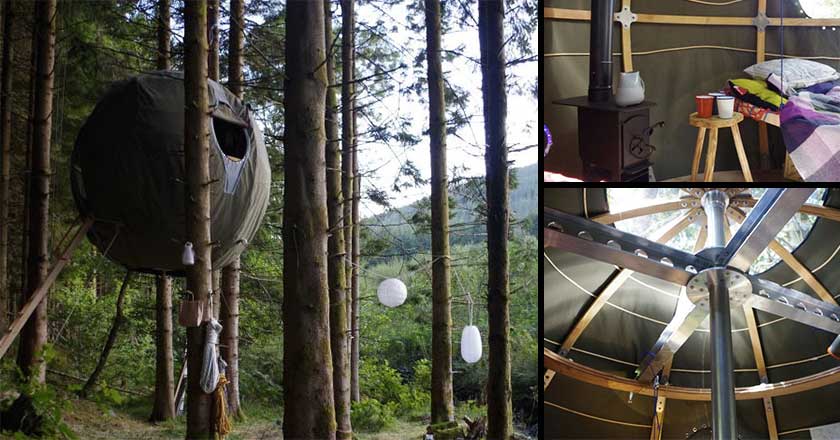 8. Raindrop-shaped tents by Dré Wapenaar
Dutch sculptor and tent maker Dré Wapenaar designed these raindrop-shaped tents as part of an art installation project. They hang from trees like overgrown pinecones. The tents' interiors include circular mattress that can each accommodate four people.
Campers at the Waldseilgarten-Hoellschlunct adventure camp in Bavaria sleep in tents that hang from trees. The dangling shelters are known as "The Hotel of a 1,000 Stars".
6. Tentsile Stingray
The Tentsile Stingray is a sleek three-person tree tent that can expand into a large shelter with minimal modifications. You can attach a hammock to the bottom of the tent, and climb up and down from the hammock into the tent via the floor hatch on the bottom. The Stingray can also connect to other stingrays to make a network of suspended tree tents.
The Tentsile Connect Tree Tent is similar to the Stingray in that it can connect to other tents to form one super tree tent. This version accommodates two people instead of three.
The Aelph Alpha is designed for solo campers. It weighs only 4.5-pounds and can unfold in a few seconds, making it perfect for backpackers and long-distance hikers.
This Tree Tent is a permanent fixture at the Secret Campsite in Sussex England. The interior has a campstove, skylight, two single beds, and two side windows. The exterior is covered in a breathable insulated material made out of recycled clothing.
Unlike other tents on this list, the Treepee uses the ground to provide stability. This one is perfect for kids, as the interior is relatively small and the floor is springy like a trampoline.
The Nubé Hammock Shelter features a floating hammock bed and a suspended gear storage area. It can hold more than 200 pounds, which is impressive for a floating hammock shelter. The fly is made out of a breathable and weather-resistant,material that keeps water and moisture out of the interior. It's also super lightweight, weighing only 2.24 pounds, which is perfect for backpackers. Outdoor company Sierra Madre have a Kickstarter campaign to help bring the Nubé to market.
NEXT: WHICH OF THESE 5 INSANE TREESTANDS WOULD FALL FIRST?
Enjoy the outdoors?
Sign up for daily stories delivered straight to your inbox.