No rifle round on the market today is more controversial than 6.5 Creedmoor, as so many shooters with already-established loyalties to other long-range calibers remain staunch with the rifles that have always served them. However, we won't sort out that debate today. Instead we'll focus on the the 6.5 Creedmoor as a cartridge, and more importantly, the best rifles on the market that include this coveted chambering. Because it's so popular for its long-range capabilities, we'll focus on precision bolt-action models, but there are plenty of semi-auto options out there for those with a more versatile appetite. The bolt-actions we've chosen, though, are perfect for hunting deer or feral hogs, as well as mid-sized game that calls for a cartridge with a little more reach.
The 6.5 Creedmoor
When Hornady designed this short-action rifle cartridge in 2007, no one could've have predicted such a high ceiling, as it's now undoubtedly one of the most popular long-range calibers of all time. The short time it took for the cartridge to reach the top of the market is almost unfathomable, but a closer look at its ballistic coefficients, velocity, and mild recoil unveils indisputable validation. It's almost identical to the .260 Remington, but manages to capture a slightly better design that miraculously produces more speed, more stopping power, and less wind drift.
When diving into the numbers, we have to keep in mind how much ballistics vary across different brands and ammo types, but without question, the Creedmoor is more than capable as a hunting round, capable of taking any whitetail or mule deer.
Take the 129-grain Hornady SST, which travels about 2223 feet per second, delivering 1,400 food pounds of energy. The slightly lighter 120-grain GMX Superformance delivers near-identical ballistics. Rounds like the ELD Match 140-grain bullet deliver a bit more power, 1,482-foot pounds of energy while offering a slightly slower speeds at 2,184 fps. In any case, all three of these rounds are winners for the precision hunter who demands stopping power on long-range targets.
Many in the precision shooting world wonder just how fast this round can get. There have been rumors of setups reaching 3,000 fps, but manufacturer specs seem to speak otherwise. One of the faster listed rounds we found was the polymer-tip 129-grain Nosler AccuBond, which boasts 2,675 fps at 100 yards, delivering up to 2,049-foot pounds of energy to the target. In any case, these speeds are what help these rounds easily reach out to 400 yards or more. That's important when you're hunting the open areas of the west and stalking into close range is more difficult.
Winchester Model 70 Super Grade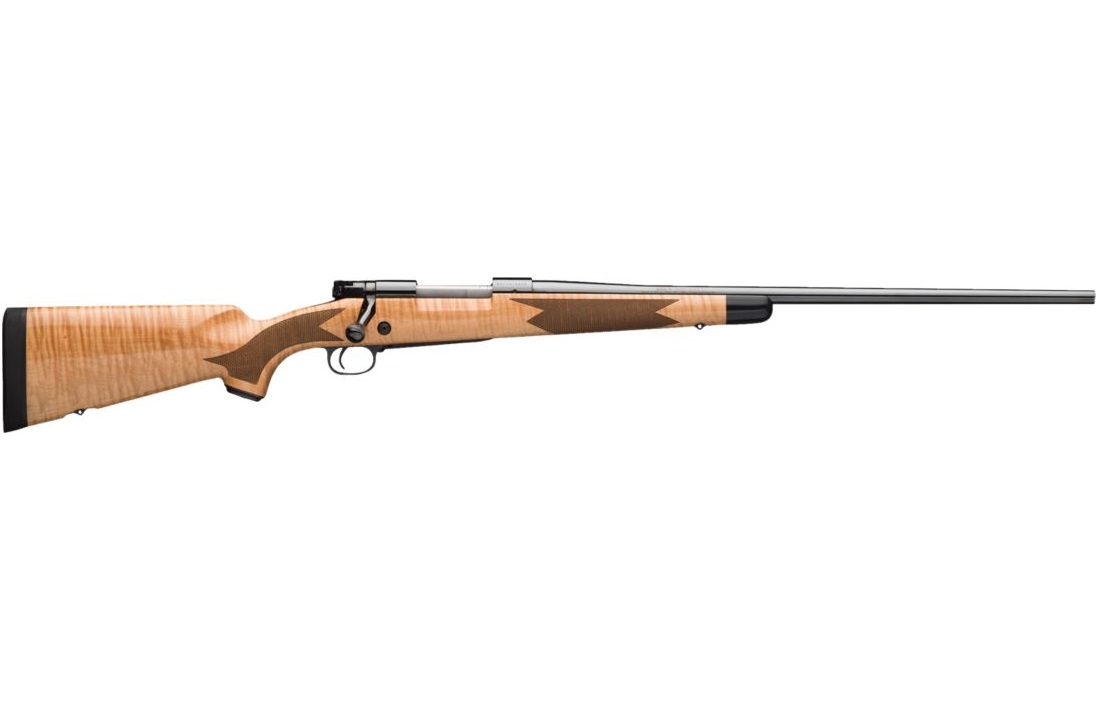 You can never go wrong with a classic hunting rifle model, regardless of what you're hunting or what caliber you choose. The Model 70 has taken countless deer across America since its inception, and arguably gets even better with such a capable cartridge in the 6.5 Creedmoor. It takes accuracy to the next level with a free-floating, 22-inch barrel, a forged steel receiver, and an MOA trigger system designed for zero creep and over-travel. Even though the the caliber is known to produce light recoil, the Model 70 helps out even more with a generous recoil pad. This gun has 5+1 capacity. The stock wears a beautiful maple wood. The rifle is pre-drilled and tapped for mounting a rifle scope. This gun combines the reliability of an older, proven design with the power and accuracy of a newer round.
Browning X-Bolt Hells Canyon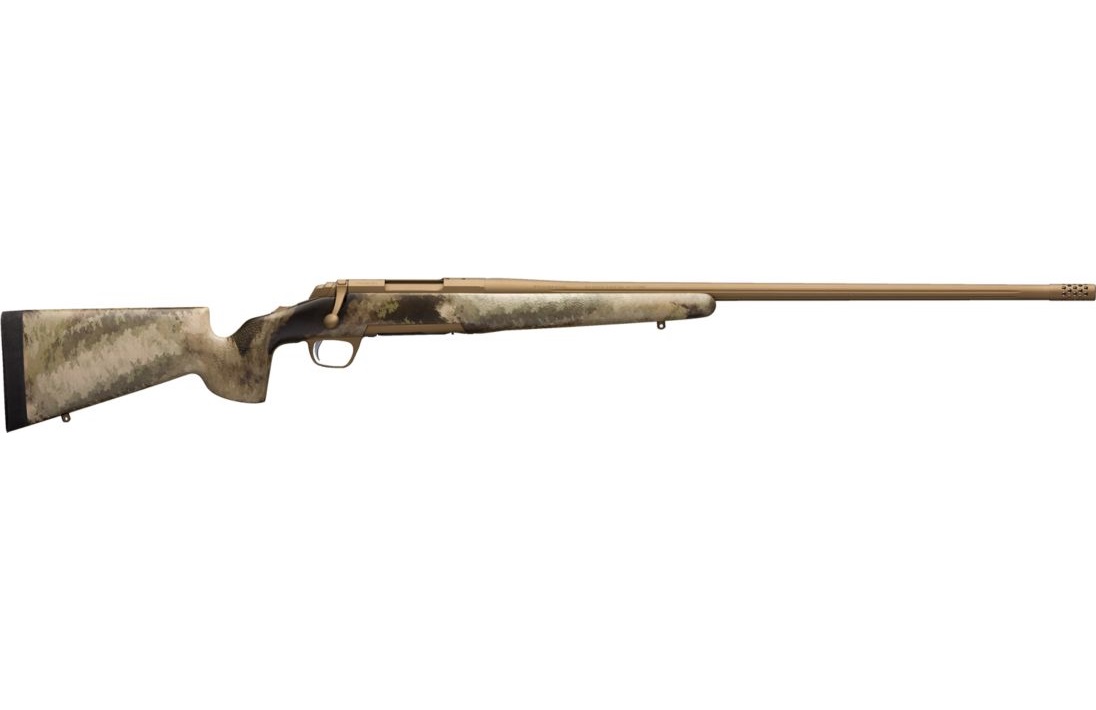 Aside from having an awesome name, the X-Bolt gets high marks for its accuracy and ergonomics. This gun has a fluted, 26-inch Cerakote-coated barrel with a 1:7 rate of twist. An integrated muzzle brake helps reduce recoil and increase accuracy even more. It has a 4+1 capacity in the detachable magazine. The trigger is adjustable between three and five pounds depending on your preferences. The whole package comes in at 7.75 pounds which is just right for most hunting uses. The McMillian synthetic stock is covered with a camo finish. This is an expensive rifle, but it is one you'll be using for big game hunting adventures for years to come.
Kimber Hunter Pro Bolt-Action Rifle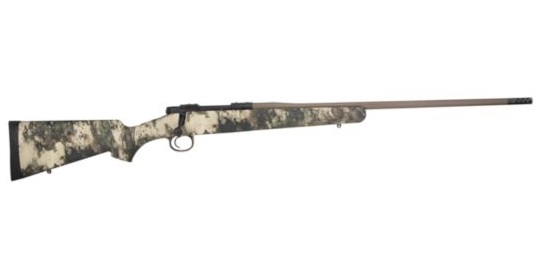 Even though Kimber built its name on handguns, there's no denying the beauty or the capability of the Hunter Pro. If you're looking for an ultralight rifle that comes in a shorter package, this is one of the best options out there, especially when it comes to 6.5 Creedmoor offerings. Weighing only 5 pounds with a 22-inch, threaded, stainless steel barrel, this is as good as it gets for backcountry hunts that put you up against the elements. It also comes fitted with a muzzle break and a stainless steel action, which features a claw extractor. A composite stock wrapped in the O2 Octane camo pattern makes it a favorite among big-game enthusiasts, as does its match-grade, fully adjustable trigger. At an affordable price tag, there's a lot to like about this rifle.
Remington Model 700 Magpul Bolt-Action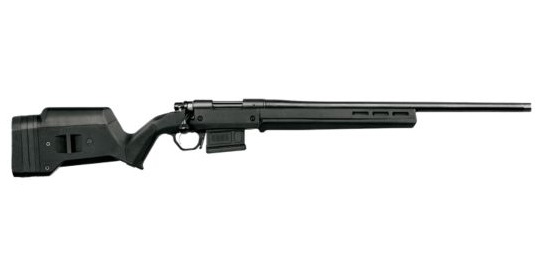 This rifle takes the classic Remington Model 700 design and gives it a high-quality Magpul stock in a black cerakote finish for more adjustability and precision over longer distances. With this gun, you can adjust both the comb and the length of pull to whatever best suits your needs. At the same time, the rifle is compact thanks to a 22-inch heavy barrel with a 1:8 rate of twist. The barrel is also threaded. It has a 5+1 capacity and the trigger is adjustable. It is a little heavy at nine pounds, but this gun is a true tack driver that will help you reach out across long distance for clean shots on predators, varmints and deer.
Savage Axis II XP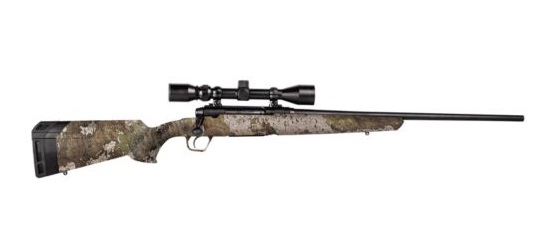 If you're looking for a bolt action on a budget, the Axis from Savage Arms is a firearm to consider. At just $349, it's a bargain. As a bonus, they make this gun in a slightly smaller and lighter youth model for younger hunters. The standard version comes in at 7.36 pounds with a 4+1 capacity and a 22-inch barrel with a 1:8 rate of twist. The receiver is a light carbon steel. The safety system is a reliable two-position tang. The synthetic stock is pre-dipped in a True Timber Strata camo finish. As another bonus, it also comes straight from the factory with a 3-9x40mm weaver scope that is already bore sighted. This is a great gun for someone just getting started in hunting.
Ruger American Rifle Predator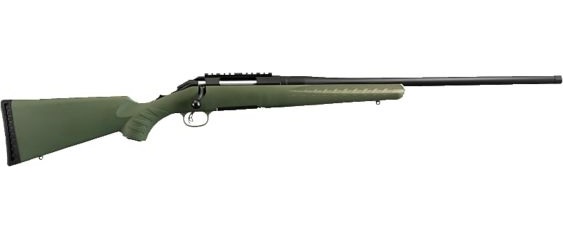 The American Rifle line has proven to be a huge hit for Ruger. These mid-priced rifles offer exceptional accuracy at a price most average hunters can easily afford. The Predator features a cold hammer forged free-floating barrel that is 22 inches long with a 1:8 rate of twist. The whole package is only 42 inches long and weighs just 6.6 pounds thanks to the light composite stock. This gun was made for long spot and stalks in open country. The trigger pull can be adjusted between three and five pounds. The magazine provides a 4+1 capacity. For $500, this is a solid rifle that will put plenty of meat in the freezer season after season.
Christensen Arms Ridgeline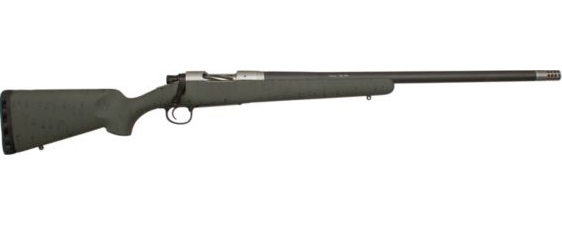 Another high-grade hunting rifle for men and women looking for serious performance. The Ridgeline features a carbon fiber wrapped, 24-inch, free-floating barrel with a 1:8 rate of twist. It also comes with a removable muzzle brake. The light barrel material and carbon fiber stock give this rifle an incredible light weight of just 6.25 pounds. Christensen Arms guarantees sub 1-MOA accuracy with their guns out of the box. The match grade trigger can be adjusted from 2.5 to 3.5 pounds. Some other features of this gun include an M-16-style extractor, spot bedding and a LimbSaver recoil pad. Christensen Arms guns aren't cheap, but this rifle has a fantastic look are users praise it for the crisp trigger and excellent accuracy.
Bergara B-14 HMR Hunting/Match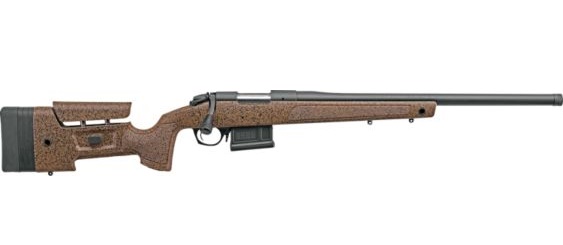 This is one of the highest-rated rifles on the Cablea's website. Bergara combined features from high-end hunting rifles with those of precision competition guns to create a hybrid hunting/match gun that gets high praise for its tight groupings. The 24-inch barrel is pre-threaded for a suppressor and features a 1:8 rate of twist. The barrel is also free floating thanks to the aluminum mini-chassis. The HMR stock has an adjustable cheek riser and multiple flash cup mounts so you can attach a bipod or other accessories for even more accuracy. It's probably not a spot and stalk gun because of the 9.25-pound weight, but you can rest assured deer and other predators will be well within range of this firearm.
For more outdoor content from Travis Smola, be sure to follow him on Twitter and check out his YouTube channel.