Yurt camping is pretty popular in the Pacific Northwest, but not just because of the cool yurt rentals you might find on Airbnb. Oregon was the first state to incorporate yurts into its state park system, and now 32 of its state parks offer the option to reserve yurts as simply as reserving campsites. Reserving a state park yurt is an elevated camping experience, since you're still responsible for your own bedding, food, and utensils. But if you want more of an even fancier glamping experience, then Airbnb has some amazing properties worth checking out.
Yurt Camping in Oregon
Yurts are the same across most Oregon state parks and offer two options: rustic yurts and deluxe yurts. Rustic yurts can fit up to five people and have electricity, heat, and a fire pit. Deluxe yurts are bigger and can fit up to seven or eight people, depending on the state park. They come with a kitchenette, a private bathroom with a shower, and propane or electric barbecue grills.
To book a yurt, visit the state park website and use the "Find a Park" feature and filters to see which parks offer yurts. There will be information about the park and links to reserve based on availability. You can also see which park has handicap-accessible and pet-friendly yurts if necessary. Below is a list of our favorite Oregon state parks worth reserving a yurt in. Make sure you book ahead of time since these are popular and fill up quickly.
Umpqua Lighthouse State Park
Great for lakeside activities, Umpqua Lighthouse State Park's campground sits along the freshwater Lake Marie. Only non-motorized boating is allowed, so campers can bring their kayaks, canoes, and paddle boards. Check out the Umpqua River Lighthouse or have a picnic on the lake's sandy beach. Known for some of the best crabbing and sports fishing along the Oregon coast, Salmon Harbor Marina on Winchester Bay is less than a mile away.
Cape Lookout State Park
This popular campground in Tillamook County is known for being near great hiking trails. It's close to the beautiful Three Cape Scenic Route and features two segments of the famous Oregon Coast Trail: the North Trail and the South Trail. Although the North Trail is currently closed due to windstorm damage, the South Trail is open to hike along with Cape Trail. The South Trail leads hikers through a forest above the ocean, and Cape Trail leads through Sika spruce and hemlocks to Cape Lookout, featuring breathtaking ocean views along the way.
Beverly Beach State Park
Having one of the largest campgrounds in Oregon, Beverly Beach State Park is hidden in a forest between Cape Foulweather and Yaquina Head. Sheltered by trees and nurse logs, the Beverly Beach State Park campsites are just a short walk from the beach and nearby great whale-watching viewpoints, tide pools, the Oregon Coast Aquarium, and shops and restaurants in the city of Newport. The day-use area also serves as yurt meeting hall if you reserve it ahead of time.
Harris Beach State Park
Featuring the largest island off the state coast, Harris Beach State Park has incredible views, sa seascape or wildlife. Bird Island (also known as Goat Island) is a National Wildlife Sanctuary and serves as breeding grounds for rare birds. It also has plenty of great vantage points to go whale-watching and see other animals such as harbor seals, California sea lions, and sea birds.
Bullards Beach State Park
Bullards Beach State Park is great for families who want to walk along the beach, ride horses, go fishing or crabbing, and/or explore a lighthouse. The park has a horse camp, where equestrians can explore 11 miles of trails and four miles of beach. Hiking and mountain biking are also popular here, with trails that start at the beach and traverse through sand dunes, grassy fields, and forests.
Nehalem Bay State Park
This campground is great to stay at for those who want to go on guided kayak or horseback riding tours. It sits just a sand dune away from the beach among shore pines, and bikers can also take a short ride to see an amazing view of Nehalem Bay. Bird and wildlife-watching are popular, as campers might see a variety of birds, deer, and elk. Crabbing, fishing, and clamming are also popular activities at this state park.
RELATED: Cruise Down The Oregon Coast & Road Trip Through These Overlooked Cities
The Best Luxury Airbnb Yurts
Maybe you're not looking to find the middle ground between camping and glamping and would rather stay in a lavish and stylish rental. These Airbnb yurts are more luxurious stays, some complete with hot tubs, pools, and even Wi-Fi.
Sunset View Yurt in Applegate Valley
Fits up to 4 people
This vibrant yurt is located on a five-acre horse property and has breathtaking views of Grants Pass Peak. As its name implies, it's perfect for catching the sun setting behind the mountains while dipping into the hot tub or the small pool. Decorated with all kinds of patterns and art, this bright rental is spacious and has king-sized bed, a queen-sized sofa bed, and an entire dining area. Continental breakfast is provided and replenished as needed, and a propane grill is outside to cook other meals. The private indoor bathroom is steps away from the yurt and has two sinks, a toilet, and a shower. There's a portable air conditioner that will lower the temperature by 15 degrees and heaters that raise it by 25, so this rental is closed during the hottest and coldest days of the year. It's cannabis-friendly but only outside of the yurt.
The Yurt on Eagleview
Fits 2 people
This forest-like yurt sits on the side of mountain by the Oregon coast and has beautiful views of the Rogue River from its wooden outdoor deck. The interior resembles a cozy log cabin getaway with its wood furnishings and boho decor. Its bathroom is also inside the yurt, featuring a vintage-style clawfoot bathtub that you can soak in after a long day of hiking or at the beach.
Yurt at Rainbow Ranch
Fits 2 people
This colorful yurt sits in front of a pond, where the porch is deck that leads to the water. But while you'll have a peaceful view of the lake from the porch lounge chairs, you'll also have views of the magnificent Three Sisters Mountains. They're not only volcanoes, but also the third highest peaks in the state. The interior decor is stylish and hip, sporting every color of the rainbow (as one would expect from a place called Rainbow Ranch) in a cohesive manner. The bathroom is also located inside the yurt, complete with a sink, shower, and toilet. But what makes this a great summer yurt is that you can raise the roof and detach the windows to let the fresh, Oregon air flow in.
Otter Rock Surf Yurt
Fits up to 4 people
If you love the beach and also travel with your furry best friend, then the Otter Rock Surf Yurt is a great choice for you. Overlooking the beach in Devil's Punchbowl State Natural Area, this pet-friendly vacation rental is made for those who want to surf, whale-watch, or explore tide pools. It sits elevated on a wooden deck and has a full kitchen with a gas heat stove, Wi-Fi and TV, and a bathroom with a shower. There's also an outdoor shower that you can rinse off in after taking a dip off the Oregon coast. You'll have to bring your own bedding for the two futons inside, but the interior is decorated with blue and green hues across wood furnishings, making this beach yurt a refreshing and relaxing stay.
Portland Forest Yurt
Fits up to 4 people
Hidden in a forest on the Tualatin Mountains just outside of Portland, this rustic Airbnb is the ideal nature retreat from the city life. Located next to Forest Park, you can hike one of the 80+ trails nearby and end your night on the front porch with a view of the Portland's city lights. Inside, there is a queen bed and a small dining area, but a blow-up mattress can be provided upon request. Along with the yurt comes a studio, where the kitchen, library, and bathroom are. There's also a garden that you're encouraged to pick fresh fruits and vegetables from, and the kids can hang out on the swing sets while you cook on the outdoor grill.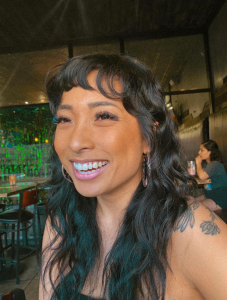 Lauren Pineda is based in Austin, Texas, and found her love for writing in local music journalism. She now enjoys writing about all the hilarious mishaps and adventures that happen when traveling somewhere for the first time and prides herself on being a budding traveler with an ambitious drive to learn more about the places she visits. Instagram: @lt.jpeg
Have you ever camped in an Oregon state park yurt? Share you experience with us on our Wide Open Roads Facebook!
Enjoy the outdoors?
Sign up for daily stories delivered straight to your inbox.