Candy canes are a holiday tradition, but if your dog eats one, it could spell disaster. Nothing is more on-brand during the holiday season than a good peppermint candy cane. Hanging candy canes on the Christmas tree is one of our family's favorite traditions over the years, but we always kept them high on the tree to save our black lab from pulling one down.
Turns out, that wasn't just because we didn't want our doggy flirting with obesity; Candy canes, aside from their plastic wrapper, are incredibly dangerous and bad for dogs.
Can Dogs Eat Candy Canes?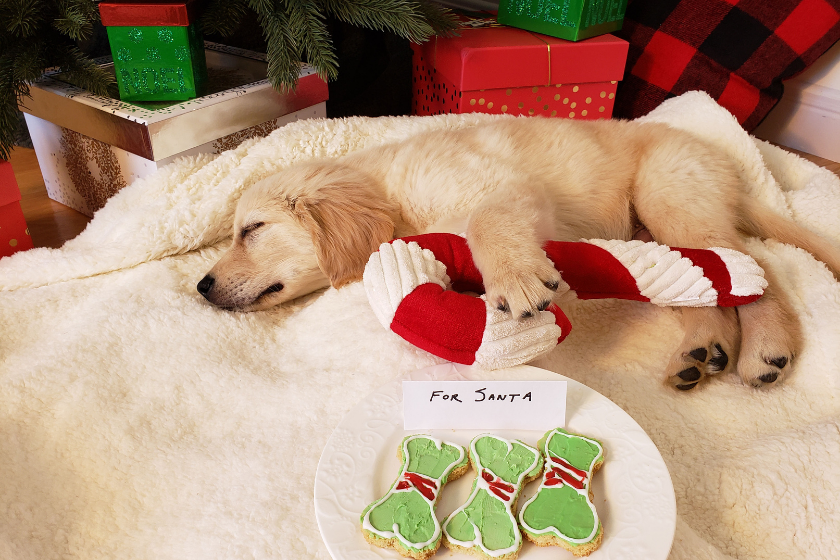 Can dogs get sick and die from eating candy canes? The answer is yes. A sugar-free, artificial sweetener called Xylitol can be found in peppermint candy canes, as well as gums and even peanut butters. According to The Preventive Vet, Xylitol poisons over 6,000 dogs every year.
One pet owner in Texas shared this warning with a local news station after her dog, Harleigh, ate sugar-free candy canes and passed away the next day. She was limp and sick after ingesting Xylitol, which causes liver failure and hypoglycemia.
"Somehow I feel like I failed her by leaving candy canes on the table," Harleigh's owner, Darla Martinez, told 12 News.
This is a disclaimer for all pet owners as having food that contains Xylitol in the house is all too common. There are hundreds of household products that contain Xylitol, ranging from gum, candies, and mints (lollipops!) to peanut and nut butters. Many pet owners fill Kongs with peanut butter, so this is a very important list to consider and review before shopping for toy fillers.
Not only that, but if you like the smell of essential oils or peppermint oils during the holiday season, you'll need to watch your furry friend even closer as these are definitely not safe for dogs.
Signs of Xylitol Poisoning
If you suspect your dog ingested candy or gum, immediately head to your veterinarian or emergency vet clinic. Symptoms can include:
Weakness or lethargy
Walking drunk
Depression
Acute collapse
Seizures
Vomiting
Racing heart rate
Trembling or tremoring
Jaundiced gums
Diarrhea
Black-tarry stool
Bruising
Clotting problems
Abnormal mentation
My Dog Ate a Candy Cane. What Should I Do?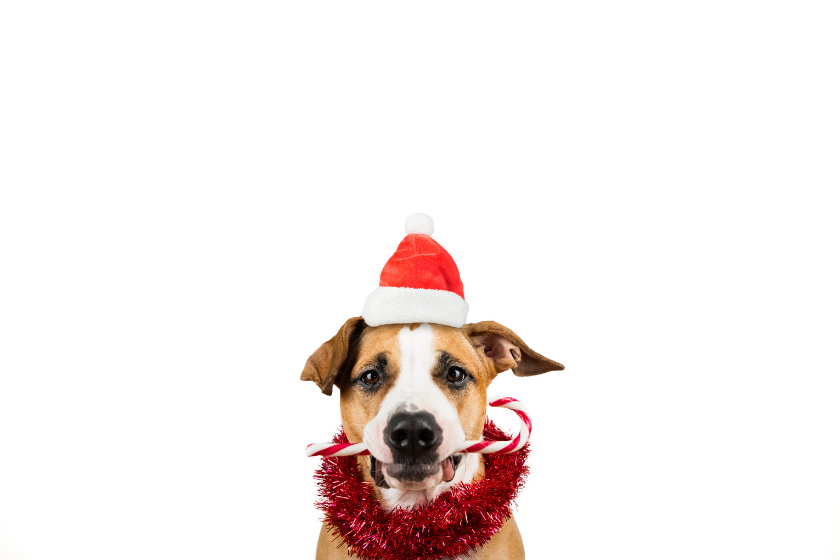 If your dog treats themself to a candy cane, the first thing to do is not panic. Inducing vomiting is NOT always the right thing to do, so you need to call your vet first and ask about how best to proceed. Foreign objects will do more harm if they are vomited, especially if there is a blockage caused by plastic wrapping, so be careful!
The American Veterinary Medical Association (AVMA) explains:
"Time is critical for successfully treating accidental poisoning. Pick up the phone and call your veterinarian or the ASPCA Animal Poison Control Center (1-888-426-4435; a consultation fee may apply). Be prepared to provide your pet's breed, age, weight and any symptoms. Keep the product container or plant sample with you to assist in identification so the appropriate treatment recommendations can be made."
Great resources include the AVMA's pet poison tips, an important site for pet parents, as well as the ASPCA Poison Control Center: www.aspca.org/apcc.
The pet poison helpline is a contact number you should have saved in your contact list!
Since Xylitol toxicity can cause both low blood glucose and low potassium levels, the vet will do blood work to rule out a number of things. Signs of hypoglycemia and even severe hypoglycemia are common. It is important to share with your vet or DVM how much Xylitol they potentially got into and what human treats were ingested. Was it sugar-free chewing gum like Trident, chewable vitamins, or breath mints? All of these have the potential to have toxic effects.
Your pooch may require hospitalization for blood sugar monitoring, dextrose administration, IV fluids, liver protectants, and any other supportive care that may be needed. Your dog will likely need critical care. Write down the symptoms of xylitol poisoning you see and let your vet know immediately. Large amounts of vomiting and diarrhea are a vet emergency.
Xylitol ingestion is very serious! It doesn't matter what the body weight is of your dog and even large dogs can ingest enough to make them very sick.
This article was originally published December 18, 2019.