Here's why you should consider hunting in the state of Wyoming.
Wyoming is nicknamed the Equality State and sometimes called simply Big Wyoming, which is fitting for this amazing land of hunting opportunity.
But we like to call it the Cowboy State, and that's even more appropriate in our mind's eye.
The Wyoming big game hunting experience can include national forests, private land, public land, and a snowy range of mountainous regions, deep backcountry woods, and open prairies that will take your breath away. And the whole time you're there, you'll feel the cowboy vibe resonating strong and proud.
The citizens of Wyoming are known for their welcoming attitude to non-resident hunters. As the Wyoming Game and Fish Department says, "From the alpines of the Bighorn and Wind River mountains, the foothills of the Shirley Basin, the plains of the east and the fabled Red Desert of the southwest. Wyoming offers an abundance of hunting experiences and opportunity."
Out of state hunters should know that purchased preference points can be a large factor in gaining a coveted hunting tag for certain species. A whole 75 percent of available licenses in each hunt area and license type will be allocated to the preference point drawing. The remaining 25 percent of tags are allocated in a random drawing, regardless of these preference points.
At this point you're going to need to know what it is that Big Wyoming offers for the hunting community. There are nearly double-digit big game species that are among the most bucket filling list game animals you can imagine, and the fishing, camping, and other outdoor rec opportunities only get better from there.
Let's take a look at what you can hunt where you can find them in Wyoming.
Big Game Hunting
Since there are over 100 different hunting areas in Wyoming, and different dates for different species, we'll try to only list the season dates as closely as we can. Note that this information can and will change by the season, but you can find all the current WGFD information right here.
Pronghorn Antelope
There are a plethora of hunt areas in Wyoming, but the statewide special archery season opens on August 15 in all of them. The regular season opens as soon as early September in some areas with many others open on the first of October.
Accordion to the WGFD, "If you want to hunt antelope, you've come to the right place. Wyoming has more antelope than all the rest of the continent, and harvest success commonly exceeds 85%."
Wyoming's best pronghorn antelope hunting is primarily found in the south-central, central, and southwest parts of the state. Most hunt areas in these regions of Wyoming have ample public access and are quite accessible to non-resident hunters.
Antelope are also found in good numbers in the northeast and east-central Wyoming, although access can be difficult because the area is primarily private land.
Deer Hunting
In Wyoming, this means both mule deer and whitetail deer hunting. The season starts with early archery around September 1 for most areas and October 1 for many regular season hunters. The large number of areas denotes that some don't start until November 1, and still others start as early as September 1 for special regulations such as doe or fawn on private land.
Mule deer hunts are mostly conducted from the high western mountains to the low elevation creek bottoms of eastern Wyoming. Whitetail deer are abundant in the Black Hills of northeast Wyoming and are also found on farmland throughout the state. Bowhunting and rifle hunts for both can be extra exhilarating in the wild ranges of Wyoming.
Elk Hunting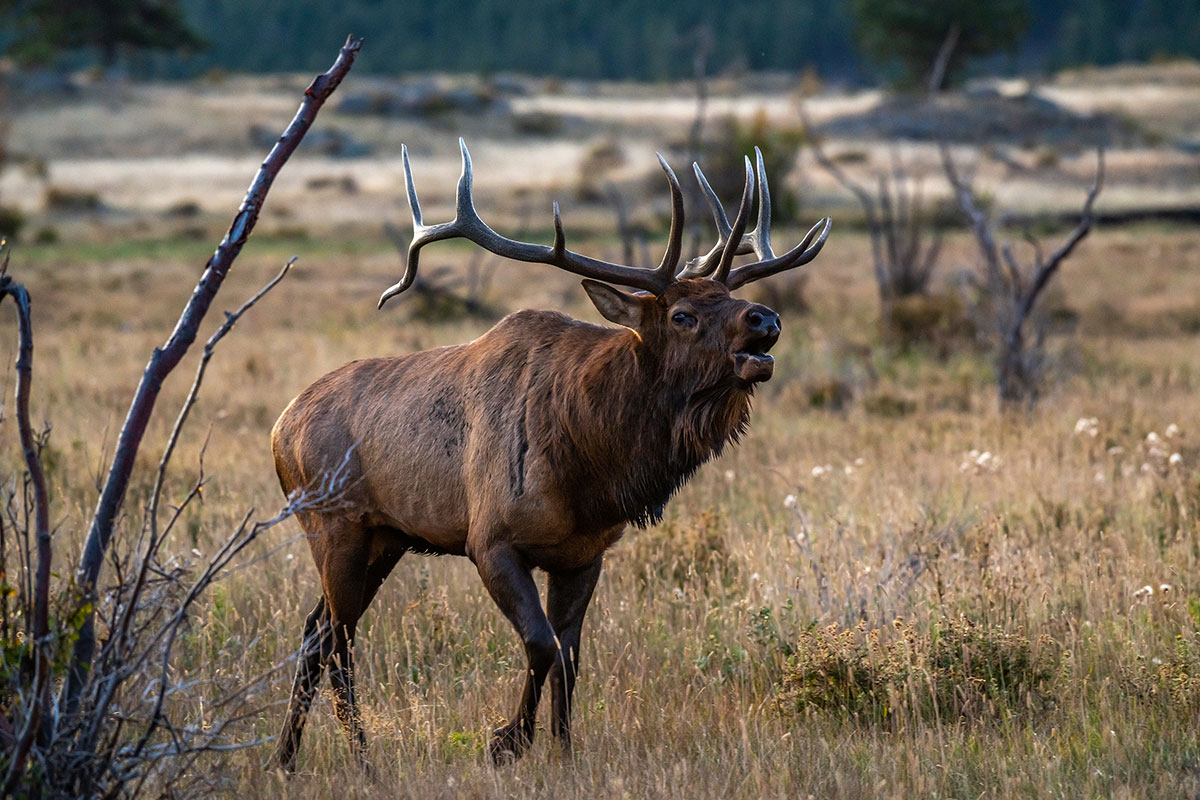 Elk hunting in some areas has no special archery dates, a wide range of regular season openers, and no hunting dates in others. As with other big game animals in Wyoming, some seasons are based on the taking of an elk, or cow or calf only.
Elk are typically found ranging from the mountainous wilderness areas to the lowland deserts and plains, and can be found on both public and private hunting lands. Every national forest in Wyoming has elk, with herds present on mountain ranges and desert areas as well.
One interesting part of hunting elk in Wyoming: "All nonresident full price elk licenses include an annual fishing privilege." If you want to hunt elk in Wyoming, you get to fish for free!
Moose
Yes, moose live in Wyoming and are found in many of the mountain ranges and river bottom areas throughout Wyoming, but the greatest numbers are found in the Bridger-Teton National Forest region south of Jackson.
Seasons are limited to 42 hunt areas in the state, and some closed seasons at certain times. The special archery season opens up on the first of September and runs for two to three weeks. Regular season opens in mid-September in a few areas, but around October first in most, mainly for antlered moose only, or for any moose except a cow with a calf.
A Wyoming statute states that any successful moose tag holder must wait five years before they can apply for or receive another moose license.
Bighorn Sheep
As we all know, drawing a tag to hunt a bighorn sheep virtually anywhere in North America where they exist is tantamount to hitting the lottery, and it's no different in Wyoming.
Only 24 hunt areas have seasons for bighorn sheep, and they typically include an August 1 or August 15 archery opener and a September 1 regular season opener for all but a few areas.
Hunting bighorn sheep is logistically much more difficult and physically demanding than other types of big game hunts, and typically involves packing gear long distances into rugged country. Hunters lucky enough to draw a tag can count on a success rate of over 75 percent if they're on a guided hunt.
Each drawing holds a less than one percent chance to gain a tag, and if you're successful you must wait for five years to apply again.
For what it's worth, hunting for mountain goat is also available in Wyoming.
Trophy Game
The WGFD lists black bear, gray wolf, and mountain lion as trophy game species in the state. Along with these, wild bison has a recreational hunting season in hunt area two only.
There are listings for bear seasons, both spring and fall, in areas 1-35, and for the gray wolf in areas 1-14 opening on September 15 and running to the end of December. Mountain lions may be hunted in areas 1-32 from the first of September through the end of the following March.
Bird Hunting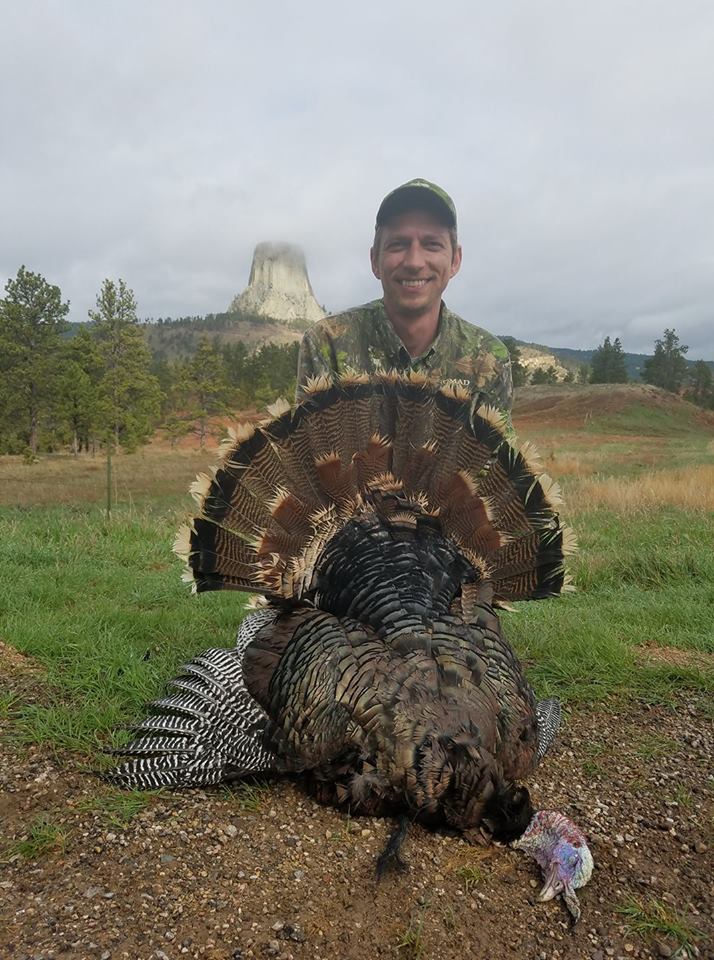 Upland bird hunting including partridge, pheasant, and sage grouse are offered in Wyoming as well as wild turkey, Sandhill crane, crow, dove, and waterfowl.
Various public land opportunities are available, and there are seasons typical to what they are in other states, mostly in the late fall and winter.
Wyoming Hunting Guides and Outfitters
As with anything when hunting as a non-resident, the best hunting trips come with the aid of professional outfitters and guides whether you are seeking an elk hunt adventure or are simply looking for the best antelope hunts.
So as we asked at the beginning, what puts Wyoming over the other great wilderness states? Well, it seems like anything and everything when it comes to an amazing hunting adventures. Perhaps your biggest trial will come in the form of choosing which big game or trophy game animal that you will hunt in the Cowboy State.
But if that is your biggest concern, then you've already come out on top of the hunting world.
Need to gear up for a Wyoming hunting trip? Check out Bass Pro Shops.

Looking for a little more or even hot lunch for your hunting blind? Follow my webpage, or on Facebook and Twitter.
NEXT: LIFE EVENTS FOR HUNTERS THAT BETTER NOT HAPPEN IN THE FALL SEASON
WATCH