All car enthusiasts should check out the SR Performance $5,000 Parts Giveaway on AmericanMuscle.
If you're a fan of the iconic Mustang, the American muscle car that stands up to them all, then you're going to want to hear about this.
It's the $5,000 Parts Giveaway at AmericanMuscle.com, sponsored by SR Performance. You can enter daily in the giveaway, and the winner can spend the earnings on car parts as they choose. What exactly do you stand to win?
For starters, SR Performance makes some of the most trusted aftermarket stuff themselves, providing suspension and performance parts that easily surpass factory OEM standards. Their section on AmericanMuscle would be a good place to start.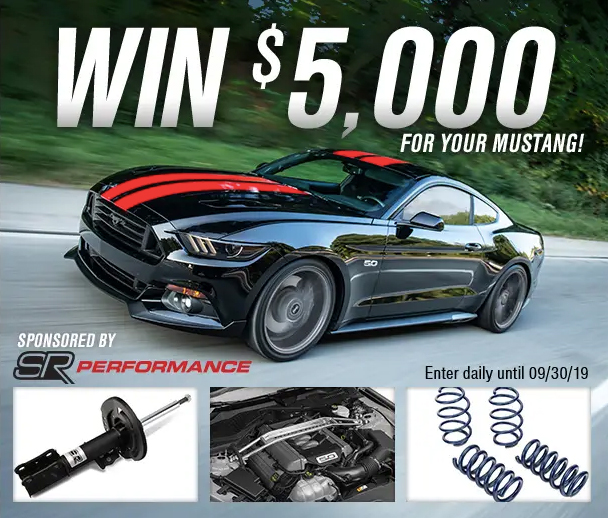 On top of that, there are plenty of wheels and tires available to give your Mustang a set that will turn heads. If you're like most enthusiasts, they're one of the first things you notice on a sports car. You aren't still driving around with stock wheels, are you?
What about a new exhaust system? Something more aggressive and eye-catching? The Cat Back Exhaust from Flowmaster, one of the most sought-after on the market, can turn a car into a statement. They'd barely make a dent in the giveaway winnings, too.
Side louvers are another popular category, giving any muscle car a unique look. They're the kind of accessories that show a real sense of style. With a $5,000 budget, you can do a lot!
The sweetest part of the deal? All brands of Mustang parts and accessories are eligible for the grand finalist to choose. Considering the selection at AmericanMuscle.com, it's going to be a tough decision for the winner!
Go to the $5,000 Parts Giveaway entry form, fill it out daily, and you're officially in the running for one of the coolest contests we've seen in a while.
What will you buy if you win?
Enjoy the outdoors?
Sign up for daily stories delivered straight to your inbox.