Oh boy, Houston is easily one of my favorite cities in Texas. I didn't realize it until I left, of course, because that's how life works. Still, after trading my life in Space City for a life on the road, I can confidently say that my years in Houston were some of my best.
I love giving my friends recommendations for what to do while they're in the city, and now with this article, I get to do the same for you. Whether you're planning to explore Houston on a day trip with your family or your partner, keep reading for things to do the next time you're in Houston.
Brunch in Downtown Houston
Houston is a HUGE brunch city, and it's one of my favorite things about it. The Breakfast Klub, Benjy's, Bosscat, and Common Bond are just a few of the best places to catch a mid-Sunday meal in the city. If you're pulling up on the weekend, this is probably the first place I would start.
Pro Tip: If you arrive at noon, you're "late" and can expect to wait. Houstonians love their brunches and Sunday fundays, so get there early or see if you can make a reservation at some point before you arrive. Thank me later!
Running, Biking, or Walking in Houston
Houston has a LOT of parks and green spaces. Uptown Houston is home to 1,500 acres of magic called Memorial Park. This park is one of the biggest in the city and is almost twice the size of New York City's Central Park. It contains several miles of trails for jogging, walking, biking, and exploring.
The Houston Arboretum is also a nice place to take a walk, though be advised there is a strict no running rule a the arboretum, and bikes are not allowed. Buffalo Bayou Park is also a good one. Significantly smaller with 160 acres, Buffalo Bayou Park runs alongside the heart of downtown Houston.
The trails here are paved, unlike the natural dirt trails of Memorial Park, which may not make for the best running conditions. Still, there are excellent city skyline views, and you can schedule a canoe or kayak tour of the bayou if you feel so inclined.
The city also has many B-Cycle stations throughout, so you can rent a bike and see more of the town if you didn't pack yours for the trip.
Houston Hearts Dogs
Speaking of dogs, Houston is one place you don't have to leave the dog at home to enjoy. As a dog parent, I love finding cities that love dogs as much as I do, and Houston absolutely does.
There are frequent dog-centric events at the city's more central parks like Discovery Green, Midtown, and the heights. There are also dog parks tucked away on virtually every city corner. Taking an adult beverage with you for Yappy Hour is a community staple (recreate responsibly, friends.)
My dogs and I are personally huge fans of Johnny Steele dog park, which has spacious small and large dog sections and a pool for the pups to cool off on those hot Houston days.
If you're really feeling like treating your furry best friend to a particular day, take them to Barnaby's, a local institution themed after a beloved family pet. While you're there, try any of their homemade baked goods (my favorite is the rainbow cake)!
Visit the Museum of Fine Arts Houston (MFAH)
Houston's Museum of Fine Arts is the oldest art museum in Texas and one of the largest art museums in the united states. Trust me when I say its exhibitions do not disappoint. Comprised of nine total facilities across Houston, the three main campuses are located in Houston's Museum District.
The Museum of Fine Arts Houston showcases an array of rotating immersive experiences and its permanent collections. Outside of the Museum District campus, visitors can drive over to the River Oaks neighborhood and visit the Bayou Bend collection of art.
Take in the Menil Collection or visit the Rothko Chapel
The Menil Collection and the Rothko Chapel are two installations I think are worth visiting while you're in town. The Menil Collection is a collection of roughly 17,000 paintings, sculptures, prints, drawings, photographs, and rare books curated by the late John de Menil and Dominique de Menil.
The Rothko Chapel is also a Menil project. Home to 14 murals painted by artist Mark Rothko, Rothko Chapel was established as a nondenominational chapel to create a safe and shared space for starting a dialogue around issues of social justice, race, and change.
Stroll through Hermann Park
If enclosed spaces are still not your thing, don't worry about it. Houston's Hermann Park is home to over thirty publicly funded art installations. It is perfect for a cute stroll or family walk. McGovern Centennial Gardens is a part of Hermann Park and is a collection of gardens perfect for slow, dreamy hikes. Miller Outdoor Theatre is also located in the park. It exclusively offers free programming as part of the city's efforts to make the performing arts accessible to Houstonians.
Check out the Houston Museum of Natural Science
This is one of my personal favorite museums in Houston. The museum has several permanent exhibitions, including a dinosaur exhibit that will have you cursing yourself for not following your childhood dream of a career in paleontology and a gemstone and jewel collection. These and others are in the admission price (or are free on Thursdays), but the museum has some additional attractions like the planetarium and Cockrell Butterfly Center that can be added to a ticket or purchased separately, should you happen to visit on a Thursday.
Visit Space Center Houston
If you visit Houston and miss a visit to Space Center Houston, just replan your visit. Kidding. I lived there for a couple years and never made it out as an adult (though I definitely went as a kid.) Space Center Houston is in League City, which is definitely a little of a drive from the city proper. Tickets can also be pricey depending on how many people are in your group.
Still, in my opinion, it's an adventure worth having, especially if you have a curious kid interested in science. Tap into your inner astronaut as you explore space flight simulators or take a tram tour of the official Johnson Space Center campus. Hang out the Apollo mission control room and tour the real live NASA space center that helped put humans on the moon.
Picnic in Houston
While it's undoubtedly not Austin, Houston truly is a city with a surprising green space. It's not unusual to see folks sprawled out on blankets in the grass. Several picnic companies in the area will arrange and set up a picnic for you and your friends if you're into that sort of thing.
Pro tip: Head to downtown Houston and visit Eleanor Tinsley Park. Technically a part of Buffalo Bayou Park, this green space opens right up to the skyline, making for stellar views of the city.
Find a Food Festival or Brewery
RELATED: Ask A Bartender: Drinking with Class in a Tourist Bar

One of the things I love most about Houston is just how much of a foodie town it is. I also love that because Houston is such a foodie town. There's almost always a food festival or incredible food truck popup. Open up Instagram or Eventbrite and search "Houston Food Festival" or "Houston Popup" for some places to get started.
In recent years, Houston's craft beer scene has exploded, and locals and tourists alike really seem to love it. There are currently over 60 active craft breweries and brewpubs in Houston waiting for you to go check them out. Saint Arnolds, Karbach, and B-52 are some local favorites, but whatever your personal beer tastes, it's more likely that there's a place for you to find it. Many breweries are dog friendly, some are kid-friendly, and, in keeping with the last item on this list, many have a food truck(s) on-site.
For bar hopping, go out and let loose in the city's Midtown district. Midtown is home to bars, restaurants, and good vibes galore. It's also not a far uber or Lyft ride from Westheimer or Montrose, the city's other popular nightlife scenes.
There are so many really yummy things to eat in Houston. I swear my eyes turn into cartoon hearts when I think about it. Houston is consistently ranked as the most diverse city in America, and the food scene really reflects that. There's something for every taste, including bbq, sushi, tacos, pizza, soul food, east Asian cuisine, Indian, Mexican, Tex-Mex, etc.
Ride the Giant Ferris Wheel at the Downtown Aquarium
A very romantic thing to do, quite frankly. Riding the giant Ferris wheel at the downtown aquarium is an excellent way to end a day in Houston. Plan your visit for the evening to catch the sunset below around the city. There's really nothing quite like it.
Catch Some Houston Sports
Space City is home to not one, not two, not three, but four professional major league sports teams. Sporting events are certainly one of the city's top attractions. Between the Houston Rockets (Basketball), the Houston Astros (Baseball), the Houston Texans (Football), and the Houston Dynamo (Soccer), there's always a game to catch. While they're all their own unique experience, I personally think there's nothing quite like an evening Astros game at Minute Maid Park (but to be fair, I only go to Astros games for the snacks, so maybe don't take my word for it)
If sports aren't your style, don't stress. Houston is a city that is always doing something. Catch live music at one of the city's major venues like the Toyota Center or NRG arena or a more intimate show at White Oak Music Hall or the House of Blues. If your visit is in February or March, catch a ticket to the Rodeo and unleash your inner Texan.
Snap a Selfie at the Waterwall Park
I feel like this place is a Houston photoshoot staple. Located in Uptown Houston, I knew and saw Gerald D. Hines Waterwall Park in photos long before I figured out where it was. The park's centerpiece is a 64-foot tall curved water sculpture, and allegedly if you stand inside the curve on a summer day, the mist feels divine. Definitely worth a visit
Watch a Movie with a View at Rooftop Cinema
Take a trip to one of the newest and most fun things in Uptown Houston to visit the Rooftop Cinema Club and enjoy a movie with a view. This open-air venue provides seating, snacks, and concessions like a traditional theater. All you have to bring is yourself and a blanket. Check online for the showings and times, and be sure to purchase your tickets in advance as they can sell out quickly, especially if the film is a good one.
Houston is a bustling metropolis with a million and one things to do on any given day. There are a bunch of things that didn't make this list, and considering it's practically impossible to fit most or even all of these things into a day trip, I hope you get to see Houston in a way that makes it a city you want to revisit again and again.
And just in case you find yourself a little underwhelmed with anything during your trip to Houston, take a deep breath and remember to count your blessings. At least you're not in Dallas. *wink*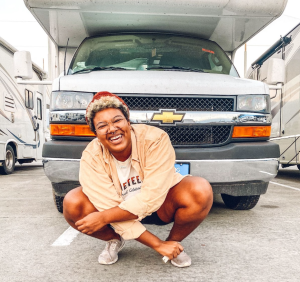 Jupiter (they/them) is a twenty-something wanderer who has traveled the United States full-time in a Class C RV since 2019. They are accompanied by their two dogs and spend their time hiking, writing, reading, seeking out the best food on the road, and finding new Black & LGBTQ+ friendly places to explore. Instagram: @doesthiscountasvanlife
Tell us why Dallas is better on Wide Open Roads on Facebook!
Enjoy the outdoors?
Sign up for daily stories delivered straight to your inbox.