Denver is home to many adventurous activities, mouth-watering meals, and of course, vibrant mountain views. Whether you're in the Mile High City for a long trip or an extended weekend, we've got a solid guide for those interested in exploring some of Colorado's capital city's greatness.
While many come to Colorful Colorado for its' Rocky Mountains, the Red Rocks Amphitheater, and the accompanying music and art scene, there is much more to take in! Downtown Denver alone flaunts an incredible array of sites and delights like the Denver Art Museum, City Park, Denver Botanic Gardens, and Larimer Square! Read along as we dive into five ways to spend a fun-filled day in Denver.
What to Do in Denver
Land Acknowledgement
Before continuing, it is imperative that we acknowledge and respect the history of the lands Denver, Colorado, rests. What we now call 'Colorado' are the traditional and ancestral homelands of the Arapaho, Navajo, Cheyenne, Ute Nations, and many other Native American tribes who made their homes on these great plains.
Sculpture Park
Denver, Colorado's Sculpture Park is conveniently located near many hotels, restaurants, and greenways. This public art installation features The Dancers, two 50-foot-high sculptures by artist Jonathan Borofsky. Set against Colorado's bluebird sky, these sculptures have carefree and welcoming energy that invites you to lounge below and take it all in.
Sculpture Park also doubles as an outdoor venue, meaning national musical talents grace their stage throughout the warmer months. Plus, on a clear day, you can see gorgeous glimpses of the Front Range, aka the Rocky Mountains, so be sure to pace your time as you stroll!
Big Blue Bear
After taking in some of the parks' vistas, make a short walk to the Big Blue Bear, one of the state's most famous statues. Titled 'I See What You Mean,' the Big Blue Bear's nickname has been coined since its' inception in 2005. Posed with its massive paws up against Denver's Colorado Convention Center, this art installation is 40 feet high and weighs around 10,000 pounds. The astounding scale makes this an excellent spot for a tourist selfie if you ask me!
The artist, Lawrence Argent, says the meaning behind the piece was to mirror the feeling of curiosity that people passing the Colorado Convention Center feel as they ponder what is happening just beyond its' glass walls.
Center for the Performing Arts
Denver's Center for the Performing Arts is also a beauty to behold. Its glass atrium and arched skylights set a grand stage to view a Colorado sunset. This performing arts center hosts a range of theatrical performances, Broadway shows, and nightlife events.
SoundWalk
Not too far from the big blue bear installation is another uniquely Colorado art piece that you should add to your plan.
Inconspicuously located on the Curtis Street sidewalk between 15th and 16th, find six unnoticeably unique metal grates - at least, upon first glance. At any given time during your walk over the grates, you are subject to hearing a variety of bizarre sounds from below - a bubbling witches' brew, the caws of barnyard chickens, the hustle and bustling sounds of a New York subway, and more.
SoundWalk is a playful public art installation by Jim Green, who first brought the piece to downtown Denver in 1992.
The Denver Art Museum
A natural next step in your art adventure should involve the Denver Art Museum, one of the city's largest museums with a collection of over 70,000 artworks on display. The museum features works from more than ten permanent collections and has several interactive spaces for art-making. In comparison with many art museums around the country, Denver Art Museum offers a very affordable ticket price and free admission days during the month.
RELATED: Why Travelers Flock to Denver, Colorado

Clyfford Still Museum
Another lower downtown Denver staple, the Clyfford Still Museum, beckons people from across the country to visit the nearly 3,000 artworks. Not much was known about Clyfford Still's life, as the painter was notoriously private. This public collection is an intimate peek inside the creative mind that has rarely been seen. If you make this museum a part of your trip, you will not regret it!
River North Art District
For fans of discovering local street art, RiNo (River North Art District) is a top Denver attraction. A mile-long stretch of outdoor murals, graffiti, and mixed media art called RiNo Walls, can be found lining the walls of an alleyway connected to the Denver Central Market, a portion of which is known as Dairy Block. This is a perfect city stroll, especially when Denver averages 300 days of sunshine every year! When it comes to great outdoor activities, this is one of the more fun things you can do at no cost.
The artwork subtly changes throughout the year, but many murals are mainstays. Today, RiNo claims around 30 local artists have contributed more than 800 pieces to the walls.
Get into Nature at Estes Park
If you have your sights set on outdoor pursuits like seeing elk and spending time in nature, you're heading straight to Estes Park! An hour and a half drive from Denver (approximately 70 miles), Estes Park boasts breathtaking alpine lake views and the largest elk population in the United States! These powerful animals are almost mesmerizing to observe against the gorgeous backdrop of colorful Colorado, making Estes Park a world-renowned destination for viewing wildlife.
Whether you're visiting Estes to enjoy the authentic charm of a small mountain town or take in some of the most scenic drives in the country, you honestly can't go wrong with exploring this beautiful Colorado landscape.
Rocky Mountain National Park
You would not fully appreciate a day spent in Estes Park without taking on one of the various trails in Rocky Mountain National Park. Containing three completely different ecosystems and sitting at the highest elevation out of any National Park, this is an absolute must if you have the chance.
One of my favorite trails, Sprague Lake, is relatively easy for all skill levels and is also wheelchair accessible. On this 30-minute hike, you can see views of one of Colorado's most legendary Fourteeners, Longs Peak, Otis Peak, and Taylor Peak.
Though a short trail, you will also see tons of wildlife such as black bears, elk, bighorn sheep, local squirrels, and bird varieties. You can also get in fantastic biking in Estes, with many of the trails being more flat and even. Whether you're with family taking a lovely stroll via a cruiser bike, or you want to pump your adrenaline by going mountain biking, it's all within the realm of possibilities in Estes Park.
Boulder, Colorado
Boulder, Colorado, is a leisurely 45-minute drive for those wanting to experience an offbeat college town. Treating yourself to a challenging hike at the Flat Irons in Chautauqua Park will reward you with stunning panoramic views of the city. Topping the trip off with a visit to some of the crystal shops in town will complete your quintessential Boulder experience.
Red Rocks Park
Red Rocks Park is a must-do for not only live music concerts, film showings, and Yoga on the Rocks sessions but for recreational hikes as well. If you're able to attend a show here, you will be blown away by the acoustics of this natural amphitheater. Legendary artists like the Beatles and Jimi Hendrix first graced this venue in the 60s. However, its reputation as one of the USA's best venues is still well deserved. You can learn more about the history of Colorado's Red Rocks Amphitheatre by visiting the museum on site.
Skiing & Snowboarding
Being on the Front Range is the best starting point for choosing your adventure for those wanting to enjoy a day on the slopes. While some of the most famed ski and snowboarding resorts reside in other towns like Aspen and Telluride, there are plenty of accessible opportunities for top-notch skiing within a day's drive. Winter Park, Arapahoe, Vail, Loveland, Keystone, and Breckenridge are all two-hour day trips from downtown Denver!
It's important to note that even if you are familiar with skiing and snowboarding, always pace yourself and pay attention to how your body is feeling - the name Mile High City is based on fact - Denver is a mile above sea level! This high altitude can be difficult for many visitors without properly acclimating first. Don't forget to drink lots of water and take breaks between runs.
Same-day passes are available at all of these resorts, too - make sure you check Black Out Dates before making plans. These passes can be pricey, so keep an eye on your budget. One way to be financially savvy when visiting the slopes is to check out local thrift shops and outdoor equipment stores like R.E.I. for gently used snow gear - you can score pretty massive discounts.
The best part of getting out into Denver's rugged habitats is the reward of hard-earned relaxation - this is where Idaho Springs becomes a part of your wind-down plans. You can buy a day pass to soak in a Colorado historic site, Indian Hot Springs.
Explore the City's Hubs
There is no better way to get an authentic taste of a new place than to take it in by visiting the city's hubs. 16th Street Mall is one of the busiest parts of downtown Denver, packed with restaurants, movie theaters, art galleries, and shopping. 16th Street Mall also features a free shuttle, the MallRide, making it the most accessible mode of transportation in downtown Denver. The MallRide will take you straight to Denver Union Station, another gathering point for those wanting to indulge in great restaurants, craft beer pubs, and local bookstores.
Terminal Bar is one of the best spots for a great atmosphere and craft cocktails. Union Station has an excellent balance of bustling travelers heading to trains and those catching up with a light conversation, making it a perfect place for people watching.
Gastropubs and quaint boutiques make up most of the nearby LoDo neighborhood. At the same time, those wanting to experience the ballpark at Coors Field will have an excellent opportunity to look into a Colorado Rockies baseball game. Football fans come from around the country to see where the Broncos play at Empower Field - even outside of game days. There are huge sculptures of sport-related memorabilia worth viewing outside of the stadium.
The Denver Museum of Nature & Science is an adventure for all that features an IMAX theater, planetarium, and exciting activities like mazes and brain games. The gift shop here is also incredible and packed with perfect trinkets for you to take home!
Learn about Denver History
Capitol Hill is a neighborhood affluent with diverse architecture, century-old mansions, and cobblestone streets. Thanks to these features, this is one of the most scenic areas in the city. Some of the architectural styles seen in Capitol Hill include Italianate, Queen Anne, Richardsonian Romanesque, Second Empire, and the famous Denver Foursquare.
You can also get great views of the Colorado State Capitol which features a gorgeous gold dome that gleams in the sun. You can find an additional dose of history appreciation by visiting the Molly Brown House Museum for a guided tour. A survivor of the Titanic and a local philanthropist, Molly Brown's home is now a wonderfully restored Victorian mansion turned museum that inspires activism and social engagement.
Continuing a walk through Capitol Hill will soon bring you to more great gems like the Denver Zoo and Cheesman Park. To residents, Washington Park is a bit further south, more commonly known as Wash Park. You can expect a range of things on any given day, from couples practicing acro yoga under shady trees to dog owners hosting fun meet-ups.
Colorado is a great place to explore. Whether your interests lie in outdoor activities, Rocky Mountain adventures, or exploring the nightlife in the Mile High City, you have no choice but to have an incredible time!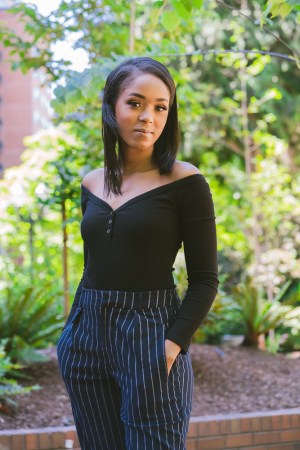 Tai Carpenter is a freelance creative writer and art gallerist currently serving as board President of Don't Shoot Portland, a nonprofit that uses art and educational programming to create social change. Instagram: @highimtai
Ever been to Denver? Tell us what we missed on Wide Open Roads Facebook!
Enjoy the outdoors?
Sign up for daily stories delivered straight to your inbox.