In an effort to serve the global market, Ford redesigns the Focus from the ground up to better appeal to consumers.
The Focus Global will boast the latest technology and offer increased interior space to create a more comfortable and connected in-car experience.
According to Ford, the "next-generation Focus will be tailored to each global region."
There are three variants to the new Focus: a four-door sedan, five-door estate/wagon and a five-door hatchback. Body style offerings depend on the market in which the car is to be sold.
"Through the use of globally common but flexible architectures and modules, Ford is able to deliver visually differentiated Focus variants to appeal to diverse customer needs while maintaining a high level of commonality and low complexity."
Compared to last year's model, the new Focus will feature nearly 92 percent less configuration, which reflects that "low complexity" idea. Instead of 360 available configurations, the global sedan only allows for 26.
Thanks to the same, basic car platform, each global region is able to tweak it in order to meet respective regulations and specific customer tastes.
Ford comments on this new new direction, "this approach will further strengthen with future Ford vehicles as the company moves from individual vehicle platforms to all-new flexible vehicle architectures paired with modular 'families,' streamlining common components such as engines, electrical systems and high-end features."
This Focus Vignale, ST-Line, Active and Titanium make up the new trim levels being added to this Ford model.
The Focus Global is the first to use Ford's "revamped product development process," which utilizes a driver-centered design.
Advanced aerodynamics, a longer hood, increased interior space and larger cargo volume are the result. Thanks to the longer wheelbase, the Focus will feature an additional 2.4 inches of rear shoulder room and 2.8 inches of rear legroom.
The all-new Focus also gets Ford's Co-Pilot™ 360 suite of features to help promote a safer driving experience. This bundle equips systems like adaptive cruise control, speed sign recognition and lane centering.
By 2020, 90 percent of the global cars will feature internet connectivity, allowing drivers to turn their vehicle into a hotspot on wheels. It'll boast a connectivity strong enough to support up to 10 devices.
Along with this, a new wireless charging pad provides instant juice to compatible devices. SYNC® 3, Apple CarPlay™, Android Auto™ and an eight-inch touchscreen are all integrated.
Live Traffic updates via the navigation system will be offered, as well as the list of capabilities with FordPass. This includes vehicle locator, vehicle status, door lock and unlock and even remote start.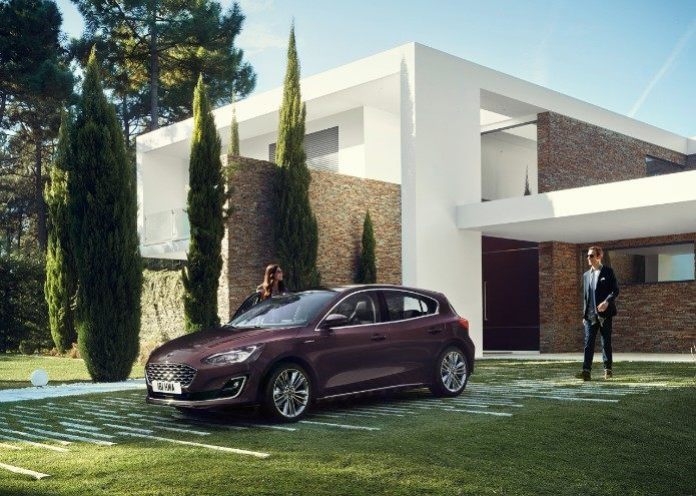 Ford's recent announcement to nix sedans from its market here in the States won't affect the new Focus, as it's one of the two cars staying put.
The Focus Global will go on sale here in the U.S. in the second half of 2019. Europe and China will see it as soon as this year.
NEXT: CAR PARKED: FORD TRUCKS A NEW PLAN TO CUT SEDANS FROM ITS LINEUP
WATCH
Enjoy the outdoors?
Sign up for daily stories delivered straight to your inbox.