By now I'm sure you've heard the term "land acknowledgment" or even more deeply, the phrase "Land Back". However, as both are such complex and layered topics, you may be wondering what either exactly mean? As we navigate turning tides in the societal and cultural realms, it is so crucial to educate and bring awareness to these two crucial topics. Both are stems at the root of the movement to empower, acknowledge, and re-assess Native and Indigenous roles and power in our communities and governmental branches, on the local, state, and national levels. Trying to understand all the issues can be overwhelming, so I'd like to try and answer some of the questions I hear most.
What is a land acknowledgment?
To start, a Land Acknowledgement is a formal statement that recognizes the unique and enduring relationship that exists between Indigenous peoples and their traditional territories and commemorates the fact that Indigenous individuals have not and cannot be erased. This is the mere tip of the iceberg when it comes to Indigenous empowerment, reclamation of power, and reparations of land and honor. In fact, we wrote an entire piece on what all a land acknowledgment encompasses, how to properly write one, and actions you can take to become more involved in the case. If we dive deeper below the surface, we uncover a move greater movement, a Native call for "Land Back".
What is the land back movement?
Land Back is an Indigenous-led movement with a rich and complex definition. To put it as simply as possible, it is a movement for restorative justice and land reclamation of Native peoples. Land Back means the return of land territories that were guaranteed to us under treaties signed by the U.S. government that have been illegally taken by federal state and county governments as well as individual landowners. Land Back is not a new concept but is newly being introduced through the process of land acknowledgments.
It is an understanding that these lands have always been home to Indigenous nations and were not empty upon the arrival of settlers. In addition, these lands have always been stewarded and taken care of by these Native nations. Land Back equals land justice and land restoration. Land back equals the return of stolen Indigenous land.
What is my personal story?
My name is Wynne, and I am a member of the Ihanktonwan Sioux Nation. I am also an avid traveler and have lived nomadically all around the country but my roots are in my homelands of South Dakota. What is known as South Dakota today is actually the ancestral lands of the Oceti Sakowin (The Great Sioux Nation), made up of the seven bands of the Lakota, Dakota, and Nakota people.
The Black Hills are the birthplace of our Nation, where we emerged from the earth's womb-our creation began at what is now Wind Cave National Park, north of Hot Springs, South Dakota. This is what #LandBack means to me personally in my little corner of the world. Learn all about the Black Hills, the infamous Mount Rushmore, and what it truly means from my perspective here.
What does colonialism and indigenous wisdom have to do with climate change?
Colonialism is rooted in greed and extraction of the land and has led us to our current state of the world. While colonists saw and see nature and the earth as property to make theirs and resources to profit from, many tribal communities believed and believe in the inherent rights and in addition, the internet responsibilities, of the natural world. The current state of the earth sees climate change worsening at an alarming rate due to capitalism and the extraction of resources from the land. This is wildly alarming to not just me but to entire populations of people who are concerned for the health of our earth and the future of our resources. Change and climate action must be taken seriously, and fast.
The First Nations and Indigenous communities have lived in balance and harmony with the land since the beginning of time. Globally, Indigenous peoples comprise less than five percent of the world's population, yet we protect 80-percent of the earth's biodiversity. Indigenous knowledge of lands and waters has evolved over thousands of years, our governance models might help to address the climate and biodiversity crises. Indigenous leadership, stewardship, and land management practices are critical to environmental conservation and preservation of all lands.
What does this mean for settlers?
But wait, does this mean I want to take the land you live on? No. We are not asking you to leave, but we are asking for allyship in helping to shift the decision-making power that has been wrongfully taken from us and our communities, therefore restoring power back to our nations.
In our movement, there is a role for everyone with a goal of building collective power and liberation for a better world that serves us all. In a world on the brink of destruction rooted in capitalism and greed, there is no future without Indigenous leadership. Work with us to dismantle colonialism, systemic racism, and the United State's legacy of environmental destruction and climate denialism.
What does this mean for indigenous communities?
What we want is to achieve the goals of Indigenous peoples' right and access to self-determination, decision-making power, to set limits of harm-inducing activities and development, and to transform the current system which was designed originally to seize, maintain seizure, and keep sovereignty in the hands of settlers (to name a few). We call for the halt of plowing and desecration of sacred sites, as well as absolutely horrid attacks on land defenders who protest and rally to protect sacred resources like the land and water. We call for non-Indigenous folks to do their part to educate, bring awareness, support reparations, and stand beside our communities when it comes to equal treatment of us and the land.
Does this involve the National Park Service & public lands?
Did you know that Indigenous nations hold just 50 million acres of land, accounting for only 4-percent of our original land base? On the other hand, the National Park Service (NPS) alone controls 80 million acres. The National Parks are of course incredible places and I myself have visited dozens of them, standing in awe and reverence for the beauty and magnificence of our earth. However, all of the parks were indeed founded on land that Native and Indigenous folks call theirs, including forced removal via armies and unkept treaties. When the NPS system was created, spiritual leader Black Elk of the Oglala Lakota people said that the United States "made little islands for us and other little islands for the four-leggeds, and always these islands are becoming smaller." You can read more of my thoughts on decolonizing national parks here.
RELATED: My Glacier National Park: Can't Miss Drives and Hikes
How can we come together for the good of all?
In a world that currently seems to thrive on partisan principles like black and white, rich and poor, red and blue, etc., it is so important that we band together for the unification of a more just and fair world. Especially for the marginalized communities that have been purposely overlooked and put into a corner for far too long. Pushed away for profit, pollution, and greed. The time is now for the Land Back movement to really take hold.
How can I get involved?
Now that you've learned a bit more about this movement, if you'd like to get involved here are a few ways:
-Reach out to local governmental officials on honoring the treaties and returning land
-Have conversations with friends and family
-Petitioning for name changes to Native names of locations, trails, and places
-Learning the Indigenous history of the land you are on and the current treaties in place
-Stay up to date and active with Native-led, grassroots organizations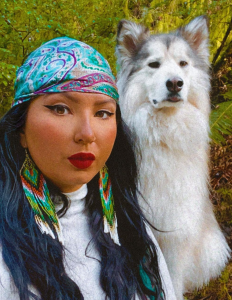 Wynn?" Weddell is a proud member of the Ihanktonwan (Yankton Sioux) nation who lived in the Pacific Northwest. She is on the team at Diversify Vanlife, a platform dedicated to amplifying BIPOC voices in outdoor spaces and advocating for environmental consciousness within the nomadic community. Instagram: @rainbowmountain_
Enjoy the outdoors?
Sign up for daily stories delivered straight to your inbox.